2008 XC Week 9

Coach Jonathan Knight

North Central WA

Throughout the 2008 cross-country season, the editors of DyeStat.com will choose an Eastbay National Coach of the Week to recognize coaches around the country for outstanding recent achievements in guiding prep athletes.
Coach of the Week Archive

"I had come to a point in my coaching career where I was having a tough time justifying all of the time coaching was taking away from my family. I decided that to continue, there would have to be more to coaching than just trying to win races. I switched my emphasis from trying to produce fast runners to trying to help boys grow into quality young men of character who also can run fast."
Interview by Dave Devine; photos by Lori Wordell

A history teacher at North Central High School in Spokane, Washington, Jonathan Knight has a keen sense of the distance running history that permeates his hometown. Knight was a standout harrier in his own right at Spokane power Ferris High; after a college career that led him to Montana and Pullman, WA, he returned to Spokane to teach and coach at North Central. Surrounded by a cast of assistant coaches with ties reaching all the way back to Spokane legend Gerry Lindgren, Knight has slowly built North Central from a state contender to a national power.
His North Central boys have won three straight Washington 3A state titles in cross country, and were winners of the inaugural NTN Northwest Regional in 2007. Heading into that year's national final at Portland Meadows, his team was highly regarded and considered a challenger for the title. They finished sixth, but learned a great deal about competing in such a high-powered environment. This fall North Central spent the entire season ranked US#1 in the Harrier Magazine Super 25, repeated as NXN Northwest champions, and then outlasted a tough York IL team at the NXN Finals to bring the Northwest Region it's first national titlist.

Coach Knight Q&A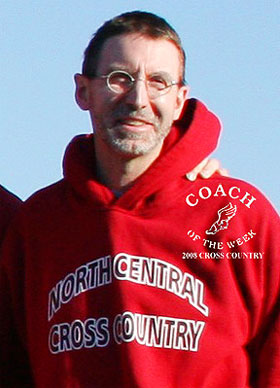 DyeStat: Can you talk briefly about your own history in the sport, and how you got into running in the first place? If I recall correctly, you were a 9-flat two miler as a high schooler in Spokane? Who were your early mentors in the sport, folks who perhaps got your wheels spinning about some day becoming a coach yourself?

Coach Knight: I graduated from Ferris High School in 1982. Herm Caviness was my XC coach and Randy James (Oregon, ran with Pre and Tyson) was my track coach. My team won state XC in 1980 and '81; I won the state 1600m (4:11) and the 3200m (9:03) in 1982 (with a stress fracture in my right foot--ouch!); I also ran on the 1982 U.S. Junior XC Team that finished 3rd in the world championships in Rome in March. I met Pat Tyson in 1979 at Art Hutton's Clear Lake (now White Pass) cross country camp--he drove a really beat up micro-bus as I recall. I also remember being inspired by Sam Ring. I ran two years at the University of Montana and then transferred to WSU and ran for John Chaplin (with the Kenyans); we placed 7th one year at NCAA XC nationals and won the PAC-10 one year in track. I ran 3:48, 14:05, and I think 29:20-something for 10k. My college running was ended by a nasty case of shin splints (perhaps why I pride myself on helping kids avoid this and other injuries). I actually was a pre-med major and then studied history at the graduate level and never intended to get into coaching. When a position opened up after my first year of teaching I took the position and the rest is history (16 years later).

DyeStat: When people talk about the great high school teams from Spokane, the names Mead, Ferris and University are some that immediately leap to mind. Until a couple of years ago, North Central wasn't typically counted among that upper echelon (at least in the more recent past). How were you able to bring this program from the level it may have been at when you started, to the type of team that could contend for a national championship?

Coach Knight: There are probably several reasons which converged in this year's squad:

When NC dropped to the 3A classification about 5 years ago, it gave us hope; at 1400 kids we always seemed to be about one runner short of breaking through. Once we were 3A, the kids began to believe that they had a chance and it became a self-fulfilling prophecy.
I've recruited an incredible cadre of assistants, first and foremost Len Long, but also currently J.C. Hodgson, Dick Baker,and Peter Lowe; I also get considerable assistance from Kelly Walters (Tracy's son) and of course Tracy ("Grandpa Coach," as the kids affectionately call him). One of my strengths as a coach is I keep my ego in check and actively seek assistance and feedback from my assistants.
After 16 years of doing this I've figured out a few things about training runners and keeping them healthy.
I moved next to Riverside State Park, opening excellent running opportunities (not the only reason we moved there).
We've had a fortunate run of talented kids who are very dedicated to training.
We live in a community with a storied past in distance running, including NC (although not in the 1990s); the kids just sort of naturally believe being good is possible, even expected.
DyeStat: The first time I met you and the group of guys who are now your senior leaders, it was on your front lawn, after a summer morning run almost a year and a half ago. There were guys stretching on the lawn, on the porch, kids running striders next to the driveway. I remember walking back to my car thinking, "This isn't a team, it's a family." Can you discuss where some of that perception might originate, and how your coaching philosophy plays into the connection you and your assistants form with your team?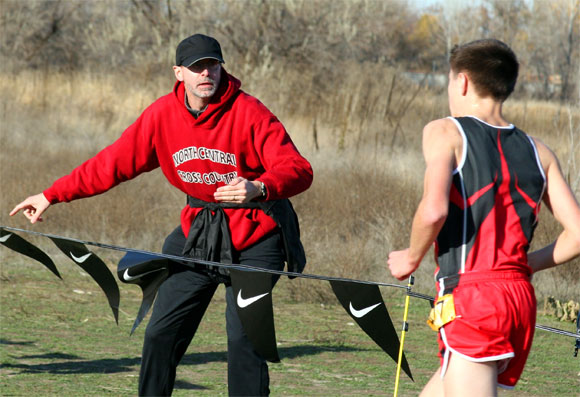 Coach Knight: When my son was born almost 10 years ago, I decided that I couldn't take 7-8 days away from my family to attend a traditional XC camp. But I also knew how important camp is to summer training. I hatched the idea of doing our own "family style" camp at low cost at a national forest group camp site near Spokane. We charge the kids about 1/4th of what a regular camp costs and have a high percentage of the team participate. We just have fun--and run a ton too. My wife and some moms do the cooking; other parents help with life guarding and the like. Talks by the coaches are limited to 20 minutes; we focus on playing games and camaraderie. I say all of this, I guess, as an example of how we build "family" into our program--it's a natural extension of how we operate.

DyeStat: What are some of the training principles that are the basis of the North Central program? Off-season/base training? Mileage at different points of the season? Particular favorite workouts?

Coach Knight: We are not a real high volume program--perhaps 60/week for a senior in the off-season; we don't run on Sundays--I feel everyone needs a break. That said, we run hard; we don't play a lot of frisbee and the like. We do one long run/week and the standard tempo running, hill repeats, 1000-1600m repeats. We spend considerable time on core strength and on speed development, two areas I feel that distance runners often ignore. On the other hand, runners don't run on their chests, so we don't spend a lot of time on traditional weights either. One of my favorite workouts is a longer tempo run on trails with fartlek built in. These seem to build fitness without the arduousness of repeat training.

DyeStat: I know community service is a cornerstone of your program, and that developing good citizens is as essential to you and your staff as developing good runners. How have you incorporated the service ethic into the team structure, and why is it such an important component? What are the expectations for athletes on the team in regards to serving the community?

Coach Knight: I started this a few years back. I had come to a point in my coaching career where I was having a tough time justifying all of the time that coaching was taking away from my family. I decided that to continue, there would have to be more to coaching than just trying to win races. I switched my emphasis from trying to produce fast runners to trying to help boys grow into quality young men of character who also can run fast. To accomplish this, I had the kids write an honor code and I set up community service events each season (we kick off the summer by clearing small pine trees from the park where we run to help with forest fire prevention) where the kids could gain a sense that they are part of something bigger than themselves. I am very proud of this portion of our program; it's the part that really matters. I should mention also, that these efforts are completely ecumenical.

DyeStat: It seems like there is a thread running through the North Central team that travels back through the history of Spokane distance running, all the way to when Gerry Lindgren emerged from your city and stunned the HS running world in the early 1960's. Can you talk a bit about that thread, the fraternity of coaches in Spokane, and how gentlemen like Tracy Walters and Len Long have made an impact on your team?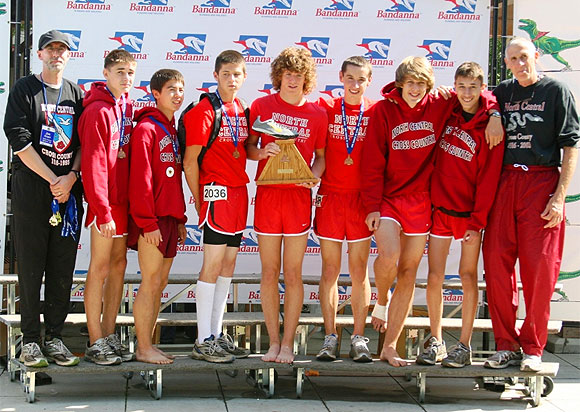 Coach Knight: We do seem to be steeped in the lore of running in this town--at least in the distance running community. We have a "race" Thanksgiving morning (the Turkey Trot) that somewhere around 3,000-5,000 people attend, but no one is really in charge--no starter, finish line, etc. Everyone just shows up with some canned food for the food bank, stands around socializing in the chill morning air for awhile, and then we all sort of run, jog, or walk "the course." It's just kind of like that around here.

My dad died when I was 19; Tracy [Walters] has become like a father to me; Randy James (who I teach with at NC and who was my master teacher) watched a video that Kelly Walters had made at the national meet with me in his classroom as it was broadcast to the school Monday--he had tears in his eyes. The other coaches in town--Pat Tyson, Mike Hadway, Steve Kiesel, Bob Barbero (and now his son Mike, at University as his dad had been), Terry Kelly. I've known these guys--some of them--for almost 30 years. I have a huge amount of respect for them. We compete, but we make each other better.

In our league meets no one watches the rules that closely--the assumption being you wouldn't cheat your friends--these are good folks who dedicate their lives to kids.

DyeStat: Now that you've had a few days for the accomplishment to sink in, are you able to put the NXN championship in some perspective for your team and the North Central community? What has it meant for the guys on the team and the community up there? As you went to bed Saturday night, what thoughts were running through your head?

Coach Knight: Well, after the long wait thinking after the race thinking that we had blown it (I assume because of a scoring chip malfunction on one of my runners' shoes), we were so emotionally whipsawed by the reversal of fortunes that I kept "pinching" myself thinking that this must be a dream and I would wake up; Coach Long and I (and my wife Janet and kids Katie and Hank) talked the entire way home on the 6-hour drive from Portland feeling just really gratified that all of the long hours and sacrifice had paid off. We were all fully aware that a chance like this may never come around again for many of us.

Personally I think I'm most pleased for our school. Many of our kids don't get many advantages in life. This is testimony to them that setting goals and working hard can pay off.

DyeStat: If you were asked to give advice to a young person just starting out in the coaching profession, what would you tell them?

Coach Knight: Sit down and write out what you believe to be 3-4 essentials to building a program. Focus on only doing the things that further those essential core values. Persevere. Realize that you have a fantastic opportunity to make a real difference in the lives of young people.


Congratulations to Coach Jonathan Knight, the ninth Eastbay National Coach of the Week for Fall 2008! Eastbay Coach of the Week Coaches will receive a team color Eastbay jacket.