2008 XC Week 4

Coach Kevin Kilduff

Don Bosco Prep NJ

Throughout the 2008 cross-country season, the editors of DyeStat.com will choose an Eastbay National Coach of the Week to recognize coaches around the country for outstanding recent achievements in guiding prep athletes.
Coach of the Week Archive

"At Don Bosco, I am fortunate that many of our students are self-motivated and competitive and this translates into willing participants in a sport that requires self-motivation, discipline and a competitive spirit."
Story and photos by John Nepolitan, DyeStat Metro Editor

Throughout the late part of the 20th century, Don Bosco Prep of Ramsey, New Jersey had been continually ranked among the state's top 20, but not long after Kevin Kilduff took over the reins of the program it rose to the state's elite.

The science department chairman at the school, Kilduff brings a scientific and analytical approach to his coaching. In the 2006 cross-country season, the Ironmen spent the entire season at the top of the state poll before being upset by Jackson in the New Jersey Meet of Champs. Then, in 2007, all seemed to fall into place as the all-boys school from the northern part of the state won both the New Jersey non-public and Meet of Champs titles before qualifying for the NTN Championships as an at-large team and finishing 10th in Portland.

Kilduff's Don Bosco squad started at the top of the state poll once again this fall. In the last race where the team "loaded up," they took the team title at the Eastern States race at the Manhattan Invitational against a national-class field.

Coach Kilduff Q&A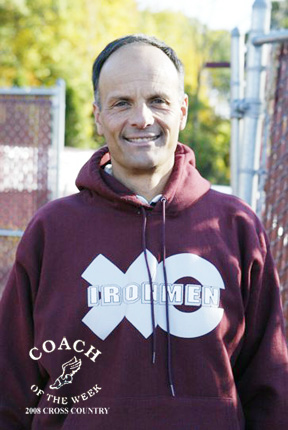 DyeStat: A great win at the Easterns; at VCP you said you were the most shocked person in the Bronx that day. Care to explain that?

Coach Kilduff: I was surprised because, except for our top two, we entered the woods very cautiously in a group back in the 100s – which against such a talented and deep field I believed was too deep to try to attack and make up enough ground to place us in contention. VCP is a tough venue on which to attack because it so narrow and, at 2.5 miles, is shorter than a normal 5K course.

With about 800 meters to go, we were in better shape but still farther back than I thought would give us a chance. However, unknown to me, as I was a long way from the finish, a large number of runners tired in that final 600 meters and we made up enough ground to win, even though we were distributed far more than I would like to see.

The race was organized chaos, and I think many runners got caught up in the moment and sprinted out too fast over the first mile. In a way, we were fortunate that happened, as my runners actually ran intelligently in that they did not follow the mad dash to the woods -- though at the start it seemed that our measured start was a bit too conservative. I am sure that a lot of coaches saw the race similarly and were probably uncomfortable with the frenetic pace and subsequent loss of practiced team strategy.


DyeStat: What is your running/coaching background?

Coach Kilduff: I actually played basketball and baseball for years and only ran recreationally about 25-30 miles a week. Moreover, at Don Bosco, beside my job as a science teacher, I coached football and baseball for many years. Around 1998, Tony Monks, the successful varsity XC coach, asked if I would like to help coach the freshman team. I was ready for a change and said "yes."

From there it was on-the-job training with some very good coaches like Tony, Bill Barry and John Nepolitan. When John Nepolitan took over the program, I studied what he did and began to read books on distance training. John was an enthusiastic, outstanding coach and I learned a great deal about running a successful program. After John stepped down to pursue a different opportunity, he asked me to take over the program and I accepted with some trepidation, feeling that I was not quite ready to take over a very fine program.

Since taking the reigns in 2004, I have tried to learn as much as I can from the best in the sport. I read books, watch instructional DVDs and attend occasional clinics. I try to glean information from coaches who have done this very well for many years. Currently, I run for fitness and race occasionally, though I leave the serious racing and training to the kids and my assistant coach Rob DeCarlo, who just ran and finished the Baltimore Marathon.


DyeStat: Who have been some of the influences in forming your coaching philosophy and training programs?

Coach Kilduff: Well, it started with Tony Monks, Bill Barry and John Nepolitan, all very fine coaches, who left behind a very good program.

The first book I read was by Joe Newton, the great coach of York HS, who wrote a fine book on building an XC program that will not only be successful but also help transform young people into responsible citizens and adults. I study some of the great collegiate coaches, like Mark Wetmore and Marcus O'Sullivan, as well as professional coaches like Arthur Lydiard, Jack Daniels and Peter Coe, to name a few. I would have to say that reading Lydiard was a transformational experience and his understanding of running development and physiology have given me a much better idea of how to develop runners. There is an excellent book which encompasses the very best distance training practices, written by Robert Lyden, called "Distance Running."

Finally, a continuing source of great information and motivational practices can be found in the coaching of Mark Wetmore, made especially clear after a reading about his 1996 U. of Colorado team in Chris Lear's Running With the Buffaloes. Indeed, all of our runners must read this book in the summer before their sophomore year. Currently, I keep up with new information as much as I can, especially in the areas of nutrition, strength development, injury prevention and psychology. Moreover, I show my team fine DVDs such as "The Long Green Line" and Marcus O'Sullivan's autobiography on occasion as motivational tools.


DyeStat: What do you see as your biggest challenge as a coach of young people today?

Coach Kilduff: The computer, Facebook, social pressures, academic stress, instant gratification, T.V. and a young lifetime of sedentary habits. These are just a few of the challenges most XC coaches have to overcome in order to convince kids of the wonderful benefits of distance running. It is clear to me that kids have almost instant access to most anything they desire, which imbues them with a powerful impulse toward instant gratification. Well, of all the things kids can get involved in, distance running is perhaps the one activity that promises anything but immediate success and instant gratification. Convincing kids to defer gratification and spend years of sacrifice, diligently training, is no easy task and is not particularly appealing to the kid who wants success now. It is the rare adolescent who can muster the character, maturity and focus to stay with and achieve success in distance running.

The challenge is to find these kids, excite them about the benefits of the sport and try to keep them involved until they develop the good habits that will offer them a measure of success and make the requisite sacrifices worthwhile. This is no easy task, as evidenced by the number of kids who give up the sport after a short trial period. Indeed, I see so many of these kids drop out of meaningful physical activity all together, insisting that the work/success ratio is just not favorable. Worse still, I see too many kids not get involved in anything constructive after they leave running. With 70 kids running, I am fortunate that we have enough interest to sustain the program, but it is tough work to keep the numbers a coach needs to generate a solid program year after year.


DyeStat: What are some of your key training principals, in terms of volume, intensity, rest and peaking? How have those developed over the years?

Coach Kilduff: I really believe in the value of high mileage, built slowly and prudently over the years as a bank account from which necessary withdrawals can be made. The withdrawals are in the form of hard training bouts, races and long seasons. Currently, we do not have the most talented runners around. In fact, most of our top 15 or so cannot break 4:30 in the mile or 2:08 in the 800m. Few of them have the natural leg speed to rely on that tool when things get tough in a race. However, they run anywhere from 600-950 miles (sophomores-seniors) over the summer and generally keep 50-80 mile weeks throughout the season. This gives them the strength and aerobic base to handle the long hard workouts that are required for them to compete on even footing with more talented runners.

After a good aerobic summer base, interspersed with tempo runs commencing in mid-July, hill work, shorter(200m-800m) date pace 5000m reps and a lot of core and leg strength work, we move into anaerobic threshold work from mid-August-late September, along with long aerobic intervals, like 4-6 repeat miles at date XC pace. In early October, we shorten the intervals and start doing faster-than-race-pace reps from 300-1600m, keeping a weekly long, hilly run from 12-17 miles and steady tempo run from 8-10 miles.

As the championship season approaches, we'll slowly cut back on the mileage about 5-10 percent a week and run very fast reps, i.e.,800m at 3200m pace, 500m at 1600m pace, and 300m at 800m pace with a bit more rest than usual. We'll maintain the weekly tempo run, but run 5-8 miles and cut the long run to 10-13 miles. By the time states arrive, we hope to be at our sharpest and not as leg weary as we are during the bulk of the season.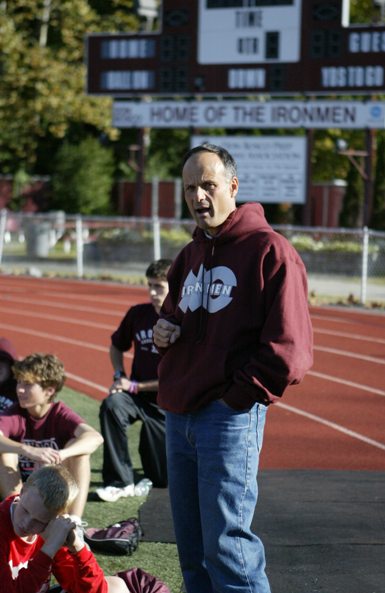 DyeStat: Is there one workout that is the staple or key to your program?

Coach Kilduff: I would have to say that the Sunday long run is the single most consistent thing we do. We meet the kids every other Sunday morning and drive up to bucolic Harriman State Park, some 20 minutes north of the school. After a warm up, stretch and running drills, the team begins runs from 12-17 miles over terrain that gains about 1100 feet in elevation. The instructions are to run easily for the first 30-35 minutes or so and then to finish at a good solid training pace. It is by no means an easy run and the kids view it as a necessary evil. I drive around, meeting them at different points and offering "ridicule or encouragement," depending on which is needed, and water, which is always needed. When they are done, they do a few strides, stretch, go for a swim in a beautiful spring-fed lake, and then have bagels, juice and their favorite, chocolate milk.


DyeStat: Over the last 2 seasons your team has done some great things (state champs, NTN qualifiers, 10th NTN and now the Easterns); does one of these really stand out above the rest and why?

Coach Kilduff: Well, winning the state title is always our first goal and winning last year was a source of great pride for all of us. Going to Oregon for NTN was a great surprise and, frankly, it all happened so fast that, after qualifying out of the Northeast, I barely had occasion to realize the magnitude of what we had done. It was a singularly wonderful experience and having gone last year, I would consider it an honor and privilege to be fortunate enough to qualify again.

However, it is first things first. Our first goal was to run well at Easterns, perhaps the toughest race we have ever run. Winning was a wonderful bonus and we are exceedingly proud of this accomplishment against some of the best teams in the country; however, it was not a make or break race for us in the larger scheme of things. Rather, it was a severe barometer of our physical and emotional disposition at this point in the season. From it, I can get feedback that will guide me in coaching the rest of the season.


DyeStat: Why is Don Bosco Prep able to achieve on this high level while other teams in North NJ seem to lag behind?

Coach Kilduff: Well, first, our program was a good one for many years before I came along, so it was not as though I had to build from scratch. I think that success in any sport first requires kids who are willing to invest themselves seriously. At Don Bosco, I am fortunate that many of our students are self-motivated and competitive and this translates into willing participants in a sport that requires self-motivation, discipline and a competitive spirit. The parents of our runners are very supportive and actually help me by encouraging good social, nutritional and training habits from their sons. My coaches and I set very high standards for the runners, both personally and team-wise. We spend a lot of time with the kids and I think that they see the sacrifices we willingly make and the unbridled enthusiasm we have for the sport, and subsequently feel that the least they can do is mimic or exceed those sacrifices and enthusiasm.

There are some very good coaches in North Jersey and certainly some very good runners; however, the better programs in the region will embrace with us the concept of shared sacrifice among coaches, runners and parents and a desire to demonstrate excellence. The coaches and runners who are willing to immerse themselves fully in the endeavor of achieving success in cross country will in time see the fruits of their labors, though I realize that it is no easy task -- especially at some of the smaller schools in which finding enough participants for a full program is a challenge in itself. I have seen fine coaches like Mike Glynn of Ridgewood HS, a perennial state top 20 school, capture success for his runners because of the time commitment he and his runners make and the enthusiasm they share for the sport.

It is not chimerical to think that with the proper leadership other North Jersey schools could follow suit and capture a level of success that would make them proud. Indeed, the schools in central and southern New Jersey have generally been traditionally stronger than schools in the north and much of that is due to the enormous time commitment and lofty goal setting that schools like CBA, Cherokee, West Windsor, Morris Hills and Hillsborough, among others make to the sport. In North Jersey, all it takes is a similar commitment to achieve some measure of parody with these other state powers.


DyeStat: If asked to give advice to someone just starting in the coaching profession, what would you tell them?

Coach Kilduff: Patience, patience, patience. It took Joe Newton some years before his program took off. I think that, first, you need numbers, and the young coach will need to aggressively attract youngsters into the sport.

Second, one needs to show the kids that you care about them and their development as runners and young people. I think one needs to know the kids and make them feel that each is uniquely important to the team and to you as the coach.

Third, you need to know the sport well and that requires study, experience and picking the brains of the many fine coaches you meet.

Fourth, train each kid or small group of similarly talented kids at a level appropriate to their talent. Too harsh a training regimen will backfire every time and scare kids away from the sport. For some a long run might be 17 miles; for others it might be 5 miles. One must know the difference.

Fifth, get the parents involved as much as possible. Explain the sport and your expectations to the parents and make them willing partners in a long term endeavor. Have a preseason barbecue and a postseason pasta party, where you can review the season and distribute team awards.

Finally, be there all year! Set up a generalized training schedule for the entire year, tailored to the talents and abilities of different groups of runners and put them in writing for the kids to see. They love getting individualized running programs and it shows you care about each and every one of them who wishes to immerse him- or herself in the sport. Take them to a running camp each summer and, if state rules allow, be there on occasion during the summer months to monitor their progress.


Congratulations to Coach Kevin Kilduff, the fourth Eastbay National Coach of the Week for Fall 2008! Eastbay Coach of the Week Coaches will receive a team color Eastbay jacket.