2008 XC Week 3

Coach Andrew Hudson

Collins Hill GA

Throughout the 2008 cross-country season, the editors of DyeStat.com will choose an Eastbay National Coach of the Week to recognize coaches around the country for outstanding recent achievements in guiding prep athletes.
Coach of the Week Archive

"I think the sport is better and more competitive now because of our ability to see (through the internet) what other people across the nation are doing."
By SteveU, DyeStat News Editor; Photos courtesy of Andrew Hudson

In all modesty, Andrew Hudson would give most of the credit for his running accomplishments to his father, who was a 4:02y/1:48 talent for Arizona in the early 60s. "He was my connection and talent for running though he never pushed my brother and I toward the sport," he writes. "He was supportive, but never bragged about his accomplishments in relation to ours (we didn't run as fast :-)."

Maybe not "as fast," but hardly slow, either. He would eventually become a 1988 World Junior XC Team member and a 2-time All-ACC runner at UVA.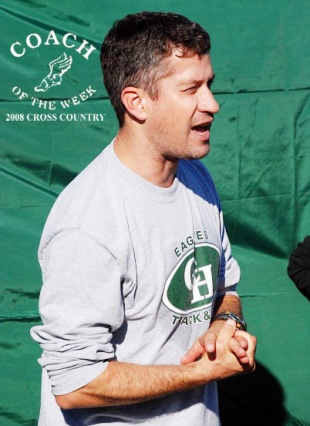 What Hudson has done in the sport since, though, doesn't have much to do with genetics – though he'll claim a lot of great coaching influences. He has been that relatively rare individual who has been involved in advancing the sport both as a coach and in helping run a web site. He has played a significant role over the years in the development of gatfxc.com, as a forum moderator and compilier of lists and rankings, as it grew from an independent site to part of the Milesplit network. "It's hard to imagine how we got our fill of the sport before the internet came along," he writes. "Now I'm like many others, I'm sure, looking at DyeStat and Milesplit every day to check out results, articles, and rankings."

Coaching is Hudson's strongest passion, though, as the presence of his Collins Hill GA boys and girls teams near the top of the NXN Southeast rankings attests. His girls, who have won five straight Georgia 6A XC championships, have been in the top 10 in the country this year. He began coaching at Riverside Military Academy in Georgia from 1991-95, straight out of college, and began at Collins Hill later in 1995.


Coach Hudson Q&A

DyeStat: Can you talk about your beginnings in the sport? You mentioned a high school coach who became an influence. Can you tell us how your interests gravitated toward coaching at an early age, based on your unique experiences, and how that grew and developed?

Coach Hudson: My dad was my biggest influence in running because of genetics. Mainly, I wasn't good at much else and knew that he had had a great career. I swam year-round for the Quantico Devil Dolphins in Virginia when I was in middle school, but then I turned 13 and it became so grueling. It was a high-powered program that produced three Olympians who were my teammates at the time: Jeff Rouse, Olympic Champion and world-record back-stroker; Mark Lenzi, diving gold medalist in Barcelona; and another gold medalist in Modern Pentathlon. We did a biathlon in practice one day and I beat most everyone in the running portion so I figured it was for me.

I ran at Woodbridge High School (Woodbridge, VA) and Ron Helmer was my biggest coaching influence – and was for many of my teammates, who are also in coaching. Matt Ryan is the coach at Jefferson Sci/Tech in Virginia; Danny Ireland is the coach at Yale; and I've had some other teammates who coached in high school and college, as well. Ron was our coach from 1983-1986 before he went to Georgetown. I've also had other great coaching influences: Buz Male at Episcopal (my senior year), who is now working with Albemarle (VA); Bruce Coldsmith; Mike Cotton (All-American at Virginia who helped us as an assistant at Virginia); and Fred Binggeli (head coach at Virginia when I ran there).


DyeStat: A number of years ago, you got involved with gatfxc.com, back when it was an independent site. Please talk about how your interest grew in the internet as a tool for our sport and how you were able to integrate that into what you were trying to accomplish as a coach. What were some of those relatively "early" days of track/XC on the internet like for you?

Coach Hudson: It's really hard to remember where it all started for Georgia but I know Tomy Sitton (now at Peachtree Ridge) had organized coaches for years with clinics and newsletters, etc., along with Bill Sheskey and Jerry Arnold. Bill was the one who started the website in the late 90's, and he had a student (Anne Rayborn) run it for a number of years before turning it over to others. It's hard to imagine how we got our fill of the sport before the internet came along.

Now I'm like many others, I'm sure, looking at DyeStat and Milesplit every day to check out results, articles, and rankings. My main contributions to gatfxc.com were compiling annual lists, all-time lists and cross-country rankings. Now all of that is done with databases. It's great to see where we are now – doing things that we never imagined!


DyeStat: Now, going from those earlier internet days until now, what are some of your observations on how the Internet has grown to affect our sports? What are some of the positives and negatives? With your level of savvy (more than a lot of coaches, given your hands-on experience), have you found you've given your athletes and/or others guidance on using, but not abusing the internet, or setting guidelines of sorts?

Coach Hudson: I see way more positives than negatives. I think the sport is better and more competitive now because of our ability to see what other people across the nation are doing. It's much easier to find out about competitive meets that you want to attend to test your team. There's a level of awareness that wasn't there before (in spite of the Herculean efforts of Marc Bloom and the Harrier; that was it back in the day) and it's made the sport so much deeper.

The negatives would be for those who dwell on others' performances too much and get deterred by the results, or those who spend hours trash-talking on the forums. I have to say though, that at first, the trend was toward teens running their mouths on-line but I think most coaches have nipped that in the bud by banning their teams from it. One year, we had a group who kept talking on the message boards about how good our track team was and after we got destroyed at the county meet, we put a moratorium on it and it changed their focus.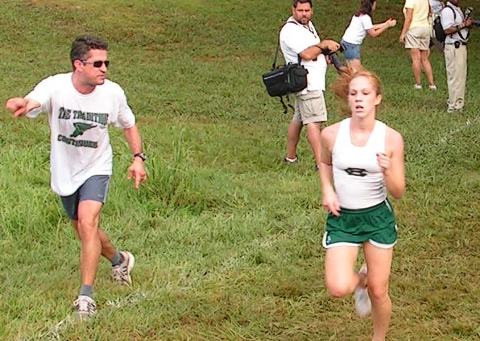 DyeStat: Looking more at your coaching career specifically … for a long time in Georgia, it seems like the private schools tended to have the best XC programs and maybe the sport in general wasn't as strong as in some other states. What have been some of the challenges you've met and overcome in order to build a great public school program?

Coach Hudson: I do think people have focused on the great private school programs we've had in Westminster and Landmark Christian, because of their long streaks of state titles, but the public schools have always been competitive. I remember Walton, Lassiter, and Brookwood from when I was in high school. One year, when I first started coaching, there were three schools in my county ranked in the top 10 in the Southeast. Georgia has had Foot Locker finalists since it started. It is one of the top 5-10 track states in the country, but mainly because of sprints, hurdles, and jumps. Our distance runners have not been as touted nationally, though we seem to have had our share of elite individuals (Joe Thorne, Ben Hubers). The depth is not what it has been in Virginia, Florida, and Texas over the years.

I think we just have to keep working hard and trying to take our teams as high as we can. I do feel like it was a sort of break-through to the big-time when the girls qualified to NTN. When they started that meet, I never envisioned that the girls would be able to qualify, but I've always focused on striving for improvement from year to year, in spite of graduation. Incremental improvement is a way that we measure our success.

As for public school success, there are many challenges. We were a new school and getting runners, coaches, and parents to understand the sacrifices and hard work necessary to achieve state and national success was difficult. It took a number of years to get a group that realized that they had the potential to be a national-caliber program.

We also contend with participation problems, because there are so many other activities in our school. Even though we have 3800 students, it's still a challenge to get kids interested in running.


DyeStat: Certainly, now, Collins Hill has developed a pretty strong sports program in general, with some national media attention for girls basketball and wrestling, among others. Can you share some things about building good all-around athletic departments, where both "big" and "small" sports are recognized, and where success comes not at the expense of academics?

Coach Hudson: I think there's a tremendous sense of camaraderie and support, that we're all in it together, working toward making our athletic program the best it can be. We've had excellent leadership from our principals, Coley Krug and Glenn McFall, as well as our athletic directors (currently Roland Wallace). The coaches go to each other's meets and games and the faculty and leadership come support everything as well. We take a great deal of pride in the community and athletic program. I have an idea that what we have is rare, and that in most schools there are favored sports, but it has never been that way at Collins Hill. The first week I started here, I met the football coach and he was always supportive of everything that was going on here.


DyeStat: You've said you are "not a scientist" and about your "empirical and practical" research. Can you talk about some of the key influences you've had, the lessons you've learned, and what have become some of the cornerstones of the Collins Hill program (in terms of mileage, key workouts, other physical and mental training principles)?

Coach Hudson: I started out in a high mileage program in high school where we would run two-a-days and regularly get 70-90 miles a week so I believe in volume. We would also do steady state runs once a week during cross-country season pretty much. They have many different names (AT, threshhold, tempo, etc.), but we incorporate those as well as many common types of workouts, including fartlek, hills, mile repeats, and race pace intervals.

Sometimes I go through phases where I will challenge myself to create dynamic workouts, and now, I'm in a more straightforward phase. I follow the concept of specificity of training, so I try to make what we do as relevant as possible to the courses and conditions where we want to do well. We do not do near the volume of my high school and I've often wondered why, but it's a challenge to manage such high volume training. The main reason is that I came at it from the girls side and I've always struggled to get them to the higher volumes without getting hurt.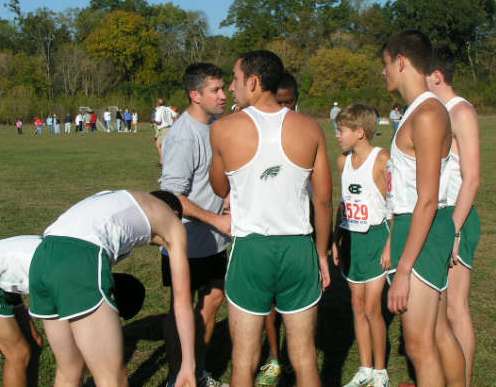 I've challenged my boys more in the last couple of years to do more and they've embraced the challenge. I'm pushing everyone as much as I feel I can without getting them hurt. That's kind of what it's all about – riding the line between max fitness and injury, trying not to go too far. Our girls probably maintain 30-40 miles and the boys 55-70 miles a week, though we don't really keep track of it. We run minutes, not miles, and the boys in general go farther in the same amount of time. I think the way I put the training together is key – sometimes I debate for days on just what the right workout or sequence will be for the weeks ahead. We seem to recover more than most teams and rarely "go for it" in workouts, especially the weeks of races. Our training is demanding, no doubt, but I think we strive to make it sensible as well.

A big facet has been our strength training with my assistant coach (Richard Ramsey, head track coach). He has many of our kids in weight training classes year-round, and they lift 2-3 times a week, and do core work or drills the other days. It's a component that adds volume to the training regimen and has provided significant strength gains to our athletes. A year or two after we started it with our female athletes, we won state titles in cross-country, basketball, softball, and track, as well as making final fours in volleyball and soccer, so there's certainly something to be said for our strength training and the job that he does. Many coaches seem averse to serious weightlifting for girls, but it has been beneficial to our athletes and certainly an edge for our team.


DyeStat: You have a girls team this year that not only is one of the best in the nation, but also with an individual in Amanda Winslow who is a top talent both in XC and as a miler. What are some of the things you have to do as a coach to both develop your team fully, yet giving an outstanding individual the attention they need?

Coach Hudson: That is something we have worked on because we have been in that position before, but especially with Amanda, because she came from a small team at a small school in Ohio. She was the best girl there by a long way, so she was used to a lot of personal attention. We work hard to give personal attention to all of our athletes, but with a larger team they have to come seek it out sometimes, and Amanda certainly does. We're always addressing the details of a workout or how she's responding to training or, recently, helping her find the right school for her.

We also know that Amanda thrives from that extra interaction and meeting the needs of all of our athletes is part of the individualization of our coaching. We develop workouts where they run together, but modify them significantly in some cases with many of the individual runners. Having them understand the training or clarifying key points with the individuals who want or need it is important to us.


DyeStat: Your team has evolved from one competitive and winning on the state level, to one that is now making a national impact. As a coach, how do you nurture a national perspective and thought process, while at the same time keeping the pressure at a minimum and the kids' lives as student-athletes in balance?

Coach Hudson: It's all about opportunities and improvement. We have had the talent over the last few years and have worked at taking the kids to more high-caliber meets and running well in those situations. Maybe it has to do with the way I personally process things, but it seems to take us a couple of years to adapt to different situations. We would go to Great American and not run well and get blown away but now, we can go to a meet like Maymont and talk seriously about winning it.

Achieving on higher levels is exciting and fun and the runners share that attitude knowing that they can go to most meets and be a factor. The backyard still remains a tremendous challenge though. The two best girls teams in the state, and three of the top five, are in Suwanee and in our region. Our region is the best in the state, so we always have local runners who can humble us if we get too full of ourselves. Maintaining a reasonable perspective is also important for us to instill in our athletes. They can travel across the country and compete, but can also find plenty of challenges locally. Many teams run their best against us because they want to run with us and beat us.

As for diffusing pressure in national caliber competition, we just rarely talk about it – only about the opportunities and what they're capable of achieving. We keep our goals challenging, but realistic. Many runners and coaches strive for unrealistic goals and get mired in frustration when they can't achieve them, but their efforts or achievements weren't suspect – only the goals they set.


Congratulations to Coach Andrew Hudson, the third Eastbay National Coach of the Week for Fall 2008! Eastbay Coach of the Week Coaches will receive a team color Eastbay jacket.