2008 XC Week 6

Coach Nathan Hall

Tupelo MS

Throughout the 2008 cross-country season, the editors of DyeStat.com will choose an Eastbay National Coach of the Week to recognize coaches around the country for outstanding recent achievements in guiding prep athletes.
Coach of the Week Archive

"The expectation was obviously already set. It was to continue to win state titles for the XC team. Scott Brown, my assistant, and I had to sit down and get a plan on how we wanted to go about continuing the success and possibly take it to the next level."
Story by SteveU; photos submitted by Coach Hall

Tupelo had already built a strong program before Coach Nathan Hall came along, but the young mentor helped the program reach a new level, with the girls team nabbing a bid to Nike Team Nationals in 2006, the last year bids were still earned by invitation. That year also marked the 6th consecutive year both the boys and girls teams won state titles in Mississippi's largest class; last weekend was #8 in a row for both.

A lot of people may think a dominant program like this in a small state runs itself, but it takes a lot to stay above the competition year after year, no matter what level that competition is. Talking with Coach Hall reveals a lot about what it takes to maintain a successful program – and that he himself was not a huge fan of the sport originally.

Coach Hall Q&A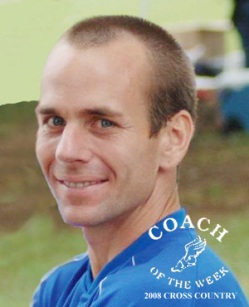 DyeStat: Please talk about your own personal track and XC background, from your first involvement to your getting into coaching.

Coach Hall: I ran cross-country in high school my junior and senior years. I did not even enjoy it. I played soccer and XC was a good way to stay in shape while we were not in soccer season. I was conned into running by the coach at that time. Both of the two years I ran, I was the #5 man on the team. We won a state championship my senior year as well.

I did not run another race until I started coaching the cross-country team here at Tupelo four years ago. I have since ran right marathons, including the Boston Marathon in 2008. I also coach the track teams here at the high school, and the past two years the boys were state champions in 2007 and runner-up in 2008.


DyeStat: I understand you came into the program after it had already won a handful of titles. What are the challenges unique to maintaining or even improving the fortunes of a program already established and used to winning?

Coach Hall: The expectation was obviously already set. It was to continue to win state titles for the XC team. Scott Brown, my assistant, and I had to sit down and get a plan on how we wanted to go about continuing the success and possibly take it to the next level.

In my second season, we had a great girls' team and we really pushed their training and we were given the opportunity to go and compete at NTN. The girls still talk about the experience that they had while out there. Our challenges are to keep the kids motivated and not be complacent by just being one of the best teams in the state. We try to push each of our athletes to become the best runner and person that they can.


DyeStat: What are some of the training principles that are the cornerstone of the Tupelo program? Off-season/base training? Mileage at different points of the season? Particular favorite workouts?

Coach Hall: We try and promote year-round running for all of our runners. We try to get them to enjoy running and try to keep it fun for them. We always throw in a shaving cream fight or a splash pad run in there to mix things up for the runners, especially during the summer time. We have mileage clubs for our kids during the summer time to set goals for them to try to achieve as well. I like watching the kids compete while doing the lactic tolerance workouts. We do a 400 relay where we break the kids into different teams and I always like to hop in that workout as well.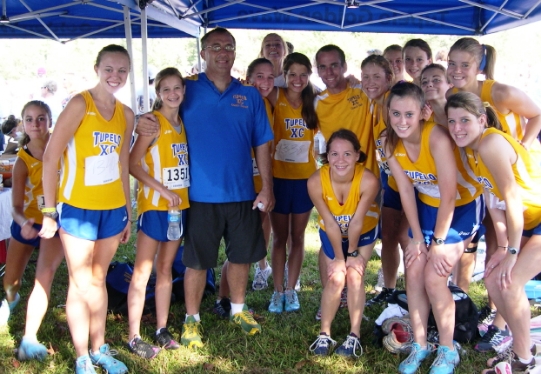 DyeStat: I read where the Tupelo track and XC program, and the city, combined in an effort to develop a 1.5-mile track for both team and public use. Can you talk about that project and what it taught everyone about what can be accomplished with cooperation between a school program and city officials? Is there a lot of community support in Tupelo for the school's successful distance running programs?

Coach Hall: One of my parents approached me with the idea of building the cross-country trail last year and we started raising money for it right then. The paper did an article on it and it is used very much by the public, as well as our team, throughout the year. I am also on the sports advisory board here in Tupelo, so I give monthly updates on the trail. We have definitely built some relationships with the public that had not been there before. There is lots of support from the community and the local running club always helps out if we need anything. The entire trail was constructed by donations from people from the community.


DyeStat: Your girls have had the honor of making it to Nike Team Nationals a few years ago. What was that like and is that something the program still actively aspires to each year? With your dominance at the state level is it important to have motivation beyond that, or do you find for most the state title is sufficient?

Coach Hall: WOW!! What an awesome experience, from top to bottom, getting to go out there. The girls were treated like royalty. Those who have gone understand what I am talking about. All the free stuff and the level of competition was unreal. Our girls' and guys' goals for the next two years is to go and at least complete for one of those spots to get to go back.


DyeStat: What is it like having a dominant program in a state that is not known for its consistent national strength in the sport? If a new coach from another smaller state in another part of the country came to you and asked you what he or she might expect, what would you tell them?

Coach Hall: I would tell them to expect their kids to work hard and try to keep it as fun for the kids as possible, but still work hard and hold the kids to high expectations. The kids will respond to what you expect of them. I have found that to be true in all aspects while dealing with student athletes. If they are expected to perform at high levels, then they will most of the time respond with a high performance.


DyeStat: It looks like you have a tremendous amount of parent support. As a coach, how do you believe such support is built and nurtured?

Coach Hall: Parental support is a must in our program. Our program includes 7th through 12th graders, so we have to depend of the parents daily. We have parents that come out and run with the kids during the summer time and I have them help monitor the roads daily while we are out. You have to have an open door policy with the parents as well as your athletes. The parents have all of our contact information and are welcome to come to practice, call, or e mail anytime that there is an issue of any type


Congratulations to Coach Nathan Hall, the sixth Eastbay National Coach of the Week for Fall 2008! Eastbay Coach of the Week Coaches will receive a team color Eastbay jacket.