Strong distance marks in a flu-disrupted schedule
Postponement of State Meet series in several states trims flow of top marks


Eleventh in a Series (updated May 6, 2009) - Compiled by

Mike Kennedy


If a coach or athlete(s) feels they belong on the list, please use the e-mail above and include name, school, meet-site, date of competition, wind readings (if appropriate), and athlete's birth date. Thanks, and remember, if there is the slightest chance that you will be competing at the U.S. Trials, apply for a passport now.

One other thing to keep in mind, just because an athlete is listed does not mean that he will actually register to compete. In fact, I would be surprised if more than half of the athletes mentioned actually end up competing in the U.S. Trials.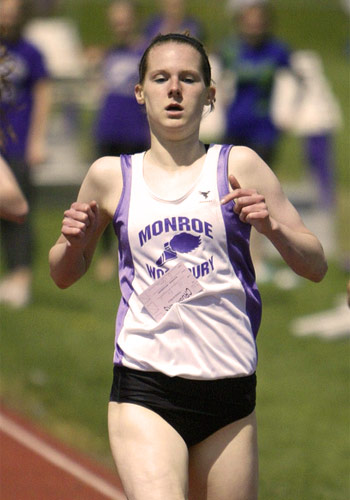 Catching up with action around the country, it turns out the James White (Grandview, Mo.) who won the Kansas Relays high jump at 7-3 ¼ and then came back the following week to clear 7-5 ¾ to win the Winnetonka Invitational , was born in 1992. To put those performances in prospective, the 2007 World Youth championship was won at 7-3 ¼ and the championship meet record is 7-5 ¼ set in 2005. The best jump ever in the under-18 category is 7-7 ¾ set by Javier Sotomayor of Cuba in 1984. Nine year later, Sotomayor would become the first and only man to clear 8-feet with a jump of 8-0 ½. White's mark of 7-5 ¾ ranks him third on the all-time high school.

With the postponement of the Alabama State meet by one week, and the Texas Regionals by three weeks, last week turned out to be a little light on action. Boys' distance runners held the spotlight with Eric Olson (Novato, Ca.) winning the Sacramento MOC 3,200 in 8:55.19 for the top outdoor time in the nation and ranks just behind the 8:57.44 by Lukas Verzbicas (Lincoln Way, New Lenox, Il.) at the Nike Indoor Nationals. Kenny Krotzer (Riverside, Auburn, Wa.) won the Shoreline Invitation 1,600 in 4:12.84, for the second fastest Youth time in the nation. Also at Shoreline, Conner Peloquin (Gig Harbor, Wa.) pushed himself into the national picture with a 9:08.86 second-place finish in the 3,200.

Phillip Young (Key West, Fl.) was a double winner in the State 2A meet, taking the 300 intermediate hurdles in 37.83 and the triple jump at 48-11 ¾. The latter mark ranks him just behind Kasen Covington (Capital, Boise, Id.), who jumped 49-3 indoors. Eddie Lovett (Palm Beach Lakes, West Palm Beach, Fl.) had a nice hurdle double in State 4A regionals, running 14.32 and 38.14, and R.J. Frasier (Jesuit, Carmichael, Ca.) ran 14.43 and 38.15 on a wet track at the Sacramento MOC.

Others performances of note included Josh Mance (Chino Hills, Ca.), who won the USATF National JO 15-16 400 last year in 46.61, cruising to a 47.63 in the San Gabriel Valley League prelims in Southern California, Kevin Bell (Mandarin, Fl.) running 21.67 in the 4A Regionals, Jasmaine Kline (Lake Park, Roselle, Il.) winning the Lake Zurich Invitational shot put at 60-2 and Ryan Crouser (Barlow, Gresham, Or.) bettering the qualifying mark for both the WYC and the U.S. Trials javelin with a toss of 198-5. Earlier, he bettered the standards in both the shot put and the discus—the events he will most likely contest at the U.S. Trials.

In Girls' action, Jessica Maroszek (Seymour, Wi.), after a couple of good dual meet performances, won the Pulanski Invitational discus at 147-7 and the shot put at 44-9, and Kortney Ross (Westview, San Diego, Ca.), who has been slowed in her training with injuries, cleared 13-0 at the Escondido Invitational to become the third Youth vaulter over 13-0. Emily Menges (Garden City, N.Y.) moved into second on the 800 list with a 2:08.14 to finish second in the St. Anthony's Invitational, and Megan Patrigelli (Monroe-Woodbury, Central Valley, N.Y., photo above, by John Nepolitan) and Aisling Cuffe (Cornwall, N.Y.) were 1-2 in New York's Crusader Relays 1,500 at 4:36.3 and 4:37.9. Candace Logino-Thomas (Gilmour Academy, Gates Mills, Oh.) won the Youngstown Optimist meet 200 in 24.19, and Shani Chandler (Westlake, Atlanta, Ga.) won the State 5A Region 4 300 hurdles in 42.96.




US Candidate Lists

- Girls Track - Girls Field - Boys Track - Boys Field




Qualifying Information



The United States is the four-time defending World Youth team champion, and due to a change in the qualifying process, there is a good chance that the U.S. could win a fifth title. In the past, the U.S. team was selected from a limited pool of athletes. For the first time, the 2009 U.S. team for the World Youth Championships (WYC) will be determined by a qualifying meet, June 30-July 1 at Eastern Michigan University. The first two finishers in each event, provided they have met the WYC qualifying standard, will be placed in a pool and the team will be selected from that pool. The size of the 2009 U.S. team that will travel to Italy has been set at 55.



ATTENTION: The following list is for informational use only. Its major purpose is to let athletes, coaches and parents know what is happening with regard to athletes and their prospects concerning in the U.S. trials for the WYC at Eastern Michigan and the WYC in Italy in 2009.



If you are interested in competing in the U.S. World Youth championship trials you need to go to the USA Track and Field website.

Once you click on this link above, you will find all of the information you need to file an entry form for the U.S. WYC trials. Be sure that you read ALL of the information on the above link. Be sure that you are qualified and that that your qualifying performance has been made in the proper time frame: June 24, 2008 through June 22, 2009. Standards for both the U.S. Trials and the World Youth Championships can be found there. They are also on the list below.

Perhaps the most important thing, after you have met the qualifying standard, is to be sure you have a U.S. passport valid through 2009. You must have a passport with you when you participate in the U.S. trials. You will not be able to get a passport at the U.S. trials. Be sure to allow at least six weeks from the time that you apply for a passport until it is sent to you. Getting a passport is a long-term investment. It is good for 10 years and there is every reason to think that you will need one in the next 10 years..

THIS LIST BELOW INCLUDES LEADING ATHLETES WHO HAVE BETTERED QUALIFYING STANDARDS FOR THE WORLD YOUTH CHAMPIONSHIPS AND THE U.S. WORLD YOUTH TRIALS MEET. ALSO LISTED ARE SELECTED ATHLETES WHO HAVE NOT YET ACHIEVED QUALIFYING STANDARDS OR NEED BIRTHDATE CONFIRMATION.

If you have an update or an athlete you feel should be included on the following list, please e-mail list compiler Mike Kennedy at [email protected] You must include mark, meet, site, date and wind readings.




GIRLS







Name Per. Meet Site Date

100 METERS

12.55—WYC Qualifying Standard (marks must be made between Jan. 1, 2008 and June 22, 2009).

11.86—Likely to Score in 2009 WYC (avg. for slowest finalist in last three at WYC)

Leading Athletes Who Have Met WYC Qualifying Standard and Were Born in 1992 or 1993

Ashley Collier (Dunbar, Forth Worth, Tx.) 2-4-92 11.58 USATF Nat. JO (1/15-16) Omaha 7-27-08 +1.4

Jessica Davis (Highland, Palmdale, Ca.) 10-31-92 11.62 So. Sec. Fin. (1) Walnut 5-17-08 +1.3

Octavious Freeman (Lake Wales, Fl.) 4-20-92 11.66 Golden South (1) Orlando 6-7-08 +0.6

Ashton Purvis (St. Elizabeth, Oakland, Ca.) 7-6-92 11.66 USA Jr. Nat. (7) Columbus 6-20-08 +1.3

Valexsia Droughn (Rio Mesa, Oxnard, Ca.) 8-7-93 11.72 So. Sec. Div. II (1) Walnut 5-17-08 +1.4

Dominique Weathers (Vance, Charlotte, N.C.) 11-18-92 11.72 NON (1h2) Greensboro 6-20-08 +1.8

Strangenae Campbell (Pinole Valley, Ca.) 3-13-93 11.74 Stanford Inv. (2) Palo Alto 3-28-09 +1.8

Alyssa McClure (Digital Harbor, Baltimore, Md.) 1-21-92 11.80 AAU Nat. JO (2sf3/15-16) Detroit 7-30-08 +0.7

Kia Jackson (Southwest DeKalb, Decatur, Ga.) 1-15-92 11.81 Golden South Inv. (2) Orlando (FA) 6-7-08 +1.5

English Gardner (Eastern, Voorhees, N.J.) 4-22-92 11.82 NON (2) Greensboro 6-21-08 -1.0

Aakiya Tyson (Jordan, Durham, N.C.) 8-4-92 11.82 State 4A (2) Greensboro 5-10-08 +1.0

Shanae Bailey (Swenson, Philadelphia, Pa.) 2-28-92 11.83 State 2A (1h4) Shippensburg 5-23-08 +1.8

Adenike Pedro (Elizabeth Seton, Bladesburg, Md.) 6-20-92 11.83 Taco Bell Inv. (4s2) Columbia 4-11-09 +0.8

Vashti Bandy (Butler, N.C.) 4-29-92 11.84 State 4A (4) Greensboro 5-10-08 +1.0

Tynia Gaither (Osceola, Kissimmee, Fl.) 3-16-93 11.85 Taco Bell Inv. (5s2) Columbia 4-11-09 +0.8

Tiffany Hines (Skyline, Dallas, Tx.) 3-18-92 11.87 NON (2h3) Greensboro 6-20-08 +1.0

Tierra Tyler (Western, Las Vegas, Nv.) 8-5-92 11.88 USA Reg. XV JO (1/15-16) Escondido 6-15-08 +1.4

Nneka Enemkpali (Pflugerville, Tx.) 10-8-92 11.91 Texas Re. (2) Austin 4-4-08 +0.6

Gabrielle Gray (High Point, N.C.) 12-22-93 11.91 F&F Games (2) Greensboro 4-18 -0.5

Alyssa Prior (Mt. Zion, Jonesboro, Ga.) 2-28-92 11.92 USATF Ga. Assn. (1/15-16) Hoschton 6-13-08 +1.2

Briana Nelson (Mann, Greenville, S.C.) 7-18-92 11.93 State 3A (2) Columbia 5-10-08 +1.0

Varonica Johnson (Myers Park, Charlotte, N.C.) 1-19-93 11.93 USA Reg. III JO (1h1/15-16) Rock Hills 7-13-08 +0.7

Ariane Jordan (Blue Springs, Mo.) -92 11.96 AAU Nat. JO (2h3/15-16) Detroit 7-30-08 +0.7

Isis Wilson (Pasadena, Tx.) 7-14-92 11.98 Texas Rel. (5/DII) Austin 4-3-09 +1.9

La'Creasha Gore (East Gaston, Mt. Holly, N.C.) 4-7-92 12.01 State 4A (6) Greensboro 5-10-08 +1.0

12.00—U.S. World Youth Trials Standard (marks must be made between June 24, 2008 and June 22, 2009)

Athletes Who Have Met U.S. Trials Standard

Ashley Collier (Dunbar, Forth Worth, Tx.) 2-4-92 11.58 USATF Nat. JO (1/15-16) Omaha 7-27-08 +1.4

Ashton Purvis (St. Elizabeth, Oakland, Ca.) 7-6-92 11.69 Hamilton Inv. (1) Berkeley 4-25-09 -0.4

Strangenae Campbell (Pinole Valley, Ca.) 3-13-93 11.74 Stanford Inv. (2) Palo Alto 3-28-09 +1.8

Octavious Freeman (Lake Wales, Fl.) 4-20-92 11.75 Florida Rel. (2) Gainesville 4-3-09 -1.2

Alyssa McClure (Digital Harbor, Baltimore, Md.) 1-21-92 11.80 AAU Nat. JO (2sf3/15-16) Detroit 7-30-08 +0.7

Adenike Pedro (Elizabeth Seton, Bladesburg, Md.) 6-20-92 11.83 Taco Bell Inv. (4s2) Columbia 4-11-09 +0.8

Tynia Gaither (Osceola, Kissimmee, Fl.) 3-16-93 11.85 Taco Bell Inv. (5s2) Columbia 4-11-09 +0.8

English Gardner (Eastern, Voorhees, N.J.) 4-22-92 11.87 Blunt Inv. (1sf2/15-16) Durham 7-19-08 -0.6

Dominique Weathers (Vance, Charlotte, N.C.) 11-18-92 11.90 USA Reg. III JO (1h3/15-16) Rock Hill 7-13-08 +2.0
Gabrielle Gray (High Point, N.C.) 12-22-93 11.91 F&F Games (2) Greensboro 4-18 -0.5

Tiffany Hines (Skyline, Dallas, Tx.) 3-18-92 11.91 USA Nat. JO (2/15-16) Omaha 7-27-08 +1.4

Valexsia Droughn (Rio Mesa, Oxnard, Ca.) 8-7-93 11.92 Mt. Carmel Inv. (1/D1) San Diego 3-29-09 +1.1

Alycia Prior (Mt. Zion, Jonesboro, Ga.) 2-28-92 11.92 USA Reg. III JO (1/15-16) Rock Hill 7-14-08 -0-.7

Varonica Johnson (Myers Park, Charlotte, N.C.) 1-19-93 11.93 USA Reg. III JO (1h1/15-16) Rock Hills 7-13-08 +0.7

Ariane Jordan (Blue Springs, Mo.) -92 11.96 AAU Nat. JO (2h3/15-16) Detroit 7-30-08 +0.7

Tierra Tyler (Western, Las Vegas, Nv.) 8-5-92 11.98 USA Nat. JO (5/15-16) Omaha 7-27-08 +1.4

Zakiya Tyson (Jordan, Durham, N.C.) 8-4-92 11.98 USA Reg. III JO (1h2/15-16) Rock Hill 7-13-08 +0.8

Isis Wilson (Pasadena, Tx.) 7-14-92 11.98 Texas Rel. (5/DII) Austin 4-3-09 +1.9

Kia Jackson (Southwest DeKalb, Decatur, Ga.) 1-15-92 11.99 USA Youth Nat. (2h1/15-16) Charlotte 6-27 +0.5.5

Briana Nelson (J.L. Mann, Greenville, S.C.) 7-18-92 12.00 Taco Bell Inv. (1s1) Columbia 4-11 +0.3

200 METERS

25.70—WYC Qualifying Standard (mark must be made between Jan. 1, 2008 and June 22, 2009).

24.10—Likely to score at 2009 WYC (avg. for slowest finalist in last three WYC)

Leading Athletes Who Have Met WYC Qualifying Standard and Were Born in 1992 or 1993

Ashton Purvis (St. Elizabeth, Oakland, Ca.) 7-6-92 23.37i NSIC (1r3) New York 3-15-09

Jessica Davis (Highland, Palmdale, Ca.) 10-31-92 23.46 State (1) Norwalk 5-31-08 -1.6

Ashley Collier (Dunbar, Fort Worth, Tx.) 2-4-92 23.58 State 4A (1) Austin 5-9-08 +1.1

Whitney Fountain (Columbus, Bronx, N.Y.) 4-3-92 23.77i Eastern States (1) New York (Ar) 2-24-09

Ebony Eutsey (Southridge, Miami, Fl.) 5-3-92 23.78 Miami Elite Inv. (2) Miami 4-11-09

Briana Nelson (Mann, Greenville, S.C.) 7-18-92 23.82 Taco Bell Inv. (2s2) Columbia 4-11-09 +0.4

Octavious Freeman (Lake Wales, Fl.) 4-20-92 23.95 Golden South (1h2() Orlando 6-7-08 +0.9

Taylor Houston (Elkins, Missouri City, Tx.) 2-17-92 23.96 State 5A (4) Austin 5-10-08 +1.1

Akawkaw Ndipagbor (Poly, Long Beach, Ca.) 5-30-93 23.98 USATF SoCal. Assn. (1/15-16) Gardena 6-8-08 +0.1

Shanae Bailey (Swenson, Philadelphia, Pa.) 2-28-92 23.99 USA Youth Nat. (1/15-16) Charlotte 6-28-08 +0.4

Varonica Johnson (Myers Park, Charlotte, N.C.) 1-21-93 24.07 USATF Nat. JO (1h3/15-16) Omaha 7-26-08

Brianna Frazier (Raines, Jacksonville, Fl.) 2-19-92 24.13 NON (1h2) Greensboro 6-21-08 -0.4

Dominique Weathers (Vance, Charlotte, N.C.) 11-18-92 24.14 Taco Bell (1h9) Columbia 4-11-08 +1.5

Tiffany Hines (Skyline, Dallas, Tx.) 3-18-92 24.15 USATF Nat. JO (2/15-16) Omaha 7-26-08 -1.1

Candace Longino-Thomas (Gilmour Acad., Gates Mills, Oh.) -93 24.19 Optinist Inv. (1) Youngstown 5-2-09 +0.8

Dominique Booker (Imm. Concep., Montclair, N.J.) 2-6-92 24.21i Eastern States (1) New York (Arm.) 2-26-08

Zakiya Tyson (Jordan, Durham, N.C.) 8-4-92 24.22 USA Reg. III JO (1/15-16) Rock Hill 7-14-08 -2.6

Breyonna Hunter (Serra, Gardena, Ca.) 3-13-02 24.26 USA Reg. XV JO (1h/15-16) Escondido 7-14-08 +1.0

Kehri Jones (Ellison, Killeen, Tx.) -93 24.27 State 5A (5) Austin 5-10-08 +1.1

Kia Jackson (Southwest DeKalb, Decatur, Ga.) 1-15-92 24.28 USA Youth Nat. (6/15-16) Charlotte 6-27-08 +0.4

Alycia Prior (Mt. Zion, Jonesboro, Ga.) 2-28-92 24.37 USATF Reg. III JO (1h4/15-16) Rock Hill 7-13-08 +1.3

Gabrielle Handy (Pearland, Tx.) 2-4-92 24.46 AAU Nat. JO (1sf1/15-16) Detroit 7-13-08 -0.1

Lauren Ellis (West Florence, Florence, S.C.) 10-5-92 24.47 USATF Youth Nat. (2h7/15-16) Charlotte 6-26-08 -0.8

Alycia Herring (Rancho Verde, Moreno Valley, Ca.) 5-2-92 24.47 USATF Reg. XB (1h1/15-16) San Diego 6-13-08 +1.3

Katie Nelms (Leland, San Jose, Ca.) 9-25-92 24.47 USATF Youth Nat (7-15-16) Charlotte 6-28-08 +0.4

Aijah Urssery (St. Mary's, Inglewood, Ca.) 3-18-92 24.47 So. Sec. Div. IV (2) Walnut 5-17-08 +1.1

Tynia Gaither (Osceola, Kissimmee, Fl.) 3-16-93 24.48 Taco Bell Inv. (1s1) Columbia 4-11-09 +0.6

Shakeela Saunders (Great Bridge, Chesapeake, Va.) 12-19-92 24.49i Nike Indoor Nat. (2s1) Roxbury Crossing 3-15-09

Xauddina Whittington (Cantonsville, Md.) 10-27-92 24.51i Hespanic Games (2) New York (Ar) 1-10-09

Kaila Barber (Midpark, Middleberg Heights, Oh.) -93 24.53 AAU Nat. JO (4/15-16) Detroit 8-2-08 +1.5

Whitney Fountain (Columbus, Bronx, N.Y.) 4-3-92 24.55i Nat Sch. (4r1) New York (Arm) 3-15-08

Jordan Clark (Lathrup, Southfield, Mi.) 8-18-92 24.56 AAU Nat. JO (1h9/15-16) Detroit 7-29-08 -0.3

Kayla Fisher-Taylor (Montbello, Denver, Co.) 7-14-92 24.57 State 5A (1h1) Lakewood 5-16-08 +1.9

La'Creasha Gore (East Gaston, Mt. Holly, N.C.) 4-7-92 24.57 State 4A (2h2) Greensboro 5-10-08 +1.9

Ariane Jordan (Blue Springs, Mo.) -92 24.57 AAU Nat. JO (1h4/15-16) Detroit 7-29 08 -0.6

Shaniqua Corinealdi (Shoemaker, Killeen, Tx.) -92 24.58i Arkansas Inv. (2) Fayetteville 1-10-09

Asiah Gooden (Rancho Verde, Moreno Valley, Ca.) 2-17-92 24.60 Inland Empire Ch. (2) Murrieta 4-18-09 0.0

Jennifer Clayton (Suffern, N.Y.) 10-5-92 24.61i Eastern States (1h3) New York (Ar) 2-24-09

Olivia Ekpone (Northwest, Germantown, Md.) 1-5-93 24.63i Nike Indoor Nat. (1h5) Roxbury Crossing 3-14-09

Jamilah Middlebrooks (Riverwood, Atlanta, Ga.) 1-22-93 24.63 Volunteer Classic (1h3) Knoxville 4-18-09 -1.5

24.65—U.S. World Youth Trials Standard (marks must be made between June 24, 2008 and June 22, 2009)

Athletes Who Have Met U.S. Trials Qualifying Standard

Ashton Purvis (St. Elizabeth, Oakland, Ca.) 7-6-92 23.37i NSIC (1r3) New York 3-15-09

Ashley Collier (Dunbar, Fort Worth, Tx.) 2-4-92 23.70 USA Nat. JO (1/15-16) Omaha 7-26-08 -1.1

Whitney Fountain (Columbus, Bronx, N.Y.) 4-3-92 23.77i Eastern States (1) New York (Ar) 2-24-09

Ebony Eutsey (Southridge, Miami, Fl.) 5-3-92 23.78 Miami Elite Inv. (2) Miami 4-11-09

Briana Nelson (Mann, Greenville, S.C.) 7-18-92 23.82 Taco Bell Inv. (2s2) Columbia 4-11-09 +0.4

Shanae Bailey (Swenson, Philadelphia, Pa.) 2-28-92 23.99 USA Youth Nat. (1/15-16) Charlotte 6-28-08 +0.4

Varonica Johnson (Myers Park, Charlotte, N.C.) 1-21-93 24.07 USATF Nat. JO (1h3/15-16) 7-24-08 +1.5

Jessica Davis (Highland, Palmdale, Ca.) 10-31-92 24.10 Mt. SAC Rel. (/Inv.) Walnut 4-18-09 +0.7

Tiffany Hines (Skyline, Dallas, Tx.) 3-18-92 24.15 USATF Nat. JO (2/15-16) Omaha 7-26-08 -1.1

Candace Longino-Thomas (Gilmour Acad., Gates Mills, Oh.) -93 24.19 Optanist Inv. (1) Youngstown 5-2-09 +0.8

Akawkaw Ndipagbor (Poly, Long Beach, Ca.) 4-30-93 24.19 USA Youth Nat. (1h4/15-16) Charlotte 6-26-08 +0.5

Zakiya Tyson (Jordan, Durham, N.C.) 8-4-92 24.22 USA Reg. III JO (1/15-16) Rock Hill 7-14-08 -2.6

Breyonna Hunter (Serra, Gardena, Ca.) 3-13-02 24.26 USA Reg. XV JO (1h/15-16) Escondido 7-14-08 +1.0

Kia Jackson (Southwest DeKalb, Decatur, Ga.) 1-15-92 24.28 USA Youth Nat. (6/15-16) Charlotte 6-27-08 +0.4

Dominique Weathers (Vance, Charlotte, N.C.) 11-18-92 24.28 USA Youth Nat. (4/15-16) Charlotte 6-28-08 +0.4

Taylor Houston (Elkins, Missouri City, Tx.) 2-17-92 24.31 USA Nat. JO (2h3/15-16) Omaha 7-24-08 +1.8

Alycia Prior (Mt. Zion, Jonesboro, Ga.) 2-28-92 24.37 USA Reg. III JO (1h4/15-16) Rock Hill 7-13-08 +1.3

Gabrielle Handy (Pearland, Tx.) 2-4-92 24.46 AAU Nat. JO (1sf1/15-16) Detroit 7-13-08 -0.1

Lauren Ellis (West Florence, Florence, S.C.) 10-5-92 24.47 USATF Youth Nat. (2h7/15-16) Charlotte 6-26-08 -0.8

Katie Nelms (Leland, San Jose, Ca.) 9-25-92 24.47 USATF Youth Nat (7-15-16) Charlotte 6-28-08 +0.4

Tynia Gaither (Osceola, Kissimmee, Fl.) 3-16-93 24.48 Taco Bell Inv. (1s1) Columbia 4-11-09 +0.6

Shakeela Saunders (Great Bridge, Chesapeake, Va.) 12-19-92 24.49i Nike Indoor Nat. (2s1) Roxbury Crossing 3-15-09

Xauddina Whittington (Cantonsville, Md.) 10-27-92 24.51i Hespanic Games (2) New York (Ar) 1-10-09

Kaila Barber (Midpark, Middleberg Heights, Oh.) -93 24.53 AAU Nat. JO (4/15-16) Detroit 8-2-08 +1.5

Alycia Herring (Rancho Verde, Moreno Valley, Ca.) 24.53 Inland Empire Ch. (1) Murrieta 4-18-09 0.0

Jordan Clark (Lathrup, Southfield, Mi.) 8-18-92 24.56 AAU Nat. JO (1h9/15-16) Detroit 7-29-08 -0.3

Ariane Jordan (Blue Springs, Mo.) -92 24.57 AAU Nat. JO (1h4/15-16) Detroit 7-29-08 -0.6

Shaniqua Corinealdi (Shoemaker, Killeen, Tx.) -92 24.58i Arkansas Inv. (2) Fayetteville 1-10-09

Asiah Gooden (Rancho Verde, Moreno Valley, Ca.) 2-17-92 24.60 Inland Empire Ch. (2) Murrieta 4-18-09 0.0

Jennifer Clayton (Suffern, N.Y.) 10-5-92 24.61i Eastern States (1h3) New York (Ar) 2-24-09

Jamilah Middlebrooks (Riverwood, Atlanta, Ga.) 1-22-93 24.63 Volunteer Classic (1h3) Knoxville 4-18-09 -1.5

Olivia Ekpone (Northwest, Germantown, Md.) 1-5-93 24.63i Nike Indoor Nat. (1h5) Roxbury Crossing 3-14-09

400 METERS

57.80—WYC Qualifying Standard (marks must be made between Jan. 1, 2008 and June 22, 2009).

55.18—Likely to score in 2009 WYC (avg. for slowest qualifier in last three WYC)

Leading Athletes Who Have Met WYC Qualifying Standard and Were Born in 1992 or 1993

Ebony Eutsey (Southridge, Miami, Fl.) 5-3-92 52.42 Miami Elite Inv. (2s1) Miami 4-11-09

Akawkaw Ndipagbor (Poly, Long Beach, Ca.) 4-30-93 53.35 State (1) Norwalk 5-31-08

Briana Nelson (Mann, Greenville, S.C.) 7-18-92 53.46 NON (1r5) Greensboro 6-21-08

Brianna Frazier (Raines, Jacksonville, Fl.) 2-19-92 53.58 USA Nat. JO (1/15-16) Omaha 7-27-08

Michelle Brown (Seneca, Tabernacle, N.J.) 1-24-92 53.91 State Group 3 (1) South Plainfield 5-31-08

Nia Fluker (Christway Academy,, Duncanville, Tx.) 1-24-92 54.08 USATF Nat. JO (3/15-16) Omaha 7-27-08

Diamond Dixon (Westside, Houston, Tx.) 6-29-92 54.13 TSU Rel. (1) Houston 3-21-09

Olivia Ekpone (Northwest, Germantown, Md.) 1-5-93 54.18 State 4A (1) Baltimore 5-24-08

Ibukun Blessing Mayungbe (Lamar, Houston, Tx.) 4-15-92 54.39 TSU Rel. (1) Houston 3-23-08

Kianna Ruff (McCluer-S., Berkeley, St. Louis, Mo.) 7-18-92 54.48 AAU Reg. 8 JO (1/15-16) 7-29-08

English Gardner (Eastern, Voorhees, N.J.) 4-22-92 54.81 Youth Inv. (1/15-16) Philadelphia 7-13-08

Maya Williamson (Killeen, Tx.) -93 54.89 AAU Nat. JO (1h5/15-16) Detroit 8-1-08

Jessica Davis (Highland, Palmdale, Ca.) 10-31-92 55.03 Golden League (1) Palmdale 5-2-08

Azia Walker (Reynoldsburg, Oh.) 1-19-93 55.04 State Div. I (3) Columbus 6-7-08

Chamique Francis (Queens Tech, Queens, N.Y.) 7-7-93 55.12 AAU Reg. I JO (1/15-16) New Haven 6-29-08

Angelica Weaver (Rancho Cucamonga,Ca.) 6-11-92 55.15 USA Reg. XV JO (1/15-16) Escondido 6-15-08

Amber Allen (Passaic Tech, Wayne, N.J.) 10-17-92 55.17 AAU Reg. I (1h2/15-16) New Haven 6-29-08

Jasmyne King (Central, Rapid City, S.D.) 3-3-92 55.22 USATF Nat. JO (1h1/15-16) Omaha 7-25-08

Kala Allen (Williamsville East, East Amherst, N.Y.) 11-9-93 55.24 State (1) Buffalo 6-14-08

Janet Mellor (Mount Sinai, N.Y.) 1-28-92 55.28 NON (5h4) Greensboro 6-21-08

Morganne Phillips (Shades Valley, Irondale, Al.) 11-10-92 55.33 Mountain Brooke Inv. (1) Mountain Brook 4-11-09

Jazmin Harper (Oakmont, Roseville, Ca.) 9-27-93 55.36 State (5) Norwalk 5-31-08

Samantha Berggren (Middle Park, Granby, Co.) 10-25-92 55.40 USATF Reg. X JO (1/15-16) Agoura 6-22-08

Jade Barber (Midpark, Middleburg Heights, Oh.) -93 55.46 AAU Nat. JO (1h3/15-16) Detroit 8-1-08

Ashley Collier (Dunbar, Fort Worth, Tx.) 2-4-92 55.57 Arlington Inv. (2) Arlington 3-1-08

Taylor Ellis-Watson (Springside, Pa.) 5-6-93 55.65 Golden South (2h2) Orlando 6-7-08

Kamaria Brown (Baton Rouge, La.) 12-21-92 55.66 Mobile MOC (1) Mobile 4-4-09

Julie Nunn (South Lake, Fl.) 2-8-92 55.66 Brian Jaeger Inv. (1) Winter Park 4-11-09

Alfia Charles (Roosevelt, Greenbelt, Md.) 7-22-92 55.71 NON (7r4) Greensboro 6-21-08

Shakeela Saunders (Great Bridge, Chesapeake, Va.) 12-18-93 55.72 Blunt Inv. (1/15-16) Durham 7-20-08

Lauren Ellis (West Florence, Florence, S.C.) 10-5-92 55.83 USA Youth Nat. (4/15-16) Charlotte 6-29-08

Xauddina Whittington (Catonsville, Md.) 10-27-92 55.83i Hispanic Games (2/inv) New York 1-10-09

Cierra Jordan (St. Mary's, Stockton, Ca.) 12-29-93 55.84 Woody Wilson Inv. (1) Davis 4-17-09

Deseree King (Oxon Hill, Md.) 4-15-92 55.84 USA Nat. JO (2h3/15-16) 7-25-08

Jande Pierce (Snellville, Ga.) 5-31-93 55.92 USA Youth Nat. (1h2/15-16) Charlotte 6-27-08

Daianna Barron (Warrensville Heights, Oh.) 5-15-92 55.94 Mehock Rel. (2) Mansfield 4-18-09

55.94—U.S. World Youth Trials Standard (must be made between June 24, 2008 and June 22, 2009)

Athletes Who Have Met U.S. Trials Qualifying Standard

Ebony Eutsey (Southridge, Miami, Fl.) 5-3-92 52.42 Miami Elite Inv. (2s1) Miami 4-11-09

Brianna Frazier (Raines, Jacksonville, Fl.) 2-19-92 53.58 USA Nat. JO (1/15-16) Omaha 7-27-08

Briana Nelson (J.L. Mann, Greenville, S.C.) 7-18-92 53.71 Taco Bell (1) Columbia 4-11-09

Akawkaw Ndipagbor (Poly, Long Beach, Ca.) 4-30-93 53.76 USA Youth Nat. (1/15-16) Charlotte 6-29-08

Nia Fluker (Christway Academy,, Duncanville, Tx.) 1-24-92 54.08 USATF Nat. JO (3/15-16) Omaha 7-27-08

Diamond Dixon (Westside, Houston, Tx.) 6-29-92 54.13 TSU Rel. (1) Houston 3-21-09

Michelle Brown (Seneca, Tabernacle, N.J.) 1-24-92 55.17 Rowan Girls Inv. (1) Glassboro 5-2-09

Kianna Ruff (McCluer-S., Berkeley, St. Louis, Mo.) 7-18-92 54.48 AAU Reg. 8 JO (1/15-16) 7-29-08

Ibukun Blessing Mayungbe (Lamar, Houston, Tx.) 4-15-92 54.53 Texas Southern Rel. (3) Houston 3-21-09

English Gardner (Eastern, Voorhees, N.J.) 4-22-92 54.81 Youth Inv. (1/15-16) Philadelphia 7-13-08

Maya Williamson (Killeen, Tx.) -93 54.89 AAU Nat. JO (1h5/15-16) Detroit 8-1-08

Chamique Francis (Queens Tech, Queens, N.Y.) 7-7-93 55.12 AAU Reg. I JO (1/15-16) New Haven 6-29-08

Amber Allen (Passaic Tech, Wayne, N.J.) 10-17-92 55.17 AAU Reg. I (1h2/15-16) New Haven 6-29-08

Jasmyne King (Central, Rapid City, S.D.) 3-3-92 55.22 USATF Nat. JO (1h1/15-16) Omaha 7-25-08

Morganne Phillips (Shades Valley, Irondale, Al.) 11-10-92 55.33 Mountain Brooke Inv. (1) Mountain Brook 4-11-09

Amber Allen (Passaic Tech, Wayne, N.J.) 10-17-92 55.35i Eastern States (1) New York (Ar) 2-24-09

Angelica Weaver (Rancho Cucamonga,Ca.) 6-11-92 55.43 USATF Nat. JO (6/15-16) Omaha 7-27-08

Jade Barber (Midpark, Middleburg Heights, Oh.) -93 55.46 AAU Nat. JO (1h3/15-16) Detroit 8-1-08

Kamaria Brown (Baton Rouge, La.) 12-21-92 55.66 Mobile MOC (1) Mobile 4-4-09

Julie Nunn (South Lake, Fl.) 2-8-92 55.66 Brian Jaeger Inv. (1) Winter Park 4-11-09

Shakeela Saunders (Great Bridge, Chesapeake, Va.) 12-18-93 55.72 Blunt Inv. (1/15-16) Durham 7-20-08

Lauren Ellis (West Florence, Florence, S.C.) 10-5-92 55.83 USA Youth Nat. (4/15-16) Charlotte 6-29-08

Xauddina Whittington (Catonsville, Md.) 10-27-92 55.83i Hispanic Games (2/inv) New York 1-10-09

Cierra Jordan (St. Mary's, Stockton, Ca.) 12-29-93 55.84 Woody Wilson Inv. (1) Davis 4-17-09

Deseree King (Oxon Hill, Md.) 4-15-92 55.84 USA Nat. JO (2h3/15-16) 7-25-08

Jande Pierce (Snellville, Ga.) 5-31-93 55.92 USA Youth Nat. (1h2/15-16) Charlotte 6-27-08

Daianna Barron (Warrensville Heights, Oh.) 5-15-92 55.94 Mehock Rel. (2) Mansfield 4-18-09

800 METERS

2:16.00—WYC Qualifying Standard (marks must be made between Jan. 1, 2008 and June 22, 2009).

2:09.74—Likely to Score at 2009 WYC (avg. for slowest finalist in last three WYC)

Leading Athletes Who Have Met WYC Qualifying Standard and Were Born in 1992 or 1993

Phyllis Francis (McAuley, Brooklyn, N.Y.) 5-4-92 2:04.83 USATF Nat. JO (1/15-16) Omaha 7-26-08

Emily Menges (Garden City, N.Y.) 7-28-92 2:08.14 St. Anthony's Inv. (2) Huntington 5-2-09

Chelsey Sveinsson (Greenhill, Addison, Tx.) 9-27-92 2:08.46 TSU Rel. (1) Houston 3-22-08

Nia Fluker (Christway Academy, Duncanville, Tx.) 5-31-93 2:08.69 USATF Nat. JO (2/15-16) Omaha 7-26-08

Skyler Wallen (Northwestern, Miami, Fl.) 5-29-92 2:09.00 Florida Rel. (1) Gainesville 4-3-09

Samantha Berggren (Middle Park, Granby, Co.) 10-25-92 2:09.13 USATF Nat. JO (3/15-16) Omaha 7-26-08

Chelsea Cox (Southern Ocean, Manahawkin, N.J.) 8-18-92 2:09.57 NON (5r3) Greensboro 6-21-08

Kianna Ruff (McCluer South-Berkeley, St. L., Mo.) 7-18-92 2:09.69 USA Jr. Nat. (5) Columbus 6-21-08

Megan Patrignelli (Mon.-Wood., Cent. Valley, N.Y.) 6-22-92 2:10.08 Red Raider Rel. (1) Thiells 4-18-09

Michelle Riley (Saratoga Springs, N.Y.) 6-23-92 2:10.67 State Sec. 2 Div. I (1) Johnstown 6-6-08

Lillian Greibesland (Warwick Valley, W, N.Y.) 5-30-92 2:10.79 State Sec. 9 Class A (1) Central Valley 5-30-08

Brianna Welch (North Shore, Glen Head, N.Y.) 3-21-92 2:10.95i Nat. Sch. (6) New York (Arm) 3-16-08

Marie Demedicis (Mountain Brook, Al.) 3-13-93 2:11.35 Mobile MOC (1) Mobile 4-5-08

Ellen Dougherty (East, Sioux City, Ia) 3-10-92 2:11.5 Inv. (1) Attleboro 4-22-08

McKenzie Schulz (Benet Academy, Lisle, Il.) 2-19-92 2:11.5 Scott Inv. (1) Naperville 4-16-09

Chloe Curtis (Redondo, Redondo Beach, Ca.) -92 2:11.75 So. Sec. Div. II (1h) Moorpark 5-10-08

Claudia Francis (Cardozo, Oakland Gardens, N.Y.) 1-14-93 2:11.75 USATF Nat. JO (4/15-16) Omaha 7-26-08

Tara Blanchard (La Reina, Thousand Oaks, Ca.) 2-7-92 2:11.88 So. Sec. Fin. (6) Norwalk 5-23-08

Catherine Diethelm (Mountain Brook, Al.) 9-29-92 2:11.88 Mountain Brook Inv. (2) Mountain Brook 4-12-08

Chloe Schmidt (State College, Pa.) 6-20-93 2:11.99i State PTFCA (1) State College 2-21-09

Kalyn Fisher (Lewisburg, Pa.) 8-22-92 2:12.35 State 2A (1) Shippensburg 5-24-08

Malekah Holland (Bishop Ford, Brooklyn, N.Y. ) 7-3-92 2:12.38 New York Rel (4) New York 4-19-08

Amirah Johnson (Roosevelt, Greenbelt, Md.) 2-15-93 2:12.41 Caribbean Sch. Inv. (1) Puerto Rico 6-14-08

Katie Flood (Dowling Catholic, W. Des Moines., Ia.) 2-29-92 2:12.49 State 4A (4) Des Moines 5-17-08

Shelby Houlihan (East, Sioux City, Ia.) 2-8-93 2:12.60 State 4A (5) Des Moines 5-17-08

Vanessa Fabrizio (Mullen Prep, Denver Co.) 5-20-92 2:12.67 NON (1r1/ee) Greensboro 6-21-08

Cory McGee (Pass Christian, Ms.) 5-29-92 2:12.73 Mobile MOC (1) Mobile 4-4-09

Paisley Pettway (Millikan, Long Beach, Ca.) 10-11-92 2:12.76 Arcadia Inv. (8/Inv.) Arcadia 4-11-09

Kalyn Fisher (Lewisburg, Pa.) 8-22-92 2:13.19i State PTFCA (2) State College 2-21-09

Aubrielle Wright (Lovejoy, Hampton, Ga.) 1-17-92 2:13.7 McEachern Inv. (1) Powder Springs 4-18-09

Julie Sinkovitz (Immaculate Heart Academy, N.J.) 3-16-92 2:13.8i New Jersey Bergen MOC (1) New York (Ar) 2-18-09

Tara Blanchard (La Reina, Thousand Oaks, Ca.) 2-7-92 2:14.00 Arcadia Inv. (11/Inv.) Arcadiua 4-11-09

Gabrielle Scott (Woodbridge, Irvine, Ca.) 7-12-93 2:14.14 Trabuco Hills Inv. (1) Mission Viejo 4-4-09

Dynasty Gammage (Poly, Long Beach, Ca.) 7-7-93 2:14.22 Mt. SAC Rel. (5/Inv.) Walnut 4-18-09

Tia Gamble (DeSoto, Tx.) 9-23-93 2:14.48 Texas Southern Rel. (1) Fort Worth 3-21-09

Cydney Robinson (Churchland, Va.) 7-22-92 2:14.58 Captain's Classic (1) Newport News 4-4-09

Elyse Wilkinson (Penn Charter, Philadelphia, Pa.) 4-25-93 2:14.95i NSIC (13) New York (Ar) 3-15-93

Marielle Hall (Haddonfield, N.J.) 1-28-92 2:15.13i NSIC (12) New York (Ar) 3-15-09

Katherine Delaney (Santa Margarita, Rancho SM, Ca.) 4-13-93 2:15.50 Trabuco Hills (3) Mission Viejo 4-4-09

Shanique DaSilva (Bishop Ford, Brooklyn, N.Y.) 10-5-93 2:15.78i NSIC (13) New York (Ar) 3-15-09

Felicia O'Donnell (Delsea,Franklinville, N.J.) 3-6-93 2:15.90i State MOC ( ) Toms River 2-21-09

Tia Leake (Poly, Long Beach, Ca.) 11-1-92 2:15.94 Arcadia Inv. (2r2) Arcadia 4-11-09

Molly McNamara (Catholic, Red Bank, N.J.) 12-12-92 2:15.98i Eastern States (4) New York (Ar) 2-24-09

2:17.61—U.S. World Youth Trials Standard (marks must be made between June 24, 2008 and June 22, 2009)

Leading Athletes Who Have Met U.S. Trials Qualifying Standard

Phyllis Francis (McAuley, Brooklyn, N.Y.) 5-4-92 2:04.83 USATF Nat. JO (1/15-16) Omaha 7-26-08

Emily Menges (Garden City, N.Y.) 7-28-92 2:08.14 St. Anthony's Inv. (2) Huntington 5-2-09

Nia Fluker (Christway Academy, Duncanville, Tx.) 5-31-93 2:08.69 USATF Nat. JO (2/15-16) Omaha 7-26-08

Chelsey Sveinsson (Greenhill, Addison, Tx.) 9-27-92 2:09.09 TAPPS Reg. (1) 3-22

Samantha Berggren (Middle Park, Granby, Co.) 10-25-92 2:09.13 USATF Nat. JO (3/15-16) Omaha 7-26-08

Megan Patrignelli (Mon.-Wood., Cent. Valley, N.Y.) 6-22-92 2:10.08 Red Raider Rel. (1) Thiells 4-18-09

Kianna Ruff (McCluer So.-Berkeley, St. Louis, Mo.) 7-18-92 2:11.24 AAU Nat. JO (1/15-16) Detroit 7-30-08

McKenzie Schulz (Benet Academy, Lisle, Il.) 2-19-92 2:11.5 Scott Inv. (1) Naperville 4-16-09

Claudia Francis (Cardozo, Oakland Gardens, N.Y.) 1-14-93 2:11.75 USATF Nat. JO (4/15-16) Omaha 7-26-08

Chloe Curtis (Redondo, Redondo Beach, Ca.) -92 2:11.83 Arcadia Inv. (5/Inv.) Arcadia 4-11-09

Chloe Schmidt (State College, Pa.) 6-20-93 2:11.99i State PTFCA Ch. (1) State College 2-21-09

Chelsea Cox (Southern Ocean, Manahawkin, N.J.) 8-18-92 2:12.25i State MOC (2) Toms River 2-21-09

Amirah Johnson (Roosevelt, Greenbelt, Md.) 2-15-93 2:12.47 Arcadia Inv. (6/Inv.) Arcadia 4-11-09

Cory McGee (Pass Christian, Ms.) 5-29-92 2:12.73 Mobile MOC (1) Mobile 4-4-09

Paisley Pettway (Millikan, Long Beach, Ca.) 10-11-92 2:12.76 Arcadia Inv. (8/Inv.) Arcadia 4-11-09

Kalyn Fisher (Lewisburg, Pa.) 8-22-92 2:13.19i State PTFCA (2) State College 2-21-09

Julie Sinkovitz (Imm. Heart Academy, Washington, N.J.) 3-16-92 2:13.8i New Jersey Bergen MOC (1) New York (Ar) 2-18-09

Tara Blanchard (La Reina, Thousand Oaks, Ca.) 2-7-92 2:14.00 Arcadia Inv. (11/Inv.) Arcadiua 4-11-09

Gabrielle Scott (Woodbridge, Irvine, Ca.) 7-12-93 2:14.14 Trabuco Hills Inv. (1) Mission Viejo 4-4-09

Dynasty Gammage (Poly, Long Beach, Ca.) 7-7-93 2:14.22 Mt. SAC Rel. (5/Inv.) Walnut 4-18-09

Tia Gamble (DeSoto, Tx.) 9-23-93 2:14.48 Texas Southern Rel. (1) Fort Worth 3-21-09

Cydney Robinson (Churchland, Va.) 7-22-92 2:14.58 Captain's Classic (1) Newport News 4-4-09

Shelby Houlihan (East, Sioux City, Ia.) 2-8-93 2:14.64i Mid-America Winter Classic (1) Lincoln 3-1-09

Elyse Wilkinson (Penn Charter, Philadelphia, Pa.) 4-25-93 2:14.95i NSIC (13) New York (Ar) 3-15-93

Marielle Hall (Haddonfield, N.J.) 1-28-92 2:15.13i NSIC (12) New York (Ar) 3-15-09

Shanique DaSilva (Bishop Ford, Brooklyn, N.Y.) 10-5-93 2:15.78i NSIC (13) New York (Ar) 3-15-09

Malekah Holland (Bishop Ford, Brooklyn, N.Y.) 7-3-92 2:15.49i Marine Corps Inv. (3) New York (Ar) 12-27-08

Katherine Delaney (Santa Margarita, Rancho SM, Ca.) 4-13-93 2:15.50 Trabuco Hills (3) Mission Viejo 4-4-09

Ellen Dougherty (East, Sioux City, Ia) 3-10-92 2:15.70i Mid-American Winter Classic (2) Lincoln 3-1-09

Heather Selheimer (North Penn, Lansdale, Pa.) 2-14-93 2:15.85i State (5) State College (PSU) 2-21-09

Felicia O'Donnell (Delsea,Franklinville, N.J.) 3-6-93 2:15.90i State MOC ( ) Toms River 2-21-09

Molly McNamara (Catholic, Red Bank, N.J.) 12-12-92 2:15.98i Eastern States (4) New York (Ar) 2-24-09

1,500 METERS

4:35.0—WYC Qualifying Standard (marks must be made between Jan. 1, 2008 and June 22, 2009).

4:29.34—Likely to Score in 2009 WYC (avg. for 8th place for last three WYC)

Athletes Who Have Met WYC Qualifying Standard and Were Born in 1992 or 1993

Chelsey Sveinsson (Greenhill, Addison, Tx.) 9-27-92 4:23.72' Penn Rel. (3) Philadelphia 4-24-08

Cory McGee (Pass Christian, Ms.) 5-29-92 4:25.88 USA Jr. Nat. (5) Columbus 6-22-08

Emily Lipari (Roslyn Heights, N.Y.) 11-19-92 4:30.58 State (1) Buffalo 6-14-08

MacKenzie Carter (Fayetteville-Manlius, M, N.Y.) 2-6-92 4:34.13 State (3) Buffalo 6-14-08

Emilyu Menges (Garden City, N.Y.) 7-28-92 4:34.2 Nassau Co. Ch. Div. II (2) Westbury 5-28-08

Shannon Osika (Mott, Waterford, Mi.) 6-15-93 4:35.0 State Div. I (2) Rockford 5-31-08

4:49.11 (1,500)—U.S. World Youth Trials Standard

5:07.11 (1,600)—U.S. World Youth Trials Standard

5:08.11 (Mile)—U.S. World Youth Trials Standard

Marks Must be Made Between June 24, 2008 and June 22, 2009

Bettering Any of the Three Above Standards Will Qualify You for the U.S. 1,500 Trials.

1,500 Meters

Leading Athletes Who Have Met U.S. Trials Qualifying Standard

Chelsey Sveinsson (Greenhill, Addison, Tx.) 9-27-92 4:27.63' Penn Rel. (1) Philadelphia 4-23-09

Claudia Francis (Cardozo, Oakland Gardens, N.Y.) 1-14-93 4:35.33 USA Nat. JO (1/15-16) Omaha 7-27-08

Emily Lipari (Roslyn Heights, N.Y.) 11-19-92 4:32.59i State (1) Ithaca 3-7-09

Megan Patrignelli (Mon.-Wood., Cent. Valley, N.Y.) 6-22-92 4:36.3 N.Y. Crusader Rel. (1) Central Valley 5-2-09

Cory McGee (Pass Christian, Ms.) 5-29-92 4:36.80i Reebok Boston Games (4) Roxbury (RLC) 2-7-09

Courtney Chapman (Fayetteville-Manlius, M, N.Y.) 6-25-93 4:37.07i State Sec. 3 (1) Syracuse 2-27-09

Ailing Cuffe (Cornwall, N.Y.) 9-12-93 4:37.9 N.Y. Crusader Rel. (2) Central Valley 5-2-09

Danielle Menlove (Jordan, Sandy, Ut.) 9-23-93 4:38.10 USA Nat. JO (2/15-16) Omaha 7-27-08

Haley McMahon (Arlington, N.Y.) 5-12-93 4:39.85 State Sec. 1 (3) West Point 2-22-09

Eleanor Fulton (Highlands Ranch, Co.) 5-17-93 4:40.10 USA Reg. X JO (1/15-16) Glendale 7-13-08

Gabrielle Anzalone (Grand Blanc, Mi.) -93 4:41.28 AAU Nat. JO (1/15;16) Ypsilanti 7-31-08

Molly Pezzulo (Burnt Hills-Balls. Lake, BH, N.Y.) 4-14-93 4:42.1i State Sec. 1 (2) Albany 3-1-09

MaryKate Anselmini (Ward Melville, Setauket, N.Y.) 4-11-93 4:42.20 Derrick Adkins Inv. (2) Uniondale (4-13-09

Phyllis Francis (McAuley, Brooklyn, N.Y.) 5-4-92 4:42.24 USA Nat. JO (1h1/15-16) Omaha 7-25-08

Elizabeth Briasco (Queens Science, Jamaica, N.Y.) 9-2-92 4:42.26i Colgate Games Fin. (1) New York 1-31-09

Diane Robison (Parkway Central, Chesterfield, Mo.) 4-10-92 4:43.20 USA Nat. JO (2h1/15-16) Omaha 7-27-08

Destiny Jenkins (Covington, Ga.) 12-26-93 4:44.24 USA Youth Nat. (2/15-16) Charlotte 6-29-08

Henrietta Miers (Bronxville, N.Y.) 1-4-92 4:44.70i Sec. 1 Class C Ch. (1) New York (Ar) 2-08.09

1,600 and Mile

Leading Athletes Who Have Met U.S. Trials Qualifying Standard

Chelsey Sveinsson (Greenhill, Addison, Tx.) 9-27-92 4:46.85y Penn Rel. (1) Philadelphia (4:45.19m) 4-23-09

Emily Lipari (Roslyn, Roslyn Heights, N.Y.) 11-19-92 4:47.44iy Nike Indoor Nat. (1) Rox. Crossing (4:45.78m) 2-15-09

Cory McGee (Pass Christian, Ms.) 5-29-92 4:50.63 LSU Inv. (1) Baton Rouge 3-28-09

Hannah Neczypor (North Royalton, Oh.) -92 4:53.50 Tornado Rel. (1) Dover 4-18-09

McKenzie Schulz (Benet Academy, Lisle, Il.) 2-19-92 4:54.0 Scott Inv. (1) Naperville 4-16-09

Catrina McAlister (Arcadia, Ca.) 8-21-93 4:54.95 Surf City Inv. (1) Costa Mesa (Est) 3-28-09

Emma Brick (Sacred Heart Academy, Louisville, Ky.) 4-7-93 4:55.12iy Nike Indoor Nat. (5) Rox. Crossing (4:53.41m) 3-15-09

Malia Cali (St. Thomas Aquinas, Hammond, La.) 9-19-92 4:57.03 LSU Inv. (2) Baton Rouge 1-10-09

Eleanor Fulton (Highlands Ranch, Co.) 5-17-93 4:57.08 Mullen Runners Roost (1) Denver 4-11-09

Jessica Tonn (Zavier Prep, Phoenix, Az.) 2-15-92 4:57.67 Chandler Inv. (1) Chandler 3-28-09

Joanna Stevens (Blacksburg, Va.) 1-7-92 4:59.79iy Nike Indoor Nat. (7) Rox. Crossing (4:58.05) 3-15-09

Christina Adams (Esperanza, Anaheim, Ca.) 5-30-92 4:58.10 Surf City Inv. (2) Costa Mesa 3-28-09

Aisling Cuffe (Cornwall, N.Y.) 9-12-93 4:59.92iy New Balance (4) New York (Ar) (4:58.18m) 1-24-09

Emily Menges (Garden City, N.Y.) 7-28-92 4:59.93iy Dartmouth Inv. (1) Hanover (4:58.19m) 1-10-09

Christine Adams (Esperanza, Anaheim, Ca.) 5-30-92 4:58.10 Surf City Inv. (2) Costa Mesa 3-28-09

Joanna Stevens (Blacksburg, Va.) 1-7-92 4:58.28i State 2A (1) Lynchburg 2-28-09

Baylee Mires (Mead, Spokane, Wa..) 12-10-92 4:58.55 Pasco Inv. (2) Pasco 4-18-09
Molly McNamara (Catholic, Red Bank, N.J.) 12-12-92 4:58.79i State MOC (2) Toms River 2-21-09

Lindsay Crevoiserat (Glastonbury, Ct.) 2-9-93 5:00.99iy NSIC (1) Rox. Crossing (4:59.25m) 3-15-09

Brianna Welch (North Shore, Glen Head, N.Y.) 3-21-92 4:59.7i Spike Shoe Inv. (1) New York (Ar) 12-22-08

Kalyn Fisher (Lewisburg, Pa.) 8-22-92 5:01.04y Penn Rel. (4) Pennsylvania (4:59.89m) 4-23-09

Kathleen Stevens (Blacksburg, Va.) 1-7-92 5:01.89iy Virginia Tech (2) Blacksburg (5:00.14m) 1-24-09

3,000 METERS

9:55.00—WYC Qualifying Standard (marks must be made between Jan. 1, 2008 and June 22, 2009).

9:35.51—Likely to Score in 2009 WYC (avg. for 8th Place in last three WYC)

Athletes Who Have Met WYC Qualifying Standard and Were Born in 1992 or 1993

Emily Lipari (Roslyn, Roslyn Heights, N.Y.) 11-19-92 9:37.53 State (1) Buffalo 6-13-08

Aisling Cuffe (Cornwall, N.Y.) 9-12-93 9:45.82 Penn Rel. (4) Philadelphia 4-23-09

Katie Flood (Dowling Catholic, W. Des Moines., Ia.) 2-29-92 9:46.04 State 4A (1) Des Moines 5-15-08

Courtney Chapman (Fayetteville-Manlius, M, N.Y.) 6-25-93 9:48.02 Oneida Inv. (1) Oneida 5-9-08

Jessica Tonn (Xavier, Phoenix, Az.) 2-15-92 9:50.3' Arcadia Inv. (2/Inv.) Arcadia 4-11-09

Kaylin Mahoney (Saugus, Ca.) 6-4-93 9:51.8' State (4) Norwalk 5-31-08

Chelsea Ley (Kingsway, Woolwich, N.J.) 4-9-92 9:53.19 Penn Rel. (8) Philadelphia 4-23-09

10:48.50 (3,000)—U.S. World Youth Trials Standard

11:18.50 (3,200/Two Mile)—U.S. World Youth Trials Standard

Marks Must be Made Between June 24, 2008 and June 22, 2009

Bettering Either of the Three Above Standards Will Qualify You for the U.S. 3.000 Trials

Leading Athletes Who Have Met U.S. Trials Qualifying Standard

3,000 Meters

Aisling Cuffe (Cornwall, N.Y.) 9-12-93 9:45.82 Penn Rel. (4) Philadelphia 4-23-09

Jessica Tonn (Xavier, Phoenix, Az.) 2-15-92 9:50.1' Arcadia Inv. (2/Inv.) Arcadia 4-11-09

Emily Lipari (Roslyn Heights, N.Y.) 11-19-92 9:50.21i Stanner Games (1) New York (Ar.) 1-17-09

Chelsea Ley (Kingsway, Woolwich, N.J.) 4-9-92 9:53.19 Penn Rel. (8) Philadelphia 4-23-09

Molly Pezzulo (Burnt Hills-Balls. Lake, BH, N.Y.) 4-14-93 9:56.13i Yale Inv. (3) New Haven 1-19-09

Catrina McAlister (Arcadia, Ca.) 8-21-93 9:56.2' Arcadia Inv. (5/Inv.) Arcadia 4-11-09

Malia Cali (St. Thomas Aquinas, Hammond, La.) 9-19-92 9:59.07i Carl Lewis Inv. (1) Houston 1-17-09

Eleanor Fulton (Highlands Ranch, Co.) 5-17-93 10:03.04 USATF Nat. JO (1r/15-16) Omaha 7-26-08

Emily Menges (Garden City, N.Y.) 7-28-92 10:03.68i Stanner Games (2) New York (Ar.) 1-17-09

Brianna Welch (North Shore, Glen Head, N.Y.) 3-21-92 10:03.74i Hispanic Games (1) New York (Ar) 1-10-09

Gabrielle Anzalone (Grand Blanc, Mi.) -93 10:06.13 AAU Nat. JO (1/15-16) Detroit 8-2-08

Courtney Chapman (Fayetteville-Manlius, M, N.Y.) 6-25-93 10:09.23i New York Sec. 3 (1) Syracuse 2-14-09

Diane Robison (Parkway Central, Chesterfield, Mo.) 4-10-92 10:10.16 USA Nat. JO (2/15-16) Omaha 7-26-08

Elizabeth Briasco (Queens Science, Jamaica, N.Y.) 9-2-92 10:10.17 USA Nat. JO (3/15-16) Omaha 7-26-08

Brianna Welch (North Shore, Glen Head, N.Y.) 3-21-92 10:11.04i Brown Inv. (1) Providence 1-2-09

Alaina Alvarez (Dana Hills, Dana Point, Ca.) 1-11-93 10:15.91 Santa Barbara Rel. (2) Santa Barbara 3-29-08

Chelsea Trant (Niskayuna, N.Y.) 1-8-92 10:16.94i Yale Inv. (8) New Haven 1-16-09

3,200 Meters/Two Miles

Chelsey Sveinsson (Greenhill, Addison, Tx.) 9-27-92 10:12.11 Texas Rel. (1) Austin 4-3-09

Jessica Tonn (Xavier, Phoenix, Az.) 2-15-92 10:25.85 Arcadia Inv. (2/Inv.) Arcadia 4-11-09

Aisling Coffe (Cornwall, N.Y.) 9-13-93 10:28.33 Red Raider Rel. (1) Thiells 4-18-09

Megan Goethals (Rochester, Rochester Hills, Mi.) 7-8-92 10:29.1 MITS Champ. (1) Mount Pleasant 2-28-09

Catrina McAlister (Arcadia, Ca.) 8-21-93 10:31.34 Arcadia Inv. (3/Inv.) Arcadia 4-11-09

Chelsea Ley (Kingsway, Woolwich, N.J.) 4-9-92 10:33.57iy NSIC (1) New York (Ar) (10:29.90m) 3-15-09

Emily Lipari (Roslyn, Roslyn Heights, N.Y.) 11-19-92 10:38.66iy Bishop Laughlin (1) Brooklyn (10:34.96m) 12-21-08

Alyssa Nielson (Heritage, Colleyville, Tx.) 2-25-93 10:43.98 Fort Bend ISD (1) Carrolton 3-28-09

Elizabeth Briasco (Queens Science, Jamaica, N.Y.) 9-2-92 10:47.74iy NSIC (2) New York (Ar) (10:43.98m) 3-15-09

Kaitlin Flattmann (Benton, La.) 3-3-93 10:45.01i Last Chance Inv. (1) Baton Rouge 2-10-09

Stephanie Bulder (Saugus, Ca.) -93 10:45.4 MOC (3) Walnut (MSAC) 3-28-09

Gabrielle Anzelone (Grand Blanc, Mi.) -93 10:45.92i MITS Champ. (2) Mount Pleasant 2-28-09

Megan Venables (Highland Reg., Allendale, N.J.) 7-18-93 10:46.09i State MOC (5) Toms River 2-21-09

Alaina Alvarez (Dana Hills, Dana Point, Ca.) 1-11-93 10:47.20 Arcadia Inv. (11/Inv.) Arcadia 4-11-09

Amber Murakami (Saugus, Ca.) 3-26-92 10:47.4 MOC (4) Walnut (MSAC) 2-28-09

Cory McGee (Pass Christian, Ms.) 5-29-92 10:47.71 LSU Inv. (1) Baton Rouge 3-28-09

Chloe Curtis (Redondo, Redondo Beach, Fl.) 10-11-92 10:47.7 MOC (5) Walnut (MSAC) 3-28-09

Dominique Gerard (ThunderRidge, Highlands Ran., Co.) 9-25-93 10:50.38 Chandler Inv. (2)Chandler 3-28-09

Chelsey Sveinsson (Greenhill, Addison, Tx.) 9-27-92 10:50.8 Greenhill Inv. (1) Addison 3-7-09

Malia Cali (St. Thomas Aquinas, Hammond, La.) 9-19-92 10:52.03i LSU Inv. (1) Baton Rouge 1-24-09

Kelsey Santisteban (Castro Valley, Ca.) 7-4-93 10:52.60 Dublin Dist. Carnival (1) Dublin 3-21-09.

Laura Vigilante (West Morris Mendham, M, N.J.) 7-1-92 10:53.14i State Group 3 (3) Toms River 2-14-09

Eleanor Fulton (Highlands Ranch, Co.) 5-17-93 10:56.20 Mustang Inv. (1) Thornton 4-6

Chelsea Trant (Niskayuna, N.Y.) 1-8-92 11:01.10iy Nike Indoor Nat. (11) Rox. Crossing (10:57.27m) 3-15-09

Sophie Ginez (South Brunswick, Monmouth Junction, N.J.) 4-23-92 10:59.59i State Group 2 Central (1) Toms River 2-8-09

2,000-METER STEEPLECHASE

7:15.00—WYC Qualifying Standard (marks must be made between Jan. 1, 2008 and June 22, 2009)

6:37.9—Likely to Score in 2009 WYC (time for 8th Place in 2007).

Athletes Who Have Met WYC Qualifying Standard and Were Born in 1992 or 1993

Danielle Winslow (Queensbury, N.Y.) 9-2-93 6:56.57 State (3) Buffalo 6-14-08

Eleanoir Fulton (Highlands Ranch, Co.) 5-17-93 6:56.97 USATF Nat. JO (1/15-16) Omaha 7-22-08

MaryKate Anselmini (Ward Melville., Setauket, N.Y.) 4-22-93 7:04.06 Port Jefferson Steeple (1) Port Jefferson 4-7-09

Janie Turek (Mt. Sinai, N.Y.) 2-21-93 7:05.21 State (7) Buffalo 6-14-08

Jess Tobin (Clarkstown South, West Nyack, N.Y.) 1-10-92 7:06.6 State Sec. 1 Div. I (2) Suffern 5-16-08

Lillian Greibesland (Warwick Valley, W, N.Y.) 5-30-92 7:09.7 State Sec. 9 Class A (2) Central Valley 5-30-08

Lianne Farber (Northport, Bellport, N.Y.) 6-12-92 7:10.54 Loucks Games (4) White Plains 5-10-08

McKinzie Schulz (Benet Academy, Lisle, Il.) 2-19-92 7:12.77 USATF Nat. JO (2/15-16) Omaha 7-22-08

7:38.30 (2,000 SC)— U.S. World Youth Trials Standard

11:15.00 (3,000 SC)—U.S. World Youth Trials Standard

Marks Must Be Made Between June 24, 2008 and June 22, 2009

Bettering Either of the Above Standards Will Qualify You for the U.S. Trials 2,000-Meter Steeplechase

2,000-Meter Steeplechase

Leading Athletes Who Have Met U.S. Trials Qualifying Standard

Eleanoir Fulton (Highlands Ranch, Co.) 5-17-93 6:56.97 USA Nat. JO (1/15-16) Omaha 7-22-08

MaryKate Anselmini (Ward Melville., Setauket, N.Y.) 4-22-93 7:04.06 Port Jefferson Steeple (1) Port Jefferson 4-7-09

Janie Turek (Mt. Sinai, N.Y.) 2-21-93 7:10.20 St. Anthony's Inv. (2) Huntington 5-2-09

McKinzie Schulz (Benet Academy, Lisle, Il.) 2-19-92 7:12.77 USA Nat. JO (2/15-16) Omaha 7-22-08

Danielle Winslow (Queensbury, N.Y.) 9-2-93 7:12.80 Fondo Fulton Steeple (1) 4-16-09

Dominique Gerard (ThunderRidge, High. Ranch, Ca.) -93 7:15.88 USA Nat. JO (3/15-16) Omaha 7-22-08

Kristen Kientz (Highlands Ranch, Co.) 9-15-93 7:17.57 USA Nat. JO (4/15-16) Omaha 7-22-08

Destiny Jenkins (Covington, Ga.) 12-26-93 7:18.04 USA Youth Nat. (1/15-16) Omaha 6-24-08

3,000 Meter Steeplechase

No athletes have met the standard

100 HURDLES (30")

U.S. runs 33" hurdles

14.70—WYC Qualifying Standard (marks must be made between Jan. 1, 2008 and June 22, 2009)

13.73—Likely to Score in 2009 WYC (avg. for slowest finalist in last three WYC) (worth 13.98 for 33" hurdles)

Athletes Who Have Met WYC Qualifying Standard and Were Born in 1992 or 1993

Kori Carter (Claremont, Ca.) 6-3-92 13.67 Arcadia Inv. (1/Inv.) Arcadia 4-11-09 -0.9

A'Lexus Brannon (Ozen, Beaumont, Tx.) 1-29-92 14.02 USATF Nat. JO (1/15-16) Omaha 7-27-08 +0.3

Madalayne Smith (Saratoga Springs, N.Y.) 4-4-92 14.04 Hartford Inv. (1) New Britain 5-10-08 -4.2

Victoria Johnson (James Logan, Union City, Ca.) 6-30-92 14.22 No. Coast Sec. (3) Berkeley 5-24-08 +1.1

Briana Barlow (New Brunswick, N.J.) 1-6-92 14.27 State MOC (1) South Plainfield 6-5-08 -0.4

Alicia Perkins (Elsik, Alief, Tx.) 8-19-93 14.27 State 5A (4) Austin 5-10-08 +1.8

Shannon Stewart (Carter, Fontana, Ca.) 12-2-93 14.28 Arcadia Inv. (1h4) Arcadia 4-11-09 +0.5

Chalese Davis (Hercules, Ca.) 6-10-93 14.29 Deer Valley Inv. (1) Antioch 3-28-09 +0.3

Katie Nelms (Leland, San Jose, Ca.) 9-25-92 14.30 Cent. Coast. Sec. (3) Gilroy 5-23-08 +1.0

Nefertiti Smith (Norfolk Collegiate, Norfolk, Va.) 11-15-92 14.30 NON (2h4) Greensboro 6-20-08 +0.4

Breeana Coleman (East, Olathe, Ka.) 6-19-09 14.33 Kansas Rel. (1h1) Manhattan 4-17-09 +1.0

Ryesa Whigham (Sharpstown, Houston, Tx.) 6-15-92 14.34 Texas Southern Rel. (1r2) Houston 3-21-09 +2.0

Kristen Brown (McDonough, Owings Mill, Md.) 5-26-92 14.50 Taco Bell Inv. (1h12) Columbia 4-11-09 +1.6

Lorraine Graham (C.H. Flowers, Springdale, Md.) 2-23-92 14.53 AAU Club Ch. (1/15-16) Orlando 7-4-08 0.0

Angelica Weaver (Rancho Cucamonga,Ca.) 6-11-92 14.53 Mt. San Antonio Rel. (4/Inv.) Walnut 4-18-09 +0.8

Ayanna Scott (Lamphier, Springfield, Il.) -93 14.54 USA Nat. JO (2h3/15-16) Omaha 7-26-08 +1.6

Amber Smith (Collinwood, Cleveland, Oh.) 4-24-92 14.55 Arcadia Inv. (8/Inv.) Arcadia 4-11-09 -0.9

Alexandria Gochenour (Logan-Magnolia, L, Ia.) 2-17-93 14.57 USATF Youth Nat. (1/15-16) Charlotte 6-29-08 +0.3

Ashley Smith (Millikan, Long Beach, Ca.) 8-22-92 14.61 California Rel. (2) Norwalk 3-21-09 +1.1

LaQue Davis (Central, Omaha, Nb.) 8-14-93 14.63 USATF Nat. JO (1h1/15-16) Omaha 7-26-08 +1.7

Victoria Johnson (James Logan, Union City, Ca.) 6-30-92 14.63 Arcadia Inv. (2h1) Arcadia 4-11-09 +1.5

Kayla Wein (Broomfield, Co.) 8-12-92 14.67 State 4A (1) Lakewood 5-17-08 +1.3

Kristin Brown (McDonough, Owings Mill, Md.) 5-26-92 14.69 USATF Youth Nat. (2/15-16) Charlotte 6-29-08 +0.3

14.83 (100-Meter HH)—U.S. World Youth Trials Standard

14.63 (100-Meter LH)—U.S. World Youth Trials Standard

Marks Must Be Made Between June 24, 2008 and June 22, 2009

100-Meter High Hurdles (33")

Leading Athletes Who Have Met U.S. Trials Qualifying Standard

Kori Carter (Claremont, Ca.) 6-3-92 13.67 Arcadia Inv. (1/Inv.) Arcadia 4-11-09 -0.9

A'Lexus Brannon (Ozen, Beaumont, Tx.) 1-29-92 14.02 USATF Nat. JO (1/15-16) Omaha 7-27-08 +0.3

Shanice Stewart (Carter, Fontana, Ca.) 12-2-93 14.28 Arcadia Inv. (1h4) Arcadia 4-11-09 +0.5

Chalese Davis (Hercules, Ca.) 6-10-93 14.29 Deer Valley Inv. (1) Antioch 3-28-09 +0.3

Breeana Coleman (East, Olathe, Ka.) 6-19-09 14.33 Kansas Rel. (1h1) Manhattan 4-17-09 +1.0

Ryesa Whigham (Sharpstown, Houston, Tx.) 6-15-92 14.34 Texas Southern Rel. (1r2) Houston 3-21-09 +2.0

Alicia Perkins (Elsik, Alief, Tx.) 8-19-93 14.35 USA Nat. JO (2/15-16) Omaha 7-27-08 +0.3

Katie Nelms (Leland, San Jose, Ca.) 9-25-92 14.48 Stanford Inv. (1h4) Palo Alto 3-28-09 -0.7

Kristen Brown (McDonough, Owings Mill, Md.) 5-26-92 14.50 Taco Bell Inv. (1h12) Columbia 4-11-09 +1.6

Lorraine Graham (C.H. Flowers, Springdale, Md.) 2-23-92 14.53 AAU Club Ch. (1/15-16) Orlando 7-4-08 0.0

Ayanna Scott (Lamphier, Springfield, Il.) -93 14.54 USA Nat. JO (2h3/15-16) Omaha 7-26-08 +1.6

Amber Smith (Collinwood, Cleveland, Oh.) 4-24-92 14.55 Arcadia Inv. (8/Inv.) Arcadia 4-11-09 -0.9

Alexandria Gochenour (Logan-Magnolia, L, Ia.) 2-17-93 14.57 USATF Youth Nat. (1/15-16) Charlotte 6-29-08 +0.3

Ashley Smith (Millikan, Long Beach, Ca.) 8-22-92 14.61 California Rel. (2) Norwalk 3-21-09 +1.1

Victoria Johnson (James Logan, Union City, Ca.) 6-30-92 14.63 Arcadia Inv. (2h1) Arcadia 4-11-09 +1.5

LaQue Davis (Central, Omaha, Nb.) 8-14-93 14.63 USATF Nat. JO (1h1/15-16) Omaha 7-26-08 +1.7

Kristen Brown (McDonough, Pomfret, Md.) 5-26-92 14.69 USATF Youth Nat. (2/15-16) Charlotte 6-29-08 +0.3

Lauren Rose (Hercules, Ca.) 5-8-92 14.70 Woody Wilson Inv. (3) Davis (UCD) 14-17 -0.6

400 HURDLES

62.00—WYC Qualifying Standard (marks must be made between Jan. 1, 2008 and June 22, 2009)

61.22—Likely to Score in 2009 WYC (avg for slowest finalist in last three WYC)

Athletes Who Have Met WYC Qualifying Standard and Were Born in 1992 or 1993

Kori Carter (Claremont, Ca.) 6-3-92 59.89 Pomona-Pitzer Inv. (1) Claremont 4-4-09

Leah Nugent (Abington, Pa.) 11-19-92 60.05 Penn Rel. (1s2) Philadelphia 4-23-09

Amber Allen (Passaic Tech, Wayne, N.J.) 10-15-92 60.33 Penn Rel. (2s2) Philadelphia 4-23-09

Miata Morlu (Providence Country Day, Charlotte, N.C.) 6-10-92 61.33 J.C. Smith Inv.(1) Charlotte 4-11-09

Katie Nelms (Leland, San Jose, Ca.) 9-25-92 61.59 USATF Youth Nat. (1/15-16) Charlotte 6-29-08

63.14 (400-Meter LH)—U.S. World Youth trials standard

44.14 (300-Meter LH)—U.S. World Youth trials standard

Marks Must Be Made Between June 24, 2008 and June 22, 2009

Bettering Either of the Above Standards Will Qualify You for the U.S. Trials 400 Meter Low Hurdles

400-Meter Low Hurdles

Athletes Who Have Met U.S. Trials Qualifying Standard

Kori Carter (Claremont, Ca.) 6-3-92 59.89 Pomona-Pitzer Inv. (1) Azusa (AP) 4-4-09

Leah Nugent (Abington, Pa.) 11-19-92 60.05 Penn Rel. (1s2) Philadelphia 4-23-09

Amber Allen (Passaic Tech, Wayne, N.J.) 10-15-92 62.04 AAU Nat. JO (1h4/15-16) Detroit 7-28-08

Miata Morlu (Providence Country Day, Charlotte, N.C.) 6-10-92 61.33 J.C. Smith Inv.(1) Charlotte 4-11-09

Katie Nelms (Leland, San Jose, Ca.) 9-25-92 61.59 USATF Youth Nat. (1/15-16) Charlotte 6-29-08

Angelica Weaver (Rancho Cucamonga,Ca.) 6-11-92 62.02 USATF Nat. JO (1/15-16) Omaha 7-27-08

Allison Reaser (El Segundo, Ca.) 9-9-92 62.04 USATF Youth Nat. (2/15-16) Charlotte 6-29-08

Chamique Francis (Queens Tech., Queens, N.Y.) 4-7-93 62.27 USATF Nat.JO (2/15-16) Omaha 7-27-08

Ayanna Scott (Lanphier, Springfield, Il.) -93 62.55 USATF Nat. JO (3/15-16) Omaha 7-27-08

Janet Mellor (Mount Sinai, N.Y.) 1-28-92 62.77 Westhampton Beach Inv. (1) Westhampton 4-25-09

Tia Gamble (DeSoto, Tx.) 9-23-93 62.82 USATF Nat. JO (4/15-16) Omaha 7-27-08

Shani Chandler(Westlake, Atlanta, Ga.) 6-22-92 62.89 Taco Bell Inv. (2) Columbia 4-11-09

Donna Jeanty (Brentwood, N.Y.) 5-20-92 63.01 New York Rel. (1h1) New York 4-17-09

300-Meter Low Hurdles

Kori Carter (Claremont, Ca.) 6-3-92 41.09 Arcadia Inv. (1/Inv.) Arcadia 4-11-09

Ashley Burris (Timberview, Arlington, Tx.) -92 42.64 State 4A Dist. 8 (1) Arlington (UT) 4-17-09

Shani Chandler (Westlake, Atlanta, Ga.) 6-22-92 42.96 State 4A Reg. 4 (1) Atlanta 5-4

Amber Smith (Collinwood, Cleveland, Oh.) 4-24-92 43.52 Arcadia Inv. (4/Inv.) Arcadia 4-11-09

Angelica Weaver (Rancho Cucamonga,Ca.) 6-11-92 43.57 Arcadia Inv. (1/Seed) Arcadia 4-11-09

Katie Nelms (Leland, San Jose, Ca.) 9-25-92 43.57 Arcadia Inv. (2/Seed) Arcadia 4-11-09

Sylvonna Thompson (Cypress Ridge, Houston, Tx.) 11-5-92 44.07 State 5A Dist. 15 (1) 4-17

HIGH JUMP

5-08.00—WYC Qualifying Standard (marks must be made between Jan. 1, 2008 and June 22, 2009)

5-09.75—Likely to Score in 2009 WYC (avg. for 8th place in last three WYC)

Athletes Who Have Met WYC Qualifying Standard and Were Born in 1992 or 1993

Shanay Briscoe (Cypress Christian, Houston, Tx.) 7-8-92 6-01.25 Great SW II (1) Albuquerque 6-7-08

Taylor Burke (Medina, Oh.) 6-4-93 5-11.00i State Div. I (1) Akron 3-21-09

Bria Rice (Central, Madison, Ms.) 1-30-92 5-11.00 Pearl Inv. (1) Pearl 4-10-09

Tara Richmond (Poly, Long Beach, Ca.) 4-19-92 5-11.00 State (1) Norwalk 5-31-08

Amina Smith (Patuxent, Lusby, Md.) 1-10-92 5-10.00 AAU Potomac Valley Dist. (1/15-16) Springdale 6-15-08

Ashley Smith (Millikan, Long Beach, Ca.) 8-22-92 5-09.75 USATF Reg. XV JO (1/15-16) Escondido 6-15-08

Katherine White (St. Pauls, Al.) 9-6-92 5-09.25 Mobile MOC (1) Mobile 4-4-09

Katie Guse (Waseca, Mn.) 5-27-92 5-09.00 State AA Sec. (1) 5-30-08

Ellie Tidman (Batesville, In.) -92 5-09.00 State (1) Bloomington 5-30-08

Sarah Palmer (Schuylerville, N.Y.) 5-18-93 5-08.50 Schuylerville Inv. (1) Schuylerville 5-16-08

Lauren Crockett (Ogden, Ut.) 12-14-92 5-08.00 BYU Inv. (1) Provo 5-3-08

Katie Hutson (Sparkman, Harvest, Al.) -92 5-08.00 State 6A Sec. 4 (1) Madison 4-26-08

Katie Langmeier (Cuba City, Wi.) 1-8-92 5-08.00 Reynolds Inv. (1) 5-9-08

Taina LaPorte (Dutch Fork, Irmo, S.C.) 12-18-92 5-08.00 State 4A Qualifier (1) Columbia 5-3-08

Amber Melville (North Carroll, Hampstead, Md.) -92 5-08.00i Frostbite Inv. (1) Landover 12-29-08

Natasha McLaren (Stroudsburg, Pa.) 8-21-92 5-08.00i East Stroudsburg No. 1 (1) East Stroudsburg 1-9-09

Camille Redmon (Timberview, Arlington, Tx.) 11-14-92 5-08.00 Roosevelt Inv. (2) Dallas 3-15-08

Lacey Shuman (Maryvale Prep, Brooklandville, Md.) 6-11-92 5-08.00 Francis Scott Keys Inv. (1) 4-25-09

Jelisa Terrell (King, Atlanta, Ga.) 2-12-93 5-08.00 State 5A Reg. 2 (2) Atlanta 4-22-08

Brionne Williams (Hoover, Al.) 2-7-92 5-08.00 Hoover Rel. (1) Hoover 4-19-08

5-00.50— U.S. World Youth Trials Standard (marks must be made between June 24, 2008 and June 22, 2009)

Leading Athletes Who Have Met U.S. Trials Standard

Shanay Briscoe (Cypress Christian, Houston, Tx.) 7-8-92 5-11.25 World Jr. Champ (q) Bydgoszcz 7-8-08

Taylor Burke (Medina, Oh.) 6-4-93 5-11.00i State Div. I (1) Akron 3-21-09

Bria Rice (Central, Madison, Ms.) 1-30-92 5-11.00 Pearl Inv. (1) Pearl 4-10-09

Tara Richmond (Poly, Long Beach, Ca.) 4-19-92 5-09.25i NSIC (3) New York (Ar) 3-14-09

Katherine White (St. Pauls, Al.) 9-6-92 5-09.25 Mobile MOC (1) Mobile 4-4-09

Ashley Smith (Millikan, Long Beach, Ca.) 8-22-92 5-08.75 USA Nat. JO (1/15-16) Omaha 7-27-08

Natasha McLaren (Stroudsburg, Pa.) 8-21-92 5-08.00i East Stroudsburg No. 1 (1) East Stroudsburg 1-9-09

Amber Melville (North Carroll, Hampstead, Md.) -92 5-08.00i Frostbite Inv. (1) Landover 12-29-08

Amina Smith (Patuxent, Lusby, Md.) 1-10-92 5-08.00i Penn Relays (t2) Philadelphia 4-23-09

Jelisa Terrell (King, Atlanta, Ga.) 2-12-93 5-08.00 AAU Nat.JO (t3/15-16) Detroit 7-28-08

Alexis Broz (Schuylerville, N.Y.) 10-17-93 5-07.75i State Sec. 2 (1) Albany 3-1-09

Jennifer Clayton (Suffern, N.Y.) 10-5-92 5-07.00i Varsity Classic (1) New York (Ar) 2-9-09

Lauren Crockett (Ogden, Ut.) 12-14-92 5-07.00 USA Nat. JO (1/15-16) Omaha 7-28-08

Chamique Francis (Queens Tech, Queens, N.Y.) 7-7-93 5-07.00i NSIC (5) New York (Ar) 3-14-09

Sarah Palmer (Schuylerville, N.Y.) 5-18-93 5-07.00i Stanner Inv. (1) New York (Ar.) 1-17-09

Caroline Summa (Cheverus, Portland, Me.) 8-1-93 5-06.25i Southwestern (1) Portland 2-7-09

Caitlyn Bonczkowski (St. Joseph, Mi.) -92 5-06.00 AAU Nat. JO (t3/15-16)) Detroit 7-28-08

Shavon Briscoe (North Point, Md.) 6-2-92 5-06.00i State 2A (2) Landover 2-17-09

Ja'Terra Brown (West Mesquite, Tx.) 5-20-92 5-06.00 Carl Norris Inv. (1) Mesquite 3-7

Mary Durek (Shawnee, Medford, N.J.) 12-26-93 5-06.00i Olympic Conf. Meet (1) Toms River 1-24-09

Natasha McLaren (Stroudsburg, Pa.) 8-21-92 5-06.00i Golden Bear Inv. (1) Kutztown 1-24-09

Bailey Pearson (Bentonville, Ar.) 1-21-93 5-06.00i Southern Missouri Inv. (1) 1-18-09

Miray Seward (Westminster, Atlanta, Ga.) 7-28-92 5-06.00 U. Kentucky Inv. (1) Lexington 2-21-09

Nefertiti Smith (Norfolk Collegiate, Norfolk, Va.) 11-15-92 5-06.00i Winter Inv. (1) Newport News 12-12-08

POLE VAULT

11-11.75—WYC Qualifying Standard (marks must be made between Jan. 1, 2008 and June 22, 2009)

12-06.75—Likely to score in 2009 WYC (avg. for 8th place in last three WYC)

Athletes Who Have Met WYC Qualifying Standard and Were Born in 1992 or 1993

Morgann LeLeux (Catholic, New Iberia, La.) 11-14-92 13-02.50i LSU Inv. (1) Baton Rouge 1-10-09

Mackenzie Landry (Del Oro, Loomis, Ca.) 1-12-93 13-01.00 Arcadia Inv. (2/Inv.) Arcadia 4-11-09

Kortney Ross (Westview, San Diego, Ca.) 7-26-92 13-00.00 Escondido Inv. (1) Escondido 5-1-09

Adrienn LaChance (Cornwall, New Windsor, N.Y.) 6-7-92 12-07.50i Gotham Cup ( ) New York (Ar) 1-16-09

Merritt VanMeter (Matairie Park CD, Matairie, La.) 1-8-92 12-06.50 Mobile MOC (2) Mobile 4-4-09

Shaylah Simpson (Desert Vista, Phoenix, Az.) 3-16-92 12-06.25i Nike Indoor Nat. (6) Rox. Crossing 3-14-09

Wren Bonner (Whitney, Tx.) 10-21-92 12-06.00 Texas Rel. (1/Sec. A) Austin 4-5-08

Brooke Hamscher (Whitehall, Pa.) 1-23-92 12-06.00 State 3A Dist. 11 (2) Schuylkill Haven 5-15-08

Ellie McCardwell (Pendleton Hts., Pendleton, In.) 6-11-92 12-06.00i Hoosier St. Rel. (1) West Lafayette 3-21-09

Danielle Nowell (Plainview, Ok.) 3-25-92 12-06.00 A/C Meet (1/15-16) Norman 6-7-08

Elizabeth Powell (Patrick Henry, Richmond, Va.) 6-3-92 12-06.00i NSIC (q) New York (Ar) 3-14-09

Ellie McCardwell (Pendleton Hts., Pendleton, In.) 6-11-92 12-06.00i Hoosier St. Rel. (1) West Lafayette 3-21-09

Linda Hadfield (New York Mills, N.Y.) 9-12-92 12-04.00i New Balance (1) New York (Ar) 1-24-09

Morgan Hartigan (East, Cheyenne, Wy.) 1-19-92 12-04.00 Runners Roost (2) Ft. Collins 3-29-08

Samantha Anderson (West, Plano, Tx.) 4-14-92 12-03.00 Frisco Reg. Qual. (1) Frisco 4-24-09

Bethany Buell (Rockwell Summit, Fenton, Mo.) 12-02.00i Pole Vault Summit (3gr2) Reno 1-3-09

Brooke Arthur (Mater Dei, Santa Ana, Ca.) 9-2-92 12-01.00 Surf City Inv. (2) Costa Mesa 3-28-09

Alli Arampatzis (Central, Aberdeen, S.D.) 1-12-92 12-00.00 Dakota Elite (2) Fargo 5-30-08

Anna Bales (Cody, Wy.) 1-8-93 12-00.00i Shine Inv. (1) Laramie 1-16-09

Emily Clay (University, Normal, Il.) 5-3-92 12-00.00i Normal West Inv. (1) Normal 3-19-08

Nicola Garoutte (Miramonte, Orinda, Ca.) 11-11-92 12-00.00 Chabot Inv. (2) Hayward 3-28-09

Camille Ginyard (Vestal, N.Y.) 2-18-92 12-00.00 State Sec. 4 (1) Vestal 6-5-08

Alicia Janke (Rockwall, Tx.) 3-27-93 12-00.00 State 4A Dist. 10 (1) 4-17-09

Jaimie House (El Dorado, Ka.) 12-12-92 12-00.00 Stare 4A Reg. 9 (1) Coffeyville 5-16-08

Austyn Rapp (Midlothian, Tx.) 3-26-92 12-00.00 Kennedale Rel. (1) Kennedale 3-7-09

Brittany Reardon (Scituate, Ma.) 3-11-92 11-11.75i NSIC (q) New York 3-14-09

11-01.75— U.S. World Youth Trials Standard (marks must be made between June 24, 2008 and June 22, 2009)

Leading Athletes Who Have Met U.S. Trials Standard

Morgann LeLeux (Catholic, New Iberia, La.) 11-14-92 13-02.50i LSU Inv. (1) Baton Rouge 1-10-09

Mackenzie Landry (Del Oro, Loomis, Ca.) 1-12-93 13-01.00 Arcadia Inv. (2/Inv.) Arcadia 4-11-09

Kortney Ross (Westview, San Diego, Ca.) 7-26-92 13-00.00 Escondido Inv. (1) Escondido 5-1-09

Adrienn LaChance (Cornwall, New Windsor, N.Y.) 6-7-92 12-07.50i Gotham Cup ( ) New York (Ar) 1-16-09

Merritt VanMeter (Matairie Park CD, Matairie, La.) 1-8-92 12-06.50 Mobile MOC (2) Mobile 4-4-09

Shaylah Simpson (Desert Vista, Phoenix, Az.) 3-16-92 12-06.25i Nike Indoor Nat. (6) Rox. Crossing 3-14-09

Brooke Hamscher (Whitehall, Pa.) 1-23-92 12-06.00i NSIC (q) New York (Ar) 3-14-09

Ellie McCardwell (Pendleton Hts., Pendleton, In.) 6-11-92 12-06.00i Hoosier St. Rel. (1) West Lafayette 3-21-09

Elizabeth Powell (Patrick Henry, Richmond, Va.) 6-3-92 12-06.00i NSIC (q) New York (Ar) 3-14-09

Linda Hadfield (New York Mills, N.Y.) 9-12-92 12-04.00i New Balance (1) New York (Ar) 1-24-09

Samantha Anderson (West, Plano, Tx.) 4-14-92 12-03.00 Frisco Reg. Qual. (1) Frisco 4-24-09

Bethany Buell (Rockwell Summit, Fenton, Mo.) 12-02.00i Pole Vault Summit (3gr2) Reno 1-3-09

Brooke Arthur (Mater Dei, Santa Ana, Ca.) 9-2-92 12-01.00 Surf City Inv. (2) Costa Mesa 3-28-09

Anna Bales (Cody, Wy.) 1-8-93 12-00.00i Shine Inv. (1) Laramie 1-16-09

Nicola Garoutte (Miramonte, Orinda, Ca.) 11-11-92 12-00.00 Chabot Inv. (2) Hayward 3-28-09

Alicia Janke (Rockwall, Tx.) 3-27-93 12-00.00 State 4A Dist. 10 (1) 4-17-09

Austyn Rapp (Midlothian, Tx.) 3-26-92 12-00.00 Kennedale Rel. (1) Kennedale 3-7-09

Alli Arampatzis (Central, Aberdeen, S.D.) 1-12-92 11-11.75 USA Nat. JO (5/15-16) Omaha 7-25-08

Brittany Reardon (Scituate, Ma.) 3-11-92 11-11.75i NSIC (q) New York 3-14-09

Wren Bonner (Whitney, Tx.) 10-21-92 11-08.00i Pole Vault Summit (t5gr1) Reno 1-3-09

Emily Urciuoli (Clifton, N.Y.) 7-22-92 11-08.00i Passaic Co. Ch. (1) New York (Ar) 1-21-09

Katherine Zingheim (Granite Bay, Ca.) 5-9-93 11-08.00i Pole Vault Summit (11gr1) Reno 1-3-09

Carissa Culver (Los Alamitos, Ca.) 1-11-93 11-07.00 Surf City Inv. (1) Costa Mesa 3-28-09

Cameron Overstreet (Atlee, Mechanicsville, Va.) 9-30-92 11-07.00i Green Dragon Rel. (1) Richmond 12-20-08

Sanantha Anderson (West, Plano, Tx.) 4-14-92 11-06.00 TCU Rel. (3) Fort Worth 3-21-09

Emily Clay (University, Normal, Il.) 5-3-92 11-06.00 AAU Nat. JO (1/15-16) Ypsilanti 8-1-08

Sandi Morris (Greenville, S.C.) 7-8-92 11-06.00 Taco Bell Inv. (2) Columbia 4-11-09

Danielle Nowell (Plainview, Ok.) 3-25-92 11-06.00 AAU Nat. JO (2/15-16) Ypsilanti 8-1-08

Elizabeth Powell (Patrick Henry, Ashland, Va.) 6-3-92 11-06.60i State 2A Central Reg. (2) Richmond 2-21-09

Cameron Overstreet (Atlee, Mechanicberg, Va.) 11-06.00 Taco Bell Inv. (1) Columbia 4-11-09

Austyn Rapp (Midlothian, Tx.) 3-26-92 11-06.00 Red Oak Inv. (1) Red Oak 2-26-09

Elizabeth Westfall (Pine Creek, Colorado Springs, Co.) 1-5-92 11-06.00 Pikes Peak Inv. (1) Pikes Peak 4-6-09

Kelly Burke (Cranford, N.J.) 1-11-92 11-05.75i NSIC (q) New York (Ar) 3-14-09

Kelly Benfey (RFA, N.Y.) 2-18-92 11-03.00i New York Sec. 3 Class AA (1) Syracuse 2-10-09

Morgan Hartigan (East, Cheyenne, Wy.) 1-19-92 11-03.00i Simplot Games (4) Pocatello 2-21-09

LONG JUMP

19-02.25—WYC Qualifying Standard (marks must be made between Jan. 1, 2008 and June 22, 2009)

19-07.50—Likely to Score in 2009 WYC (avg. for 8th place for last three WYC)

Athletes Who Have Met WYC Qualifying Standard and were born in 1992 or 1993

Alycia Herring (Rancho Verde, Moreno Valley, Ca.) 5-2-92 20-00.75 So. Sec. Div. I (1) Walnut 5-17-08 +0.3

A'Lexus Brannon (Ozen, Beaumont, Tx.) 1-29-92 20-00.50 State 4A (1) Austin 5-9-08 +0.8

Jennifer Clayton (Suffern, N.Y.) 10-5-92 20-00.25i N.J. Met. Inv. (1) New York (Arm) 1-30-08

Bailey Pearson (Bentonville, Ar.) 1-21-93 19-09.75i State Coach Classic (1) Fayetteville 2-7-09

Allison Reaser (El Segundo, Ca.) 9-9-92 19-05.25 So. Sec. Div. I (2) Walnut 5-17-08 +1.6

Ciarra Brewer (James Logan, Union City, Ca.) 12-3-93 19-05.00 A/C Meet (1) Oakland (Sky) 1-31-09 +0.3

Adenike Pedro (Elizabeth Seton, Bladesburg, Md.) 6-20-92 19-04.75i NSIC (3) New York (Ar) 3-15-09

Jazmen Townsend (Grassfield, Chesapeake, Va.) 11-30-93 19-04.00i Nike Indoor Nat. (4) Rox. Crossing 3-15-09

Jenna Prandini (Clovis, Ca.) 11-20-92 19-02.75 State (4) Norwalk 5-31-08 +1.1

18-05.00— U.S. World Youth Trials Standard (marks must be made between June 24, 2008 and June 22, 2009)

Athletes Who Have Met U.S. Trials Standard

Bailey Pearson (Bentonville, Ar.) 1-21-93 19-09.75i State Coach Classic (1) Fayetteville 2-7-09

Jennifer Clayton (Suffern, N.Y.) 10-5-92 19-05.25i Bishop Loughlin (1) New York (Ar) 12-20-08

Ciarra Brewer (James Logan, Union City, Ca.) 12-3-93 19-05.00 A/C Meet (1) Oakland (Sky) 1-31-09 +0.3

Alycia Herriing (Rancho Verde, Moreno Valley, Ca.) 5-2-92 19-05.00 Inland Empire Ch. (1) Murrieta 4-18-09 0.0

Adenike Pedro (Elizabeth Seton, Bladesburg, Md.) 6-20-92 19-04.75i NSIC (3) New York (Ar) 3-15-09

Jazmen Townsend (Grassfield, Chesapeake, Va.) 11-30-93 19-04.00 Nike Indoor Nat. (4) Rox. Crossing 3-15-09

Jenna Prandini (Clovis, Ca.) 11-20-92 19-01.75 Arcadia Inv. (5/Inv.) Arcadia 4-11-09 +1.4

Chalese Davis (Hercules, Ca.) 6-10-93 19-00.00 USA Reg. XIV JO (1/15-16) Livermore 7-14-08 +2.9

Kenyatta Hackworth (St. Pauls, Mobile, Al.) 8-15-93 19-00.00i LSU Inv. (1) Baton Rouge 1-10-09

Nikki Nunn (Manchester, Chesterfield, Va.) 2-8-92 18-11.25i Virginia Tech Inv. (2) Blacksburg 1-24-09

Tayler Johnson (Oak Park, Ca.) 1-19-92 18-10.75 Arcadia Inv. (1/Seed) Arcadia 4-11-09 +1.4

Monica Todd (Trabuco Hills, Mission Viejo, Ca.) 5-20-92 18-10.00 USATF Nat. JO (1/15-16) Omaha 7-25-08 +1.2

A'Lexus Brannon (Ozen, Beaumont, Tx.) 1-29-92 18-09.00 USA Nat. JO (3/15-16) Omaha 7-25-08 +1.6

Erin Busbee (Collinwood, Cleveland, Oh.) 1-12-92 18-08.50i Marietta Meet # 1 (1) Marietta 1-10-09

Alexis Hightower (Houston, Arlington, Tx.) 3-11-92 18-08.50 USA Nat. JO (4/15-16) Omaha 7-25-08 +0.4

Shakeela Saunders (Gr. Bridge, Chesapeake, Va.) 12-19-93 18-08.00i Southeastern Inv. (1) Hampton 1-9-09

Whitney Fountain (Columbus, Bronx, N.Y.) 4-3-92 18-07.50i New York PAL Bronx Ch. (1) New York (Ar) 2-14-09

Alexis Clay (Chandler, Az.) 8-24-93 18-07.00 Chandler Inv. (1) Chandler 3-27-09 0.0

Sharice Stewart (Carter, Fontana, Ca.) 12-2-92 18-07.00 Arcadia Inv. (9/Inv.) Arcadia 4-11-09

Lorraine Graham (C.H. Flowers, Sprindale, Md.) 2-23-92 18-06.50i NSIC (pen) New York (Ar) 3-15-09

Tia Mitchell (Captain Shreve, Shreveport, La.) 6-30-93 18-06.50i McNeese Inv. (1) Nashville 2-7-09

Amber Smith (Collinwood, Cleveland, Oh.) 4-24-92 18-06.00 State Div. I (3) Columbus 6-7-08 -0.5

Kia Jackson (Southwest DeKalb, Decatur, Ga.) 1-15-92 18-05.25 USA Youth Nat. (1/15-16) Charlotte 6-27-08 +1.1

JoAnn Blakney (Millard Creek, Charlotte, N.C.) 8-9-92 18-05.00 USA Youth Nat. (2/15-16) Charlotte 6-27-08 0.0

Fabrina Espinoza (Wilson, Long Beach, Ca.) 1-14-93 18-05.00i A Mountain T Inv. (3) Flagstaff 1-30-09

Anjelique Parnell (Hackley School, Tarrytown, N.Y.) 4-5-92 18-05.00i Ivy League No. 1 (1) New York (1) 12-10-08

TRIPLE JUMP

39-04.50—WYC Qualifying Standard (marks must be made between Jan. 1, 2008 and June 22, 2009)

41-02.25—Likely to Score in 2009 WYC (avg. for 8th place in last three WYC)

Athletes Who Have Met WYC Qualifying Standard and Were Born in 1992 or 1993

Ciarra Brewer (James Logan, Union City, Ca.) 12-3-93 42-01.50 Arcadia Inv. (-/Inv.) Arcadia 4-11-09 +1.1

Shakeela Saunders (Great Bridge, Chesapeake, Va.) 12-19-93 41-02.50i State 3A Eastern Reg. (1) Hampton 2-21-09

A'Lexus Brannon (Ozen, Beaumont, Tx.) 1-29-92 41-01.00 Great SW (1) Albuquerque 6-7-08 +1.2

Alexis Hightower (Houston, Arlington, Tx.) 3-11-92 40-11.50 State 5A (2) Austin 5-10-08 +2.0

Tara Richmond (Poly, Long Beach, Ca.) 4-19-92 39-09.75 Arcadia Inv. (-) Arcadia 4-12-08 +1.1

Melia Cox (Poly, Long Beach, Ca.) 11-23-93 39-09.25 Arcadia Inv. (4/Inv.) Arcadia 4-11-09 +1.2

38-07— U.S. World Youth Trials Standard (marks must be made between June 24, 2008 and June 22, 2009)

Leading Athletes Who Have Met U.S. Trials Standard

Ciarra Brewer (James Logan, Union City, Ca.) 12-3-93 42-01.50 Arcadia Inv. (-/Inv.) Arcadia 4-11-09 +1.1

Shakeela Saunders (Great Bridge, Chesapeake, Va.) 12-19-93 41-02.50i State 3A Eastern Reg. (1) Hampton 2-21-09

Alexis Hightower (Houston, Arlington, Tx.) 3-11-92 40-09.00 USA Nat. JO (-) Omaha 7-24-08 +1.9

Tara Richmond (Poly, Long Beach, Ca.) 4-19-92 39-09.75 Arcadia Inv. (-) Arcadia 4-12-08 +1.1

Melia Cox (Poly, Long Beach, Ca.) 11-23-93 39-09.25 Arcadia Inv. (4/Inv.) Arcadia 4-11-09 +1.2

Erin Busbee (Collinwood, Cleveland, Oh.) 1-12-92 39-05.00i Nike Indoor Nat. (5) Rox. Crossing 3-14-09

Jenna Prandini (Clovis, Ca.) 11-20-92 39-03.50 West Coast Rel. (1) Clovis (Buc) 4-4-09 0.0

Jordan Wilson (Forney, Tx.) -92 39-00.50 Texas Rel. (5) Austin 4-4-09 +1.8

Siobham Ford-Holland (Dale, Chester, Va.)1-7-93 38-11.00 Blunt Inv. (1/15-16) Durham 7-20-08 +0.8

SHOT PUT

41-00.25—WYC Qualifying Standard (marks must be made between Jan. 1, 2008 and June 22, 2009)

44-08.75—Likely to Score in 2009 WYC (avg. for 8th place in last three WYC)

Athletes Who Have Met WYC Qualifying Standard and Were Born in 1992 or 1993

Vanessa Stewart (North Babylon, N.Y.) 2-19-92 47-05.25i NSIC (2) New York (Ar) 3-15-09

Jessica Maroszek (Seymour, Wi.) 2-26-92 45-01.00 Bay Conf. (1) 5-10-08

Kelsey Card (Carlinville, Il.) 8-20-92 44-08.50 South Central Conf. (1) 4-29-08

Tori Bliss (Portage, In.) 12-1-92 44-04.50 Portage Inv. (2) Portage 4-26-08

Michaela Haight (West, Iowa City, Ia.) 3-3-92 44-02.00 Forwald Rel. (1) Forwald 4-18-08

Taylor McNally (Ennis, Mt.) 1-18-92 43-09.00 State C (1) Helena 5-23-08

Angela Boushea (Monona Grove, Wi.) 1-20-92 43-02.75 Tider Inv. (1) Edgerton 5-2-08

Sarah Howard (Trinity Christian, Dublin, Ga.) 10-11-93 43-01.50 Milledgeville Inv. (1) Milledgeville 3-11-09

Rachel Aliotta (Cheshire, Ct.) 2-11-92 42-08.00 Irv Black Inv. (1) Hartford 4-16-09

Avione Allgood (Legacy, North Las Vegas, Nv.) 12-14-93 42-06.00 Inv. (1) 3-16

Sydney Hayel (Harvard-Westlake, N. Holly. Ca.) 1-6-92 42-01.00 So. Sec. Fin. (3) Norwalk 5-23-08

Michelle Edwards (Godby, Fl.) 9-7-93 42-00.00 North Florida Rel. (1) Panama City 3-21-09

Carly Henry (Cozad, Nb.) -92 41-11.00 State B Dist. 5 (2) 5-11-08

Hannah Carson (Dobson, Mesa, Az.) 1-26-93 41-10.50 State 5A1 (1) Phoenix 5-10-08

Jasmine Burrell (North,Torrance, Ca.) 2-27-92 41-08.50 Mt. SAC Rel. ( ) Walnut 4-18-09

Bobbie Williamson (Killeen, Tx.) -92 41-06.50 AAU Nat. JO (1/15-16) Ypsilanti 7-31-08

Destan Howerton-Davis (Canyon Springs, Nv.) 12-19-92 41-01.50 Arcadia Inv. ( ) Arcadia 4-11-09

41-01.00— U.S. World Youth Trials Standard (marks must be made between June 24, 2008 and June 22, 2009)

Leading Athletes Who Have Met U.S. Trials Standard

Vanessa Stewart (North Babylon, N.Y.) 2-19-92 47-05.25i NSIC (2) New York (Ar) 3-15-09

Jessica Maroszek (Seymour, Wi.) 2-26-92 44-09.00 Pulanski Inv. (1) Pulanski 4-30-09

Sarah Howard (Trinity Christian, Dublin, Ga.) 10-11-93 43-01.50 Milledgeville Inv. (1) Milledgeville 3-11-09

Kelsey Card (Carlinville, Il.) 8-20-92 43-00.00i Illinois Top Times Inv. (1) Bloomington 3-28-09

Rachel Aliotta (Cheshire, Ct.) 2-11-92 42-08.00 Irv Black Inv. (1) Hartford 4-16-09

Avione Allgood (Legacy, North Las Vegas, Nv.) 12-14-93 42-06.00 Inv. (1) 3-16

Michaela Haight (West, Iowa City, Ia.) 3-3-92 42-04.25i Nebraska A/C (1) Omaha 1-25-09

Tori Bliss (Portage, In.) 12-1-92 42-01.75 Hoosier Inv. (2) West Lafayette 3-21-09

Michelle Edwards (Godby, Fl.) 9-7-93 42-00.00 North Florida Rel. (1) Panama City 3-21-09

Jasmine Burrell (North,Torrance, Ca.) 2-27-92 41-08.50 Mt. SAC Rel. ( ) Walnut 4-18-09

Bobbie Williamson (Killeen, Tx.) -92 41-06.50 AAU Nat. JO (1/15-16) Ypsilanti 7-31-08

Destan Howerton-Davis (Canyon Springs, Nv.) 12-19-92 41-01.50 Arcadia Inv. ( ) Arcadia 4-11-09

DISCUS

134-06—WYC Qualifying Standard (marks must be made between Jan. 1, 2008 and June 22, 2009)

144-05—Likely to Score in 2009 WYC (avg for 8th for last three WYC)

Athletes Who Have Met WYC Qualifying Standard and Were Born in 1992 or 1993

Alex Collatz (Stockdale, Bakersfield, Ca.) 5-25-93 163-07 Arcadia Inv. (1) Arcadia 4-11-09

Jessica Sharbono (West, Billings, Mt.) 2-14-92 157-05 Golden West (1) Folsom 6-7-08

Jessica Maroszek (Seymour, Wi.) 2-26-92 147-07 Pulanski Inv. (1) Pulanski 4-30-09

Kelsey Card (Carlinville, Il.) 8-20-92 142-04 State 1A (1) Charleston 5-17-08

Carly Pendleton (Woodmore, Elmore, Oh.) 12-8-92 140-08 Woodmore Inv. (2) Elmore 4-24-09

Vanessa Stewart (North Babylon, N.Y.) 2-19-92 140-04 Red Raider Rel. (1) Thiells 4-17-09

Adrienne Long (Horn, Mesquite,Tx.) 8-7-92 140-00 Carl Norris Inv. (1) Mesquite 3-7-09

Taylor McNally (Ennis, Mt.) 1-18-92 139-07 State C Western Div. (1) Missoula 5-16-08

Rachell (Jill) Hydrick (Ingleside, Tx.) 7-20-92 138-00 Texas Rel. (4) Austin 4-4-08

Erica Brand (Northwest, Shawnee Mission, Ka.) 8-1-92 137-10 Spring Classic (1) Overland Park 4-3-09

Taylor Aldredge (Gladstone, Or.) 8-13-92 137-04 State 4A (2) Eugene 5-24-08

Gabrielle Galvin (Lockhart, Tx.) 8-16-93 137-03 Lockhart Inv. (3) Lockhart 3-7-09

Chukwunonso Okwelogu (Buchanan, Clovis, Ca.) 9-19-93 137-03 Arcadia Inv. (1/seed) Arcadia 4-11-09

Jasmine Burrell (North, Torrance, Ca.) 2-27-92 137-00 Arcadia Inv. (5/Inv.) Arcadia 4-11-09

Carly Wopat (Dos Pueblos, Goleta, Ca.) -92 136-09 Santa Barbara Co Ch. (1) Santa Barbara 4-25-09

Kirstin Thompson (West, Norman, Il.) 2-22-92 136-06 State 2A Reg. (1) Bloomington 5-9-08

Avione Allgood (Legacy, North Las Vegas, Nv.) 12-14-93 136-10 Las Vegas Inv. (2) Las Vegas 3-28-09

Ashley Webb (Benton, Il.) 2-11-92 136-00 State 1A (2) Charleston 5-17-08

Erica Brand (Northwest, Shawnee Mission, Ka.) 8-1-92 134-09 Topeka Seaman Rel. (1) Topeka 4-25-08 .

126-08— U.S. World Youth Trials Standard (marks must be made between June 24, 2008 and June 22, 2009)

Leading Athletes Who Have Met U.S. Trials Standard

Alex Collatz (Stockdale, Bakersfield, Ca.) 5-25-93 163-07 Arcadia Inv. (1) Arcadia 4-11-09

Jessica Sharbono (West, Billings, Mt.) 2-14-92 152-07 Billings Inv. (1) Billings 4-18-07

Jessica Maroszek (Seymour, Wi.) 2-26-92 147-07 Pulanski Inv. (1) Pulanski 4-30-09

Carly Pendleton (Woodmore, Elmore, Oh.) 12-8-92 140-08 Woodmore Inv. (2) Elmore 4-24-09

Vanessa Stewart (North Babylon, N.Y.) 2-19-92 140-04 Red Raider Rel. (1) Thiells 4-17-09

Adrienne Long (Horn, Mesquite,Tx.) 8-7-92 140-00 Carl Norris Inv. (1) Mesquite 3-7-09

Erica Brand (Northwest, Shawnee Mission, Ka.) 8-1-92 137-10 Spring Classic (1) Overland Park 4-3-09

Gabrielle Galvin (Lockhart, Tx.) 8-16-93 137-03 Lockhart Inv. (3) Lockhart 3-7-09

Jasmine Burrell (North, Torrance, Ca.) 2-27-92 137-00 Arcadia Inv. (5/Inv.) Arcadia 4-11-09

Avione Allgood (Legacy, North Las Vegas, Nv.) 12-14-93 136-10 Las Vegas Inv. (2) Las Vegas 3-28-09

Carly Wopat (Dos Pueblos, Goleta, Ca.) -92 136-09 Santa Barbara Co Ch. (1) Santa Barbara 4-25-09

Alexandria Morgan (Ventura, Ca.) 3-18-93 134-04 Irvine Inv. (1) Irvine 3-14-09

Bobbie Williamson (Ellison, Killeen, Tx.) -92 134-02 Lewis Inv. (1) Dallas 2-21-09

Rachell (Jill) Hydrick (Ingleside, Tx.) 7-20-92 133-06 Texas Rel. (6) Austin 4-4-09

Carly Wopat (Dos Pueblos, Goleta, Ca.) -92 131-02 Arcadia Inv. (2/Seed) Arcadia 4-11-09

HAMMER

150-10—WYC Qualifying Standard (marks must be made between Jan. 1, 2008 and June 22, 2009)

179-07—Likely to Score in 2009 WYC (avg. for 8th place for last three WYC).

Athletes Who Have Met WYC Qualifying Standard and Were Born in 1992 or 1993

Katie Krychir (Twentynine Palms, Ca.) 7-10-92 171-09 Steve Scott Inv. (6) Irvine 5-3-08

Karen Henning (St. Anthony's, S. Hunt., N.Y.) 5-7-92 164-03 Empire State Games (2) 7-20-08

113-03— U.S. World Youth trials standard (marks must be made between June 24, 2008 and June 22, 2009)

Leading Athletes Who Have Met U.S. Trials Standard

Katie Krychir (Twentynine Palms, Ca.) 7-10-92 171-04 Mt. SAC Rel. (1/Uni-Op) Walnut 4-17-09

Karen Henning (St. Anthony's, S. Hunt., N.Y.) 5-7-92 164-03 Empire State Games (2) 7-20-08

Shana Flanary (Findley, Mi.) 12-2-92 142-05 USATF Reg. V JO (1/15-16) Wash. CH 7-14-08

Robyn McFetters (Barrington, R.I.) 1-17-93 137-09 Inv. (1) 4-14

Sally Marie Futch (Bullock Acad., Statesboro, Ga.) 7-31-92 133-02 USATF Nat. JO (2/15-16) Omaha 7-22-08

Erin Atkinson (Ladue HW, St. Louis, Mo.) 1-30-92 131-06 Inv. 8-3

JAVELIN

141-01—WYC Qualifying Standard (marks must be made between Jan. 1, 2008 and June 22, 2009)

150-10—Likely to Score in 2009 WYC (avg for 8th place in last three WYC)

Athletes Who Have Met WYC Qualifying Standard and Were Born in 1992 or 1993

Hannah Carson (Dobson, Mesa, Az.) 1-26-93 167-11 Sun Angel Inv. (3/o) Glendale 4-5-08

Fawn Miller (Lakeview, Stoneboro, Pa.) 5-10-92 167-02 State 2A (1)Shippensburg 5-23-08

Ashley Aldredge (Cedar Creek, Ruston, La.) 4-27-92 156-00 State 1A (1) Baton Rouge 5-1-08

Laura Loht (Indian Valley, Lewistown, Pa.) 6-30-92 141-08 Mustang Inv. (1) Elliotsburg 4-12-08

Avione Allgood (Legacy, North Las Vegas, Nv.) 12-14-93 141-03 USATF Nat. JO (3/15-16) Omaha 7-26-08

116-02— U.S. World Youth Trials Standard (marks must be made between June 24, 2008 and June 22, 2009)

Leading Athletes Who Have Met U.S. Trials Standard

Fawn Miller (Lakeview, Stoneboro, Pa.) 5-10-92 157-08 McDowell Inv. (1) Pittsburgh 4-25-09

Hannah Carson (Dobson, Mesa, Az.) 1-26-93 151-01 USA Nat. JO (1/15-16) Omaha 7-26-08

Ashley Aldredge (Cedar Creek, Ruston, La.) 4-27-92 150-01 USA Reg. VI JO (1/15-16) Hoover 7-14-08

Avione Allgood (Legacy, North Las Vegas, Nv.) 12-14-93 141-03 USATF Nat. JO (3/15-16) Omaha 7-26-08

Laura Loht (Indian Valley, Lewistown, Pa.) 6-30-92 138-05 Bald Eagle Inv. (1) Lock Haven 4-17-09

Stephanie Nelson (Sumner (Kansas City, Ka.) -92 135-09 AAU Nat. JO (2/15-16) Detroit 7-28-08

Amethyst Boyd (Chandler, Az.) 5-29-92 132-04 USA Nat. JO (4/15-16) Omaha 7-26-08

Ellen Arnaud (Dallas, Pa.) 3-17-92 132-00 Shippensburg Inv. (1) Shippensburg 4-18

Laura Grube (Crow, Or.) 9-16-93 130-02 Cresweel Inv. (1) Creswell 3-19-09

HEPTATHLON

4,500—WYC Qualifying Standard (marks must be made between Jan. 1, 2008 and June 22, 2009)

5,117—Likely to Score in 2009 WYC (avg for 8th place for last three WYC)

Athletes Who Have Met WYC Qualifying Standard and Were Born in 1992 or 1993

Lindsay Vollmer (Penney, Hamilton, Mo.) 9-10-92 4,736 USA Nat. NO (1/15-16) Omaha 7/22-23/08

Kimmie Conner (Dana Hills, Dana Point, Ca.) 8-10-92 4,558 Arcadia Inv. (1) Arcadia 4/9-10/09

Alyssa Monteverde (Clovis West, Fresno, Ca.) 1-15-93 4,506 USA Youth Nat. (1/15-15) Charlotte 6/25-26/08

Athletes Who Need to Achieve a Qualifying Standard and/or Birthdate Conformation

Lorraine Graham (C.H. Flowers, Sprindale, Md.) 2-23-92 4,347 USATF Nat. JO (3/15-16) Omaha 7/22-23/08

Alexandria Gochenour (Logan-Magnolia, L, Ia.) 2-17-93 4,264 USATF Nat. JO (4/15-16) Omaha 7/22-23/08

Hannah Carson (Dobson, Mesa, Az.) 1-26-93 4,256 USA Youth Nat. (2/15-16) Charlotte 6/24-25/08

Chamique Francis (Queens Tech, Queens, N.Y.) 4-17-93 4,151 USATF Reg. I JO (1/15-16) N.Y. 6- -08

Allison Reaser (El Segundo, Ca.) 9-9-92 4,130 USATF Nat. JO (4/15-16) Omaha 7/22-23/08

Kelly Steffen (Bloomington, Il.) -92 4,119 AAU Reg. 6 JO (1/15-16) Normal 7/3-4/08

Andriana Love (Wylie, Tx.) 7-3-92 4,083 USATF Nat. JO (6/15-16) Omaha 7/22-23/08

To be determined— U.S. World Youth Trials Standard (marks must be made between June 24, 2008 and June 22, 2009)

Leading Athletes

Kimmie Conner (Dana Hills, Dana Point, Ca.) 8-10-92 4,558 Arcadia Inv. (1) Arcadia 4/9-10/09

Kira Rienecker (San Jose, Ca.) 1-21-93 3,788 Arcadia Inv. (5) Arcadia 4/9-10/09

Chelsea Larson (Yorba Linda, Ca.) 8-22-92 3,700 Arcadia Inv. (6) Arcadia 4/9-10/09

2008 Performances

Lindsay Vollmer (Penney, Hamilton, Mo.) 9-10-92 4,736 USA Nat. NO (1/15-16) Omaha 7-22-23/08

Kimmie Conner (Dana Hills, Dana Point, Ca.) 4,558 4,558 Arcadia Inv. (1) Arcadia 4/9-10/09

Alyssa Monteverde (Clovis West, Fresno, Ca.) 1-15-93 4,506 USA Youth Nat. (1/15-15) Charlotte 6/25-26/08

Lorraine Graham (C.H. Flowers, Sprindale, Md.) 2-23-92 4,347 USATF Nat. JO (3/15-16) Omaha 7/22-23/08

Alexandria Gochenour (Logan-Magnolia, L, Ia.) 2-17-93 4,264 USATF Nat. JO (4/15-16) Omaha 7/22-23/08

Hannah Carson (Dobson, Mesa, Az.) 1-26-93 4,256 USA Youth Nat. (2/15-16) Charlotte 6/24-25/08

Chamique Francis (Queens Tech, Queens, N.Y.) 4-17-93 4,151 USATF Reg. I JO (1/15-16) N.Y. 7-11-12/08

Allison Reaser (El Segundo, Ca.) 9-9-92 4,130 USATF Nat. JO (4/15-16) Omaha 7/22-23/08

Kelly Steffen (Bloomington, Il.) -92 4,119 AAU Reg. 6 JO (1/15-16) Normal 7/3-4/08

Andriana Love (Wylie, Tx.) 7-3-92 4,083 USATF Nat. JO (6/15-16) Omaha 7/22-23/08