Nike Outdoor Nationals


June 18-20, 2009 at Greensboro NC
DyeStat on-site coverage

Sveinsson, Dunbar put the heat on rivals

No one can respond to mid-race moves under brutal conditons
By SteveU, Senior Editor, DyeStat.com/ESPN RISE
The heat may have been brutal for distance runners in Greensboro Friday night, but what Chelsey Sveinsson and Trevor Dunbar did to their rivals was downright nasty.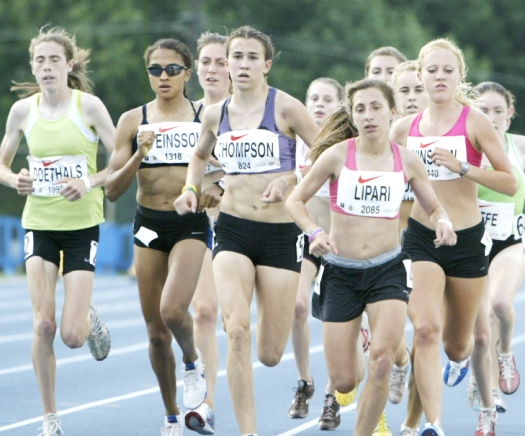 Action during the first two laps of the girls 2M. Photo John Nepolitan



Using withering breakaways that only one other athlete even tried to respond to, Sveinsson and Dunbar ruled their respective 2-mile races at the Nike Outdoor Nationals Friday night. It was too hot – 85 degrees and 65 percent humidity – for all out runs over eight laps, so the new champions just condensed the best part of their efforts into unanswerable mid-race surges. Crossing the halfway mark in 5:10.02, the Greenhill TX soph powered under 5:00 pace and stayed there, running a head-spinning 4:54.83 for the final full mile to win by more than 15 seconds in 10:04.85 – good for a US soph record, the 3rd best time ever for the full 2M, and #7 all-time on the combined 3200/2M list.

"I wanted a fast time," she said. "I felt like the pace was too slow." Indeed, despite the fact that Chelsey is intent on the double, with the mile scheduled for Saturday, she was equally intent on a PR in the deuce.

Dunbar's US#1 8:49.79 isn't quite that lofty, historically speaking, but the way it was achieved was just nearly as impressive. He burst away from a tight pack with 900 to go, crossed the 1.5-mile mark in 6:42.97, then continued to tear up the track for a 2:06.83 final 880y. It was amazing in that while the Kodiak AK senior came in with the third-best time, he was really simply near the head of a very tightly seeded pack of entries; "one of the favorites," as it were. Several others should have at least been able to try and respond, but everyone else was either settling for second or betting he was going too hard. If they were doing the latter, they lost.

"I thought someone else might have more energy, but I guess I was just the freshest of the bunch," said Dunbar. "I was excited, because I know I'm in really good shape right now and just wanted to compete."


Sveinsson and Jones pull away from the rest. Photo John Nepolitan


Sveinsson's long drive held the same kind of sway. Only Bromfield MA senior Emily Jones even tried to go with her, but that only lasted a few laps before she began a long fade. Was it better not to have even made the attempt? Rochester MI senior Megan Goethals MI seemed to think so. She beat Sveinsson last December at Foot Locker, but Friday she hung back with the pack when Chelsey broke away. In the final stretch, she passed Jones for 2nd. "The first mile, I thought, I can do this," said Goethals. "But when she really picked it up, I knew I couldn't keep up. I knew in my mind it wouldn't work out."

Roslyn NY jr Emily Lipari took the early lead, as is her wont, but she didn't have it on this day and wasn't exactly pushing it. The first lap was 78.53, the 800 split 2:38.45. That was enough for Sveinsson. She took the lead, but at first it was a relatively modest move. The 3rd 440 was 76.47, with Jones separating herself from the rest with a 76 herself.

But Sveinsson kept tightening the screws. She accelerated a bit to 75.24, passing the mile in 5:10.18, with Jones still right there and the field slipping to four seconds back. At that point, though – even with the pickup – you had to think a sub-10:10 time was out of the question. Chelsey, however, had other ideas … and the show was about to begin.

How often do you see a girl go sub-5:00 in the second half of a 2-mile? Only a few times in history, at best. Chelsey did one 74, then another. And another. Three straight laps between 74.3-74.5. Jones dropped 13 seconds back; the pack 18 seconds in arrears. Suddenly, a time of even 10:05 looked possible.

Sveinsson had used a lot in those three laps, but she still had enough for something of a kick – 71.48 – passing 3k in 9:27.29 and finishing with the #2 time in meet history. Goethals kicked best, finishing in 68.56, passing Jones at the very end for third.

"Muscle memory," was how Chelsey summarized what's been happening in her training to get to this level. There's been a lot of training a 75-second/lap pace, she said. There was also credit to her mom, who coaches weight and strength training at her school.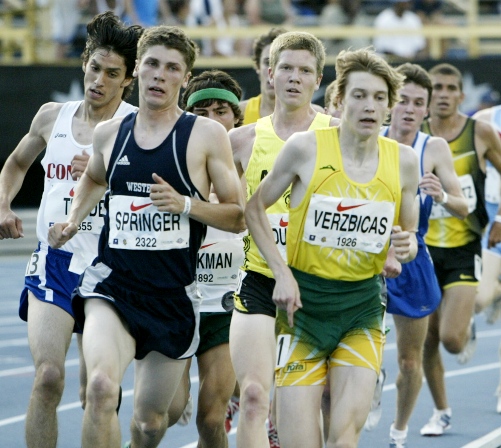 The early laps of the boys 2M. Photo John Nepolitan

Perhaps the best thing that has happened to Chelsey this spring, as she's continued to try and develop her championship moxie, was participating in the Reebok Grand Prix meet in New York. There she had to deal with losing to 14 women in a furiously paced 1500 with national elites, but she still ran a big PR 4:18.13 – and learned just as much off the track. "It was great to see how those athletes conduct themselves. I was really inspired by Anna Willard, Bernard Lagat … they taught me how to be a better athlete."

She also seems willing to embrace the idea that she's going to be the girl to beat after this spring. Are you ready for the spotlight, she was asked. "Who doesn't like the spotlight!" she replied with a laugh.

In the boys race, the spotlight was shining most brightly on Lucas Verzbicas, the Lincoln-Way Central frosh who has been stunning the country's distance fans all year – when he's been racing anyway. The previous weekend had been his outdoor debut, as he took the Midwest Distance Gala in 8:53.98, running a race that suggested that he had more in the tank. His 3200 split (8:50.70) recorded in that effort had knocked the 8:51.3y and 8:51.5y of Jeff Thode IL and Dunbar down to #2 and #3 on the list. But there were lots of contenders in the deuce, including fellow-8:51 3200 type Chris Schwartz CA, along with 8:56y performer Graham Bazell and 4:02 miler Andrew Springer, who of course had taken the MDG mile.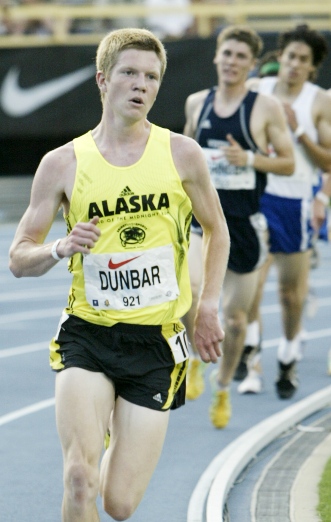 Dunbar pulls away. Photo John Nepolitan


Verzbicas took the lead right away, and towed the field through at 64.82. But he immediately backed off and there would be no stringing out of the group. The freshman continued to lead, but the pack became a teaming mass of guys jousting for position and wondering what the others were going to do. Nearly everyone was there, and stayed there lap after lap. Lucas took the field through the mile in 4:26.80, with 11 others within 1.4 seconds. Springer tested the waters of leading, but either he was somewhat depleted from a SMR 800 anchor leg four hours earlier, or he just didn't have it this weekend.

So … there was no move of consequence until Dunbar decided to shake everyone out of their lethargy … except no one got shook. No one else went under 67 for the penultimate lap as Trevor gapped the field. The second lap at 63 pace was definitely hard on the Alaskan, but he bore down and kept it up. Several others were also able to close in 63-point, or 62, with surprising Mason OH soph Zach Wills having been in best position and Verzbicas still being close enough as they took 2nd and 3rd in 8:55.18 and 8:55.58.

Dunbar's victory wasn't just about him winning the race, it was more a validation of all he's done and been this year, and that he hadn't quite gotten the ultimate prize until now. He fiercely raised his arms in victory, showing the ecstasy in his face as he crossed the line.

"I'm definitely psyched, really happy," he said. "I ran the first half the way I wanted to, comfortable cruising in the pack, smooth and fast, and feeling really good. With 900 to go, I had a straightaway ahead of me and said, heck … I started pushing it, got a gap and then added to it. I'm glad I did what I did."

Not a lot of others knew it, but Dunbar was supremely confident coming in. Of course he had the solo 8:51 weeks ago, but suffered with strep throat at state meet time, holding those times down. "People might have been doubting me then," he said, "thinking I peaked too soon. But when I started feeling better, I got right back on my horse, had some great workouts and a few 65-mile weeks. When I ran 4:06 (last weekend in Portland Track Classic), I knew I was money for this."

He also did all he could to acclimate himself to the sauna that Greensboro had become. "I've been here since Wednesday, acclimatizing myself … but it's still just horribly hot. I'm just not used to this humidity."

That may be, but the real heat was placed on Dunbar's rivals. He can now say goodbye to prep distance running with a clear heart. On the other hand, will anyone be able to keep up with Sveinsson the next few years? She has now moved into the all-time top ten in both the 1500 and the 2-mile, and seems like the kind of runner who can keep improving. Trevor has made his closing statement, but the reign of Chelsey has just begun.