Feet to the Grindstone
by Dave Devine, photos by John Nepolitan
April 1, 2009
>> Dave Devine ARCHIVES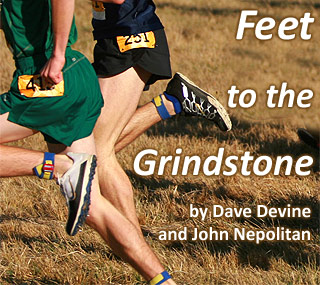 The air is thinner than you'd expect. Crisp and dry and deprived of nearly 20-percent of its normal oxygen by a series of unseen filters and microscrubbers concealed at the edges of the hermetically-sealed room. Breathing becomes an inefficient act, with your lungs craving more air than the space is capable of delivering, and all you've done is ascend a short flight of stairs to this loft-like room on the top floor of the main building of a place called the Grindstone Mountain School.

"We call this the 'Altitude Attic,'" says the red-faced, gregarious man conducting your tour. Judging from the blood rising in his cheeks, the sudden lack of oxygen is having an even more pronounced effect on him. He points to the wall-mounted control that allows him to alter the oxygen mix in the room to simulate various altitudes. The dial is fixed at a mark labeled 14K. "Go ahead," he drawls in a honeyed Southern twang, "have yourself a go on the game system."

The long, spacious room is outfitted with an array of arcade games and comfy-looking couches, a Foosball table and an assortment of framed posters featuring top American distance runners, but the piece de resistance is a massive flat-screen plasma television consuming an entire wall of the Attic. Hooked up to the TV is a Wii system with an array of popular video games fanned out on a nearby coffee table.

"The kids love this one," your tour guide says, handing you a game controller shaped like a musical instrument. Strumming on the fake plastic guitar for a few minutes, laboring to keep up with the rapidly-changing digital notes on the big screen, leaves you slightly winded. You find yourself wondering if anyone else has ever played Guitar Hero at 14,000 feet. Do they have Wii systems in the foothills of the Himalayas?

"The original development plans called for adjustable altitude in all the dormitory rooms, too," your companion remarks, sounding part school administrator, part used car salesman, "but with the economy tanking the way it has, well—" He fires a playful jab at your shoulder. "Backburner for now, right? But everyone will have a required two-hour studyhall in that area over there," he says, indicating a corner filled with tables and chairs, "and the residential students will have 24-7 access to the Attic whenever else they want. Don't worry, chief, they'll get their altitude."

Ignoring the fact that you've somehow become Chief to this guy you've only met twenty minutes ago, you try to wrap your head around the fact that all of this has been constructed on the side of a mountain in a fairly remote section of southwest North Carolina. That driving fifty miles south from Asheville toward the border of South Carolina has delivered you to one of the most technically developed academic buildings you've ever entered. A former summer chalet for a wealthy tobacco family converted into what might just be the next great hope for US high school distance running.

The man leading you around the nearly-finished facility is named Griffin Harwell, a former headmaster at a small private Christian academy in Durham, recruited to oversee the Fall 2009 opening of the Grindstone Mountain School, Home of the Elite Distance Development Project.

"Come on," he says, interrupting your attempt to keep up with the digitized guitarist from Metallica. "I want to show you the bank of underwater treadmills we're installing in the old soaking pool."

He disappears back through an air-tight sliding door, leaving the altitude rec room behind, and even with the supposed economic cutbacks, you can't shake the feeling you're following Willie Wonka around the Chocolate Factory.



* * *



Among the handful of people—mostly high school throwers and jumpers— attempting the "NIN/NSIC double" during the weekend of March 13-15, when the two national high school indoor track and field championships were being contested simultaneously in Boston and New York City, was a bickering pair of mismatched Southerners eager to set eyes on as many promising underclass runners as possible in three days.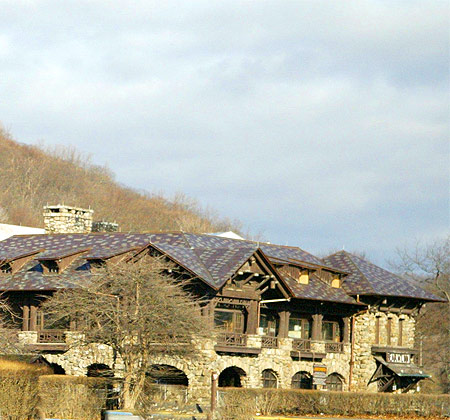 The main school building, a renovated former tobacco baron's summer chalet.


Griffin Harwell, the new headmaster at the Grindstone Mountain School, stands out among the milling athletes and coaches at Nike Indoor Nationals with his mustard-colored sports coat, polished shoes and ornate belt buckle. His traveling companion, a former collegiate sports physiologist named Kent Swinyard, blends more smoothly into the crowd, wearing a white Steve Spurrier-style visor, matching tracksuit and running shoes. While one sidles up to runners between events, or their parents in the stands, offering a firm handshake and an invitation to check out his school's soon-to-be-completed website, the other stands trackside, hand wrapped around his jaw in careful observation of the action on the oval. One is full of confidence and promises and projected enrollment figures, the other full of biomechanical assessments and sober advice for prospective students. The snakeoil salesman and the scientist.

Together they are an impressive one-two punch, a cooly effective recruiting team.

The goal is to convey their vision for a school-within-a-school, an elite distance running development program folded into the curriculum and activities of a small private academy serving the communities of southeastern North Carolina. The "regular" students will attend the school daily, coming and going on buses from the surrounding area, but the recruited runners will hail from throughout the United States, living as residential students and training as a unit on a combination of endless trails and sophisticated technology available at the school. Their hopes for the first group are modest: ten enrolled distance athletes per class year—five boys and five girls, for a total of forty in the development project—contained within a total enrollment of 120 to 150 students.

"Of course, we won't be sanctioned to compete against other high schools," Harwell says, "but if everything works out the way we think it will, if we attract the talent we expect, there's not a team in the country that could compete with us anyway."

A primary goal of the development project is to prepare athletes for competition in events like Foot Locker Nationals, USATF Junior Nationals, and the Nike series of championships.

"And beyond," says Swinyard, the sports physiologist. "We're riding a reinvigorated wave of young American distance talent, and our thought process is to push the envelope there—assemble the best, to train with the best. In one place—Grindstone Mountain."

Swinyard, a specialist in the effects of high-altitude living paired with low-altitude training, was brought aboard to help with talent assessment and program development, adding a measure of expertise to the still-forming staff.






Trails, trails, and more trails...the school is surrounded by soft running surfaces.


"Am I a bit upset that we won't be able to deliver on the altitude dorms?" he says, leaning against the railing between races at the Nike Indoor meet. "Somewhat, yes. The area surrounding the school is at about 2,000 feet, which is perfect. The benefits of sleeping high and training low are well-documented. I don't know about the benefits of doing math homework and playing video games at a high altitude, so we'll have to find that out. But that's not the whole program, either."

Not even close, as Harwell is quick to point out.

There are the aforementioned underwater treadmills, for athletes recovering from injuries as well as planned weekly distance runs without surface contact. There are the miles and miles of pine-needled trails that wend around the mountain, some with brutal hills and some with long stretches of shaded, gently-rolling terrain. Planned video feedback sessions on that giant plasma flatscreen, for making minor corrections and biomechanic alterations to running form. Daily plyometrics and single-leg balance drills, and a hyperbaric chamber for repairing minor muscle tears. There is an intense college preparatory curriculum, and high academic standards. A head chef from Europe and an organic, biodynamic garden on the school grounds, which will provide most of the produce for residential meals. The facilities are expected to be so impressive that Harwell and Swinyard intend to invite post-collegiate elites to train at the school during the summer months to augment the school's income.

"We're even looking at having a 'Pro in Residence' program," says Harwell, in which a top American distance man or woman would live at the school for a year to train and serve as a role model.

Harwell was, by his own assessment, a "middling steeplechaser" when he was in college, and has stayed connected to the sport out of passion for the distance events. He's the first to admit his belt size and his cholesterol count far exceed his weekly mileage these days. Swinyard, on the other hand, has transformed himself from a "mid-9something high school two-miler" into an ultramarathoner and trailrunner who knows the landscape around the school intimately. Both men are quick to assert that neither will be the coach of the Grindstone Mountain runners.

"Can't say exactly who, at this juncture," Harwell says, "but it's top shelf talent. A guy with extensive experience who's just gotten tired of the headaches at the higher end of the sport. He's looking for a change and a new challenge, something that doesn't involve recruiting trips and living on his Blackberry. We can offer that."

Pressed for a name, Harwell continues to demur. "You'll be impressed, that's all I can say. Top-shelf dude."

He is equally coy about the financial backing for the ambitious project, saying the benefactors would prefer to remain anonymous.

Asked if there are connections to major athletic footwear companies, Harwell shakes his head.

"Think infomercials, Chief," he says, winking, "Bigtime infomercial money."

And then he and Swinyard depart for the parking lot.

"Have to get down to New York for the last day of National Scholastic," Harwell says. "Got us a few prospects there too."



* * *



Behind the main building at the Grindstone Mountain School, the ground slopes precipitously toward a pair of trailheads which disappear into the woods. A pickup truck is parked in a gravel pullout near the treeline.

"Come on," says Harwell, still in tour guide mode, still ruddy and out of breath. "I want to show you the dormitories where the distance project kids'll live."

Harwell reaches for the truck door, but you're feeling like your legs could use the walk after the four-hour drive from the airport.

"Not a chance," Harwell says, "these dorms ain't exactly around the corner."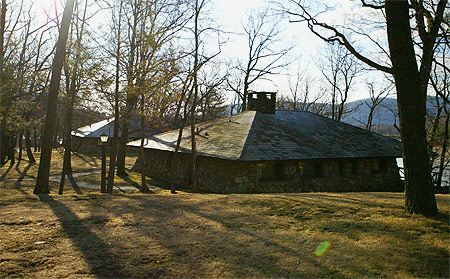 The distance project dormitories, located 3 miles from the main school building.



As the truck rumbles down a long sloping trail toward the dormitories, Harwell clarifies the thinking behind placing the student residences three miles from the main school building.

"That was Kent's idea," he notes, explaining that the dorm buildings were acquired from a now-shuttered church camp which conducted summer sessions on the east side of the mountain. "He wants this thing to be a mix of old school and new school—you know, the technology and the pure running. The coach we're getting is in full agreement. Our thinking is—who are the best runners in the world? East Africans, right? And the runners coming up in Africa…how do they get to school? They run there, right? Least a couple miles each way. So will our kids. That's why the dorms are three miles away."

Harwell goes on to explain that the runners will have access to showers when they arrive in the morning for classes, and they'll be released in the evening early enough to make it back to their rooms before dark.

"Six miles a day," he smiles, "without even trying. And then add the workouts on top of that."

What about the inevitable snow that accumulates in these hills come wintertime?

Harwell throws the pickup into park and turns to look you squarely in the eye.

"You ever seen pictures of Emil Zatopek in the snow? It's called toughness."



* * *



One question hanging over the lengthy tour of the renovated camp residence buildings is who, exactly, will occupy the buildings come next September.

One early answer: New Jersey distance star Tyler Udland (video, below).

Udland, a 2008 Foot Locker finalist and 9:04 performer on the track last year as a sophomore for Millburn High, recently committed to become a part of the inaugural class at the elite distance development project. The junior standout hasn't seen the school firsthand yet, but he's seen the pictures, spoken at length with Harwell, and can't wait for the August orientation to begin.






Tyler Udland NJ - Promo Clip for Grindstone Mountain School




"Was it hard to think about leaving my school and friends for my senior year?" Udland wonders aloud on the phone. "Absolutely. But I think this is my best shot to take my training to the next level. New Jersey's awesome, but running on all those trails in North Carolina? Hanging out in the altitude room? We don't have anything like that here."

When he allows his mind to wander, Udland sees himself disappearing into the hills for a year and emerging a changed athlete.

"It would be sweet to go all kinds of covert with this group of high-level guys, you know? Not have the pressure of a high school season or league meets or invitationals to worry about….just train like crazy for a few months and then come out of the mountains and see what we can throw down."

What he and his future training mates 'throw down' after a year in the Grindstone Mountain program could be the measure of success, or failure, for this ambitious development project.

Harwell, for one, has few doubts about their prospects.

"We're talking about an altitude-enhanced-underwater-Zatopek-Kenyan-thing going on here next year," he says, brimming with that salesman's passion. "We can take American high school distance running to the next level."

While it's hard to argue with that kind of thinking, you can't help noticing that the lower levels of the school still have a ways to go until they're ready to receive students.

"Oh we'll be ready," Harwell says. "Look for us in 2012. London, not just Eugene."

And then he crosses the gravel lot from his pickup to the still-gutted first floor of the Grindstone Mountain School, future home of the Elite Distance Development Project, and disappears inside.