101st Millrose Games



Madison Square Garden, New York City, NY

Friday, February 1, 2008 - DyeStat on-site with John Nepolitan

Smith blasts girls mile field for a 4:50.87 victory
Junior glides away in final two laps to make it 3 straight wins for Southern Regional NJ stars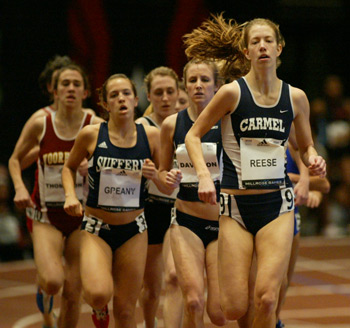 The field followed Kristin Reese (Carmel NY sr) through splits of 72.6 – 2:28 – 3:41, then Smith poured it on and pulled away from the taller, lankier Reese with a quarter mile to go, staking her way to a 4:50.87 clocking, well clear of the field.


In 2007, Jillian Smith(Southern Regional, NJ) was running in the shadow of her teammate Danielle Tauro, who was the top high school miler during the indoor season. Smith would chase Tauro in the major indoor races of 2007 and learn from her friend how to handle all the attention of the major events.

Opening 440 – Kirstin Reese(Carmel, NY) jumped to the early lead as the field tucked in behind her. A quick opening 400 of 1:12.6 had Reese out front, but nobody was dropped. Lining up behind Reese were Hannah Davidson(Saratoga, NY) and Cory McGee (Pass Christian, Ms), the latter running in her 1st race of the season.

Coming through half way – Little changed over the 2nd 400 meters, as Reese was still at the front, taking the pack past the half way point in a respectable 2:28. Davidson was still in 2nd, but moving up through the field to place herself in perfect position was Smith, with McGee in 4th.

1320 yards – The pace continued to be quick, but not super fast as Reese was still at the front at the 1200 meter post, passing in 3:41. Smith was a step behind her and a little gap formed back to McGee. The rest of the field began to drop back.

Final 440 – At the end of 9 laps, with 2 to go, Smith almost seemed to glide into the lead ahead of Reese and began a drive for home that nobody in the field would be able to counter. Behind the new leader, Reese was left to battle McGee for 2nd and 3rd as neither would be in any real danger of being caught by the rest of the field. Over the final 290 (2 laps), Smith continued to pull away from her pursuers eventually creating a 5 second gap over McGee, who would come up late to catch the early leader Reese. Davidson held on for 4th (4:57.68), with Melanie Thompson(Voorhees) and Caitlin Lane (Greenwich, NY) in 5th and 6th, also dipping under 5:00 with clockings of 4:59.01 and 4:59.13.

Smith's time of 4:50.87 ranks as #3 in meet history, behind the meet record of 4:49.94 of Sarah Schwald from 1989. The mark could be in jeopardy in 2009 as Smith, who has only felt the sensation of breaking the finish tape now twice in her career, still has one more year left at Southern Regional. She could bring the school its 4th straight victory in this prestigious event.

Jillian Smith in her own words:

"I liked the pace and everyone did a really good job of keeping really steady…It was not as aggressive as last year, so that is always a plus…
"This is a huge deal, just hearing about it is nothing like experiencing it first hand…there is always pressure, but I try to keep it off. I am not Danielle(Tauro); I'm her friend and teammate and I have my own expectations. I am my own person, so I am going to try to do as best as I can…
"It (her Boston Indoor Games win) was a confidence builder, having that time under my belt. I knew that I was physically able to run fast…but every track is different; so are the competitors, so you are never really sure how you are going to run…
I talked to her (Danielle Tauro) … like 20 minutes before the race, we were just talking and she was trying to get me pumped. She is really good at that, talking to her and having her give me some advice definately helps before going into a race…she was telling me to get out fast and try and stay with the top group, cause it is twice as hard working back up…
I would not call the win easy, but I am definitely surprised…I was just trying to keep my mind on something else and keep a steady pace. Last year, there was a lot of bumping and speeding up and slowing down, so I think I handled that a lot better than last year…just coming out on the track and seeing all the fans and knowing all the history.
If you are gonna step on the track you better be ready to perform…I have a lot bigger base from cross country so I think that helps a lot…Last year, it was really difficult to get around on the last two turns, so being able to get out early benefitted me a lot this year."
Cory McGee (Pass Christian MS soph) was runner-up for the second year in a row, following her 4:53.90 second place from 2007 with a 4:55.52 effort here. McGee pulled even with a fading Reese after Smith sprung her move, and then gapped the Carmel senior, who hung on gamely for third in 4:56.21.

Right, Smith congratulates McGee as she crosses the line.
Flash Results, Inc. 
                            101st Millrose Games                             
                     Madison Square Garden, New York, NY                     
 
Event 16  Girls 1 Mile Run High School
================================================================             
    Name                    Year Team                    Finals              
================================================================             
Finals                                                                       
  1 Jillian Smith                Southern Regional      4:50.87  1500m 4:32.5
  2 Cory McGee                   Pass Christian         4:55.52              
  3 Kristin Reese                Carmel                 4:56.21              
  4 Hannah Davidson              Saratoga Springs       4:57.68              
  5 Melanie Thompson             Voorhees               4:59.01              
  6 Caitlin Lane                 Greenwich              4:59.13              
  7 Emily Lipari                 Roslyn                 5:03.70              
  8 Jillian King                 Scotia-Glenville       5:06.74              
  9 Shelby Greany                Suffern                5:07.03              
 10 Jeanne Mack                  La Salle Academy       5:11.23              
Millrose Homepage