101st Millrose Games



Madison Square Garden, New York City, NY

Friday, February 1, 2008 - DyeStat on-site with John Nepolitan

DyeStat blogger's long kick holds off New Jersey standout's late charge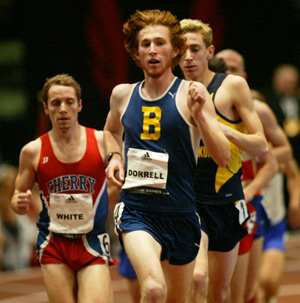 Nick Crits PA led in the early going, but dangerous kickers Kyle Merber NY and Robby Andrews NJ were lurking in the pack. Virginia's Pete Dorrell (left) took over at the half, pulling the field through in 2:06.4.


Based on his ability to change gears fast, and that he was able to draw off his father/coaches experience of racing on the tight 145 meter Madison Square Garden track, Bobby Andrews(Manalapan, NJ) looked to be the pre- meet favorite. But based on his 2008 USA#3 performance, and being fastest among those entered in the field for 2008, Kyle Merber (Half Hollow Hills West, NY) also had to be looked upon as a possible contender. As the runners came onto the track for introductions, and a few fast strideouts to get comfortable with the track, it was easy to hear who the crowd favorite was as cries of "Go Merber" could be heard from all corners of MSG. Over the pervious weeks, fans had gotten insight into the life of a high school runner building to his time on the big stage in DyeStat's Road to Millrose, and this had made Merber the one that most would be pulling for.

Opening 440 – Nick Crits (Wissahickon, Pa) jumped to the early lead as the field filed in a single line behind him. Crits lead Peter Dorrell(Blacksburg, Va) and Merber dropped in right in behind as Crits passed the opening 400 in a swift 60 seconds.

Halfway – The only change at the front was that Charles White ( Cherry Creek, Co) moved ahead of Merber in line into 3rd. White was enjoying a bit of a homecoming as he had spent the first 2-1/2 years of his high school career at Garden City HS(NY) before his father was transferred to a new job in Colorado. A special wavier was needed to allow White to come back to New York to compete and he was looking to make his presence known. The pace slowed in the 2nd 400 as Dorrell took over the lead. He passed the 800 meter point in 2:06.4 with White in 2nd and Crits slipping back to 3rd. A group of Dorrell, White, Merber, Crits, and Doug Smith started to break away just a slight bit as the 2nd half of the race started.

1320 – At the 1320, reached in 3:13, Smith (the new national leader at 3000 meters) began his drive for home. Dorrell started to struggle but remained in 2nd with Merber and White in 3rd and 4th. Making his first real appearance among the leaders was Andrews. Based off his flying kick that at the time carried him to a national leading time to win the New Balance Games, Andrews looked to be the most dangerous.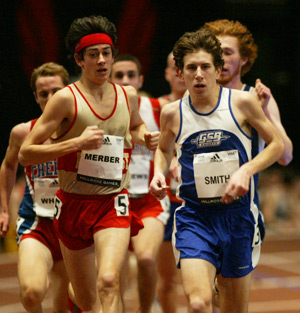 New Jersey distance ace Doug Smith charged to the fore at the three-quarter, reached in 3:13, with Dorrell and Merber on his heels and Andrews biding his time in the 5-6 slot.


Andrews also had the added advantage over the others in the field as his father/coach, Bob Andrews, had raced many times on the tight Madison Square Garden track racing for the University of Pennsylvania, the Westchester Track Club and most recently the Shore AC(including a leg on the team's Masters 4 x 400 earlier in the evening).

But with 2 laps to go, Merber struck for home, flying around the field and into the lead. His fast move would create a gap over the others that would be difficult to overcome. Andrews reacted best of all and, over the final lap, looked to be closing just slightly on Merber. But the Columbia-bound runner had enough to take the title. With a wide smile on his face, and spreading his arms wide crossing the line, Merber enjoyed every last step, breaking the tape in 4:13.86. Andrews' strong finish netted him 2nd in 4:14.60 and White came back to nail down 3rd in 4:15.01.

Kyle Merber in his own words –
"The race went out pretty fast, a little faster than I have gone out. I was trying to no tget boxed in and with three laps to go I saw my chance and just wanted to run away with it. Knowing that Robby (Andrews) goes with about 200 to go, I wanted to go out earlier and get ahead of him.
These are the kind of things you dream about and so to have it happen was great. Having Madison Square Garden above you added to the experience…This is one of the greatest experiences of my life…
On the last lap, it was just 'hold it, just hold it'…(the feeling on the last lap) complete excitement…I didn't realize (he had won) until the last second I was just putting my entire effort into the race…Before the race I knew I had to stay in the top three to remain in contention…
(From message boards) That was honestly the greatest experience of my life and I will never forget it. Tomorrow I have to triple at our county meet and then I will sleep for days!
(On last weeks Boston race experience) I didn't panic when we went out, because I knew I was in shape I was able to just be confident and not freak out at the fast pace…"




| | |
| --- | --- |
| | With two laps remaining, Merber blasted to the front and held off Andrews through a final torrid kick that saw Merber win in 4:13.86 and Andrews in his wake at 4:14.60. Charles White CO got up for third in 4:15.01. |
Flash Results, Inc. 
                            101st Millrose Games                             
                     Madison Square Garden, New York, NY                     
 
Event 35  Boys 1 Mile Run High School
================================================================             
    Name                    Year Team                    Finals              
================================================================             
Finals                                                                       
  1 Kyle Merber                  Half Hallow            4:13.86  1500m 3:57.8
  2 Bobby Andrews                Manalapan              4:14.60              
  3 Charles White                Cherry Creek           4:15.01              
  4 Doug Smith                   Gill-St. Bernard's     4:15.76              
  5 Willie Ahearn                Danbury                4:16.31              
  6 Peter Dorrell                Blacksburg             4:17.82              
  7 Vince McNally                Conestoga Valley       4:19.69              
  8 Nick Crits                   Wissahickon            4:23.59              
  9 Parker Boudreau              Danbury                4:27.23      
Millrose Homepage