36th annual meet: October 11, 2008 at Van Cortlandt Park, New York NY. DyeStat on-site coverage.
New signs at Manhattan:
a new sponsor, Reebok, and
computerized timing by Cleon Fowler's CFPI Timing.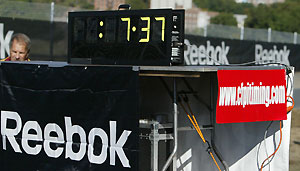 Winners Table


click on event name to see results and photos

Event
Winners

Boys Eastern States

Don Bosco Prep NJ 154. Joe Rosa, West Windsor Plainsboro NJ 12:19.99

Girls Eastern States

Fayetteville-Manlius NY 55. Melanie Thompson, Voorhees NJ 14:12.79

Varsity Boys A

Merrimack 91. Ivo Milic-Strkalj, Friends Central 12:55.83.

Varsity Boys B

North Penn PA 19. Brad Miles, North Penn 12:47.57

Varsity Boys C

West Chester Henderson 76. Will Kellar, W. Chester Henderson 12:52.83

Varsity Boys D

Wantagh 118. Philip Galebach, Medford 12:29.52

Varsity Boys E

LaSalle 136. Solomon Haile, Sherwood MD 12:06.61

Varsity Boys F

Old Bridge 119. Mark Feigen, East Greenwich 12:48.92

Varsity Boys G

Shoreham W-R NY 70. Robby Andrews, Shoreham-Wading River NY 12:35.30

Varsity Girls A

Syosset 139. Emily Jones, Bromfield MA 14:12.62

Varsity Girls B

St. John the Baptist 97, Katie Kellner, West Windsor Plainsboro South 14:59.73

Varsity Girls C

Oakton 101. Aisling Cuffe, Cornwall 14:36.88.

Varsity Girls D

North Penn 62. Samantha Nadel, North Shore 15:03.74

Varsity Girls E

Ward Melville 115. Rebecca Mehra 15:07.93

Varsity Girls F

Bronxville 82. Samantha Beim 15:22.22

Junior Varsity A

Boys: Chaminade 31. Conor Nickel, Chaminade 14:02.10
Girls: Tatnall DE 61. Carly Simmons, Tatnall 15:56.91

Junior Varsity B

Boys: Brookwood 27. Roger Hopper, Lacey Twp 13:53.78
Girls: LaSalle 81. Christina LoCurto, Cornwall 16:47.08

Junior Varsity C

Boys: Christian Brothers Academy NJ 36. Peter Costa CBA 13:50.34.
Girls: Saratoga Springs NY 21. Madison Carr, Saratoga 15:59.25

Junior Varsity D

Boys: Don Bosco Prep 27. Erik Lapinski, Don Bosco 13:46.66
Girls: Shenendehowa NY 34. Meredith Peabody, Shen 16:02.02

Junior Varsity E

Boys: Shenendehowa 21. Sam Kimmey, Shen 13:50.16

Sophomore A

Boys: Westford Academy 62. Stephen Messina, Westford.
Girls: Shenendehowa 65. Amanda Schmidt, Massapequa

Sophomore B

Boys: St. Anthony's 68. Ben Halpin, St. John's Prep MA 13:51.88
Girls: Suffern 51. Gabby Mancuso, New Paltz 16:05.28

Sophomore C

Boys: Chaminade 48. Andrew Valenski, Massapequa 13:33.77
Girls:

Freshman A

Boys: Christian Brothers Academy NJ 36. Brandon Eldershaw, Jackson 8:53.00
Girls: Washingtonville 72. Jackie Willsey, Averill Park 10:03.97

Freshman B

Boys: Queensbury 97. Jared Mason, St. Benedict's 8:20.72
Girls: Shenendehowa NY 69. Megan Griffin, Lincoln Sudbury MA 9:49.57

Freshman C

Boys: West Morris Mendham 45. Peter Ehmann, W. Morris Mendham 8:38.50
Girls: Shaker 75. Veronica Leddy, St. Anthony's 9:24.68.

Freshman D

Boys: Shenendehowa NY 34. Michael Libruk, Shaker 8:32.62
Girls: LaSalle 44. Emily Papazian, LaSalle 9:49.33

Freshman E

Boys: Don Bosco Prep 30. Ryan Phillips, Regis 8:44.77



John Nepolitan preview
36th Manhattan Invitational has best boys field ever
and US#1 Fayetteville-Manlius girls
Meet adds Boys Eastern States race, computerized scoring and a new sponsor -- Reebok .

Ranked teams - Manhattan has 15 US ranked teams in The Harrier Super 25 led by US#1 Fayetteville-Manlius NY girls, and 29 top 10 teams in NXN Regional Rankings, including six regional #1 teams:
Boys - Shenendehowa NY (NY region), West Windsor Plainsboro North NJ (NE), and Jamestown VA (SE).
Girls - Fayetteville-Manlius NY (NY), Lincoln Sudbury MA (NE), Tatnall DE (SE).


Regional and national ranked teams
in Eastern States championship races

TEAM
US

NY

NE

SE

CA
BOYS
Shenendehowa NY

7

1

Christian Brothers Academy NJ

10

2

West Windsor Plainsboro North NJ

15

1

Don Bosco NJ

12
3
Jamestown VA

1
Brookwood GA

14
2
Morris Hills NJ

19
6
Oakton VA

21
5
Danbury CT

5
Haddonfield NJ

9
Fayetteville-Manlius NY

4
Queensbury NY

6
Suffern NY

5
Msgr Farrell NY

10
GIRLS
Fayetteville-Manlius NY

1
1
Burnt Hills Ballston Lake NY

8
3
Lincoln Sudbury MA

12
1
Saratoga NY

5
2
Midlothian VA

19
7
Shenendehowa NY

10
5
Voorhees NJ

8
Tatnall DE

14
1
Suffern NY

8
Queensbury NY

20
4
Hanover NH

5
Great Oak CA

3
Haddonfield NJ

7

Two more regional top 10 teams are in other races: NE#7 North Penn PA boys in the Boys Varsity B race and NY#2 Shoreham Wading River in the Boys Varsity G race. Top individuals in non-Eastern States races include Mike Hickey NY (Boys Varsity D), Emily Jones MA (Girls Varsity A), and Chris Stogsdille NY, Bobby Andrews NJ, Brett Johnson NJ, and Tyler Udland NJ (Boys Varsity E).



Schedule



Time (EST) Race
9:05 Sophomore Boys A
9:17 Sophomore Boys B
9:29 Sophomore Boys C
9:43 The Bro. Raphael Cecchini FSC Memorial Freshman Boys A Race
9:49 Freshman Girls A
9:58 The Bro. Francis Bowers FSC Freshman Boys B Race
10:04 Freshman Girls B
10:13 The KYE Courtney, 61 Memorial Freshman Boys C Race
10:19 Freshman Girls C
10:28 Mark Codd Freshmen Boys D Race
10:34 Freshman Girls D
10:43 The O'Malley Family Freshman Boys "E" Race
10:51 Intermediate Boys
10:59 Intermediate Girls
11:11 The Jim Mc Hugh Junior Varsity Boys A Race
11:21 The Fred Marro Junior Varsity Girls "A" Race
11:33 The Thomas Lindgren Junior Varsity Boys "B" Race
11:43 Junior Varsity Girls B
11:55 Junior Varsity Boys C
12:05 Junior Varsity Girls C
12:17 Junior Varsity Boys D
12:27 Junior Varsity Girls D
12:39 Junior Varsity Boys E
12:49 Sophomore Girls A
1:01 Sophomore Girls B
1:13 The Peter L. Waters Varsity Boys A Race
1:25 The George T. Eastment Varsity Boys B Race
1:37 The Dr. Francis J. Sweeney Varsity Boys C Race
1:49 The Joseph P. Kearney Varsity Boys D Race
2:01 The Edward D. O'Toole Varsity Boys E Race
2:13 The Lindy J. Remigino Varsity Boys F Race
2:25 The John N. Johnson Varsity Boys G Race
2:37 The Peter Aquilone Boys Eastern States Championship
2:52 The Edward J.J. Bowes Girls Eastern States Championship
3:04 The Warren Ring Varsity Girls A Race
3:16 The Bro. Gregory Hunt FSC Varsity Girls B Race
3:28 The Mike Cohen Varsity Girls C Race
3:40 The Fred Dwyer Varsity Girls D Race
3:52 The Irv Kintisch Varsity Girls E Race
4:04 Michael J. Codd Varsity Girls F Race



Boys Eastern States race added



The Manhattan XC Invitational calls itself "the biggest and the best" and the 2008 version, slated for October 11th, 2008, will add to that claim as meet director Ed JJ Bowes has announced that the Boy's Eastern States Championship race has been added to the program. As with the girls race, teams will have the option to enter directly into the championship race while the remaining boys varsity races will be equally seeded. This new format will allow for top teams and individuals to go head-to-head on one of the nation's historic courses.

Along with the added championship race, there will be computerized scoring for the first time. CFPI Timing, which manages many major meets around the country, will provide fast and accurate results.

The 2008 Manhattan Invitational has also added three races in an effort to reduce some of the volume, bringing the day's schedule to 40 races. In some cases last year, races numbered over 400 runners The first gun will fire at 9:05 a.m. and will continue all day with the last race going off around 3:49 p.m.