2008 Foot Locker -

the 30th

South

AL-AR-FL-GA-KY-LA-MS-NC-OK-PR-SC-TN-TX-VI

11/29/08 at McAlpine Park, Charlotte NC
Brasovan, Kroeger head "best ever" girls; boys field wide open
Girls: Ashley Brasovan and Kathy Kroeger, the past two national champs, head up a girls field that includes seven returning national qualifiers, other outstanding champs, and is one that meet director Max Mayo calls the "best ever."
Boys: Two returning national qualifiers, CJ Brown and Thomas Porter, will battle Great American and TN state champ Bill Matthews and various other champs and contenders; Virginia looks like the strongest state with 3-4 potentials.



By Brett Honeycutt and SteveU



If fans of the FootLocker meet were afraid NXN would draw all of the best runners away, they don't have to worry - at least in the girls' race. Though some of the top boys' runners will be at NXN this Saturday or ran other qualifiers in previous weeks, many of the best boys runners and nearly all of the best girls will run the FootLocker South Regional at McAlpine Park in Charlotte, N.C. on Saturday as it continues to field the best talent for the 30th year (and 27th year in Charlotte).

On the girls' side, the field is obviously led by Ashley Brasovan FL and Kathy Kroeger TN, the last two Foot Locker champions. But they are just two of seven returning national qualifiers expected to toe the line. Registrations indicated that eight state champions and nine state runner-ups will be in attendance, all told.

In the boys' race, two returning national qualifiers – CJ Brown TX and Thomas Porter VA – are back. They are part of a field that includes 17 state champions and 13 state runner-ups.



GIRLS:

The girls' field will be the one to watch, and for many more reasons than simply the fact that the last two national champions are running. Along with the returning qualifiers, there are others like unbeaten Virginia champ Megan Marsico and North Carolina champ Kim Spano. If the field had ALL of the best girls in the region (stars Sarah Andrews TX, Amanda Winslow GA, and Madeline Morgan AL are running NXN only), it would be simply terrifying.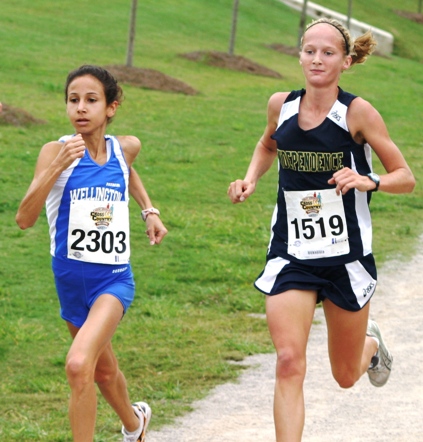 But first, Brasovan and Kroeger: (photo at right of Brasovan left and Kroeger right, from Great American, by Pat Davey) With the main goal being to qualify, you aren't necessarily going to see all-out efforts from every runner and seeing exactly how these champs approach the race will be as interesting as anything else.

Nothing has given Brasovan as many challenges in her career as McAlpine Greenway. Her first two years, she was the best in Florida and a strong favorite to make the team, but was back around 20th due to not getting out properly and mentally and physically getting out of contact. When she got to the point of being the #1 ranked runner in the country last fall, she finally was good enough and mentally stronger to use her will to do what was needed. Still, her 6th-place finish made fans wonder if she was just being conservative or if she was past her mid-season peak.

Of course, the truth would come out later as Brasovan was just getting through the experience safely and then was free to let it rip in California. The result, of course, was her devastating title performance. The Wellington senior has run similarly well this fall and has to have more confidence on this course now. Still, it is hillier and chillier than she's used to. Will she just run to qualify or really push for the win?

Kroeger has no such demons on McAlpine, but she has still always done better in San Diego than in regionals. Two years ago, she was 2nd here to Aurora Scott's course record, but then powered away to victory in the Finals. Last year, she held off Kayla Hale's amazing burst to the finish, but then was well ahead of everyone but Brasovan in San Diego.

While Kroeger was beaten by Brasovan at Great American, she is clearly running better than she was at this time last year. At her state meet, the Independence HS senior ripped a 17:09, just 10 seconds slower than she ran her 2006 glory – and the 2008 Tennessee state meet was in warmer conditions. This year's version of Kathy Kroeger could be even better than 2006's.

In any case, no one doubts those two will be among the qualifiers. But who else will join them?

The other five returning national qualifiers are two-time finalists Kayla Hale FL (runner-up at FL South in 2007 in 16:56 and 6th in 2006 in 17:19) and Cory McGee MS (8th in 2007 in 17:29, and 5th in 2006 in 17:19), plus Chelsey Sveinsson TX (7th in 2007, 17:22), Lauren Smith TX (9th, 17:32), and Britanny Koziara (fourth in 2007 at FL South in 16:59). Of course, none of these four is a given to make it back.

Hale, the Holy Trinity Academy senior, has certainly run well at times, winning her 4th straight 1A state title, but at some other races – like Great American, where she was 10th – she hasn't looked her best. But if anyone has to love McAlpine, it's Hale. Her runner-up finish here last year, barely outleaned by Kroeger, was absolutely electrifying. She certainly has some of the best coaching – from Doug Butler – in the region and it's hard to imagine she won't make it again.

Three of the other four are definitely question marks for making it to San Diego again. McGee, who would have made it a third time if 8th-graders were allowed to run, missed the first half of the season with an injury. The Pass Christian junior came on to win another Mississippi state title, but has not had any competition yet this fall. Smith, the Brazoswood TX senior, had some good races this fall, but was just 7th in her 5A state meet. Similarly, Koziara, a Boone FL senior, was 6th in her 4A state meet – though she ran right with Hale earlier in the year.

Sveinnson, on the other hand, is on a roll. Unbeaten this year, the Greenhill soph won Chile Pepper AR and the Cowboy Shootout OK invites. But when she really had a chance to make a statement, she took the NXN South race last weekend in 17:11 over fellow unbeaten Texan Sarah Andrews. Running both NXN and FL regional meets and national meets is daunting, but Sveinsson certainly should still be fresh this week.

So, who else has the best chance to get a San Diego ticket? Megan Marsico, the amazing rising junior star from Glenvar VA, deserves top mention. She took down the great multi-state field at the McDonald's Maymont meet, was a consistent winner and record-setter all fall, and finished off with a record 17:38 at the VA 1A state meet, easily the best of the day. Kim Spano, a North Mecklenburg NC senior, completed an unbeaten season with her 4A state meet title. Although she hasn't met anyone ranked ahead of her, her times suggest she's ready to move up from 13th last year.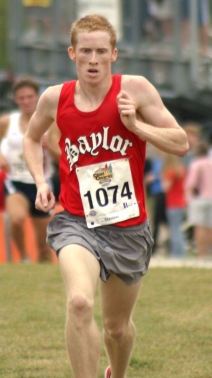 Others to keep a serious eye on: Stacy Nobles VA (3A champ), Malia Cali LA (2A champ, 16th at FL South last year), Adrienne Soo NC (1st NCISSA 3A state meet, 11th last year), Juliana Stern FL (2nd 3A), Sydney Marshall GA (2nd 5A, 50th last year), and Bret McDaniel GA (3A champ). Texans who ran last week at NXN and could go for it here, too, include Ashley Isham, Tara Upshaw, and Alyse Goldsmith. The N.C. locals to watch, in addition to Spano and Soo, are 3A Champion Kenyetta Iyevbele (Olympic, Charlotte) and 4A runner-up Carolyn Baskir (East Chapel Hill).




BOYS:

The boys field is good, but definitely doesn't have the star power of the girls side. The region's two top ranked runners – Reed Connor TX and Andrew Colley VA – are both running NXN only. But there are two returning national qualifiers in the field, as well as the rest of the top five returnees. Several others who were state champs or runner-ups will contend as well.

Southlake Carroll TX senior CJ Brown (below right, photo by Lance Phegley, raceshots.net) ran both NXN and Foot Locker last year and is on schedule to do the same this year, though he's said he may not try to do NXN Finals if he makes Foot Locker Finals. He was 3rd here last year in 15:00 behind graduated teammate Colby Lowe's winning performance. He'd struggled with injuries and not performed as well for most of the fall, but had a dramatic return to form last weekend with his runner-up finish behind Connor at NXN South.

Mountain View VA sr Thomas Porter is actually a two-time qualifier, 10th in 2006 in 15:13 and 8th last year in 15:11. His 3A state meet title in 15:13 suggests he's in good position to do it again. But sticking with Virginians for a moment, there are a big handful from that state that have been fighting it out all year. 2A runner-up Alex Ott was at 15:12 at state and the Turner Ashby sr should improve dramatically from his 64th here last year. Atlee sr Ben Dejarnette was 2nd behind Porter in VA 3A in 15:18 and will be much higher than his 84th in 2007. A top Virginian who did run well last year here was Western Albemarle sr Kyle Satterwhite (16th); he ran 15:16 at state for 3rd in 2A. Three or four qualifiers from VA would not surprise at all.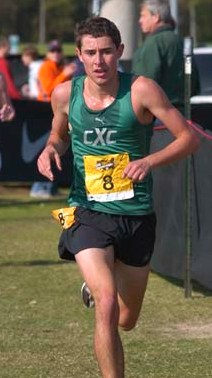 There are several others states with chances of multiple qualifiers. Probably the best of those is Tennessee. D2-AA champ Bill Matthews (left, photo Pat Davey) took the Great American crown earlier in the year and was the fastest overall in TN. He has to be considered at least a co-favorite with Brown and Porter; last year, he ran NXN with his strong Baylor team. Knoxville West sr Matt Sonnenfeldt was the TN AAA champ, just a few ticks slower than Matthews; he was also 2nd to Matthews at Great American. He is the #4 returnee (21st).

Another state to watch is Florida. 4A champ Brian Atkinson is running NXN, but 3A champ Matt Mizereck (15:16) and 2A champ Michael Wallace (15:19, and 40th last year here) should contend for the top 10. Mizereck's teammate at Leon HS, Will Stanford, was 2nd in 15:20 at state.

Returning to Texas, several of the top individuals are running NXN only. Like Brown, however, Mercedes sr Alex De La Garza will possibly attempt to do the double-double. After a so-so state meet, he was an outstanding 5th at NXN South last weekend; he's also the #5 returnee from last year (23rd). Paul Snyder and Chase Rathke, who both placed high last weekend at NXN, are also entered. James Welin, who was 4th in 5A state, is registered, but reportedly injured.

From Georgia, Chapel Hill sr Taylor Lord has a great chance to make it. His 14:43 5K on a fast course is one of the best in the country, though his 15:48 5A state winning time was not as eye-popping. He was 32nd last year, the 7th returnee. Charlie Sparks, 33rd/8th returnee, and Nabil Hamid are other top Georgians.

Other state champs to watch are NC 4A standout Taylor Gilland, AL 6A titlist Patrick Gomez, KY 4A winner Ryan Eaton (whose brother Michael is a former FL Finalist), WV 3A champ Cody Pelliccioni, and SC 4A and 3A champs Mark Blackmon and Aaron Ramirez. Blackmon is part of the amazing group of underclassmen in the US this year, winning SC as both an 8th and 9th-grader.

Also, don't count out locals John Harwell (Asheville High; N.C. 3A champ) and Steven Bollinger (Olympic High, Charlotte; N.C. 3A runner-up), who knows the course well.




Will weather be a factor?

- The question is will there be so many under 17 minutes like last year when Kroeger and Hale ran 16:56, and Emilie Amaro and Koziara ran 16:58? It was the first time more than two had dipped under the barrier. The astounding thing was that only four runners had accomplished the feat prior to last year. Well, it all depends on the weather. A rainy day will bog down the course. The forecast is for a few morning showers on Saturday with the high 48 and the low 35 (great temps, but hopefully the rains will hold off.