2008 Foot Locker -

Northeast

Preview

CT-DE-ME-MD-MA-NH-NJ-NY-PA-RI-VT-DC

11/29/08 at Van Cortlandt Park, Bronx, New York



Lanie Thompson and Solomon Haile favored in loaded fields





by George Kochman



NEW YORK 11/25/08 -- There will be changes this year for the FootLocker Northeast Regional qualifier at Van Cortlandt Park this Saturday, as the East's best harriers converge to decide the top ten going to California next month.

First, due to construction at the park, the start will be somewhat different. Don't panic – it's still flat, with the hills coming after the first 3/4 mile. The run to the tape, with the long 1,000 yard flat finish, makes this seemingly a race for the milers.

Secondly, the race is being held on the same day as the Nike Cross National qualifier at upstate Bowdoin Park in Wappingers Falls. That race will draw some teams and some top individuals away from Van Cortlandt.

But don't worry, the always tough Northeast qualifier will be as competitive as ever, with plenty of top talent trying for a coveted trip to the finals next month. And great runners adapt to any conditions.

In fact, the fields this year are so deep that some very good runners will not make the trip to San Diego.



Girls: Four returning Foot Locker finalists entered, and none of them is the favorite!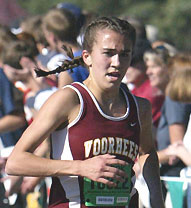 A loaded girl's field includes Emily Jones (Bromfield, Ma.), Chelsea Ley (Kingsway, N.J.), Emily Lipari (Roslyn, N.Y.), the New York state champ, and Shelby Greany (Suffern, N.Y.). All were FootLocker finalists last year.

Yet they will not be the favorites, as Melanie (Lanie) Thompson (Voorhees, N.J.) has been tearing up courses this fall. The University of Oregon-bound Thompson was the Eastern States winner in October, and easily took the New Jersey Meet of Champions last weekend. In short, Thompson runs fast, and she wins.

And there are others to watch in this race.

Sophomore Aisling Cuffe (Cornwall, N.Y.), in her first real year of running, has been pushing the pace fearlessly all fall, and will be a factor. Lipari started her season late, and is a big finisher, while Thompson and Jones seem to be able to run off any fast pace. Ley and Greany are seasoned performers who will battle to the end.

Others who figure to be in the mix include Jess Cygan (Liberty, Pa.), the Pennsylvania champion, Kirsten Kasper (North Andover, Ma.), Genna Hartung (Seton Catholic), Hannah Rowe (St. Johnsbury), the Vermont champion, Abbey Leonardi (Kennebunk), the Maine and New England champion, Jenna Riley (Coventry, R.I.), the Rhode Island champion, Maura Linde (Century HS, Md.), and Sophia Ziemian (Lewisburg, Pa.).

Don't think that the aforementioned athletes will be automatic qualifiers, as there are many "dark horses" who have flown under the radar this fall, yet boast excellent credentials. All are exceptional athletes, who possess excellent resumes with reputations as winners.

They include Emily Durgin (Bonny Eagle, Me.), Moira Kenny (Immaculate (Ct.), Natalie Bower (Greater Latrobe, Pa.), Erin Cawley (Newark Valley), Jenna Davidner (Oliver Ames, Ma.), Katie Kellner (West Windsor South, N.J.), Leslie Kovach (Norwin, Pa.), Amanda Moreland (Bloomfield, N.Y.), Lauren Mullins (Johnson City, N.Y.), Jillian Prentice (Montgomery, N.J.), Kelsey Smith (Exeter, N.H.), and Brenna Symoniak (Amherst Central).

Look for Thompson and Jones to take command, with hopefuls trying desperately to hang on. There will be little room for error for anyone, with Cuffe, running hard as long as she can, and Lipari, rounding into top form, especially dangerous over the final half-mile.



Newcomer Solomon Haile is a big favorite in boys race



There are no returning finalists on the boy's side, but there is a big favorite.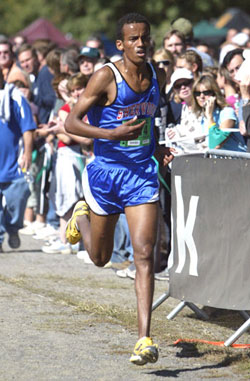 Solomon Haile (Sherwood, Md.) won his race at the Manhattan Invitational in the fastest time ever recorded over the renowned 2.5-mile course.

There are others to watch in this race, and several posted fast times over the 2.5-mile course in October.

Tyler Udland (Millburn, N.J.) won the New Jersey Meet of Champions this past week, and is a sub-9:10 2-miler. Add in Chris Stogsdill (Marcellus, N.Y.), Graham Bazell (Atholton), the Maryland champion, Joe Beveridge (McDevitt, Pa.), Drew Perilli (Lockport), Joe Whelan (Hamburg, N.Y.), Will Geohegan (Brunswick, Me.), the Maine 'A' champion, (Jim Tarsnane (Perkiomen Valley), the Pennsylvania champion, and Andrew Springer (Westerly, R.I.), the Rhode Island winner.

Adding a great deal of intrigue in this race are milers Brett Johnson (Ocean City, N.J.) and Robby Andrews (Manalapan, N.J.), two huge kickers. The big question remains as to whether the friendly rivals will stay with the pace. If they do, all form charts may be out the window.

Others to watch include many of the East's best, who have run well in their home states, but rarely ventured outside. They've been frequent winners in the past, and a big race could gain them a plane ticket to San Diego.

Falling into that group include Dylan Fisher (Conval, N.H.), Luke Fontaine (Cony, Me.), David Forward (Shawnee, N.J.), Ben Furcht (Lower Merion, Pa.), Will Kellar (Westchester-Henderson), the Pennsylvania runner-up, Ryan King (Tolland, Ct.), Mark McCauley (Greeley, Me.), Michael Moverman (Oliver Ames, Ma.), Chris Pietrocarlo (Pinkerton Academy, N.H.), and Adron Pitmon (Mt. Mansfield, Vt.).

Look for a fast race, with hopefuls, aware of the big kickers, hanging on to whatever Haile, Stogsdill, or Udland may throw at them early in the race. No one wants to be caught up in a Johnson-Andrews charge to the tape with a spot to San Diego at stake.