2008 Foot Locker -

the 30th

Midwest

CO-IL-IN-IA-KS-MI-MN-MO-NE-ND-OH-SD-WI

11/29/08 at UW Parkside, Kenosha WI
CO favorites: "Newcomer" McLaughlin, "Veteran" Manilafasha
Girls: Second-year harrier Allie McLaughlin, with a meteoric rise to the top of her state, gets her first taste of regional competition as the favorite in a field otherwise starring an Iowa duo, a two-time finalist from Missouri and strong groups from Ohio and Michigan.
Boys: Two-time finalist Joseph Manilafasha has been ranked #1 most of the year and heads another strong group of Colorado boys. Two NXN Regional champs and several state champs look to battle for the other spots.
Girls Preview by Bob Geiger and SteveU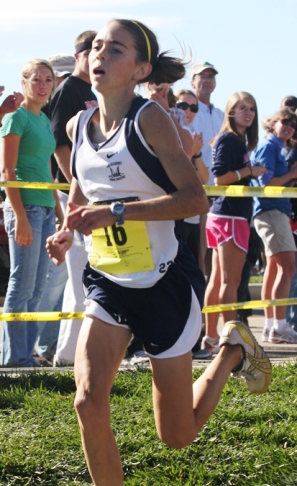 This year marks the 30th year of the Foot Locker (formerly Kinney) Cross Country Nationals. The Midwest has fared well at the National meet, with Connie Robinson of Cincinnati OH winning for the Midwest in 1981, three years into the meet. Four other national champions including two-time champion Melody Fairchild of Boulder, Colorado, have come from the region. The last one was in 2003 when Katelyn Kaltenbach of Aurora, Colorado won at Balboa Park with a time of 17:24.

Colorado, in fact, has had three individual Midwest champs this decade, plus a few runner-ups and has generally been the most dominant state. Saturday will offer another excellent chance for the Rocky Mountain State to lead the way.

Air Academy CO senior Allie McLaughlin (photo, right, by Bryan Heiny), somewhat like Ohio's Claire Durkin last year, has come from being unknown outside of her state to being arguably the favorite, despite the presence of four previous Finals qualifiers, including 2006 Midwest champ Emily Sisson MO, and new NXN Heartland champ Ashlie Decker IA.

The 4'10" McLaughlin is renowned for her excellent hill running skills. She didn't begin running XC until her junior year, but quickly began ringing up outstanding performances before a stress fracture slowed her down. She ran 10:49 for 3200 on the track last spring, winning her division at state, but nothing prepared harrier fans for what's happened this fall. She ran a mid-season string of sub-17:30s, but as she wasn't in most of the state's biggest invites, it wasn't until the sonic boom she lowered at state that pundits truly realized her greatness. Her 17:04 that won her division by more than a minute and was best of the day in the meet by 43 seconds.

Sisson, a Parkway Central MO senior, was a two-time state champion in Nebraska before moving to Missouri this year, where she garnished her third title. After spiking her freshman year with a stunning win at FL Midwest, Sisson finished 3rd in the 2006 Foot Locker Finals. In 2007, though, she slipped a few notches and was 4th in the Midwest and 23rd at the Finals. This fall, however, she's revved it back up again, with her only loss coming in a solid 3rd at Great American behind Ashley Brasovan and Kathy Kroeger.

The top returnee from last year is Dowling Catholic IA junior Katie Flood, who was 2nd to Durkin in a rigorous campaign that finished with a win at NTN Heartland, her FL MW race, 2nd at NTN Finals, and 8th at Foot Locker Finals. Flood has struggled with some injury issues this fall, however, and her extremely talented junior teammate Decker has edged ahead, winning the Iowa state title and leading Flood in a 1-2 finish at NXN Heartland. Flood is said to be a bit weary of the double-double this fall, and will likely run just one national championship – with the choice being NXN only if her team (3rd in Heartland) earns an at-large bid. Decker plans to run both nationals if she has the chance.

Although anything can happen in a Foot Locker regional, it's difficult to imagine the above girls not claiming four of the qualifying spots. After that, a lot of things could happen, with most of the talent and intrigue coming from Ohio and Michigan.

Of the top 22 returnees from last year, Ohio claimed six and Michigan five, the most of any state in this unwieldy region. But a lot has happened to shuffle the proverbial cards since then. From Ohio, Barnesville sr Stephanie Morgan (5th in '07) has had a great season, including a D3 title and a win at NXN Midwest, but is just sticking with NXN. Cuyahoga Falls sr Chelsea Oswald (8th in '07) has been off that form much of the year, finishing only 5th in her D2 state meet, but came back and won the Mideast Meet of Champs.

D1 champ Brooklyne Ridder, a Cincinnati Oak Hills sr (12th in '07), had the best time overall at state, but has chosen not to compete. D1 runner-up Michelle Thomas, a Cincinnati Glen Este soph who beat Ridder at regionals, is also not entered. North Royalton soph Hannah Neczypor was just behind Thomas at state, but she qualified for NXN Finals two weeks ago. But Ohio D2 champ Katie Gillespie of Cuyahoga Valley Christian made NXN Finals and is slated to line up here, too. Also keep an eye on Abbie Clifford and Erin Mercer.

The Michigan situation is similarly twisted. The top two returnees are Parma Western sr Meggan Freeland (10th in '07) and Grand Haven sr Becca Addison (11th). Freeland's been off form all season, but Addison was unbeaten until state, where she was a still-strong 3rd. Beating her there in 2nd was Waterford Mott soph Shannon Osika – not a surprise given that she had been D1 state champ the year before, though she then had a rough FL Midwest in 49th.

But the huge story in Michigan this year has been the rise of Rochester jr Megan Goethals, who was unbeaten and won the D1 Michigan title in a record 17:11. She was way back at FL MW last fall, but now is clearly the strongest bet for a top-10 from the Wolverine State. Also watch for Michigan D2 champ Milan jr Jordan Tomecek, and Rochester Adams sr Cally Macumber, 2nd to Oswald at Mideast MOC.

You have to guess that Ohio and Michigan combined should take another 2-3 spots, at least, leaving precious few for the remaining FL Midwest states.

The best bet from Illinois will be AAA state champ and Lake Park sr Lindsay Flanagan, who was unbeaten all fall until a 5th at the NXN Midwest meet (more Illinois contenders, see here). St. Charles East sr Elizabeth Hynes (15th last year) and Palatine sr Sarah McIntosh (4th in IL AAA) appear to be the next best choices from Illinois (More from Illinois).

Others who deserve top consideration would be Cherry Creek CO jr Clare Gallagher (2nd 5A), Center Grove IN's Sarah Higgens (state champ), North Central's Emily Mossler (2nd at state), Goose Lake Northeast IA jr Morgan Casey (1st 2A), Winona MN jr Claire Guidinger (2nd AA), Liberty MO jr Megan Yohe (2nd 4A, also NXN qualifier), Parkway Central MO sr Diane Robison (6th 4A, but stronger earlier in season), and Marian NE sr Kelli Budd (1st Class A).

The top ten finishers at the FLMW meet will qualify for the National meet, being held December 13 at Morley Field, Balboa Park in San Diego, California.




Boys Preview by Tony Jones and SteveU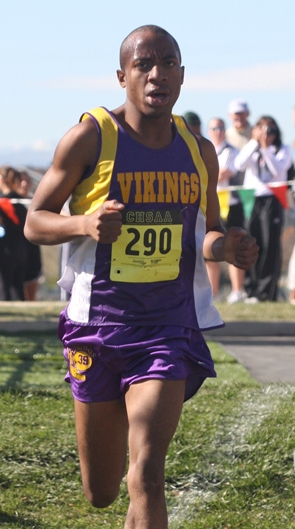 Coming into the season, the boys individual story here – not just on a regional level, but a national level – was the three Colorado Foot Locker Finalists returning. In fact, Bobby Nicolls, Evan Appel, and Joseph Manilafasha (photo, left, by Bryan Heiny) were the top three returnees from the meet, period. While others entered the year with impressive credentials beyond Foot Locker Finals, including track performances from last spring, the Rocky Mountain trio all deservedly had spots in the preseason top six; Nicolls, in fact, was ranked #1 in the country.

Three months later, we've seen Nicolls start strong, then struggle with health issues, injury and finally calling it a year. And we've seen Appel get off to a bit of a slow start, but get to the point by the end of the season that he's the serious national contender that was expected.

Then there's Manilafasha. Like Appel, he also made the Finals as a soph, but as a junior he struggled through a sub-par year before getting a surprise 2nd trip to San Diego. This fall, though, he's been determined to let nothing stop him. While the Denver North senior never got to race the Colorado big school kids (almost every invite is by class in CO), he was unbeaten and had the best time of the day in every meet. By mid-season he was US#1 and enters this meet as the favorite.

After a few early losses, Appel began winning invites and topped it off with his 5A title at state with a time second only to Manilafasha. The Dakota Ridge sr looks like an awfully good bet to make his third trip to Balboa.

Colorado has come as close as possible to truly dominating this meet. They've had four qualifiers each of the last two years and 13 over the last four (Illinois is next with 7). While Rocky Mountain standouts Dart Schwaderer and Wes Rickman ran NXN meets and aren't registered here, Cherry Creek jr Walter Schafer (2nd 5A) has a great chance to add to the Colo. list. So does Buena Vista's Joseph Demoor.

There will hardly be an absence of other contenders for the top 10, and even first. It's probably best to start with two already significant post-season champs – Jakub Zivec MN and Steve Sulkin IL. Zivec was Minnesota's best-kept secret until two weeks ago. As a Grand Rapids MN student visiting from the Czech Republic and not a part of a tradition student-exchange program, he was ineligible for varsity competition. But he can compete under national federation rules, so his first "varsity" race was a stunning NXN Heartland title over defending champ Joash Osoro ND. He declared his intent to compete in both championships, following what Flood and Chris Derrick did from this region last year.

Sulkin's entry here is unexpected in its own way; York athletes generally don't try NXN/Foot Locker doubles. But Sulkin, NXN Midwest champ and Illinois AAA runner-up, is taking on the challenge, as is his teammate Jordan Herbert, who was just a few strides behind in both races. Illinois, in fact, is also a great bet for multiple qualifiers. Conant sr Jeff Thode will toe the line with the IL AAA title and Mideast MOC crown to his credit. Naperville North #1 Kyle Gibson is also registered, as is Neuqua Valley sr standout Danny Pawola, Loyola Academy jr Nico Composto, and Sandburg sr Zach Dahleen (More from Illinois).

State champs from Ohio, Wisconsin, Michigan, Minnesota, and the top two from Indiana also deserve headliner status. What happens with Fishers IN sr Drew Shields and North Central IN frosh Futsum Zeinasellassie will be particularly interesting. Shields was the preseason Indiana favorite, coming off a spring with a 4:09 mile, but after losing to him early, Zeinasellassie beat him and the rest of the state throughout the season, making national headlines. But Shields rebounded from some struggles and when Zeinasellassie had to deal with a fall early at state, Shields got the win. He ran 4th at NXN Midwest and said at the time he was just racing that meet, but is entered here, too (he was 16th last year and is the #4 returnee). Zeinasellassie hasn't raced since that meet, but if he shows the same talent and poise that he has all year, he'll be in the money for a top spot.

Super soph Zach Wills of Mason OH was unbeaten through his state meet and is looking to rebound from a disappointing 8th at NXN Midwest. Tomah WI sr Derek Storkel didn't lose all year in Wisconsin, either, and hopes to get the host state back into California. Moorhead MN's Lukas Gemar was a surprise winner at state, then was 3rd at NXN Heartland.

Midland Dow MI sr Stephen Walker was fastest of the day in winning D1 in Michigan and is the best of several candidates from the Wolverine State, including Troy Athens jr Michael Achtoo.

Others to watch include Stuart Edmonds OH, Danny Roys OH and Brett Kelly WI.