Great American
Cross Country Festival

Veterans Park, Hoover AL - Saturday, October 13, 2007

DyeStat Onsite with SteveU and Pat Davey
Small School Races
The Marist School comes from Atlanta to sweep both team and individual titles

Highlights from SteveU, Photos by Pat Davey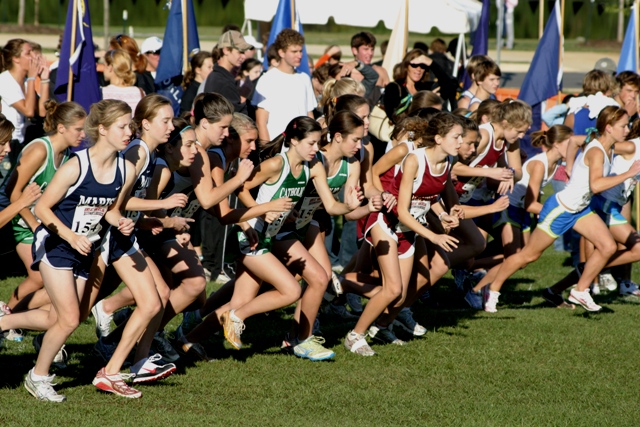 Start of the small school girls race.
The traditional small, private-school powerhouse that is The Marist School of Atlanta GA, winner of numerous state titles and always a contender in its class, came over to Birmingham and cleaned up in the Small School divisions. In each race, they scored just 25 points, with second place more than double that, in fields of eight (boys) and six (girls) teams.

On the boys side, William Raffety and David Connolly, a pair of juniors, went 1-2 for Marist in 16:38 and 16:39. Third was North Hall HS of Gainesville GA in 16:46, which was 30 seconds up on 4th. Marist went on to put all seven of its finishers in the top 54, scoring-wise. Bayside Academy of Daphne AL was 2nd with 87, winning a tight 3-way battle for the runner-up spot with The Webb School of Knoxville TN and Episcopal of Jacksonville FL.

For the girls, it was soph Megan Mavity of Marist winning with a 20:34 that was 10 seconds ahead of Knoxville TN Catholic jr Ashley West. Celeste Sullivan of Bayside was a close 3rd in 20:45, then Marist went 4-5-6 with Kaiti Kelly, Chelsea Fetter, and Katie Cawrse. Knoxville Catholic took 2nd with 69.
At left, Marist's William Raffety leads teammate David Connolly to the finish. At right, Marist's Megan Mavity for the win.
 Flash Results, Inc.                                        Hy-Tek's Meet Manager
               Great American Cross Country Festival - 10/13/2007                
                  Veterans Park at Valleydale Road, Hoover, AL                   
                              Last Completed Event                               
 
Event 2  Boys 5k Run CC Small School
=======================================================================          
    Name                    Year School                  Finals  Points          
=======================================================================          
  1 William Raffety           09 Marist School, Atla    16:38.0    1             
  2 David Connolly            09 Marist School, Atla    16:39.4    2             
  3 Nicholas Long             08 North Hall HS, Gain    16:46.1                  
  4 Chris Mitchell            08 Webb School of K, K    17:16.6    3             
  5 Gideon Wilson             09 Knoxville Cathol, K    17:23.3    4             
  6 Daniel Ludwig             08 The Geneva Schoo, W    17:28.7                  
  7 Brian Whelan              08 Marist School, Atla    17:37.5    5             
  8 Jared Grigas              08 Episcopal Hs-Boy, J    17:38.1    6             
  9 Charlie Fetter            10 Marist School, Atla    17:40.1    7             
 10 Stew Shoemaker            10 Bayside Academy, Da    17:44.4    8             
 11 Greg Kennedy              08 Episcopal Hs-Boy, J    17:45.6    9             
 12 Gabe Mitchell             08 Providence Chris, D    17:49.3                  
 13 Steven Vickery            09 Marist School, Atla    17:51.5   10             
 14 Jake Jacobs               10 Montgomery Acade, M    17:51.7   11             
 15 Armand Glassman           08 Marist School, Atla   x17:53.3   12             
 16 Dylan Moore               10 Marist School, Atla   x17:55.1   13             
 17 Lucas Jones               10 Webb School of K, K    18:02.4   14             
 18 Ricky Schulte             10 Knoxville Cathol, K    18:14.5   15             
 19 Jake Fuqua                10 Webb School of K, K    18:20.7   16             
 20 Will Dorriety             09 Bayside Academy, Da    18:29.0   17             
 21 Danny Ziebelman           09 Episcopal Hs-Boy, J    18:31.8   18             
 22 Gil Walton                13 Bayside Academy, Da    18:36.9   19             
 23 Kyle Donahue              12 Holy Innocents', At    18:48.3   20             
 24 Den Dowd                  09 Bayside Academy, Da    18:50.6   21             
 25 Zach Huey                 09 Bayside Academy, Da    18:52.9   22             
 26 Neale Wetherall           08 Webb School of K, K    18:54.6   23             
 27 John David Hammond        08 Bayside Academy, Da   x19:06.7   24             
 28 Colin Meier               08 Holy Innocents', At    19:07.8   25             
 29 Stead Hayes               09 Montgomery Acade, M    19:15.0   26             
 30 Fredrick Toohey           10 Montgomery Acade, M    19:15.8   27             
 31 Casey Burns               10 Episcopal Hs-Boy, J    19:19.6   28             
 32 Zach Wegryn               08 Knoxville Cathol, K    19:21.8   29             
 33 Alec Douglas              10 Montgomery Acade, M    19:25.0   30             
 34 Jimmy Caldwell            08 Holy Innocents', At    19:25.5   31             
 35 Ben Raley                 09 Bayside Academy, Da   x19:27.8   32             
 36 Andrew Holshouser         09 Episcopal Hs-Boy, J    19:32.1   33             
 37 John Terino               08 Montgomery Catho, M    19:33.0   34             
 38 Jerry Cox                 08 Webb School of K, K    19:34.8   35             
 39 Matt Mascioli             12 Knoxville Cathol, K    19:36.0   36             
 40 Bener Oguz                09 Webb School of K, K   x19:37.2   37             
 41 James Caracoglia          12 Webb School of K, K   x19:39.7   38             
 42 Alex Woika                08 Montgomery Acade, M    19:47.7   39             
 43 Unknown Runner               Unattached             19:48.4                  
 44 Mark Zebouni              08 Episcopal Hs-Boy, J   x19:49.6   40             
 45 Tommy Lucas               10 Episcopal Hs-Boy, J   x19:52.0   41             
 46 Austin Zinkle             12 Knoxville Cathol, K    19:59.7   42             
 47 John Aldridge             09 Holy Innocents', At    20:16.3   43             
 48 Taylor Dooley             08 Knoxville Cathol, K   x20:17.5   44             
 49 Thomas Visco              09 Montgomery Catho, M    20:31.2   45             
 50 Josh Glenboski            10 Montgomery Catho, M    20:31.5   46             
 51 Matthews Bryan            09 Montgomery Acade, M   x20:33.7   47             
 52 William Ward              09 Holy Innocents', At    20:42.1   48             
 53 Tanner Faulk              10 Montgomery Catho, M    20:59.3   49             
 54 Tim Kovacs                08 Holy Innocents', At   x21:02.6   50             
 55 Kai Street                10 Holy Innocents', At   x21:09.1   51             
 56 Henry Weatherly           10 Montgomery Acade, M   x21:17.2   52             
 57 Kevin Bourke              08 Montgomery Catho, M    22:09.2   53             
 58 Landon Pickens            10 Montgomery Catho, M   x27:57.3   54             
                                                                                 
                                   Team Scores                                   
=================================================================================
Rank Team                      Total    1    2    3    4    5   *6   *7   *8   *9
=================================================================================
   1 Marist School, Atlanta, G    25    1    2    5    7   10   12   13          
      Total Time:  1:26:26.50                                                    
         Average:    17:17.30                                                    
   2 Bayside Academy, Daphne,     87    8   17   19   21   22   24   32          
      Total Time:  1:32:33.80                                                    
         Average:    18:30.76                                                    
   3 Webb School of Knoxville-    91    3   14   16   23   35   37   38          
      Total Time:  1:32:09.10                                                    
         Average:    18:25.82                                                    
   4 Episcopal Hs-Boys, Jackso    94    6    9   18   28   33   40   41          
      Total Time:  1:32:47.20                                                    
         Average:    18:33.44                                                    
   5 Knoxville Catholic HS, Kn   126    4   15   29   36   42   44               
      Total Time:  1:34:35.30                                                    
         Average:    18:55.06                                                    
   6 Montgomery Academy, Montg   133   11   26   27   30   39   47   52          
      Total Time:  1:35:35.20                                                    
         Average:    19:07.04                                                    
   7 Holy Innocents' Episcopal   167   20   25   31   43   48   50   51          
      Total Time:  1:38:20.00                                                    
         Average:    19:40.00                                                    
   8 Montgomery Catholic Prep,   227   34   45   46   49   53   54               
      Total Time:  1:43:44.20                                                    
         Average:    20:44.84                                                    

 Flash Results, Inc.                                        Hy-Tek's Meet Manager
               Great American Cross Country Festival - 10/13/2007                
                  Veterans Park at Valleydale Road, Hoover, AL                   
                              Last Completed Event                               
 
Event 3  Girls 5k Run CC Small School
=======================================================================          
    Name                    Year School                  Finals  Points          
=======================================================================          
  1 Megan Mavity              10 Marist School, Atla    20:33.9    1             
  2 Ashley West               09 Knoxville Cathol, K    20:44.0    2             
  3 Celeste Sullivan          08 Bayside Academy, Da    20:45.4    3             
  4 Kaiti Kelly               08 Marist School, Atla    20:55.7    4             
  5 Chelsea Fetter            10 Marist School, Atla    21:24.9    5             
  6 Katie Cawrse              10 Marist School, Atla    21:26.9    6             
  7 Christine Georgakakos     12 Holy Innocents', At    21:32.0    7             
  8 Alexandra Gilbert         09 Montgomery Catho, M    21:36.6    8             
  9 Paige Seymour             09 Marist School, Atla    21:45.0    9             
 10 Stephanie Windle          10 Knoxville Cathol, K    21:45.5   10             
 11 Mary de Groot             12 Marist School, Atla   x21:49.9   11             
 12 Charlotte Gill            13 Bayside Academy, Da    21:50.5   12             
 13 Greer Gafford             10 Holy Innocents', At    22:07.0   13             
 14 Ali McWhirter             08 Holy Innocents', At    22:25.2   14             
 15 Joanna Thompson           12 Knoxville Cathol, K    22:36.6   15             
 16 Izzy Harrison             12 Bayside Academy, Da    22:46.5   16             
 17 Savannah Szabo            10 Montgomery Catho, M    22:57.7   17             
 18 Stephanie Hernandez       08 St. Pius X HS, Atla    23:10.2   18             
 19 Madison Fox               09 Knoxville Cathol, K    23:13.1   19             
 20 Kamie Lee Keller          09 St. Pius X HS, Atla    23:25.6   20             
 21 Elena D'Argenio           11 Montgomery Catho, M    23:29.5   21             
 22 Rosie Kelly               12 St. Pius X HS, Atla    23:41.1   22             
 23 Caroline Wilson           09 Knoxville Cathol, K    23:42.9   23             
 24 Lauren Ridley             09 Knoxville Cathol, K   x23:43.1   24             
 25 Lauren Jacobi             09 Knoxville Cathol, K   x23:53.2   25             
 26 Avery Robinson            10 Holy Innocents', At    23:55.7   26             
 27 Crawford Hodgson          10 Bayside Academy, Da    24:01.0   27             
 28 Sarah Brooke              13 St. Pius X HS, Atla    24:13.6   28             
 29 Courtney Payne            08 Bayside Academy, Da    24:21.1   29             
 30 Megan Wilkins             08 Holy Innocents', At    24:30.6   30             
 31 Anastasia Couvaras        08 Holy Innocents', At   x24:34.9   31             
 32 Bailey Wilson             08 Bayside Academy, Da   x24:46.2   32             
 33 Hannah Stone              08 Bayside Academy, Da   x24:56.9   33             
 34 Rebecca Tiarsmith         08 St. Pius X HS, Atla    25:10.8   34             
 35 Christina Callaway        09 Holy Innocents', At   x25:11.7   35             
 36 Cindy Camacho             12 Montgomery Catho, M    25:19.2   36             
 37 Bridgett Cardillo         08 St. Pius X HS, Atla   x26:05.7   37             
 38 Brianna McClure           10 Montgomery Catho, M    26:34.4   38             
 39 Elizabeth Terino             Montgomery Catho      x26:35.9   39             
 40 Frances Cobb              10 St. Pius X HS, Atla   x27:54.3   40             
 41 Caitlyn Wiggins           08 Montgomery Catho, M   x29:06.3   41             
                                                                                 
                                   Team Scores                                   
=================================================================================
Rank Team                      Total    1    2    3    4    5   *6   *7   *8   *9
=================================================================================
   1 Marist School, Atlanta, G    25    1    4    5    6    9   11               
      Total Time:  1:46:06.40                                                    
         Average:    21:13.28                                                    
   2 Knoxville Catholic HS, Kn    69    2   10   15   19   23   24   25          
      Total Time:  1:52:02.10                                                    
         Average:    22:24.42                                                    
   3 Bayside Academy, Daphne,     87    3   12   16   27   29   32   33          
      Total Time:  1:53:44.50                                                    
         Average:    22:44.90                                                    
   4 Holy Innocents' Episcopal    90    7   13   14   26   30   31   35          
      Total Time:  1:54:30.50                                                    
         Average:    22:54.10                                                    
   5 Montgomery Catholic Prep,   120    8   17   21   36   38   39   41          
      Total Time:  1:59:57.40                                                    
         Average:    23:59.48                                                    
   6 St. Pius X HS, Atlanta, G   122   18   20   22   28   34   37   40          
      Total Time:  1:59:41.30                                                    
         Average:    23:56.26                                                    

Great American Index