Great American
Cross Country Festival

Veterans Park, Hoover AL - Saturday, October 13, 2007

DyeStat Onsite with SteveU and Pat Davey
Invitational Seeded Races
Holman and Tupelo boys nip Montgomery Bell Academy; Victories for Webb School TN girls, Erin Barker SC

Highlights from SteveU, Photos by Pat Davey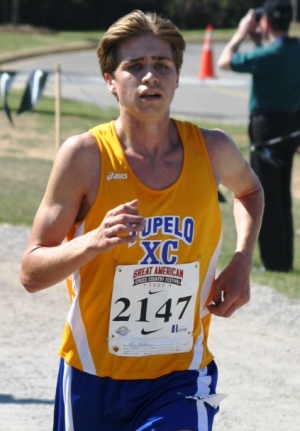 Boys winner Max Holman


The Tupelo MS program is obviously high quality enough to merit participation in the Nike Race of Champions events at Great American, both teams being "on the bubble" in the DyeStat South rankings. But in assessing his team's development at this point in the year, Coach Nathan Hall felt they would be best served competing in the seeded races. The move resulted in one victory, and one runner-up finish.

On the boys side, soph Max Holman took a mid-race lead and extended it to an 8-second margin at the end, clocking a winning 16:34. Tupelo also got a 5th-place finish from junior Gordon Lee and that up-front power was key in the Golden Wave holding off Montgomery Bell Academy, 97-102. The runner-ups had the best 1-5 spread among the top contenders, 47 seconds, but weren't quite as fast up front.

Loring Ross of Niceville FL was 2nd individually in 16:42, followed by Knoxville West sr Nathan Bright (16:45), Buchholz FL sr Phillip Wise (16:47), and Lee. Team-wise, Buchholz was 3rd with 121, Niceville 4th with 135, and Spain Park AL 5th with 177.

The girls race saw the Webb School of Knoxville TN use a great 1-4 spread to top Tupelo, 100-109. Anjali Bisaria, Amber Zimmerman, Lauren Sampson, and Elle Brewer finished 9-10-12-13, with a 19-second spread, and held on for the win. Tupelo's top two of Katherine Steinman and Catherine Hoffman were 4-7, but they lost ground on the 3-4, and couldn't make it up on the 5th.

Individually, Easley SC sr Erin Barker came from behind to win a close battle in 19:39, followed by Kathleen La Porte of St. Pius X in Atlanta, GA (19:43), Alex Newby of Farragut HS in Knoxville TN (19:46), Steinman (19:48), and Mountain Brook AL's Mary Catherine Farrar (19:55).











| | |
| --- | --- |
| | At left, Alex Newby of Farragut was leading midway through the girls seeded race, with Katherine Steinman of Tupelo in 2nd, but Erin Barker of Easley (above) would come back to win. |
 Flash Results, Inc.                                        Hy-Tek's Meet Manager
               Great American Cross Country Festival - 10/13/2007                
                  Veterans Park at Valleydale Road, Hoover, AL                   
                              Last Completed Event                               
 
Event 10  Boys 5k Run CC Inv Seeded
=======================================================================          
    Name                    Year School                  Finals  Points          
=======================================================================          
  1 Max Holman                10 Tupelo HS, Tupelo,     16:33.9    1             
  2 Loring Ross               08 Niceville HS, Nicev    16:41.2    2             
  3 Nathan Bright             08 Knoxville West H, K    16:44.5    3             
  4 Phillip Wise              08 Buchholz HS, Gaines    16:46.9    4             
  5 Gordon Lee                09 Tupelo HS, Tupelo,     16:54.2    5             
  6 Tyler Ramsden             08 Montgomery Bell, Na    17:05.6    6             
  7 Sean Foster               08 Buchholz HS, Gaines    17:08.7    7             
  8 Tom Reho                  08 Niceville HS, Nicev    17:13.5    8             
  9 Will Raby                 09 McCallie School, Ch    17:17.6    9             
 10 Mike Kljucaric            08 McEachern HS, Powde    17:19.6   10             
 11 Steven Freund             08 McEachern HS, Powde    17:20.5   11             
 12 Baker Mulherin            09 Montgomery Bell, Na    17:23.4   12             
 13 Tony Gibson               08 McCallie School, Ch    17:23.7   13             
 14 Nathan Vassey             12 Woodward Academy, C    17:28.2   14             
 15 John Whitley              08 Spain Park HS, Hoov    17:29.7   15             
 16 Nick Landrillo               Whitewater HS, Faye    17:34.0   16             
 17 Jeff Wilson               12 Tupelo HS, Tupelo,     17:34.6   17             
 18 Dylan Schroeder           08 Niceville HS, Nicev    17:35.4   18             
 19 Pete Slutzker             08 Knoxville West H, K    17:37.6   19             
 20 Carter Robertson          09 Buchholz HS, Gaines    17:38.7   20             
 21 Luke Francis              08 Northgate HS, Newna    17:40.9   21             
 22 Michael Peters            12 Montgomery Bell, Na    17:41.1   22             
 23 Chris Cowan-Banker        08 Karns HS, Knoxville    17:41.7   23             
 24 Nick Burrell              08 John Carroll Cat, B    17:41.8   24             
 25 Eric Lawson               08 Mauldin HS, Mauldin    17:42.3   25             
 26 John Grafmiller           12 Whitewater HS, Faye    17:42.5   26             
 27 Brian Anderson            08 Spain Park HS, Hoov    17:42.9   27             
 28 Matt Ractliffe            09 Montgomery Bell, Na    17:45.5   28             
 29 Steve Schiff              09 Satellite HS, Satel    17:46.9   29             
 30 Andrew Lauer              09 Woodward Academy, C    17:47.7   30             
 31 James Stern               10 Satellite HS, Satel    17:48.9   31             
 32 Matt Abraham              09 Mauldin HS, Mauldin    17:49.8   32             
 33 Ethan Schultz             08 Tupelo HS, Tupelo,     17:50.2   33             
 34 David Dalton              10 Montgomery Bell, Na    17:52.8   34             
 35 Daniel Rodriguez          08 Northgate HS, Newna    17:53.3   35             
 36 Michael Stears            08 Alexander Dawson, L    17:54.3                  
 37 Hayes McCord              12 Montgomery Bell, Na   x17:57.8   36             
 38 Alyn Wesley               09 Buchholz HS, Gaines    17:58.6   37             
 39 Kevin Hall                09 Satellite HS, Satel    18:01.5   38             
 40 Christian Ritacco         09 Niceville HS, Nicev    18:03.0   39             
 41 Wiley Hunt                10 Montgomery Bell, Na   x18:04.0   40             
 42 Rodrick Mosley            08 Tupelo HS, Tupelo,     18:05.0   41             
 43 Ryan McCoy                08 Spain Park HS, Hoov    18:07.1   42             
 44 Tyler Kitts               08 Knoxville West H, K    18:08.8   43             
 45 Eric Malone               09 Spain Park HS, Hoov    18:10.6   44             
 46 Marcus Hurney             09 McCallie School, Ch    18:12.6   45             
 47 Chris Pryor               12 Woodward Academy, C    18:13.8   46             
 48 Chase Eriksen             08 McEachern HS, Powde    18:14.4   47             
 48 Tyler Tesch               10 Mauldin HS, Mauldin    18:14.4   48             
 50 Terrell Mickens           08 Spain Park HS, Hoov    18:20.4   49             
 51 Barton Lee                09 John Carroll Cat, B    18:20.9   50             
 52 Jacob Booth               10 John Carroll Cat, B    18:22.0   51             
 53 Sean Plunkett             10 Whitewater HS, Faye    18:24.9   52             
 54 Trudy Maren               08 Buchholz HS, Gaines    18:26.5   53             
 55 Joey Harkins              08 John Carroll Cat, B    18:29.2   54             
 56 Alex Piper                12 Karns HS, Knoxville    18:30.1   55             
 57 Daniel Weeks              10 Mauldin HS, Mauldin    18:32.7   56             
 58 Bret Eady                 10 Northgate HS, Newna    18:33.9   57             
 59 Denver Barrows            09 Satellite HS, Satel    18:35.6   58             
 60 Hal Boerner               10 Tupelo HS, Tupelo,    x18:37.1   59             
 61 Brandon Westerman         09 McEachern HS, Powde    18:37.5   60             
 62 Brian McKeen              12 Knoxville West H, K    18:38.8   61             
 63 Brian Anderson            08 McCallie School, Ch    18:40.2   62             
 64 Cory Nolan                09 Whitewater HS, Faye    18:41.0   63             
 65 Grover Brown              08 Darlington Schoo, R    18:42.6   64             
 66 Rob Ellis                 08 Tupelo HS, Tupelo,    x18:43.4   65             
 67 Michael Cavanah           09 Northgate HS, Newna    18:44.6   66             
 68 Chris Lee                 08 Northgate HS, Newna    18:46.6   67             
 69 Michael Cooper            10 Niceville HS, Nicev    18:47.0   68             
 70 Eric Stone                08 John Carroll Cat, B    18:48.0   69             
 71 Ryan McDonald             10 Buchholz HS, Gaines   x18:50.0   70             
 72 Andy Lewis                08 Darlington Schoo, R    18:50.6   71             
 73 Ted Artz                  09 Satellite HS, Satel    18:52.5   72             
 74 William Morrissey         08 Whitewater HS, Faye    18:53.1   73             
 75 Riley Young               09 McCallie School, Ch    18:53.4   74             
 76 Ian Michelle              10 Whitewater HS, Faye   x18:54.6   75             
 77 Nick Mallchok             10 McCallie School, Ch   x18:54.9   76             
 78 Andrew Scarborough        10 Buchholz HS, Gaines   x18:55.6   77             
 79 Deaire Hagen              08 McEachern HS, Powde    18:55.7   78             
 80 Nick Price                09 Pelham HS, Pelham,     18:56.3   79             
 81 Brett Behrman             09 Northgate HS, Newna   x18:58.0   80             
 82 Kevin Lovinger            09 Woodward Academy, C    18:58.4   81             
 83 Patrick Lacombe              Niceville HS, Nicev   x19:02.1   82             
 84 Tim Joubert               09 Satellite HS, Satel   x19:04.0   83             
 85 Tyler Sgro                08 Northgate HS, Newna   x19:05.6   84             
 86 Carter Richardson         08 Woodward Academy, C    19:10.5   85             
 87 Hunter Cronier            08 St James HS, Montgo    19:11.8                  
 88 Frankie Romano            09 John Carroll Cat, B   x19:16.8   86             
 89 Chris Bryant              09 McCallie School, Ch   x19:17.2   87             
 90 Graham Harris             10 Mauldin HS, Mauldin    19:18.5   88             
 91 Drew Maniscalco           08 Sickles Hs-Boys, Ta    19:20.1                  
 92 Casey Garner              08 Karns HS, Knoxville    19:23.5   89             
 93 William Buckner           13 Mauldin HS, Mauldin   x19:24.1   90             
 94 Jacob Calella             12 Karns HS, Knoxville    19:24.6   91             
 95 Anthony Morrissey         09 Whitewater HS, Faye   x19:25.3   92             
 96 Jamie Rucker              09 Satellite HS, Satel   x19:28.8   93             
 97 Mychal Mclean             08 Niceville HS, Nicev   x19:32.6   94             
 98 Kyle Burks                08 Dar Hs-Boys, Grant,    19:34.8   95             
 99 JD Donoso                 10 Mauldin HS, Mauldin   x19:35.3   96             
100 Nick Theodore             08 Pelham HS, Pelham,     19:40.7   97             
101 Luke Hunter               08 McEachern HS, Powde   x19:47.2   98             
102 Isaiah Maylott            12 Karns HS, Knoxville    19:50.5   99             
103 Matt Greer                10 Woodward Academy, C   x19:56.0  100             
104 Eric Wetherington         08 Darlington Schoo, R    20:03.2  101             
105 Cory Miller               08 McEachern HS, Powde   x20:08.5  102             
106 Christopher Yonke         09 Karns HS, Knoxville   x20:12.9  103             
107 Jack O'Neil               12 Spain Park HS, Hoov   x20:23.3  104             
108 Tyler Carson              09 Karns HS, Knoxville   x20:24.3  105             
109 Clayton McGinnis          08 Spain Park HS, Hoov   x20:31.2  106             
110 Nathan Howell             08 Pelham HS, Pelham,     20:36.1  107             
111 Cody Hoover               08 Dar Hs-Boys, Grant,    20:52.4  109             
111 Chris Hamby               09 Dar Hs-Boys, Grant,    20:52.4  108             
113 Mark Buckner              10 Leeds HS, Leeds, AL    21:04.3  110             
113 Josh D'Errico             09 Leeds HS, Leeds, AL    21:04.3  111             
115 Nick Widener              08 Woodward Academy, C   x21:12.9  112             
116 Hudson Ross               10 Knoxville West H, K    21:14.2  113             
117 Carl Edge                 09 Darlington Schoo, R    21:23.8  114             
118 Chris McDuff              10 Pelham HS, Pelham,     21:26.2  115             
119 Owen Greeson              12 Darlington Schoo, R    21:26.6  116             
120 John Bella                09 John Carroll Cat, B   x21:27.7  117             
121 Benjamin Womble           10 Darlington Schoo, R   x21:56.0  118             
122 James Bush                09 Leeds HS, Leeds, AL    21:58.3  119             
123 Scott Travis              10 Darlington Schoo, R   x22:08.6  120             
124 Garrett Gamble            13 Dar Hs-Boys, Grant,    22:47.9  121             
125 D'Angelo Roberson         09 Leeds HS, Leeds, AL    23:00.9  122             
126 Taylor Fox                13 Dar Hs-Boys, Grant,    23:02.5  123             
127 Roc Stewart               09 Leeds HS, Leeds, AL    23:14.6  124             
128 Jon Foster                09 Leeds HS, Leeds, AL   x23:18.5  125             
129 Larry Walker              13 Dar Hs-Boys, Grant,   x23:31.9  126             
130 Christean Covington       12 Pelham HS, Pelham,     23:40.0  127             
131 Alex Pickle               12 Darlington Schoo, R   x23:43.7                  
132 Justin Collier            09 St James HS, Montgo    24:54.9                  
133 Kent Foster               09 Leeds HS, Leeds, AL   x25:07.2  128             
134 James Wallace             10 Pelham HS, Pelham,    x26:50.1  129             
135 Will Drury                08 Dar Hs-Boys, Grant,   x26:52.8  130             
                                                                                 
                                   Team Scores                                   
=================================================================================
Rank Team                      Total    1    2    3    4    5   *6   *7   *8   *9
=================================================================================
   1 Tupelo HS, Tupelo, MS        97    1    5   17   33   41   59   65          
      Total Time:  1:26:57.90                                                    
         Average:    17:23.58                                                    
   2 Montgomery Bell Academy,    102    6   12   22   28   34   36   40          
      Total Time:  1:27:48.40                                                    
         Average:    17:33.68                                                    
   3 Buchholz HS, Gainesville,   121    4    7   20   37   53   70   77          
      Total Time:  1:27:59.40                                                    
         Average:    17:35.88                                                    
   4 Niceville HS, Niceville,    135    2    8   18   39   68   82   94          
      Total Time:  1:28:20.10                                                    
         Average:    17:40.02                                                    
   5 Spain Park HS, Hoover, AL   177   15   27   42   44   49  104  106          
      Total Time:  1:29:50.70                                                    
         Average:    17:58.14                                                    
   6 McCallie School, Chattano   203    9   13   45   62   74   76   87          
      Total Time:  1:30:27.50                                                    
         Average:    18:05.50                                                    
   7 McEachern HS, Powder Spri   206   10   11   47   60   78   98  102          
      Total Time:  1:30:27.70                                                    
         Average:    18:05.54                                                    
   8 Satellite HS, Satellite B   228   29   31   38   58   72   83   93          
      Total Time:  1:31:05.40                                                    
         Average:    18:13.08                                                    
   9 Whitewater HS, Fayettevil   230   16   26   52   63   73   75   92          
      Total Time:  1:31:15.50                                                    
         Average:    18:15.10                                                    
  10 Knoxville West HS, Knoxvi   239    3   19   43   61  113                    
      Total Time:  1:32:23.90                                                    
         Average:    18:28.78                                                    
  11 Northgate HS, Newnan, GA    246   21   35   57   66   67   80   84          
      Total Time:  1:31:39.30                                                    
         Average:    18:19.86                                                    
  12 John Carroll Catholic HS,   248   24   50   51   54   69   86  117          
      Total Time:  1:31:41.90                                                    
         Average:    18:20.38                                                    
  13 Mauldin HS, Mauldin, SC     249   25   32   48   56   88   90   96          
      Total Time:  1:31:37.70                                                    
         Average:    18:19.54                                                    
  14 Woodward Academy, College   256   14   30   46   81   85  100  112          
      Total Time:  1:31:38.60                                                    
         Average:    18:19.72                                                    
  15 Karns HS, Knoxville, TN     357   23   55   89   91   99  103  105          
      Total Time:  1:34:50.40                                                    
         Average:    18:58.08                                                    
  16 Darlington School, Rome,    466   64   71  101  114  116  118  120          
      Total Time:  1:40:26.80                                                    
         Average:    20:05.36                                                    
  17 Pelham HS, Pelham, AL       525   79   97  107  115  127  129               
      Total Time:  1:44:19.30                                                    
         Average:    20:51.86                                                    
  18 Dar Hs-Boys, Grant, AL      556   95  109  108  121  123  126  130          
      Total Time:  1:47:10.00                                                    
         Average:    21:26.00                                                    
  19 Leeds HS, Leeds, AL         586  110  111  119  122  124  125  128          
      Total Time:  1:50:22.40                                                    
         Average:    22:04.48                                                    

 Flash Results, Inc.                                        Hy-Tek's Meet Manager
               Great American Cross Country Festival - 10/13/2007                
                  Veterans Park at Valleydale Road, Hoover, AL                   
                              Last Completed Event                               
 
Event 11  Girls 5k Run CC Inv Seeded
=======================================================================          
    Name                    Year School                  Finals  Points          
=======================================================================          
  1 Erin Barker               08 Easley HS, Easley,     19:38.9    1             
  2 Lathleen La Porte         10 St. Pius X HS, Atla    19:42.7    2             
  3 Alex Newby                10 Farragut HS, Knoxvi    19:45.9    3             
  4 Katherine Steinman        12 Tupelo HS, Tupelo,     19:47.2    4             
  5 Mary Catherine Farrar     13 Mountain Brook H, B    19:54.8    5             
  6 Whitney Nwagbara          08 McEachern HS, Powde    19:55.9                  
  7 Gillian Giffen            08 Karns HS, Knoxville    20:09.0    6             
  8 Catherine Holman          12 Tupelo HS, Tupelo,     20:11.9    7             
  9 Alyssa Dresen             09 Farragut HS, Knoxvi    20:25.3    8             
 10 Anjali Bisaria            08 Webb School of K, K    20:28.6    9             
 11 Amber Zimmerman           10 Webb School of K, K    20:30.5   10             
 12 Kasie Knapper             09 Whitewater HS, Faye    20:37.4   11             
 13 Lauren Sampson            09 Webb School of K, K    20:41.5   12             
 14 Elle Brewer               10 Webb School of K, K    20:47.1   13             
 15 Stacey Mangan             12 Whitewater HS, Faye    20:48.4   14             
 16 Catherine Adams           09 Mountain Brook H, B    20:49.7   15             
 17 Xanna Burg                09 Alexander HS, Dougl    20:50.3   16             
 18 Maggie Rickard            10 Montgomery Acade, M    20:53.0   17             
 19 Caroline Wood             10 Woodward Academy, C    20:54.4   18             
 20 Jennifer Rubel            10 Woodward Academy, C    20:57.8   19             
 21 Sarah Joy Crouch          09 Harpeth Hall Sch, N    20:58.1   20             
 22 Morgan Keel               09 Niceville HS, Nicev    21:02.5   21             
 23 Bradley Moody             09 Harpeth Hall Sch, N    21:03.2   22             
 24 Emma Borowicz             09 JL Mann HS, Greenvi    21:05.3                  
 25 Melissa Hurd              09 Paul Laurence Du, L    21:07.5   23             
 26 Sarah Wool                08 Montgomery Acade, M    21:09.0   24             
 27 Maria Holland             09 Tupelo HS, Tupelo,     21:10.8   25             
 28 Lauren Eschbach           12 Niceville HS, Nicev    21:12.9   26             
 29 Kayla Bryan               09 Karns HS, Knoxville    21:13.2   27             
 30 Brenna Newport            09 Harpeth Hall Sch, N    21:14.9   28             
 31 Sasha Corcoran            08 Mountain Brook H, B    21:15.9   29             
 32 Amanda Hancock            12 Paul Laurence Du, L    21:16.9   30             
 33 Maggie McFerrin           08 Tupelo HS, Tupelo,     21:17.6   31             
 34 Megan Klein               12 Paul Laurence Du, L    21:18.1   32             
 35 Kate Wiseman              12 Harpeth Hall Sch, N    21:23.9   33             
 36 Ashley Calhoun            08 Niceville HS, Nicev    21:25.6   34             
 37 Glory Beveridge           08 Harpeth Hall Sch, N    21:28.5   35             
 38 Kaley Glover              09 Beauregard HS, Opel    21:32.1                  
 39 Katie Sikkelee            08 JL Mann HS, Greenvi    21:32.8                  
 40 Jessica Morales           12 Karns HS, Knoxville    21:37.0   36             
 41 Abby McCool               10 Niceville HS, Nicev    21:37.9   37             
 42 Dena O'Brien              10 Pelham HS, Pelham,     21:38.3   38             
 43 Caroline Aston            10 Harpeth Hall Sch, N   x21:39.4   39             
 44 Alex Bryant               10 Harpeth Hall Sch, N   x21:43.5   40             
 45 Samantha Meador           10 Paul Laurence Du, L    21:50.3   41             
 46 Mary Page Billingsley     08 Tupelo HS, Tupelo,     21:50.9   42             
 47 Margo Sneed               09 Farragut HS, Knoxvi    21:51.5   43             
 48 Erin Osment               13 St. Pius X HS, Atla    21:59.7   44             
 49 Amanda Newby              08 Sickles Hs-Girls, T    22:00.0   45             
 50 Lucy Izard                08 Darlington Schoo, R    22:05.7   46             
 51 Sarah Bluhm               09 Mountain Brook H, B    22:07.7   47             
 52 Amy Hester                12 Alexander HS, Dougl    22:09.7   48             
 53 Mallery Aiken             10 Woodward Academy, C    22:12.2   49             
 54 Joanna Parkman            10 Woodward Academy, C    22:13.6   50             
 55 Melissa Smith             10 Easley HS, Easley,     22:14.2   51             
 56 Sam Mitchell              10 Sickles Hs-Girls, T    22:16.9   52             
 57 Lissa Handley Tyson       09 Mountain Brook H, B   x22:17.5   53             
 57 Lauren Spivey             10 Mountain Brook H, B    22:17.5   54             
 59 Sidney Provenzano         08 St. Pius X HS, Atla    22:19.2   55             
 60 Meg Carey                 12 Webb School of K, K    22:20.4   56             
 61 Lauren Perkins            09 Whitewater HS, Faye    22:21.1   57             
 62 Emily Corban              09 Tupelo HS, Tupelo,    x22:23.3   58             
 63 Peri Winborne             10 Farragut HS, Knoxvi    22:25.5   59             
 64 Mary Francis Roberts      09 Whitewater HS, Faye    22:29.8   60             
 65 Sadie Yinger              12 Karns HS, Knoxville    22:32.9   61             
 66 Kristen Lupton            08 Austin HS, Decatur,    22:35.2   62             
 67 Katie Pfeiffer            08 Niceville HS, Nicev    22:36.5   63             
 68 Whitney Davis             10 Woodward Academy, C    22:41.6   64             
 69 Emily Wehunt              10 Sickles Hs-Girls, T    22:45.4   65             
 70 Katie Bell                08 Montgomery Acade, M    22:47.7   66             
 71 Alison Woodford           12 Farragut HS, Knoxvi    22:49.2   67             
 72 Kristin Denison              Niceville HS, Nicev   x22:50.1   68             
 73 Taylor Adams                 Niceville HS, Nicev   x22:51.0   69             
 74 Hope Brinson              10 Farragut HS, Knoxvi   x22:51.5   70             
 75 Leslie Stewart            12 Alexander HS, Dougl    23:00.2   71             
 76 Ryn Mac Arthur            08 St. Pius X HS, Atla    23:05.4   72             
 77 Feagan Hunt               08 Whitewater HS, Faye    23:12.2   73             
 78 Margaret Hjort            12 Darlington Schoo, R    23:14.9   74             
 79 Emily Cox                 12 St. Pius X HS, Atla    23:15.1   75             
 80 Cannata Joanna            09 Farragut HS, Knoxvi   x23:15.2   76             
 81 Abigail Smith             09 Montgomery Acade, M    23:18.0   77             
 82 Sydney Murphy             08 Spain Park HS, Hoov    23:28.1                  
 83 Savannah Houck            12 Easley HS, Easley,     23:29.5   78             
 84 Anna Banasiewicz          12 Pelham HS, Pelham,     23:30.3   79             
 85 Katy MacIndoe             10 Karns HS, Knoxville    23:39.6   80             
 86 Kelci Fortune             08 St. Pius X HS, Atla   x23:41.9   81             
 87 Brittany Ashford          09 Paul Laurence Du, L    23:42.5   82             
 88 Lauren Little             08 Spain Park HS, Hoov    23:43.0                  
 89 Elizabeth Buice           08 Darlington Schoo, R    23:43.7   83             
 90 Mary Hayes                09 Easley HS, Easley,     23:48.0   84             
 91 Caitlin Owens             10 Sickles Hs-Girls, T    23:48.7   85             
 92 Sammi Leddy               12 Paul Laurence Du, L   x23:49.7   86             
 93 Andrea Dooley             12 Webb School of K, K   x23:50.9   87             
 94 Chelsea Caraway           10 Easley HS, Easley,     23:52.6   88             
 95 Katie Arrington           10 Whitewater HS, Faye   x23:58.1   89             
 96 Kelsey Bilthouse          12 Woodward Academy, C   x24:00.0   90             
 97 Lily McLemore             09 Montgomery Acade, M    24:01.1   91             
 98 Kelci Ankrom              13 St. Pius X HS, Atla   x24:07.6   92             
 99 Lane Johnson              09 Webb School of K, K   x24:10.5   93             
100 Lindsay Brown             08 Easley HS, Easley,    x24:13.0   94             
101 Breana Gurley             10 Darlington Schoo, R    24:17.2   95             
102 Allison Martin            09 Alexander HS, Dougl    24:18.0   96             
103 Caty Cambron              10 Darlington Schoo, R    24:18.4   97             
104 Kelsie Battle             09 Alexander HS, Dougl    24:20.5   98             
105 Lisa Lamberth             12 Tupelo HS, Tupelo,    x24:21.5   99             
106 Sydney Sevitz             10 Sickles Hs-Girls, T    24:24.0  100             
107 Shaneka Lodenquai         08 Alexander HS, Dougl   x24:33.7  101             
108 Miki Jamerson             08 Montgomery Acade, M   x24:36.7  102             
109 Kaitlyn Riley             12 Darlington Schoo, R   x24:39.0  103             
110 Carlie Serpa              12 Karns HS, Knoxville   x24:47.2  104             
111 Heather Nabors            12 Karns HS, Knoxville   x25:01.5  105             
112 Amanda Walker             10 Austin HS, Decatur,    25:06.7  106             
113 Amy Lee                   08 Sickles Hs-Girls, T   x25:08.2  107             
114 Morgan Curry              08 Easley HS, Easley,    x25:11.8  108             
115 Christine Wasdin          08 Pelham HS, Pelham,     25:13.5  109             
116 Dylan Patton-Kuhl         08 Woodward Academy, C   x25:16.1  110             
117 Hayley Leuch              08 Pelham HS, Pelham,     25:23.2  111             
118 Anna Fox                  12 Darlington Schoo, R   x25:26.9  112             
119 Carson Smith                 Whitewater HS, Faye   x25:43.7  113             
120 Kelsey Wasdin             12 Pelham HS, Pelham,     26:11.0  114             
121 Mary Elizabeth Whitley    12 Spain Park HS, Hoov    26:26.4                  
122 Brianna Garlardo          09 Alexander HS, Dougl   x26:51.1  115             
123 Kelly Parker                 Austin HS, Decatur,    27:37.5  116             
124 Natalie Roberson             Austin HS, Decatur,    27:44.9  117             
125 Ashli Spillman            10 Austin HS, Decatur,    28:28.1  118             
126 McKayla Edmonds           13 Dar Hs-Girls, Grant    29:00.2                  
127 Mesha Kilpatrick          12 Dar Hs-Girls, Grant    29:31.8                  
128 Merdith Taylor            10 Austin HS, Decatur,   x30:33.4  119             
                                                                                 
                                   Team Scores                                   
=================================================================================
Rank Team                      Total    1    2    3    4    5   *6   *7   *8   *9
=================================================================================
   1 Webb School of Knoxville-   100    9   10   12   13   56   87   93          
      Total Time:  1:44:48.10                                                    
         Average:    20:57.62                                                    
   2 Tupelo HS, Tupelo, MS       109    4    7   25   31   42   58   99          
      Total Time:  1:44:18.40                                                    
         Average:    20:51.68                                                    
   3 Harpeth Hall School, Nash   138   20   22   28   33   35   39   40          
      Total Time:  1:46:08.60                                                    
         Average:    21:13.72                                                    
   4 Mountain Brook HS, Birmin   149    5   15   29   47   53   54               
      Total Time:  1:46:25.60                                                    
         Average:    21:17.12                                                    
   5 Farragut HS, Knoxville, T   180    3    8   43   59   67   70   76          
      Total Time:  1:47:17.40                                                    
         Average:    21:27.48                                                    
   6 Niceville HS, Niceville,    181   21   26   34   37   63   68   69          
      Total Time:  1:47:55.40                                                    
         Average:    21:35.08                                                    
   7 Woodward Academy, College   200   18   19   49   50   64   90  110          
      Total Time:  1:48:59.60                                                    
         Average:    21:47.92                                                    
   8 Paul Laurence Dunbar HS,    208   23   30   32   41   82   86               
      Total Time:  1:49:15.30                                                    
         Average:    21:51.06                                                    
   9 Karns HS, Knoxville, TN     210    6   27   36   61   80  104  105          
      Total Time:  1:49:11.70                                                    
         Average:    21:50.34                                                    
  10 Whitewater HS, Fayettevil   215   11   14   57   60   73   89  113          
      Total Time:  1:49:28.90                                                    
         Average:    21:53.78                                                    
  11 St. Pius X HS, Atlanta, G   248    2   44   55   72   75   81   92          
      Total Time:  1:50:22.10                                                    
         Average:    22:04.42                                                    
  12 Montgomery Academy, Montg   275   17   24   66   77   91  102               
      Total Time:  1:52:08.80                                                    
         Average:    22:25.76                                                    
  13 Easley HS, Easley, SC       302    1   51   78   84   88   94  108          
      Total Time:  1:53:03.20                                                    
         Average:    22:36.64                                                    
  14 Alexander HS, Douglasvill   329   16   48   71   96   98  101  115          
      Total Time:  1:54:38.70                                                    
         Average:    22:55.74                                                    
  15 Sickles Hs-Girls, Tampa,    347   45   52   65   85  100  107               
      Total Time:  1:55:15.00                                                    
         Average:    23:03.00                                                    
  16 Darlington School, Rome,    395   46   74   83   95   97  103  112          
      Total Time:  1:57:39.90                                                    
         Average:    23:31.98                                                    
  17 Pelham HS, Pelham, AL       451   38   79  109  111  114                    
      Total Time:  2:01:56.30                                                    
         Average:    24:23.26                                                    
  18 Austin HS, Decatur, AL      519   62  106  116  117  118  119               
      Total Time:  2:11:32.40                                                    
         Average:    26:18.48                                                    

Great American Index