Great American
Cross Country Festival

Veterans Park, Hoover AL - Saturday, October 13, 2007

DyeStat Onsite with SteveU and Pat Davey
Girls Nike Race of Champions
Ashley Brasovan on a new level; Kroeger keeps progressing; Mtn. Brook overcomes adversity
Story by SteveU - Photos by Pat Davey
Results Below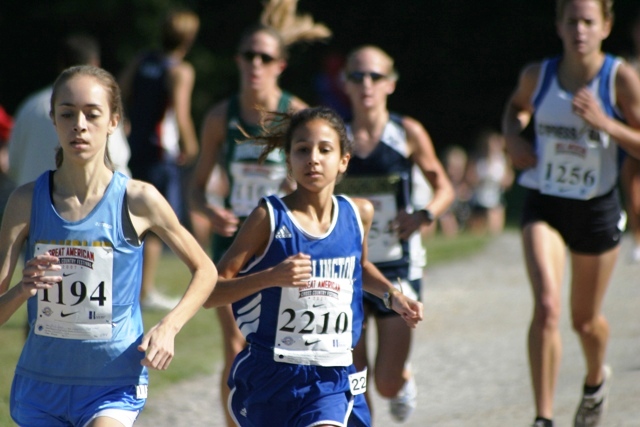 In the first mile, Emily Reese led Ashley Brasovan with Stephanie Morgan, Kathy Kroeger and Emilie Amaro chasing.
Neither Ashley Brasovan or Kathy Kroeger like to put a lot of pressure on themselves, so neither came into Saturday's Nike Race of Champions with a lot of high expectations, including the expectation of winning.

Kroeger was the defending champ here, having beaten Brasovan 17:29-17:49, as well as the 2006 Foot Locker champ. But the Franklin (Independence HS) TN jr was also on the comeback trail from a long layoff and injury. Brasovan, meanwhile, has run so well since missing Foot Locker Finals last fall – including her great races last winter and spring, and so far this fall – that the commonly held opinion among fans of the sport was that she was favored to take the title and continue her ascension toward the top of the national rankings.

Boy, did she ever.

Brasovan sat on a blazing early pace from Chamblee GA sr Emily Reese, which yielded a 5:23 first mile, and threw in a move off that at 2k that no one could even dream of responding to.

"I stayed with Emily Reese the first mile," said Brasovan. "I expected her to keep going, but she slowed a little bit. So I went for it."

It was a gear that few, if any, runners in the nation can switch into right now. That sent the best field in the country this year careening into her rear view mirror, further and further back as she zipped through the woods (10:52 2-mile), up and down the humps and hills in the middle of the race.

"I was kind of worried about the hills," the Wellington FL junior said. "Obviously, I don't do a lot of hills where I live. But after I got up that big hill (at 4k), and I was fine, then I had a lot more confidence."

When she came out of the woods, Brasovan led by more than 35 seconds and by the time the final straight was broached, it was clear Kroeger's impressive course record from last year was going to be seriously revised. She crossed the line in 17:06. There have been a few faster times around the country in recent years, but not really on a course of this difficulty. To add some perspective, boys winner Sean Keveren, who has impressed as a candidate for at least the top five nationally, set a boys CR in 15:37. Brasovan was just 1:29 behind him. Usually gaps between comparable national class boys and girls times on a 5k course are 2:00-2:30.

As mentioned earlier, though, the winner didn't approach the starting line thinking about winning, setting course records, and surely not about staying within 1:29 of the boys winner. "I really just go in hoping for the best, and whatever happens, happens," she explained. "I don't like to put extra stress on myself.

"But this really boosts my confidence and gives me a lot of motivation for the rest of the season."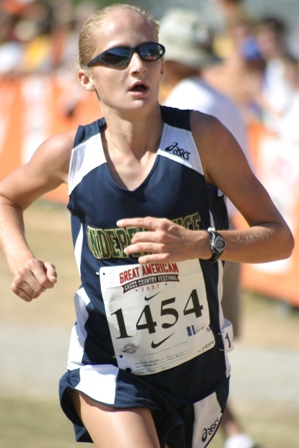 Kathy Kroeger finishing
Meanwhile, Kroeger was able to take plenty of positives from the race as she continues her comeback from taking the winter and spring off to gain weight, and missing most of the summer due to a stress fracture incurred when starting back. "I wanted to break 18 today and I did," she said (she ran 18:08 at the Jesse Owens last week). I've only been off crutches since the middle of August. Each week, I've had a tougher race with stronger competition. Each week we evaluate how it goes."

Kroeger won here last year and in San Diego last December by making mid/late-race moves that were just unanswerable. She knows she isn't ready for that against the toughest competition yet. "The first mile was really fast," she said. "That was the fastest I've run a mile at all in over a year. I kept telling myself, 'You don't have to win this. Just run the best you can.'"

With another seven weeks until Foot Locker Finals, Kroeger could get a whole lot better and be in as good a position as last fall by December. On the other hand, even her best fitness level may not be enough to catch Brasovan, who has hit a new level herself. With these two, plus Jordan Hasay and Christine Babcock from CA, Neely Spence and Carly Seymour from PA, and Katie Flood from IA (for starters, at least), the crowd of megastars at the top is getting very, very strong.

The top five, which really battled for the title, all looked impressive. Cypress Bay FL sr Emilie Amaro had the best finish of the next three, closing to hit 18:01, a good 24 seconds faster than she ran last year here. Reese held on for 3rd in 18:05, while Barnesville OH jr Stephanie Morgan was 5th in 18:09.


Girls ROC Team

On the surface, it looked like another big invitational win for the SE#2/US#7 Mountain Brook AL girls, as they beat the 16-team ROC field with 75 points, 24 up on 2nd-place Collins Hill GA.

However, it was anything but.

The Spartans got past a variety of ailments, afflictions and anxiety, including the loss of a top-three talent, and used a breakout race from a freshman to spark their victory. Leslie Boozer had to watch from the sidelines, thanks to a stress fracture that was diagnosed a few days ago. #1 Madeline Morgan started strong, just behind the Big Five lead pack, but both she and Catherine Diethelm were off their usual game, one due to a virus and the other to an unspecified ailment.
Emilie Amaro and Stephanie Morgan finishing 3rd and 5th

But Marie Demedicus moved up strong throughout the race and powered all the way into 2nd (2nd in team scoring, 7th overall) the end in 18:33, just four seconds back of 2006 Foot Locker Finalist Kayla Hale of Holy Trinity FL.

After Demedicus, it was Morgan (4th in team scoring, 18:46), Diethelm (5th, 18:50), Brigid Carey (21st, 19:40), and Reed Ellis (43rd, 20:17) for the top five.

SE#9 Collins Hill HS of Suwannee GA was 2nd with 99, getting a 3-8 (team scoring) finish from Amanda Winslow and Nicky Akande. SE#7 Oak Ridge TN was 3rd at 124, SE honorable mention Assumption HS of Louisville KY 4th at 133, and SE#3/US#17 Episcopal of Jacksonville FL 5th at 154. Episcopal had beaten Eleanor Roosevelt at the flrunners.com meet, but could not put it all together again Saturday.

"The great thing about these girls is that they truly don't care who beats who," said Mountain Brook coach Greg Echols. "They've hit the point where it's all about the team. It's been a stressful week. Marie knew what she had to do today."


Marie Demedicus and Madeline Morgan of Mountain Brook

 Flash Results, Inc.                                        Hy-Tek's Meet Manager
               Great American Cross Country Festival - 10/13/2007                
                  Veterans Park at Valleydale Road, Hoover, AL                   
                              Last Completed Event                               
 
Event 8  Girls 5k Run CC Nike ROC
=======================================================================          
    Name                    Year School                  Finals  Points          
=======================================================================          
  1 Ashley Brasovan           09 Wellington HS, Well    17:05.6                  
  2 Kathy Kroeger             09 Independence HS, Th    17:47.6                  
  3 Emilie Amaro              08 Cypress Bay HS, Wes    18:00.7                  
  4 Emily Reese               08 Chamblee HS, Chambl    18:04.3                  
  5 Stephanie Morgan          09 Barnesville HS, Bar    18:08.2                  
  6 Kayla Hale                09 Holy Trinity Aca, M    18:28.7    1             
  7 Marie Demedicis           12 Mountain Brook H, B    18:32.4    2             
  8 Katlyn Will               09 Corinth HS, Corinth    18:37.6                  
  9 Amanda Winslow            09 Collins Hill HS, Su    18:40.0    3             
 10 Kacey Nobert              12 St. Agnes Academ, M    18:42.2                  
 11 Madeline Morgan           09 Mountain Brook H, B    18:45.2    4             
 12 Catherine Diethelm        12 Mountain Brook H, B    18:49.4    5             
 13 Katie Hutson              10 Sparkman HS, Harves    18:51.0    6             
 14 Kathleen Traylor          10 Episcopal Hs-Gir, J    18:59.5    7             
 15 Kate Borowicz             09 JL Mann HS, Greenvi    18:59.6                  
 16 Nicky Akande              10 Collins Hill HS, Su    19:02.4    8             
 17 Alyssa Kulik              08 Mauldin HS, Mauldin    19:03.7    9             
 18 Jennifer Dunn             08 Austin HS              19:05.2                  
 19 Maddison Garcia           09 Crested Butte Ac, M    19:10.3                  
 20 Adriana Poole             09 Sparkman HS, Harves    19:12.2   10             
 21 Carissa Bowman            08 Martin Luther Ki, R    19:13.2   11             
 22 Melanie Kulesz            09 Oak Ridge HS, Oak R    19:16.9   12             
 23 Caroline Kirby            08 TC Roberson HS, Ash    19:20.2   13             
 24 Adrienne Curtis           08 Assumption HS, Loui    19:22.5   14             
 25 Autumn Gipson             10 Oak Ridge HS, Oak R    19:24.3   15             
 26 Nicole Muldowney          08 Hoover HS, Hoover,     19:26.8   16             
 27 Ashley Shiver             09 Satellite HS, Satel    19:28.7   17             
 28 Kelsey Kane               08 Knoxville West H, K    19:31.4                  
 29 Allyson McGinty           09 Collins Hill HS, Su    19:32.3   18             
 30 Hillary Raidt             09 Assumption HS, Loui    19:32.9   19             
 31 Laura Steel               08 Episcopal Hs-Gir, J    19:36.7   20             
 32 Brigid Carey              08 Mountain Brook H, B    19:39.9   21             
 33 Kimberly Muldowney        12 Hoover HS, Hoover,     19:41.0   22             
 34 Briana Crawford           09 Collins Hill HS, Su    19:41.5   23             
 35 Kelsi Tippets             10 Martin Luther Ki, R    19:51.0   24             
 36 Elsbeth Denton            09 Vestavia Hills H, V    19:53.4   25             
 37 Adrian Etheridge          12 Oak Ridge HS, Oak R    19:54.7   26             
 38 Leslie Blackshear         10 Episcopal Hs-Gir, J    19:55.4   27             
 39 Ellen Daly                09 Assumption HS, Loui    19:57.0   28             
 40 Caroline Ward             08 Parkview Hs-Girl, L    19:57.3   29             
 41 Markie Voyles             09 White County HS, Sp    19:57.9                  
 42 Corinne Lariviere         09 Oak Ridge HS, Oak R    19:59.4   30             
 43 Lindsey Ebert             08 Parkview Hs-Girl, L    19:59.7   31             
 44 Zoe Dubin                 10 TC Roberson HS, Ash    19:59.8   32             
 45 Juliana Stern             09 Satellite HS, Satel    20:00.0   33             
 46 Sara Davis                10 Assumption HS, Loui    20:01.7   34             
 47 Hannah Morgan             08 Mauldin HS, Mauldin    20:03.1   35             
 48 Alexa Neiling             10 Mauldin HS, Mauldin    20:05.4   36             
 49 Stephanie Chapman         08 TC Roberson HS, Ash    20:06.1   37             
 50 Allison Riedling          10 Assumption HS, Loui    20:07.5   38             
 51 Abbie Robinson            08 Chapel Hill HS, Dou    20:08.5   39             
 52 MaryGrace Pellegrini      08 duPont Manual HS, L    20:11.4                  
 53 Ashley Stovall            09 Chapel Hill HS, Dou    20:11.9   40             
 54 Leslie Jenkins            10 Oak Ridge HS, Oak R    20:13.5   41             
 55 Marie Mauhar              12 TC Roberson HS, Ash    20:14.8   42             
 56 Reed Ellis                08 Mountain Brook H, B    20:17.2   43             
 57 Jill Cowart               12 Hoover HS, Hoover,     20:17.7   44             
 58 Caroline McDonough        10 Mauldin HS, Mauldin    20:18.4   45             
 59 Melissa Jones             10 Holy Trinity Aca, M    20:21.1   46             
 60 Lizzie Lohmar             10 Collins Hill HS, Su    20:23.7   47             
 61 Kylie Smith               09 TC Roberson HS, Ash    20:26.0   48             
 62 Mariah Loop               10 Episcopal Hs-Gir, J    20:27.0   49             
 63 Savannah McKendree        10 Holy Trinity Aca, M    20:30.7   52             
 63 Margaret Traylor          08 Episcopal Hs-Gir, J    20:30.7   51             
 63 Shea Spicher              10 Parkview Hs-Girl, L    20:30.7   50             
 66 Rebecca Asplund           10 Martin Luther Ki, R    20:37.4   53             
 67 Danielle Fillmore         10 Martin Luther Ki, R    20:47.4   54             
 68 Teresa Ristow             12 Holy Trinity Aca, M    20:48.9   55             
 69 Alexa Maring              08 Collins Hill HS, Su   x20:52.4   56             
 70 Lisa Saari                10 Parkview Hs-Girl, L    20:54.9   57             
 71 Katie Gezon               08 Collins Hill HS, Su   x20:58.3   58             
 72 Whitney Irby              08 Oak Ridge HS, Oak R   x21:02.4   59             
 73 Laura Hoer                10 TC Roberson HS, Ash   x21:03.3   60             
 74 Rachel Neiling            09 Mauldin HS, Mauldin    21:03.5   61             
 75 Brooke Hardington         09 Episcopal Hs-Gir, J   x21:04.5   62             
 76 Nicole Shiver             12 Satellite HS, Satel    21:04.7   63             
 77 Julie Gottfried           08 Auburn Hs-Girls, Au    21:06.2   64             
 78 Jocelyn Hamel             09 Parkview Hs-Girl, L    21:08.1   65             
 79 Katelyn George            08 Hoover HS, Hoover,     21:09.2   66             
 80 Kathleen Jacob            10 Mauldin HS, Mauldin   x21:12.2   67             
 81 Katelyn Gentry            10 Hoover HS, Hoover,     21:14.6   68             
 82 Heather Farthing          09 Holy Trinity Aca, M    21:17.0   69             
 83 Kasey Tippets             12 Martin Luther Ki, R    21:20.0   70             
 84 Haley Drosky              12 Chapel Hill HS, Dou    21:28.4   71             
 85 Devin Waldron             09 Chapel Hill HS, Dou    21:33.7   72             
 86 Amy Stamon                09 Assumption HS, Loui   x21:34.4   73             
 87 Alisa Kowaleski           08 Satellite HS, Satel    21:38.5   74             
 88 Katie Ladd                12 Episcopal Hs-Gir, J   x21:40.1   75             
 89 Renee Kulik               10 Mauldin HS, Mauldin   x21:41.5   76             
 90 Ashley Kirkman            10 Parkview Hs-Girl, L   x21:42.3   77             
 91 Stephanie Bird            08 Holy Trinity Aca, M   x21:43.6   78             
 92 Nicole Melilli            08 Chapel Hill HS, Dou    21:45.5   79             
 93 Courtney Ruggles          10 Auburn Hs-Girls, Au    21:50.5   80             
 94 Mollie Hibbard            10 Satellite HS, Satel    21:51.8   81             
 95 Brandi Rosenau            09 Martin Luther Ki, R   x21:54.0   82             
 96 Laura Smith               12 Hoover HS, Hoover,    x21:54.4   83             
 97 Grace Kucera              10 Holy Trinity Aca, M   x21:57.5   84             
 98 Sara Allison              12 Parkview Hs-Girl, L   x21:58.0   85             
 99 Lauren Irby               08 Oak Ridge HS, Oak R   x21:59.1   86             
100 Stacy Yarbrough           09 Martin Luther Ki, R   x22:00.2   87             
101 Haley Davies              10 Auburn Hs-Girls, Au    22:04.7   88             
102 Emily Burroughs           09 Chapel Hill HS, Dou   x22:06.5   89             
103 Lucy Newton               09 Mountain Brook H, B   x22:09.1   90             
104 Madison Enebak            10 Auburn Hs-Girls, Au    22:10.4   91             
105 Megan O'Brien             08 Hoover HS, Hoover,    x22:14.7   92             
106 Brittany Lay              08 Assumption HS, Loui   x22:23.6   93             
107 Jessica Thornton          09 Sparkman HS, Harves    22:48.2   94             
108 Kayln Wolfe               10 Chapel Hill HS, Dou   x22:51.0   95             
109 Jessica Hartline          09 Auburn Hs-Girls, Au    22:53.2   96             
110 Kate Pearce               09 Vestavia Hills H, V    22:56.7   97             
111 Ariel Cecil               09 Vestavia Hills H, V    23:02.5   98             
112 Jessy Downey              10 TC Roberson HS, Ash   x23:06.4   99             
113 Sharlea Robbins           09 Satellite HS, Satel   x23:14.6  100             
114 Olivia Glasscock          10 Auburn Hs-Girls, Au   x23:17.8  101             
115 Kathryn Lee               09 Vestavia Hills H, V    23:21.7  102             
116 Bethany Kuhn              10 Vestavia Hills H, V    23:39.3  103             
117 Kathryn Crenshaw          10 Vestavia Hills H, V   x23:47.0  104             
118 Grace Pritchard           09 Vestavia Hills H, V   x25:02.5  105             
119 Anna Brainerd             13 Sparkman HS, Harves    25:05.8  106             
120 Katie Parry               10 Satellite HS, Satel   x25:29.6  107             
121 Nina Heilman              10 Sparkman HS, Harves    27:13.7  108             
122 Jessica Woods             09 Sparkman HS, Harves   x27:20.9  109             
                                                                                 
                                   Team Scores                                   
=================================================================================
Rank Team                      Total    1    2    3    4    5   *6   *7   *8   *9
=================================================================================
   1 Mountain Brook HS, Birmin    75    2    4    5   21   43   90               
      Total Time:  1:36:04.10                                                    
         Average:    19:12.82                                                    
   2 Collins Hill HS, Suwanee,    99    3    8   18   23   47   56   58          
      Total Time:  1:37:19.90                                                    
         Average:    19:27.98                                                    
   3 Oak Ridge HS, Oak Ridge,    124   12   15   26   30   41   59   86          
      Total Time:  1:38:48.80                                                    
         Average:    19:45.76                                                    
   4 Assumption HS, Louisville   133   14   19   28   34   38   73   93          
      Total Time:  1:39:01.60                                                    
         Average:    19:48.32                                                    
   5 Episcopal Hs-Girls, Jacks   154    7   20   27   49   51   62   75          
      Total Time:  1:39:29.30                                                    
         Average:    19:53.86                                                    
   6 TC Roberson HS, Asheville   172   13   32   37   42   48   60   99          
      Total Time:  1:40:06.90                                                    
         Average:    20:01.38                                                    
   7 Mauldin HS, Mauldin, SC     186    9   35   36   45   61   67   76          
      Total Time:  1:40:34.10                                                    
         Average:    20:06.82                                                    
   8 Martin Luther King HS, Ri   212   11   24   53   54   70   82   87          
      Total Time:  1:41:49.00                                                    
         Average:    20:21.80                                                    
   9 Hoover HS, Hoover, AL       216   16   22   44   66   68   83   92          
      Total Time:  1:41:49.30                                                    
         Average:    20:21.86                                                    
  10 Holy Trinity Academy, Mel   223    1   46   52   55   69   78   84          
      Total Time:  1:41:26.40                                                    
         Average:    20:17.28                                                    
  11 Parkview Hs-Girls, Lilbur   232   29   31   50   57   65   77   85          
      Total Time:  1:42:30.70                                                    
         Average:    20:30.14                                                    
  12 Satellite HS, Satellite B   268   17   33   63   74   81  100  107          
      Total Time:  1:44:03.70                                                    
         Average:    20:48.74                                                    
  13 Chapel Hill HS, Douglasvi   301   39   40   71   72   79   89   95          
      Total Time:  1:45:08.00                                                    
         Average:    21:01.60                                                    
  14 Sparkman HS, Harvest, AL    324    6   10   94  106  108  109               
      Total Time:  1:53:10.90                                                    
         Average:    22:38.18                                                    
  15 Auburn Hs-Girls, Auburn,    419   64   80   88   91   96  101               
      Total Time:  1:50:05.00                                                    
         Average:    22:01.00                                                    
  16 Vestavia Hills HS, Vestav   425   25   97   98  102  103  104  105          
      Total Time:  1:52:53.60                                                    
         Average:    22:34.72                                                    

Great American Index