Great American
Cross Country Festival

Veterans Park, Hoover AL - Saturday, October 13, 2007

DyeStat Onsite with SteveU and Pat Davey
Boys Nike Race of Champions
Sean Keveren gets it done; rising stars close the gap; Oak Ridge steps it up
Story by SteveU - Photos by Pat Davey
Results Below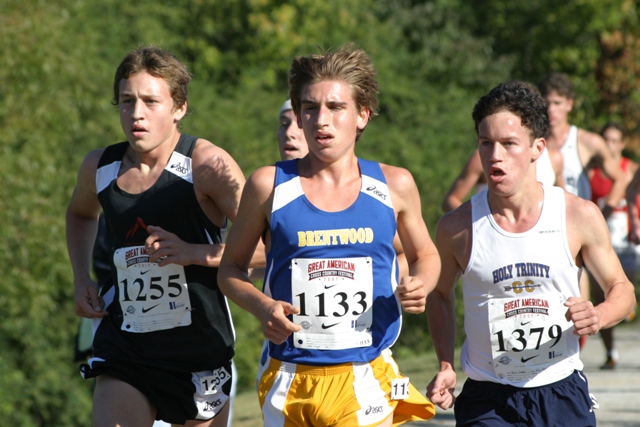 Past the mile mark, Sean Keveren (center) had the company of Joe Bosshard (left) and Kyle Cook (right)..



Life has changed for Sean Keveren since he won his section of the NON 2-mile last spring in 8:55.16. It wasn't even the fast, seeded section. That someone could run that fast outside of the championship race was mind-boggling, and a definitive part of the incredible distance running that took place during the unseasonably cool North Carolina weekend. It also made Keveren the fastest non-senior of the year in the 2M and, subsequently, heavy mention as a Foot Locker Finals favorite – though he was "just" 20th at the FL South race last year.

The Brentwood TN sr shakes his head and laughs, thinking about this after winning Saturday's boys Nike Race of Champions during the 9th Great American XC Festival.

"It's been different," he said. "It's amazing how much one race can change everything. But I've enjoyed it. I've met a lot of cool people and I like having the expectations."

Keveren has a knack of doing what it takes to win. He knew the field at Great American would be strong, if not quite national class, and he ran relatively conservatively early. He was part of a large, shifting pack, and they hit the mile in just 5:00. It wasn't that he didn't want to run fast. In fact, he had a little wager with his coach (Dave Milner) that he could get Ben Hubers' course record. It's just that he wasn't going to kill himself early to do it.

Running with plenty of patience, Keveren continued to work the pack during the 2nd mile, slowly applying enough pressure to drop most of the other contenders into a chase pack. Only Crested Butte Academy CO sr Joe Bosshard went right with him, but the pack stayed close. Those top two passed 2M at 10:04, then at Rig Hill (4k), Keveren pushed hard and began to get a working margin. Out of the woods, he continued to drive to the finish, extending the lead to seven seconds while others battled behind him.

"I was going to run just a good, conservative pace, run even splits, and run with the pack as long as possible," he said. "I wanted to really use the hill at 4k.


Matt Sonnenfeldt and Bill Matthews finish 2-3.
Behind Keveren, the finish was revelatory to the next two placers. Knoxville West jr Matthew Sonnenfeldt was 38 seconds behind Keveren at the McCallie meet, 25 in Memphis a week ago, and just eight seconds back this time with his runner-up 15:45. Now he can think seriously about racing for a Foot Locker Finals berth. He used a strong last half-mile to break away from a chase pack and secure the silver.

Baylor School jr Bill Matthews, meanwhile, is the talented high-profile transfer who left Mountain Brook AL, where he was a 2-time state XC champ, for Chattanooga. He met Coach Val Townsend at last year's Great American. He was so encouraged by what he felt would be an increased emphasis on aerobic development that he ventured northeast to the out-of-state boarding school

Matthews has been a big part of Baylor's success in moving up the SE rankings, running as #2 to Waldo du Plessis. But what outsiders didn't know is that he has been struggling with Rocky Mountain Fever much of the fall, the result of a tick bite. With his 15:46 in 3rd, he appears to have surpassed anything he's done in previous years and is ready to join du Plessis in leading the squad.

But Baylor couldn't quite do it as a team. The day belonged to Oak Ridge TN.

The Wildcats still don't have sr Chris Cole at full strength (36th in team scoring), but they got a good 1-2 from Maclean O'Donnell and Phil Riemer in 6th and 7th (16:13 and 16:14) and had more depth than anyone with Emerson Peacock (22nd, 16:37), Chris Ostrouchov (30th, 16:51), and Cole finishing out the top five. It was a solid 46-second spread.

"This was a meet where the boys really decided to do it themselves," said Oak Ridge coach Allen Etheridge, whose team had lost to Baylor, Hoover, and Parkview at the McCallie Invite. "McCallie was really our first race. Today, they were all good."

Outside of Matthews, the rest of the Baylor team had something of an off day. Du Plessis was 7th overall and said he felt he should have been 2nd, but was struggling with congestion in his chest. They were missing Brandon Lord, who was reported in a swimming competition, and wound up suffering a big 1:40 gap between their 1st and 5th man, unable to summon up the depth on this day.



Patrick McGregor of Hoover, Eric Larson of BT Washington, and Waldo du Plessis of Baylor finish 4-6-7.

 Flash Results, Inc.                                        Hy-Tek's Meet Manager
               Great American Cross Country Festival - 10/13/2007                
                  Veterans Park at Valleydale Road, Hoover, AL                   
                              Last Completed Event                               
 
Event 6  Boys 5k Run CC Nike ROC
=======================================================================          
    Name                    Year School                  Finals  Points          
=======================================================================          
  1 Sean Keveren              08 Brentwood HS, Brent    15:37.0                  
  2 Matthew Sonnenfeldt       09 Knoxville West H, K    15:44.6                  
  3 Bill Matthews             09 Baylor School, Chat    15:45.8    1             
  4 Patrick McGregor          09 Hoover HS, Hoover,     15:52.5    2             
  5 Joe Bosshard              08 Crested Butte Ac, M    15:54.4                  
  6 Eric Larson               08 BT Washington HS, P    16:03.0                  
  7 Waldo du Plessis          08 Baylor School, Chat    16:07.1    3             
  8 Thomas Elnick             08 Kellenberg Memor, U    16:09.4    4             
  9 Taylor Lord               09 Chapel Hill HS, Dou    16:11.7    5             
 10 Maclean O'Donnell         08 Oak Ridge HS, Oak R    16:13.3    6             
 11 Phil Riemer               08 Oak Ridge HS, Oak R    16:14.0    7             
 12 Austin Duckworth          08 Vestavia Hills H, V    16:14.7    8             
 13 Rob Manning               08 Collins Hill HS, Su    16:15.6    9             
 14 Josh Pinson               08 Parkview Hs-Boys, L    16:17.4   10             
 15 John Harwell              10 Asheville HS, Ashev    16:17.6   11             
 16 Howard Graves             09 Auburn Hs-Boys, Aub    16:19.8   12             
 17 Marshall Dalessandro      08 Vestavia Hills H, V    16:20.1   13             
 18 Philip O'Brien            08 Collins Hill HS, Su    16:21.3   14             
 19 Matthew Boughton          08 Desert Vista HS, Ph    16:21.5   15             
 20 Tucker Hartley            08 The Westminster, At    16:21.6   16             
 21 Nick Perkins              09 Hoover HS, Hoover,     16:22.0   17             
 22 Jake Brooks               08 Fort Myers HS, Ft.     16:22.1                  
 23 Kyle Cooke                08 Holy Trinity Aca, M    16:26.6   18             
 24 Josh Helton               09 Independence HS, Th    16:27.2                  
 25 Matt Clay                 08 Alexander HS, Dougl    16:27.8   19             
 26 Brett Richardson          08 Parkview Hs-Boys, L    16:29.9   20             
 27 Derek Wehunt              09 Sickles Hs-Boys, Ta    16:33.8   21             
 28 Emerson Peacock           08 Oak Ridge HS, Oak R    16:36.3   22             
 29 Jarryd Wallace            08 Oconee County HS, W    16:38.1                  
 30 Brian Detweiler           09 Parkview Hs-Boys, L    16:38.4   23             
 31 Miles Svoboda             08 Pope HS, Marietta,     16:40.3                  
 32 Bret Butler               09 Holy Trinity Aca, M    16:42.3   24             
 33 Ciprian Mejia             08 Sickles Hs-Boys, Ta    16:43.6   25             
 34 Mike Meadows              09 Baylor School, Chat    16:45.7   26             
 35 Michael Elnick            08 Kellenberg Memor, U    16:47.6   27             
 36 Chris Duvall              10 Wesleyan School, No    16:50.5   28             
 36 William Posch             09 Kellenberg Memor, U    16:50.5   29             
 38 Chris Ostrouchov          09 Oak Ridge HS, Oak R    16:51.0   30             
 39 Justin Rogers             08 Hoover HS, Hoover,     16:53.6   31             
 40 Charlie Alvarez           09 Martin Luther Ki, R    16:54.9   32             
 41 Skylar Townsend           09 Baylor School, Chat    16:56.3   33             
 42 Chris Conway              08 Desert Vista HS, Ph    16:58.3   34             
 43 Ryan Schmidt              08 Alexander HS, Dougl    16:58.7   35             
 44 Chris Cole                08 Oak Ridge HS, Oak R    16:59.7   36             
 45 Nick Hayes                08 Hoover HS, Hoover,     17:00.2   37             
 46 Jake Fulton               08 Chapel Hill HS, Dou    17:01.3   38             
 46 Danny Cook                09 Collins Hill HS, Su    17:01.3   39             
 48 John Sharpe               10 Oak Ridge HS, Oak R   x17:04.7   40             
 49 Brandon Ramsey            10 Wesleyan School, No    17:05.0   41             
 50 Isaac Presson             08 Asheville HS, Ashev    17:05.2   42             
 51 Sean Barr                 08 Desert Vista HS, Ph    17:05.4   44             
 51 Gregory Moss              08 Kellenberg Memor, U    17:05.4   43             
 53 Michael Cook              09 Kellenberg Memor, U    17:06.2   45             
 54 Evan Marbury              08 Parkview Hs-Boys, L    17:08.1   46             
 55 Patrick Gomez             09 Auburn Hs-Boys, Aub    17:08.9   47             
 56 Richard Murray            09 Mountain Brook H, B    17:09.7   48             
 57 Patrick Murphy            10 St. Anthonys HS, So    17:10.0   49             
 58 Layton Dorsett            10 Mountain Brook H, B    17:10.9   50             
 59 Matt Gossett              08 Wesleyan School, No    17:12.2   51             
 60 Patrick Gonzalez          08 Martin Luther Ki, R    17:13.8   52             
 61 Todd Sather               09 St. Anthonys HS, So    17:14.7   53             
 62 Robert Cherkis            09 St. Anthonys HS, So    17:14.9   54             
 63 Knox Sutterfield          08 The Westminster, At    17:15.4   55             
 64 Chris Dunker              08 Desert Vista HS, Ph    17:16.0   56             
 65 Austin Hunt               09 Collins Hill HS, Su    17:16.3   57             
 66 Conrad Taylor             08 Mountain Brook H, B    17:17.3   58             
 67 Trent Blumenthal          10 Vestavia Hills H, V    17:17.5   59             
 68 Kevin Corrigan            08 St. Anthonys HS, So    17:17.8   60             
 69 Joe Sokohl                09 Collins Hill HS, Su    17:18.4   61             
 70 Max Dutcher               08 The Westminster, At    17:18.9   62             
 71 Alex Kerry                08 Chapel Hill HS, Dou    17:19.8   63             
 71 Kenneth Walshak           10 St. Anthonys HS, So    17:19.8   64             
 73 Andrew Stowe              08 The Westminster, At    17:20.2   65             
 74 Randyn Williams           08 Collins Hill HS, Su   x17:21.6   66             
 75 Alec Hamm                 08 Hoover HS, Hoover,     17:22.0   67             
 76 Matt Hanlon               08 Wesleyan School, No    17:22.8   68             
 77 Matt Smith                09 Auburn Hs-Boys, Aub    17:23.1   69             
 78 Jon Serfilippi            09 Desert Vista HS, Ph    17:23.2   70             
 79 Neely Boston              12 Auburn Hs-Boys, Aub    17:23.3   71             
 80 Josh Hulsey               08 Alexander HS, Dougl    17:24.7   72             
 81 Colton Popp               08 Baylor School, Chat    17:25.6   73             
 82 Nick Williams             12 Parkview Hs-Boys, L    17:27.6   74             
 83 James Graham              10 Vestavia Hills H, V    17:28.6   75             
 84 Jack Morgan               12 Mountain Brook H, B    17:29.1   76             
 85 Ethan McGroom             08 Oak Ridge HS, Oak R   x17:30.0   77             
 86 David Dyck                08 Collins Hill HS, Su   x17:30.5   78             
 87 Wilkerson Given           09 Mountain Brook H, B    17:34.5   79             
 88 Dan Wehunt                09 Sickles Hs-Boys, Ta    17:36.5   80             
 89 Mac Stormont              09 The Westminster, At    17:37.2   81             
 90 Cody Allen                10 Parkview Hs-Boys, L   x17:38.2   82             
 91 Ryan Matherly             08 Wesleyan School, No    17:39.6   83             
 92 Kyle Buckley              10 Wesleyan School, No   x17:41.5   84             
 93 David Kilgore             12 Holy Trinity Aca, M    17:42.1   85             
 94 Blair O'Bryant            09 Chapel Hill HS, Dou    17:44.3   86             
 95 Will Taylor               09 Wesleyan School, No   x17:44.9   87             
 96 Matthew Bryant            08 Hoover HS, Hoover,    x17:45.6   88             
 97 David Kenney              09 St. Anthonys HS, So   x17:47.7   89             
 98 Taylor Dix                10 Baylor School, Chat   x17:48.3   90             
 99 Sonny Cunningham          08 Alexander HS, Dougl    17:49.1   91             
100 Mike Johnson              09 Desert Vista HS, Ph   x17:49.8   92             
101 Jason Miller              10 Auburn Hs-Boys, Aub    17:50.8   93             
102 Alex Truitt               08 Chapel Hill HS, Dou    17:52.1   94             
103 Derek Nelson              10 Martin Luther Ki, R    17:53.0   95             
104 Andrew Huscher            09 Martin Luther Ki, R    17:55.2   96             
105 George Fryhofer           08 The Westminster, At   x17:57.1   97             
106 James Lee                 09 Chapel Hill HS, Dou   x18:00.0   98             
107 Cameron Reid              09 Alexander HS, Dougl    18:03.3   99             
108 Peter Brennan             08 St. Anthonys HS, So   x18:07.1  100             
109 William Barber            10 The Westminster, At   x18:08.6  101             
110 Jason Schupp              09 Martin Luther Ki, R    18:11.2  102             
111 Evan Kendrick             08 Mountain Brook H, B   x18:11.8  103             
112 Mike Merrell              08 Desert Vista HS, Ph   x18:12.6  104             
113 Josh Rudisill             08 Alexander HS, Dougl   x18:14.5  105             
114 Thomas Eischeid           08 Baylor School, Chat   x18:16.8  106             
115 Luke L'Hoste              09 Alexander HS, Dougl   x18:17.1  107             
116 Logan Tarleton            08 Asheville HS, Ashev    18:25.0  108             
117 Guy Murolo                09 Kellenberg Memor, U   x18:26.3  109             
118 JJ van Tonder             08 Parkview Hs-Boys, L   x18:27.9  110             
119 Elliott Mills             08 Asheville HS, Ashev    18:29.4  111             
120 Michael Nicoletti         09 Kellenberg Memor, U   x18:31.7  112             
121 Mark McDonald             10 Auburn Hs-Boys, Aub   x18:37.0  113             
122 Brett Wilson              08 Sickles Hs-Boys, Ta    18:37.8  114             
123 Owen Sheeler              09 Asheville HS, Ashev    18:39.7  115             
124 Morgan Bettcher           10 Auburn Hs-Boys, Aub   x18:40.9  116             
125 Jarod Nocella             10 Martin Luther Ki, R   x18:42.7  117             
126 Adam Cooke                12 Holy Trinity Aca, M    18:43.8  118             
127 Joey Castagnaro           13 Holy Trinity Aca, M    18:54.3  119             
128 Steven Geraci             08 Sickles Hs-Boys, Ta    19:04.6  120             
129 Conner Robinson           10 Asheville HS, Ashev   x19:06.7  121             
130 Owen Parrish              10 Vestavia Hills H, V    19:07.9  122             
131 Parker Smith              10 Vestavia Hills H, V   x19:09.5  123             
132 Ethan Park                08 Martin Luther Ki, R   x19:13.5  124             
133 Romone Schoeber           08 Asheville HS, Ashev   x19:29.2  125             
134 Sean Kelly                12 Sickles Hs-Boys, Ta   x19:33.0  126             
135 Wade Voyles               12 Chapel Hill HS, Dou   x19:40.8  127             
136 Blake Hament              09 Holy Trinity Aca, M   x19:48.4  128             
137 Stefan D'Angelo           10 Sickles Hs-Boys, Ta   x20:15.3  129             
138 Joseph Jackson            10 Vestavia Hills H, V   x20:49.9  130             
                                                                                 
                                   Team Scores                                   
=================================================================================
Rank Team                      Total    1    2    3    4    5   *6   *7   *8   *9
=================================================================================
   1 Oak Ridge HS, Oak Ridge,    101    6    7   22   30   36   40   77          
      Total Time:  1:22:54.30                                                    
         Average:    16:34.86                                                    
   2 Baylor School, Chattanoog   136    1    3   26   33   73   90  106          
      Total Time:  1:23:00.50                                                    
         Average:    16:36.10                                                    
   3 Kellenberg Memorial HS, U   148    4   27   29   43   45  109  112          
      Total Time:  1:23:59.10                                                    
         Average:    16:47.82                                                    
   4 Hoover HS, Hoover, AL       154    2   17   31   37   67   88               
      Total Time:  1:23:30.30                                                    
         Average:    16:42.06                                                    
   5 Parkview Hs-Boys, Lilburn   173   10   20   23   46   74   82  110          
      Total Time:  1:24:01.40                                                    
         Average:    16:48.28                                                    
   6 Collins Hill HS, Suwanee,   180    9   14   39   57   61   66   78          
      Total Time:  1:24:12.90                                                    
         Average:    16:50.58                                                    
   7 Desert Vista HS, Phoenix,   219   15   34   44   56   70   92  104          
      Total Time:  1:25:04.40                                                    
         Average:    17:00.88                                                    
   8 Wesleyan School, Norcross   271   28   41   51   68   83   84   87          
      Total Time:  1:26:10.10                                                    
         Average:    17:14.02                                                    
   9 Vestavia Hills HS, Vestav   277    8   13   59   75  122  123  130          
      Total Time:  1:26:28.80                                                    
         Average:    17:17.76                                                    
  10 The Westminster Schools,    279   16   55   62   65   81   97  101          
      Total Time:  1:25:53.30                                                    
         Average:    17:10.66                                                    
  11 St. Anthonys HS, South Hu   280   49   53   54   60   64   89  100          
      Total Time:  1:26:17.20                                                    
         Average:    17:15.44                                                    
  12 Chapel Hill HS, Douglasvi   286    5   38   63   86   94   98  127          
      Total Time:  1:26:09.20                                                    
         Average:    17:13.84                                                    
  13 Auburn Hs-Boys, Auburn, A   292   12   47   69   71   93  113  116          
      Total Time:  1:26:05.90                                                    
         Average:    17:13.18                                                    
  14 Mountain Brook HS, Birmin   311   48   50   58   76   79  103               
      Total Time:  1:26:41.50                                                    
         Average:    17:20.30                                                    
  15 Alexander HS, Douglasvill   316   19   35   72   91   99  105  107          
      Total Time:  1:26:43.60                                                    
         Average:    17:20.72                                                    
  16 Sickles Hs-Boys, Tampa, F   360   21   25   80  114  120  126  129          
      Total Time:  1:28:36.30                                                    
         Average:    17:43.26                                                    
  17 Holy Trinity Academy, Mel   364   18   24   85  118  119  128               
      Total Time:  1:28:29.10                                                    
         Average:    17:41.82                                                    
  18 Martin Luther King HS, Ri   377   32   52   95   96  102  117  124          
      Total Time:  1:28:08.11                                                    
         Average:    17:37.62                                                    
  19 Asheville HS, Asheville,    387   11   42  108  111  115  121  125          
      Total Time:  1:28:56.90                                                    
         Average:    17:47.38                                                    

Great American Index