BOULDER, CO. -- Minnesota's Elliot Heath was clearly the surprise of the weekend at the USATF Cross-Country Junior Nationals, but the newly crowned national champion at least flashed signs of major promise earlier on in his career, including earning a bid to Foot Locker Nationals in 2006.
While most top finishers arrived at Flatirons Golf Course with highly-decorated resumes in major high school or collegiate postseason meets, a few previously unheralded runners emerged here to make impressive race-day statements.
Perhaps the most notable improvements came from a pair of harriers with ties to New Mexico: Los Alamos HS grad Ryan McNiff and current Albuquerque Academy HS senior Dustin Martin.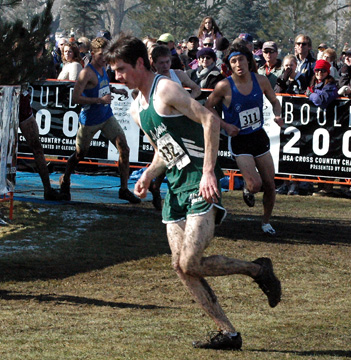 Adams State frosh Ryan McNiff, formerly of Los Alamos HS (NM)
McNiff, now a 19-year-old freshman exercise physiology major at NCAA Division II powerhouse Adams State University in Colorado, rolled by several marquee names in the final two revolutions of the four-loop course to place fourth. McNiff, who was not on the traveling team for the Grizzlies when they captured the runner-up plaque at the Division II nationals last fall, was timed in 26:23 for the 8,000-meter race, trailing only a trio of runners that had combined for five Foot Locker Nationals berths between them. Usually upbeat Los Alamos HS coaches Rob and Kathy Hipwood flashed ever wider smiles on this day!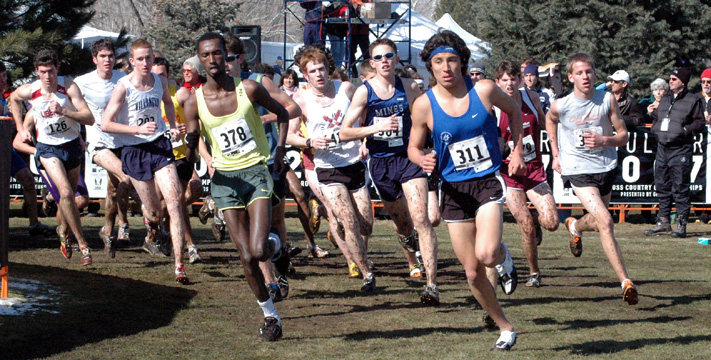 Dustin Martin (# 311) of Albuquerque Academy
Martin, who teamed with frontrunner Ben Johnson this fall to give Academy a sensational 1-2 punch that earned AA a berth to Nike Team Nationals, was a fine eighth-place finisher here, competing for the Wings of America/Earth Circle Foundation Inc. club team. Martin was timed in 26:30 to rank as the third prep overall and finish just six seconds behind the sixth and final qualifier to the IAAF World Junior Championships in Kenya.
The UCLA program enjoyed an impressive breakthrough day as three frosh placed among the top 16 in the men's race and its lone female entry clearly exceeded expectations to take 20th in the women's race.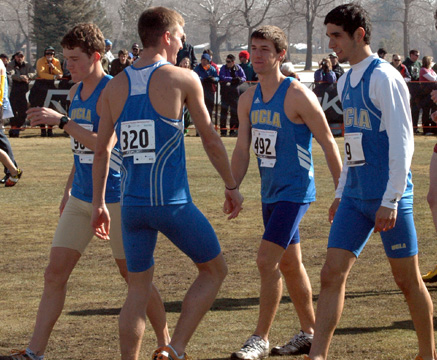 UCLA's Alex Crabill (7th), Jake Matthews (12th), Kevin Sulivan (16th) and Marco Anzures
The Bruin men were led by Washington-based HS talent Alex Crabill, who just missed an automatic berth to Kenya by taking seventh in 26:29. Crabill, often battling for a berth on UCLA's competitive traveling squad that advanced to nationals this past fall, bested a few rivals he had lost to earlier in the season, including Oregon's Isaac Stoutenburgh and Arizona State's Mikias Gelagle.
Frosh Jake Matthews and Kevin Sullivan also shined for the blue and gold. Matthews, a respectable 78th at the NCAA West Regional, rounded out the top dozen here with a 26:44 finish, the top placing by any ex-California high schooler. Sullivan, a former leader for the storied Royal HS (CA) program, placed an impressive 16th here (26:54) after being unable to crack into the Bruins traveling squad in the fall. With UCLA in the process of securing an ever stronger recruiting class this spring, the outlook appears very promising in Westwood.
Kentucky's Brian Long, whose most notable accolade thus far had been an All-American performance (sixth) as part of St. Xavier of Kentucky's 4xMile relay unit at the 2006 Nike Indoor Nationals, took 15th (26:53) in the Junior men's race in his latest personal breakthrough as a 17-year-old.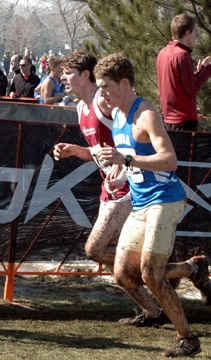 16-year-old Virginia prep Griff Graves (in red) and UCLA's Alex Crabill
Virginia-based Griff Graves (Abingdon HS), who also trains under coach Scott Simmons of NAIA powerhouse Virginia Intermont College, was the top 16-year-old in the male field, placing 9th (26:35) in the race. Graves was third at the FootLocker South Region meet before finishing outside the Top 25 at nationals.
16-year-old Mac Fleet of University City HS, CA
San Diego-based Mac Fleet (University City HS) and Colorado's Bobby Nicolls (Parker HS) were next best among the 16-year-olds crowd, taking 28th and 29th, respectively.
The shiniest new blip on the young women's radar had to be Northern California talent Laurynne Chetelat of Davis HS and the Buffalo Babes club team. Buying into the sport of cross-country after enjoying some success in the sport of soccer, the 16-year-old Chetelat undoubtedly turned some heads and caught the attention of the most astute college recruiters with a very solid 15th-place effort in 23:07.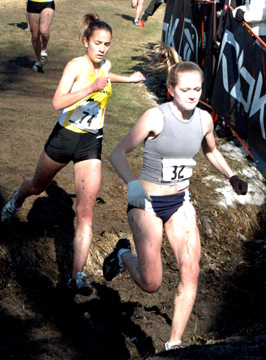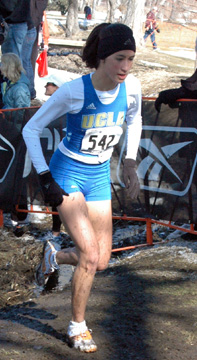 Fast-rising Laurynne Chetelat of Davis HS (CA) in yellow and UCLA frosh Kelcie Wiemann.
Chetelat joined the Davis varsity by mid-season and began making a definite impact for one of the state's finest teams. Her showing here, however, clearly signaled a new level of promise for the teen. She reportedly will focus on her running skills after playing the final few games of her soccer career in the weeks to come.
Colorado's Allison Gohl (Westminster HS), California's Kelcie Smith (South Tahoe HS, located right on the state border, but competing in Nevada's state association), and UCLA's Kelcie Wiemann were other notables to make moves upward.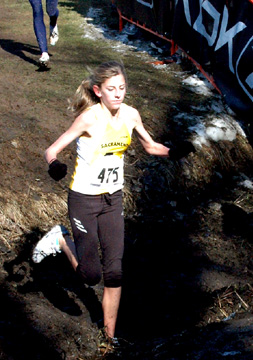 Kelsey Smith of South Tahoe HS on the CA/NV border.
The 17-year-old Gohl had not caught out attention prior, but was 16th here (23:09) to hold off Smith (17th in 23:16) of the winning Pacific-Association-based Buffalo Babes team. Wiemann, who had struggled to carve a niche in the Bruins program as a frosh, closed out her season on a very uplifting note by taking 20th in 23:31.