USA Juniors

- Indianapolis IN June 23, 2007 - DyeStat on-site coverage



Wynne (black and red uniform) and Dutch
near the finish.

Acosta (left) edges Centrowitz by 0.01, with Chinchar,
Blankenship and Borchers right behind.





photos by Davey, runmichigan.com



Acosta, Hasay share distance running stage again





By Steve Underwood



A year and a half ago at the Foot Locker Nationals in San Diego, Jordan Hasay and AJ Acosta shared the stage. Hasay had hammered the field halfway through the 5k race for an astonishing victory as a freshman, while Acosta, supported by his "AJ Nation," also made a mid-race surge and held off Michael Coe for the victory.

The 2007 USATF Junior 1500 in Indianapolis could have hardly been the most likely place for them each to top the podium again. Acosta, now an Oregon freshman, was the defending champ and had the best time coming in, but he'd had an inconsistent freshman year and the attention was on the showdown between prep superstars Matt Centrowitz MD, Sam Borchers OH, and Craig Forys NJ. Hasay was almost an afterthought in a field that included speedier seeds in defending champ Danielle Tauro NJ, and superb college freshmen Nicole Jones of Baylor and Jessica Pixler of Seattle-Pacific.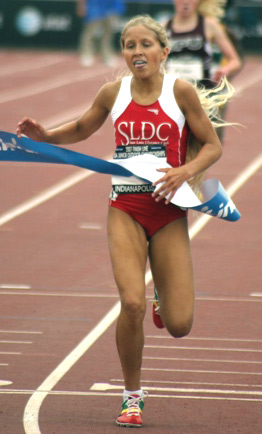 But in the space of about 15 minutes, the California products again became the talk of prep/junior distance running. Off an early slow pace and a gradual pickup, Acosta spotted Centrowitz and Borchers their last lap moves, then produced one of his own in the final 90 meters to nip Centro by .01 in 3:49.53.

That race was thrilling, but the women's 1500 a few minutes earlier had been the jaw-dropper. Off a much stiffer pace, Hasay surged ahead of the above-mentioned trio with 300 to go. She had never beaten the very best milers this way, despite her excellence at longer distances. But this was clearly a transformed Jordan. She never flagged in her surge, at an already withering pace, and none of the other principals could keep with her, let alone pass her. She crossed the line (left) in a spectacular PR 4:16.98, moving to #4 all-time and breaking national sophomore and age 15 records held by Suzy Favor. It was the fastest high school girls 1500 in 25 years and the fastest automatic time ever. Only 3 legends are in front of Hasay now: Kim Gallagher 4:16.6 (1982), Francie Larrieu 4:16.8 (1969), and Polly Plumer 4:16.8 (1982).



Four one-lap races were also superb



The competition in the 1500 overshadowed a superb quartet of 1-lap races, both on the flat and over barriers, that began Saturday's short junior program. The men's side produced the biggest highlights, as William Wynne GA and Bryshon Nellum CA both had stunning races. Wynne overcame Johnny Dutch NC in the last 70 meters of the 400 hurdles to win in a stunning US#1 and #2 all-time 49.70 (Dutch US#2, =#8 all-time 50.07). Nellum, with no one else within almost a second of him, powered to a 45.38, lowering his US#1 from the 45.54 he hit at CIF and moving into 10th all-time.

In the women's 400H, Ryann Krais PA ran another stunning race, a PR and US#2 57.20, claiming second behind Virginia Tech's Queen Harrison (56.86). She thus moved up another spot in the all-time top ten, passing fellow Pennsylvanian (and PA record-holder) Nicole Leach for #8. Meanwhile, Jessica Beard OH was pushed even less than Nellum, defending her NON crown and joining those who have won NON and USATF Jrs. back-to-back two years straight. Her 52.12 was short of her 51.63 PR, but 1.21 ahead of U. of South Carolina's Brandi Cross, as they repeated their 1-2 finish of 2006.

The final junior race of the day saw 2006 Foot Locker runner-up Emily Sisson NE run her best race of the year in winning the women's 5000 in 16:48.67.









The Men's 1500: Acosta kicks last and best



With the best PR in the field, and perhaps not the reputation for as great a kick as some of his competitors in the USATF Junior 1500, it would seem that U. of Oregon freshman AJ Acosta's best chance to win would be with a hard pace. But leave it to AJ, one of junior track's most verbose personalities, both in high school and as a college freshman, to be motivated by someone else's comments.

The comments, in fact, of "The Mouth That Roared."

"I took to heart what Dwight Stones said about me on TV at the PAC-10 meet," Acosta said after Saturday's race, "that I didn't have a kick."

So kick is what AJ did, past Yellow Springs OH sr Sam Borchers and past Broadneck MD sr Matt Centrowitz, and to a narrow victory in this hyped showdown.

Let's go back and set the stage.

There was probably no other event that DyeStat track fans relished more than this one. And why not? It would be a rematch of defending champ Acosta and last year's from-out-of-nowhere runner-up Borchers, with Centro and Craig Forys NJ thrown into the mix. What was not to like? The resumes of the principals and potential plotlines alone could fill pages of copy.

But, in brief:

Acosta – The defending champ who also won Foot Locker and NON 2M as a senior; up and down freshman year at U of Oregon, but with PRs in most events led by a top-seeded 3:42.40.

Borchers – The newly crowned NON mile champ in blazing 4:03.33; winner of NIN, as well, with two sub-1:50 800 relay legs; possibly the most electrifying prep middle-distance runner of the last few years.

Centrowitz – The fastest 2-miler since the 70s with his #3 all-time 8:41.55 at NON, avenging loss to Forys from NIN; established mile/1500 creds with Penn win, 4:04 1600 at state, and 4:03.40y at Reebok GP.

Forys – Consistently great sr. year with Foot Locker 2nd, NIN 2M title, more 4:04-4:05 1600 relay legs, and NJ MOC 4:07/8:52 double; runner-up to Centro at NON with PR 8:44.43y.


The race would be a Centro-Forys rematch over half the distance, but that was probably the least-anticipated of the great matchups. Centrowitz and Borchers had never raced each other, and Sam had never raced Craig, either. You had present and future Ducks Acosta vs. Centrowitz, then of course Acosta vs. Borchers again.

Given the intensity of Borchers' kick, and the highly respected finishes of Centrowitz and Forys, it seemed like it would have made the most sense for Acosta to have a fast pace. But the UO freshman, even with the company of teammate Matt Dettman, was going to let the race be dictated by someone else. No one forced it, with the second 200 being the slowest, so it was Dettman towing everyone through 65.1, throwing a really fast time out the window.

The tempo gradually increased and they hit 800 at 2:08.8, for a 63.7. The first significant move of the race came then as Forys and Stillwater MN sr Ben Blankenship began to pick it up. They came down the homestretch, with the excitement and fan interest building, and passed 400-to-go in 2:54.6. Forys wasn't losing anyone and the other principals were crowding him on the penultimate turn. Meanwhile, the pace was slow enough that other highly motivated runners, like Blankenship, were still in the thing.

They passed 1200 in 3:09.1, and Centrowitz took off. Blankenship moved past the other contenders and went right with him, taking the lead himself down the backstretch. Centrowitz, knowing that's who he should try and take the lead from just up the track, moved with him. Borchers was covering from outside and Acosta was surging inside, and they passed Forys.

Around the last curve, Centro was leading Blankenship, with Borchers having passed Acosta and in hot pursuit. It looked like a great finish by the top two prep milers.

But with 130 to go, Acosta launched the last big move. He ripped around Borchers, who did not have his normal sprint, and hauled after Centro. There was no doubt of who had the best kick on this day. At about 50 meters left, Centrowitz was caught and the win seemed clearly Acosta's. The Duck looked around a bit right before the line, however, compromising his momentum slightly and allowing his continually pushing future teammate to get into a lean with him. But Acosta held him off by .01.

The times – 3:49.43 to 3:49.54, with 3;50.23 for Borchers in 3rd – weren't scintillating, but the last 400 was a rousing 54.9. AJ's last 200 had to be in the 25-26 range. Yes, Dwight, he has a kick – at least at this level.

"I knew Borchers and Centrowitz would be tough," Acosta said. "I felt good with a lap to go. I was lucky to hold off Centro. I'm glad he's going to be a Duck.

"He's pesky … ever since he came on his visit," he teased.

"I was surprised that the pace was that slow," said Borchers. "But when I hit 100 to go, I couldn't move my legs any faster. My kick didn't go like it usually does."

It was then revealed that, unfortunately, Borchers rolled his ankle on Monday, explaining in part the obviously awkward gait he had shown in the semi. "I wasn't able to walk until Wednesday and jogged Thursday," he said.

As for Centrowitz, he had no regrets. "I knew I had to be confident coming in, whether it was slow or fast," he said. "I was happy with my position with 200 to go. I didn't get boxed and I was where I wanted to be. I'm pretty pleased with what I put out there."



Highlights


Bryshon Nellum



Jessica Beard

Emily Sisson
Jordan Hasay CA 4:16.98 1500 is US#4 all-time, taking down Suzy Favor's soph class record of 4:19.46. List now reads: Kim Gallagher, Francie Larrieu, Polly Plumer...Jordan Hasay
NON winner William Wynne GA monster 49.70 400H victory trails only Kenneth Ferguson's 2002 mark of 49.38 and joins Kerron Clement (49.77), Jason Richardson (49.79), and Bob Bornkessel (49.8) as only other US preps under 50. Johnny Dutch NC, rebounding from NON disappointment, a stride behind in 50.07 (tied for #8 a-t).

Men's

1500 Showdown:

AJ Acosta (Oregon ) runs 3:49.53 to edge Matt Centrowitz MD 3:49.54, with Sam Borchers OH 3rd in 3:50.23 and Michael Chinchar WA up for 4th (3:51.45).
W-5000 - Prep sweep with Emily Sisson NE the 16:48.67 winner over Alex Gits MN (16:50.47)
and last week's NON champ Marissa Treece MI 17:01.76
W-400H - Heptathlon runner-up Ryann Krais PA gets 57.20 2nd here as well, behind Queen Harrison (Virginia Tech) 56.86, and turning back Jackie Coward TN (57.89) and Jamesha Youngblood CA (58.72).
M-400 - California star Bryshon Nellum improves on his US#1 with 45.38 win
W-400 - Jessica Beard OH wins 400m in 52.12, Breehana Jacobs 3rd in 53.41



Saturday Summaries by Mike Kennedy





Men



400 Meters

Bryshon Nellum, Poly, Long Beach, Ca., had complained of tightness in his legs after the semifinals, Friday, but sure didn't seem to bother him. The future USC Trojan started off conservatively and along with Robert Simmons, Hightower, Sugar Land, Tx., led the field after 100 meters. Nellum, the Gatorade Track and Field Athlete of the Year, then began his build down the back straight, turned away a small challenge from James Gilreath on final turn and finished strongly to win in 45.38, a time that moves him to No. 10 on the all-time high school list. Behind Nellum the battle for the other places was in the outer lanes with Terrell McCombs, Western Kentucky, in lane seven, finishing second in 46.23 and Simmons, in lane six, just edged James Gilreath for fourth, 46.51 to 46.62. For Simmons, it was his third straight personal best that has seen him improve for 47.28 to 46.51 over the past two weeks.

1,500 Meters

Benjamin Blankenship, Stillwater, Minn., the state AA champion at 4:09.10, and Oregon teammates A.J. Acosta and Matt Dettman, pulled a closely bunch pack through the first 400 in 65.1. With two laps to go, the three leading runners were joined by Matt Centrowitz, Broadneck, Annapolis, Md., who earlier in the year ran 4:03.40 for a mile. Then things began to change quickly and with one lap remaining, passed in the 2:53.7, Craig Forys, Colts Neck, N.J. took over the lead, followed by Centrowitz, Acosta and Blankenship. At 1,200 meters, passed in 3:08.2, Samuel Borchers, Yellow Springs, Oh., the state Division III champion who won the mile at Nike Outdoor Nationals last week in 4:03.33, joined the leaders. Coming off the final turn, Acosta, the defending champion, found himself in fourth place, eight meters behind the leaders: Centrowitz , Blankenship and Borchers. He quickly passed the reeling Borchers and the fading Blankenship, but Centrowitz proved to be a much different story. Both runners drove for the finish with Acosta taking a very slight lead with 15 meters remaining then hanging on as Centrowitz, on the inside, made a last second lunge at the tape. Acosta was timed in 3:49.53 and Centrowitz in 3:49.54. Borchers was third in 3:50.23, and Michael Chinchar, Kentwood, Kent, Wa., got up for fourth with Blankenship fifth, 3:51.45 to 3:51.50. Forys finished eighth in 3:52.97.

400-Meter Hurdles

William Wynne, McEachern, Powder Springs, Ga., won but he sure did not make it easy on himself. Johnny Dutch, Clayton, N.C., who had been very impressive in winning his heat in a personal best of 50.97, took the early lead and by the second turn had a five meter lead on field, led by Reggie Wyatt, J.S. North, Riverside, Cal., and a fifteen to twenty meter lead on the favorite Wynne. Entering the final straight, Wynne began to gobble up the track and Dutch until 15 meters from the finish, at which time he passed Dutch and went on to run 49.70 to become the second fastest performer and third fastest performance in high school history. Only Kenneth Ferguson, Mumford, Detroit, Mi., with a 49.38 in 2002 has run faster. Wynne's time is also a junior class record, displacing the 49.77 set by Kerron Clement, LaPorte, Tx., in 2002. Dutch finished in 50.07 to become the eighth best performer of all time. Jason Perez of Houston, ran down a tiring Wyatt to take third, 50.92 to 51.01. Wyatt, who was running in lane seven, appeared to suffer from not having a runner in front of him to help him judge his pacing.



Women



400 Meters

Brandi Cross, South Carolina, who has been injured for part of the season, took the early lead but was quickly pulled in by defending champion Jessica Beard, Euclid, Oh, who went on to successfully defended her title in 52.12. In the battle for second Alishia Usery, McCluer-South Berkeley, St. Louis, Mo., who won the 100, 200 and 400 in her state meet, had the lead for second coming down the final straight but then with 10 meters remaining, first Cross and then Breehana Jacobs, Laurel Highlands, Uniontown, Pa., passed the fading Usery and finish second and third in 53.41 and 53.41, respectively. Usery was timed in 53.55 for fourth.


1,500 Meters

For almost a year now, Jordan Hasay of Mission College Prep in San Louis Obispo, Ca., has been looking for a breakthrough after her sensational freshman year in 2006 when she ran 4:22.37 for 1,500 meters, 4:42.21 for the mile, 9:26.32 for 3,000 meters and 10:07.46 for 3,200 meters. Her times in the 3,000 and 3,200 were national class records. Over this past year Hasay's times have shown just modest improvement with bests of 4:24.2, 4:39.13, 9:26.9 and 10:04.07. All of that changed Saturday in Indianapolis as Hasay dominated a top-flight field of college freshman and high schoolers in winning the 1,500 meters in 4:16.98. The time ranks fourth on the all-time high school list and set a sophomore class record to break the 23-year record of 4:19.96 set by Suzy Favor of Stevens Point, Wi., in the 1984 TAC National Junior championship held in the Los Angeles Coliseum.
The race started out at a moderate pace with Nicole Jones, Houston, and defending champion Danielle Tauro going to the front and passing 400 in 69.1. At this point Hasay was just a few meters behind. With two laps to go, passed in 2:00.59, it was Jones, Tauro and Jessica Pixler of Seattle Pacific beginning to break away but they were joined shortly by Hasay and the group of four went by 800 meters in 2:18.0. The four remained closely bunched for the next 300 but with one lap to go, passed in 3:08.4, Tauro tried to make a break. The move was quickly covered by Hasay who took the lead at 1,200 in 3:24.9, with both runners covering the third 400 in 66.9. Tauro hung tough for the next 200 but coming out of the final turn she began to fade and Hasay pulled away for the win. Tauro showed just how much effort she had expended when see began to stagger in the middle of the stretch, tripped on the curb, stumbled to the track and then recovered to finish sixth in 4:30.24. Behind Hasay and Tauro, Pixler and Jones battled for second with Pixler winning, 4:20.93 to 4:23.35. Sarah McCurdy, Bay Shore, N.Y., who had been near the front pack in the early going, finished fourth in 4:29.38 and Lauren Bonds, Kansas, was fifth at 4:30.22. Hasay has now qualified in both the 1,500 and 3,000 for the World Youth (under 18) Championships in Ostrava, Czech Republic, where she will get a chance to run against some of the best young athletes in the world.

5,000 Meters

Marissa Treece, Glen Lake, Maple City, Mi., opened up a wide margin with a 5:09 first 1600, but by 3,000 meters, passed in 10:04.5, Emily Sisson, Marian, Omaha, Nb., Karen Summers, Ohio U., and Alex Gits, Edina, Mn., were beginning to close on Treece and at 3,200 meters, passed in 10:47.6, all four were running together. At 4,000 meters, passed in 13:35.42, there were just three with Summers dropping off the pace. Treece tried to make a break with 600 meters remaining but could not get away as the three went by 4,600 meters in 15:35 before Sisson and Gitz pulled away with Sisson prevailing, 16:48.67 to 16.50.47. Treece was third in 17:01.76.

400-Meter Hurdles

Queen Harrison of Virginia Tech, running in lane five, ran like a person who had run 55.81 and finished third in the NCAA championships. With an even running style, she took the early lead and began to stretch out down the back straight, Meanwhile in lane three, Ryann Krais, Methacton, Norristown, Pa., the second fastest high school runner this year at 57.26, began to close the margin on Harrison until she had drawn even with Harrison going over the eighth hurdle. Harrison, feeling Krais' presence, reacted quickly and pulled away to win in 56.86. Krais improved her personal best to 57.20 in finishing second and moved past Nicole Leach, West Catholic, Philadelphia, Pa., into eighth place on the all-time high school list. Jacqueline Coward, West, Knoxville, Tn., was in third place for much of the race and finished their in 57.98 to become the 15th prep to break 58 seconds. Jamesha Youngblood of Hercules, was fourth in 58.72 and Tameka Jameson, Roosevelt, Greenbelt, Md., was fifth at 59.28.



US Juniors home page