by Dave Devine
If there was any question of the toll that chasing a four-minute mile took on Sam Borchers and Ben Hubers, there was ample evidence on the infield podium 45 minutes after the race. Completely spent, the two runners were splayed side-by-side across the wooden dais, flat on their backs, awaiting an awards ceremony of which they were barely cognizant.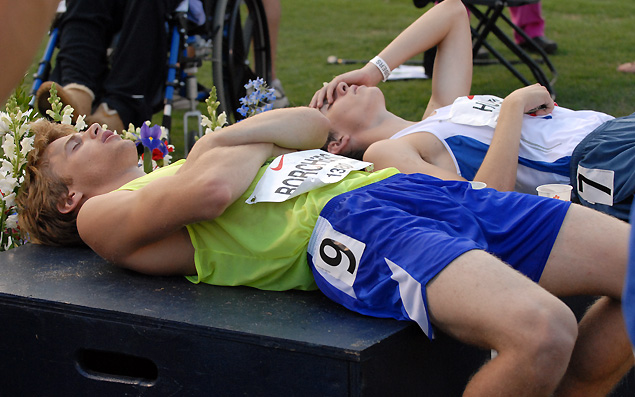 photos by John Dye

Hubers, who'd red-lined the early pace before the effort destroyed him in the last 100 yards, was alarmingly pale, staring dizzily into space with glassed-over eyes. Borchers, who'd bided his time in the opening laps and kicked down Hubers from behind to win in 4:03.33, eventually gathered the strength to stagger to a trash can, where he emptied himself of everything save the lactic acid consuming his legs. Then he gamely wove back across the grass and crumpled once more to the platform. Neither could muster the energy to stand again until their names were announced, and even then, a disoriented Hubers required copious assistance. Such was the damage these two runners wrought on their bodies in the pursuit of an historic pace.



"Slow" section starts the fireworks



It began, of course, not with Hubers and Borchers, but with Evan Jager one heat earlier. Jager, the Illinois senior consigned to the supposedly "slower heat" due to a meet rule that requires an elite athlete to choose between top-level heats if they enter more than one distance race (Jager chose the Friday night two-mile), was intent on dropping a quick time that would still land him on the podium, even if it meant emerging from the second section.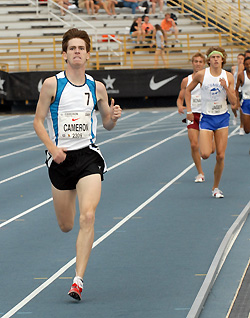 "I figured I'd have to go out and run really hard by myself to get a fast enough time to place," Jager said later. "I wanted to go sub-60 for the first quarter, 2:02 for the half, then push that third lap really hard and bring whatever I had in the last lap." What Jager hadn't figured on was Mississippi senior Matthew Cameron shadowing him for three laps in 3:04.7, then unfurling a long kick just past the bell, threatening to bury Jager on the backstretch. "When I came through in 3:04 I didn't think anyone would be coming on me. I didn't think the 'slow' heat was going to be that fast."



Jager gives "fast" section something to think about



Suddenly ten yards arrears (left) , Jager hung tough through the turn and reclaimed the lost real estate when Cameron's ambitious move returned to haunt him on the homestretch. Jager charged by his struggling opponent to record the 4:05.68 win, then settled in to watch the fast heat and see where his cards fell. Had his blistering time caught the attention of the runners lining up for the final heat? Borchers admitted it had.

"Yeah," he said, "it crossed my mind. But then I stepped up to the start line, knowing that the way I run, I just had to see how the pace went. I think a lot of the guys in the race responded to Jager's going so fast. I think it caused Hubers to go out as fast as he did."




Hubers, expected to be one of Borchers' primary challengers for the title, exploded off the starting line like a man possessed. When he split 58.2 for the first quarter, he'd already gapped the field by nearly 30 yards. Borchers was at the head of the chase pack, starting to wonder if Hubers was coming back.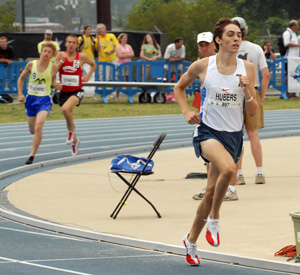 "I remember thinking with two laps to go that maybe I didn't go out fast enough, and maybe he was pulling away for good."

Indeed, Hubers was flying, hitting the half in 1:58.6 and showing no signs of waning. When fellow Ohioan Jake Edwards drew up to Borchers' shoulder, it seemed to tangle the two into a battle for second and left the impression that Hubers might have actually stolen the race, and that he might seriously scare the four-minute barrier.



right, 470 meters to go



As Hubers crossed the three-quarter in 3:00.7, the grandstand was delirious. That's when Borchers, known for his devastating kick, finally made his move.



Would Borchers' famous kick fail him?



"The only reason they say that [about my kick] is because it's never failed, but I'm always worried that I'll get to 300 to go and I won't have it...I just started to focus on trying to reel him in and I managed to pull that off. With 200 to go I evened up with him."

Borchers flew down the backstretch, risking several glances back at Edwards as he closed on Hubers, and for the second time in as many days, the Nike Outdoor Nationals had a pair of contenders rounding the final turn with both a race and an historic mark on the line.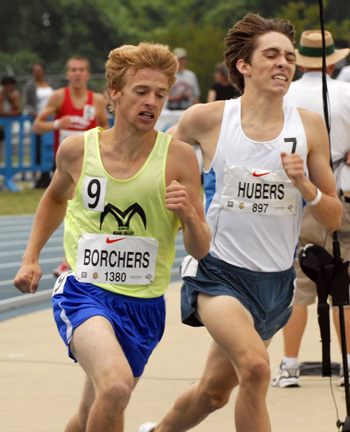 As they reached the top of the straight, however, (left) it was clear that both Hubers and Borchers were suffering for the ambitious pace. Arms flailing, Borchers slipped past a fading Hubers and then willed his body toward a line that wasn't nearly close enough.

"I saw the clock tick down," he said. "Three fifty-eight, three fifty-nine, four-flat...it was tough, but I was just relieved that I pulled off the victory. I'm not upset about missing [a sub-4 mile] at all."

With Borchers breaking the tape in 4:03.33, and Hubers a few strides back in 4:04.98, the race still went down as the #5 high school-only mile in US history. Jager's gritty 4:05.68 from the prior section did indeed hold up for a bronze medal, while Cameron's 4:07.32 runner-up to Jager bumped top heat third-placer Edwards to fifth overall at 4:08.02. In all, an impressive twelve runners ended up at 4:10 or better for the full mile.




NIN Saturday page - NIN home page