June 15, 2007 Greensboro NC



DyeStat on-site coverage


| | |
| --- | --- |
| | Girls Saturday Distances |



Chanelle Joins The Legends





Saturday Girls Distance Stories by SteveU



Girls 800: Chanelle Joins The Legends - Mile: Morgan's Patience Wins - 2k ST: Davidson is Back

800 megastar Chanelle Price PA's 2:02.76 "Felt" Like a Record as She Moves to #4 All-Time

There aren't too many events where you can move to "just" #4 on the all-time list and still achieve a legendary, almost mystical status. But Kim Gallagher's 2:00.07 800 HSR is just so far out there, Mary Decker (2:02.29) is one of the great legends of the sport, and Robin Campbell (2:02.40) was a very special prodigy, as well. No one has cracked 2:03 in 25 years and, in fact, Rebekah Noble's 2:03.73 two years ago is the only sub-2:04 since '82.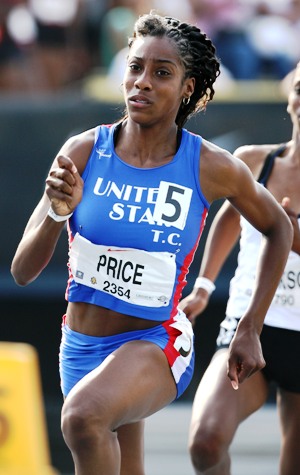 Vic Sailer, photorun.net


So what Chanelle Price did Saturday was very, very special. And if it "felt" like a record … well, it should have.

Although Price has the ability and sense for good, even pacing, she often abandons this if she is so moved. It's not a lack of control, as is the case with other runners, but doing purposefully doing what feels natural and what will benefit her in the big picture. So it was that she shot out into the lead from the start. Only a smidgeon slower than her flat 400 PR pace, she crossed 200 in 27.1. Sarah Cocco CO was also going for a very fast time, but even she only dared stay within about 30 meters of Chanelle at that point.

Price was 57.0 at 400 and now would begin her battle against fatigue and oxygen debt. Although a slowdown was inevitable, Price is one of the best in any event at holding form and minimizing the "positive" splits. She hit a mind-boggling 1:28.7 and the crowd, urging her on the whole way and now reaching a fever pitch (helped on by announcing), urged her home. She finally began to pay the price, but closed just hard enough to break that 2:03 barrier.

Behind Price, Cocco had suffered for trying to just stay within shouting distance early and would fade to 2:08.43 and 6th. But the group behind that, running more their own pace and perhaps still benefiting from Price's stream, hit some impressive times; Dominque Jackson CA ducked under 2:06 with her PR 2:05.43 and Sarah McCurdy NY had a big breakthrough to 2:06.96. In the next-to-last section, Christal Washington FL had won a fine battle with Emma Miller-Bedell NY and hit a stunning 2:05.83 herself, surely the best non-seeded-final effort ever here, giving the meet three sub-2:06s.

But Price was in a galaxy all her own, and afterward she made it clear her early pace was not undisciplined folly, but a confident pushing of the limits as she prepares for bigger and better things – such as the USATF meet next weekend. No, Price is not going for a junior title; she's racing the big girls.

"That's how I like to run," she said, before admitting, "I was looking for 58 or 59, so 57 was a little shocking.

"But I just went after it," she added. "I just went all out and the crowd was really into it from the first lap. If it was not for the crowd, I would not have gone as fast."

Her goal was originally 2:02-03 this year, but she confessed, "Now I've changed it to 2-flat or better."




The Mile – Morgan's Patience Wins Battle of Ohio



Emily Infeld took control of the girls seeded mile from the start (72.1 440); Stephanie Morgan waited. The pace lagged a little bit in the 2nd lap (2:25.0 880); Stephanie Morgan waited. Infeld accelerated in the third lap, trying to start her winning drive; Stephanie Morgan waited.

And when Cory McGee MS made what looked like it could have been the winning move on the backstretch of the final lap (after 3:36.0 1320), Stephanie Morgan waited some more.


Stephanie Morgan, Emily Infeld, Cory McGee in the stretch run of the mile. Vic Sailer, photorun.net




This was going to be no repeat of the Penn Relays mile for the Barnesville OH soph, where she tried a long drive at the wrong time and got overtaken by Samantha McMillan UT in the homestretch. When the homestretch arrived this time, there was only one person who had a move left to make, and it was Morgan. Arms and knees pumping, she displayed her refined kick and completed a year-long rise to the top with the win in 4:46.31.

Infeld, whose 4:41 coming in was the top seed and four seconds better than Morgan's state meet time in a different class, came back to 2nd in 4:47.96, just ahead of McGee's 4:48.32. 5k winner Marissa Treece MI was 4th in 4:50.12.

"I didn't really know I would get it, coming in," said the winner afterwards. "Once it started, I felt like we were running a fast pace, but we weren't. And it turned out no one really wanted to run hard.

"But really, the whole plan was to sit and wait," she continued. "I was a little worried about what the pace would be, but I was surprised how it turned out. Coming right off the turn, I knew I had it."

The year started out as a real challenge for Stephanie, as her family moved from Clarkston MI – where she was the top returnee for a team with a national powerhouse pedigree – to Barnesville, a smaller school without such a track record. But the family was not going to leave their daughter's progress to chance. Bill and Susan Morgan, Steph's parents, were both outstanding runners in school and their four daughters have all excelled, including Jenny, a multiple state champ now at U. of Michigan. Susan stepped in to help coach Steph and, after an up-and-down fall, Steph has been on an elevator ride toward the top, with top performances in the Kentucky Indoor Invite (4:57.18y), Nike Indoor (4:53.13y), Penn (4:51.25y), the Ohio State Meet (4:45.21), and finally here.

"We really learned from Penn," said Coach Morgan. "We talked a lot about patience coming in."

Like Stephanie, favorite Emily Infeld also felt like the pace was harder than it really was, but wasn't able to overcome that in the end. "It was a hard race," she said. "My legs just didn't feel right. I tried to push the pace, then I tried to pick it up again and my legs just wouldn't go."

In the end, it was Morgan's legs that went the best. Sure, the race didn't have the notoriety and face value it would have if sub-4:40 types Danielle Tauro, Alex Kosinski, Jordan Hasay, and Christine Babcock had been in the race. Even with 10 seconds of improvement this spring, Team Morgan knows they aren't quite there yet.

But winning a national title is also about survival, and for whatever reason – injury or choice – the others didn't make it to the line. And being the best is about making it to the line … and winning.




Girls Steeplechase: Davidson Back in Great Form Again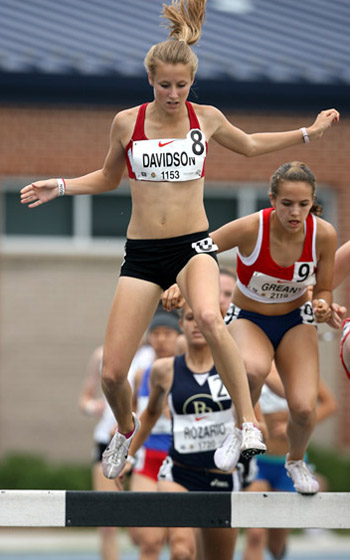 Hannah Davidson, Shelby Greany. Vic Sailer, photorun.net


If one of the questions that's risen in your mind this year has been "Whatever happened to Saratoga?" you're probably not alone. The school has been one of the top distance powers, especially for girls, for years. But graduation, transfers, injuries and inconsistency has taken Toga out of the national spotlight. Their best runner, Hannah Davidson, had some superb races last fall, but the season did not end well and she's been inconsistent in track.

Well, welcome back, Hannah. In a 2k steeplechase where Colts Neck NJ sr and US#2 Ashley Higginson got all of the pre-meet attention, it was Davidson who waged a gritty battle with Suffern NY soph Shelby Greany and finally emerged on top with her kick in the homestretch.

In winning, Davidson clocked a US#1 6:43.73, eclipsing her own PR of 6:48.64 (US freshman record) from '05. Greany's 6:44.43 is a US soph record and Higginson gradually got into third and hit 6:46.67. She was followed by Emma Coburn CO 6:47.39 and Catherine White VA 6:48.91. It was the first time five had beaten 6:50 in one race.

"It was really exciting," said a delighted Davidson. "My steeple has been off on the water jump and I've been working on trying to get it right. It still wasn't right today, but better. After the first couple of laps, it started to get hard. But Shelby and I pushed each other all the way."

"I never run any way other than to go all out," said Greany. "But Hannah had an amazing run."

To be fair to Higginson, she had won the previous night's 2-mile with a powerful finish, then clicked off a 5:04 anchor for her team in the morning's 4x 1Mile. But experience counts in the steeple as much as any event out there, and Higginson said she was reluctant to go out too fast or mix it up near the front over the barriers with the leaders. "I got a PR, so I can't be too disappointed," she said. With a smile, she added, "I'm not Mel Lawrence!"

Neither Davidson or Greany, as it turned out, came back to her. Higginson's time, in just her 2nd attempt at the event ever, was still exceptional.

But so was Davidson's. In the past, she hasn't always been the best at battling back when she's been passed, but she never gave in to Greany and looked as strong as she ever has. Hopefully the win will give her increased confidence going into what could be a wonderful senior year.


NON Index