by Elliot Denman


National Scholastic Sports Foundation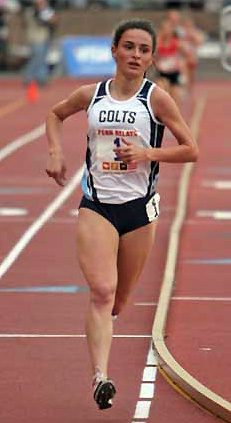 Ashley Higginson had reached the point of no return - the first water jump in the first steeplechase race of her life.
"I looked down, and wow, it was like a lake," she remembers.
Sure enough, she took a tumble and wound up taking a bit of a bath. But, like so many champions of track and field, she wasn't about to stay down and feel sorry for herself.
The Colts Neck High School senior - already one of the most celebrated distance runners in New Jersey history, as a five-time All-American, two-time Penn Relays champion, and Nike Team Nationals XC titlist - pulled herself out of the drink and got back in the race.
And, yep, she went on to win this one, too.
left, Higginson winning Penn Relays 3000 in April - photo by John Nepolitan
Sets New Jersey record in first try
Steeplechasing opportunities for high school runners are extremely rare in New Jersey - as they are in much of the rest of the nation - but fortunately this early May meet, the Rowan University Open, was held at the RU track in Glassboro, N.J. where 'steepling is a standard. And that's how the renowned Ms. Higginson got to post a 6:50.39 time that was a New Jersey State all-time best and held up as the national leader for much of the spring season.
The Princeton-bound Higginson gets to run the second steeplechase of her life at the Nike Outdoor Nationals, where it will the third racing assignment of her busy-busy weekend at North Carolina A&T University's Irwin Belk Track and Field Complex.
She'll run the individual two-mile Friday night, the four-mile relay bright and early Saturday morning, and - after an ice bath to revivify aching muscles - the 2000 'chase Saturday afternoon. Barring any kind of disaster in one of her earlier assignments, Higginson comes into the NON steeplechase as a leading gold-medal candidate. Yes, even though the sum total of her steeple-racing experience was that one race at Rowan.
Jim Schlentz, her Colts Neck High School coach, is one of the most renowned scholastic distance mentors in the nation. He's coached on every level of the sport, including assignments at Wagner College of Staten Island and LaSalle University of Philadelphia. He also happens to have been a steeplechaser himself, with a personal-best clocking of 9:17 just after his graduation from Springfield College.
So Higginson, along with each of her four-mile relay team partners, Villanova-bound senior Kristen O'Dowd, junior Allison Linnell and sophomore Allie Flott, will be "going for it" over the 30-inch barriers in Greensboro.
"Our kids love cross country, they love running through the mud, they love running through the water, so the next thing to do was the steeplechase," explained Schlentz.
"They'd been asking to do it for a while. The deal was that, if they could learn how to hurdle with both legs, so whatever leg came up they wouldn't have to stutter-step, I'd let them do it.
"So all four learned how to do it.
"Ashley went out and ran it (at Rowan) and so did Allie Flott, and next day I asked, 'so what did you think?'
Tomorrow is now
"And both of them said 'I want to run another one - tomorrow.' " "Tomorrow" translated to June 16 and here they'll be in Greensboro. "The bottom line in the steeplechase is that you have to be able to alternate(lead) legs, because you never know when the barriers are coming up" Schlentz emphasizes. " Even if your weak(er) leg isn't great, you're still not doing that slowdown. You're keeping your momentum.
"Girls have a special problem in the steeplechase, too, because (lacking the altitude boys gain over three-foot barriers) they go down deeper, way deeper, into the (water) pit. Just one more thing to deal with." A winner over land and water, and a former soccer star (for the age-group Marlboro Vipers) before she reached high school, Higginson recognizes that "the steeplechase takes a lot more athleticism (than standard flat racing events.)
"Mentally and physically, it just involves more. "It definitely takes a lot of energy. And it definitely makes me excited"
MEL won't be in Greensboro
The Greensboro steeplechase, however, will not involve Reno High School senior Marie Elizabeth Lawrence - best known by her initials. MEL.
Lawrence, troubled by tendinitis of her left knee much of the spring, will sit this one out as she builds to the start of her career at the University of Washington. Greensboro fans will long remember the sensational finish she put on at the 2006 Nike Outdoor Nationals, which brought her from out of the pack to a decisive victory over Kinetic Track Club's Lindsay Ferguson and a national and meet-record performance of 6:35.63.
Ferguson had set a National mark of 6:36.05 just one weekend earlier winning the New York State title, but settled for second in this one in 6:45.46. Next in line were Kinetic's Hannah Davidson (6:58.79) and East Syracuse, NY's Leah Adrianos (7:14.33.) "I really wanted to finish up (my high school career) in North Carolina, but it just wasn't to be," said Lawrence, whose athletic career began as an age-group diver.
"I got my start in the steeplechase back in my Junior Olympic days,running with the Silver State Striders." Her first race at her new event produced a clocking of "seven something" in a summer meet at Eugene, Oregon and she soon was hooked on the event.
A trip to the 2005 Pan American Junior Championships in Canada produced a silver medal back of a Brazilian star, providing even more encouragement. And, after setting a U.S. high school record of 10:15:26 for the 3,000-meter steeple at the USATF Juniors in Indianapolis, she went on to place 10th in the World Junior finals in Beijing, China last August.
Knowing that so many of these races aren't decided until the homestretch, a special part of her training at Reno - with coach Bruce Susong - featured rehearsals of her last-barrier finishing burst over the final 300 meters. It certainly paid off at Greensboro in 2006 as she blasted away from Ferguson.
Just like Higginson, Lawrence has been a big-time winner over dry land.Even though she's never come home with a gold medal, she ranks as the most successful girls runner in the history of the Foot Locker National Cross Country Championships.
"With three straight seconds (2003-4-5) and a fifth in 2006, that's a total of just 11 over four years," lauds Susong. "No one else is even close - or may ever be."
New Yorkers will challenge
A top new steepling prospect emerged when Liz Deir of Honeoye Falls won the New York State 2,000 title in 6:48.68 last weekend. Other New Yorkers - Shelby Greaney, Nicole Rozario and Jillian King - occupy prominent roles on the 2007 year list.
So the 2007 Greensboro 'chase again figures to be a good one. The event has been on the NON program since 2001 - first winner was Liz Gesel of Manchester, NH in 6:52.25 - but now these young ladies have a huge target beyond the high school ranks.
The 3,000-meter steeplechase made its debut on the IAAF World Championships program at Helsinki in 2005, and returns to the Worlds card at Osaka this August, all a warmup before the first women's Olympic steeplechase race at Beijing in 2008.
Barring something totally incredible, don't expect any of these 2007 NON 'chasers to make it to Beijing next year. But London 2012, that's a very different story.