Results
Spencer McCorkel AR 16-07.50

Shade Weygandt TX 13-02.50






In an "ugly" competition, Shade Weygandt had the prettiest result -- leaping with joy after her winning jump.





photo by John Dye




photo by Vic Sailer

Results
Girls
Boys Summary by Pete Cava

Spencer McCorkel (Bryant, AR) passed through the first three heights, entering the competition when the bar reached 16-3.5. McCorkel, the national prep leader, promptly missed on his first two attempts. He made it on his final try, then cleared 16-7.5 on his first try.
By now, only McCorckel and Casey Roche (Mountain View, CA) were the last men standing. Michael Uhle (Powell, OH) had gone out after clearing 16-3.5, with Jason Pelletier (McCorkel's teammate at Bryant, Ark. High School) locked up in fourth at 15-9.75 on fewer misses.
Roche had two misses at 16-7.50, and when both vaulters failed on all three tries at 16-11.5, McCorkel wrapped up the title.
""I really didn't jump as well as I would like,"" he said. ""It was one of those meets when things didn't go right for me. The fact I won was amazing to me. I was able to make a couple of good jumps that were good enough to win, I guess. "Everyone comes in thinking that you're automatically going to have it because it's a national meet. But when you win despite being a foot off your PR, I guess it's all bittersweet. Getting the gold makes it worthwhile.""
 C.F.P.I. Timing & Data 
             Nike Outdoor Nationals - 6/14/2007 to 6/16/2007              
                      Results at www.cfpitiming.com                       
              North Carolina A+T University, Greensboro, NC               
 
Event 41  Boys Pole Vault
==========================================================================
    National: $    18-03  6/15/2003   Tommy Skipper, Sandy, OR            
        Meet: #    17-03  6/17/2006   Mike Morrison, Chesapeake, VA       
    Freshman:   16-03.25  1987        Jayson Lavender, Wichita Falls, TX  
   Sophomore:      17-06  1994        Jacob Davis, Orangefield, TX        
      Junior:   17-07.25  6/2/2002    Tommy Skipper, Sandy, OR            
      Senior:      18-03  6/15/2003   Tommy Skipper, Sandy, OR            
    Name                    Year School                  Finals           
==========================================================================
Flight  1                                                                 
  1 Michael Uhle              07 Powell, OH               4.97m   16-03.50
     4.37 4.52 4.67 4.82 4.97 5.03                                        
        O    O  XXP    O    O  XXX                                        
  2 Jason Pelletier              AR, AR                   4.82m   15-09.75
     4.37 4.52 4.67 4.82 4.97                                             
        P  XXO  XXO   XO  XXX                                             
  3 Tony Shirk                08 Phoenixville, PA         4.67m   15-03.75
     4.37 4.52 4.67 4.82                                                  
        O    O   XO  XXX                                                  
  3 Riley Egan                08 Fort Lauderdale, FL      4.67m   15-03.75
     4.37 4.52 4.67 4.82                                                  
        O    O  XXO  XXX                                                  
  3 Matt Shuler               07 West Columbia, SC        4.67m   15-03.75
     4.37 4.52 4.67 4.82                                                  
       XO   XO    O  XXX                                                  
  6 Samuel Ewing              10 Glenwood, AR             4.52m   14-10.00
     4.37 4.52 4.67                                                       
       XO    O  XXX                                                       
  6 Wes Kavelaris             07 Hartland, WI             4.52m   14-10.00
     4.37 4.52 4.67                                                       
        O    O  XXX                                                       
  6 Kyle Duggan               07 Staten Island, NY        4.52m   14-10.00
     4.37 4.52 4.67                                                       
      XXO   XO  XXX                                                       
  9 Michael Yassay            07 Northville, MI           4.37m   14-04.00
     4.37 4.52                                                            
       XO  XXX                                                            
  9 Matt Alexander            08 Tolland, CT              4.37m   14-04.00
     4.37 4.52                                                            
       XO  XXX                                                            
  9 John Ellis                08 Caddo Gap, AR            4.37m   14-04.00
     4.37 4.52                                                            
      XXO  XXX                                                            
  9 Calvin Cammack            07 Sturgis, SD              4.37m   14-04.00
     4.37 4.52                                                            
       XO  XXX                                                            
  9 David Slovenski           08 Brunswick, ME            4.37m   14-04.00
     4.37 4.52                                                            
        O  XXX                                                            
  9 Ryan Oakes                08 Jacksonville, NC         4.37m   14-04.00
     4.37 4.52                                                            
      XXO  XXX                                                            
  9 Cort Rogers               07 Whitefish, MT            4.37m   14-04.00
     4.37 4.52                                                            
        O  XXX                                                            
 -- Zach Meverden             07 Wexford, PA                 NH           
     4.37                                                                 
      XXX                                                                 
 -- Derek Hopkins             08 Toledo, OH                  NH           
     4.37                                                                 
      XXX                                                                 
 -- Cameron Pierson           08 Bernville, PA               NH           
     4.37                                                                 
      XXX                                                                 
 -- Hunter Potalivo           07 Summer Land Key, FL         NH           
     4.37                                                                 
      XXX                                                                 
 -- Michael Seaman            07 Bardstown, KY               NH           
     4.37                                                                 
      XXX                                                                 
 -- Dillard Glass             07 Gonzales, TX                NH           
     4.37                                                                 
      XXX                                                                 
 -- Aaron Zakula              09 Walkertown, NC              NH           
     4.37                                                                 
      XXX                                                                 
 -- Andrew LaHaye             08 Altamonte Springs,          NH           
     4.37                                                                 
      XXX                                                                 
 -- Tim Beierle               07 Harrisonburg, VA            NH           
     4.37                                                                 
      XXX                                                                 
 -- Jaquon Pegues             09 Cheraw, SC                  NH           
     4.37                                                                 
      XXX                                                                 
 -- Matthew Armentrout        09 Glen Allen, VA              NH           
     4.37                                                                 
      XXX                                                                 
 -- Greg Stripe               08 Mahwah, NJ                  NH           
     4.37                                                                 
      XXX                                                                 
 -- William Sumser            07 Bellevue, OH                NH           
     4.37                                                                 
      XXX                                                                 
 -- John Ellingson            07 Silverton, OR               NH           
     4.37 4.52 4.67                                                       
        P    P  XXX                                                       
 -- Mike Mendelsohn           08 Danbury, CT                 NH           
     4.37                                                                 
      XXX                                                                 
 -- Stephen Hodapp            09 Matthews, NC                NH           
     4.37                                                                 
      XXX                                                                 
 -- Colson Marsh              07 orlando, FL                 NH           
     4.37                                                                 
      XXX                                                                 
 -- Adam Reed                 07 Watkinsville, GA            NH           
     4.37                                                                 
      XXX                                                                 
 -- Matthew Rudin             07 Middleburg Heights,        DNS           
 -- Joseph Bredahl            07 Bismarck, ND               DNS           
 -- Michael Martin            07 Buford, GA                 DNS           
 -- Robert Rasnick            07 Uniontown, OH              DNS           
 -- Paul Bunyan               08 Tewksbury, MA              DNS           
 -- Matthew Fisher            07 Byron Center, MI           DNS           
 -- Dason Tinkham             07 Owego, NY                  DNS           
 -- Andrew Orlandi            07 Staten Island, NY          DNS           
Flight  2                                                                 
  1 Spencer McCorkel          07 Bryant, AR               5.07m   16-07.50
     4.52 4.67 4.82 4.97 5.07 5.17                                        
        P    P    P  XXO    O  XXX                                        
  1 Casey Roche               07 Mountain View, CA        5.07m   16-07.50
     4.52 4.67 4.82 4.97 5.07 5.17                                        
        P  XXO    O   XO   XO  XXX                                        
  3 Mitchell Erickson         08 Steger, IL               4.82m   15-09.75
     4.52 4.67 4.82                                                       
        P    O  XXO                                                       
  3 Logan Lynch               07 Lambertville, MI         4.82m   15-09.75
     4.52 4.67 4.82 4.97                                                  
        P    O  XXO  XXX                                                  
  5 Nick David                07 Mt. Sinai, NY            4.67m   15-03.75
     4.52 4.67 4.82                                                       
      XXO  XXO  XXX                                                       
  5 Parker Smith              07 Highlands Ranch, CO      4.67m   15-03.75
     4.52 4.67 4.82                                                       
        O   XO  XXX                                                       
  7 Justin Germani            07 Birdsboro, PA            4.52m   14-10.00
     4.52 4.67                                                            
      XXO  XXX                                                            
  7 Kyle Gann                 07 Kokomo, IN               4.52m   14-10.00
     4.52 4.67                                                            
       XO  XXX                                                            
 -- Scott Houston             08 Oak Ridge, NC               NH           
     4.52                                                                 
      XXX                                                                 
 -- Blaine Bassler            08 West, TX                    NH           
     4.52 4.67                                                            
        P  XXX                                                            
 -- Lee Miller                07 Bellevue, OH                NH           
     4.52                                                                 
      XXX                                                                 
 -- Joseph Farley             07 Aledo, TX                   NH           
     4.52 4.67 4.82                                                       
        P    P  XXX                                                       
 -- Chris Roy                 07 Breaux Bridge, LA           NH           
     4.52 4.67                                                            
        P  XXX                                                            
 -- Cameron Cheek             07 Lavonia, GA                 NH           
     4.52 4.67                                                            
        P  XXX                                                            
 -- Corey Shank               09 Fort Wayne, IN             DNS           
 -- Sam Kranz                 07 Sugar Grove, IL            DNS           
 -- Kevin Schipper            08 Leo, IN                    DNS           
==========================================================================
    Name                    Year School                  Finals           
==========================================================================
Finals                                                                    
  1 Spencer McCorkel          07 Bryant, AR               5.07m   16-07.50
     4.52 4.67 4.82 4.97 5.07 5.17                                        
        P    P    P  XXO    O  XXX                                        
  2 Casey Roche               07 Mountain View, CA        5.07m   16-07.50
     4.52 4.67 4.82 4.97 5.07 5.17                                        
        P  XXO    O   XO   XO  XXX                                        
  3 Michael Uhle              07 Powell, OH               4.97m   16-03.50
     4.37 4.52 4.67 4.82 4.97 5.03                                        
        O    O  XXP    O    O  XXX                                        
  4 Jason Pelletier              AR, AR                   4.82m   15-09.75
     4.37 4.52 4.67 4.82 4.97                                             
        P  XXO  XXO   XO  XXX                                             
  5 Logan Lynch               07 Lambertville, MI         4.82m   15-09.75
     4.52 4.67 4.82 4.97                                                  
        P    O  XXO  XXX                                                  
  5 Mitchell Erickson         08 Steger, IL               4.82m   15-09.75
     4.52 4.67 4.82                                                       
        P    O  XXO                                                       
  7 Matt Shuler               07 West Columbia, SC        4.67m   15-03.75
     4.37 4.52 4.67 4.82                                                  
       XO   XO    O  XXX                                                  
  8 Tony Shirk                08 Phoenixville, PA         4.67m   15-03.75
     4.37 4.52 4.67 4.82                                                  
        O    O   XO  XXX                                                  
  8 Parker Smith              07 Highlands Ranch, CO      4.67m   15-03.75
     4.52 4.67 4.82                                                       
        O   XO  XXX                                                       
 10 Riley Egan                08 Fort Lauderdale, FL      4.67m   15-03.75
     4.37 4.52 4.67 4.82                                                  
        O    O  XXO  XXX                                                  
 11 Nick David                07 Mt. Sinai, NY            4.67m   15-03.75
     4.52 4.67 4.82                                                       
      XXO  XXO  XXX                                                       
 12 Wes Kavelaris             07 Hartland, WI             4.52m   14-10.00
     4.37 4.52 4.67                                                       
        O    O  XXX                                                       
 13 Samuel Ewing              10 Glenwood, AR             4.52m   14-10.00
     4.37 4.52 4.67                                                       
       XO    O  XXX                                                       
 14 Kyle Gann                 07 Kokomo, IN               4.52m   14-10.00
     4.52 4.67                                                            
       XO  XXX                                                            
 15 Kyle Duggan               07 Staten Island, NY        4.52m   14-10.00
     4.37 4.52 4.67                                                       
      XXO   XO  XXX                                                       
 16 Justin Germani            07 Birdsboro, PA            4.52m   14-10.00
     4.52 4.67                                                            
      XXO  XXX                                                            
 17 Cort Rogers               07 Whitefish, MT            4.37m   14-04.00
     4.37 4.52                                                            
        O  XXX                                                            
 17 David Slovenski           08 Brunswick, ME            4.37m   14-04.00
     4.37 4.52                                                            
        O  XXX                                                            
 19 Matt Alexander            08 Tolland, CT              4.37m   14-04.00
     4.37 4.52                                                            
       XO  XXX                                                            
 19 Calvin Cammack            07 Sturgis, SD              4.37m   14-04.00
     4.37 4.52                                                            
       XO  XXX                                                            
 19 Michael Yassay            07 Northville, MI           4.37m   14-04.00
     4.37 4.52                                                            
       XO  XXX                                                            
 22 John Ellis                08 Caddo Gap, AR            4.37m   14-04.00
     4.37 4.52                                                            
      XXO  XXX                                                            
 22 Ryan Oakes                08 Jacksonville, NC         4.37m   14-04.00
     4.37 4.52                                                            
      XXO  XXX                                                            
 -- Colson Marsh              07 orlando, FL                 NH           
     4.37                                                                 
      XXX                                                                 
 -- William Sumser            07 Bellevue, OH                NH           
     4.37                                                                 
      XXX                                                                 
 -- Adam Reed                 07 Watkinsville, GA            NH           
     4.37                                                                 
      XXX                                                                 
 -- John Ellingson            07 Silverton, OR               NH           
     4.37 4.52 4.67                                                       
        P    P  XXX                                                       
 -- Chris Roy                 07 Breaux Bridge, LA           NH           
     4.52 4.67                                                            
        P  XXX                                                            
 -- Mike Mendelsohn           08 Danbury, CT                 NH           
     4.37                                                                 
      XXX                                                                 
 -- Tim Beierle               07 Harrisonburg, VA            NH           
     4.37                                                                 
      XXX                                                                 
 -- Aaron Zakula              09 Walkertown, NC              NH           
     4.37                                                                 
      XXX                                                                 
 -- Andrew LaHaye             08 Altamonte Springs,          NH           
     4.37                                                                 
      XXX                                                                 
 -- Stephen Hodapp            09 Matthews, NC                NH           
     4.37                                                                 
      XXX                                                                 
 -- Greg Stripe               08 Mahwah, NJ                  NH           
     4.37                                                                 
      XXX                                                                 
 -- Matthew Armentrout        09 Glen Allen, VA              NH           
     4.37                                                                 
      XXX                                                                 
 -- Derek Hopkins             08 Toledo, OH                  NH           
     4.37                                                                 
      XXX                                                                 
 -- Dillard Glass             07 Gonzales, TX                NH           
     4.37                                                                 
      XXX                                                                 
 -- Zach Meverden             07 Wexford, PA                 NH           
     4.37                                                                 
      XXX                                                                 
 -- Michael Seaman            07 Bardstown, KY               NH           
     4.37                                                                 
      XXX                                                                 
 -- Hunter Potalivo           07 Summer Land Key, FL         NH           
     4.37                                                                 
      XXX                                                                 
 -- Jaquon Pegues             09 Cheraw, SC                  NH           
     4.37                                                                 
      XXX                                                                 
 -- Joseph Farley             07 Aledo, TX                   NH           
     4.52 4.67 4.82                                                       
        P    P  XXX                                                       
 -- Scott Houston             08 Oak Ridge, NC               NH           
     4.52                                                                 
      XXX                                                                 
 -- Lee Miller                07 Bellevue, OH                NH           
     4.52                                                                 
      XXX                                                                 
 -- Blaine Bassler            08 West, TX                    NH           
     4.52 4.67                                                            
        P  XXX                                                            
 -- Cameron Pierson           08 Bernville, PA               NH           
     4.37                                                                 
      XXX                                                                 
 -- Cameron Cheek             07 Lavonia, GA                 NH           
     4.52 4.67                                                            
        P  XXX                                                            
 -- Matthew Fisher            07 Byron Center, MI           DNS           
 -- Joseph Bredahl            07 Bismarck, ND               DNS           
 -- Robert Rasnick            07 Uniontown, OH              DNS           
 -- Dason Tinkham             07 Owego, NY                  DNS           
 -- Michael Martin            07 Buford, GA                 DNS           
 -- Andrew Orlandi            07 Staten Island, NY          DNS           
 -- Matthew Rudin             07 Middleburg Heights,        DNS           
 -- Kevin Schipper            08 Leo, IN                    DNS           
 -- Paul Bunyan               08 Tewksbury, MA              DNS           
 -- Corey Shank               09 Fort Wayne, IN             DNS           
 -- Sam Kranz                 07 Sugar Grove, IL            DNS   
Girls Summary By Elliott Denman

When Shade Weygandt sailed up and over 13 feet, 2 inches, and top rivals Stephanie Duffy and Rachel Lauent failed to squirm over, this one was history.
Weygandt, the celebrated Mansfield, Texas sophomore, took this Nike Outdoor title after falling just a tad short at Nike Indoors at Landover, settling for the silver, in March.
Keep this up and some people will soon start calling Weygandt - maybe, just maybe - a future Stacy Dragila. Weygandt's 13-7 in May set the national sophomore record. Her 13-2.50 here equaled the meet record set by Katie Veith here in 2006. Next year's first target: Veith's junior-class national record set in 2006.
Monroe, NY senior Duffy claimed second over Houma, Louisiana's Rachel Laurent -who'd beaten Weygandt at Landover- after both went 12-10.75. It took a check of the cards -Duffy clearing 12-4 .75 on first attempt while Laurent needed a third attempt- to separate these two.
"I really thought I had things under control during warmups, but I struggled after that," said Weygandt. "Toward the end, I started getting my rhythm back, but I think all of our jumps were affected by a strong head wind.
"It's always harder for me to get used to the colder weather because I'm from Texas. Last year I didn't bring in sweatpants and I paid for it. This year I brought sweats, but I still struggled getting used to the weather. I'm happy with winning today. I really got through the conditions so I'm happy with that. I bailed out on
some of my jumps, I just need to come back strong for Nike Indoor (in March 2008)."

Shade Weygandt - photo by Vic Sailer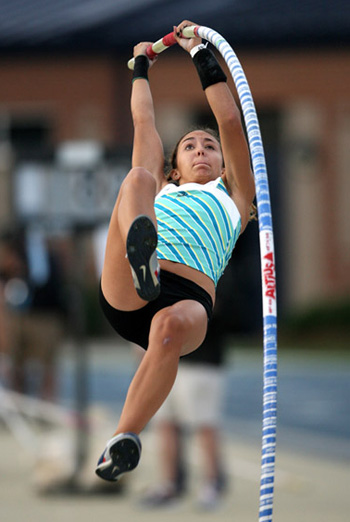 C.F.P.I. Timing & Data 
             Nike Outdoor Nationals - 6/14/2007 to 6/16/2007              
              North Carolina A+T University, Greensboro, NC               
 
Event 42  Girls Pole Vault
==========================================================================
    National: $ 14-01.25  6/10/2007   Tori Anthony, Castilleja, Palo Alto,
        Meet: # 13-02.50  6/16/2006   Katie Veith, Homestead,Ft Wayne,IN  
    Freshman:      12-09  2006        Shade Weygandt, Mansfield, TX       
   Sophomore:      13-07  5/12/2007   Shade Weygandt, Mansfield, TX       
      Junior:      13-09  5/23/2006   Katie Veith, Homestead,Ft Wayne,IN  
      Senior:   14-01.25  6/10/2007   Tori Anthony, Castilleja, Palo Alto,
    Name                    Year School                  Finals           
==========================================================================
Flight  1                                                                 
  7 Morgann LeLeux            11 New Iberia, LA           3.63m   11-10.75
     3.48 3.63 3.78                                                       
       XO   XO  XXX                                                       
  9 Amy Morrison              07 Fenton, MI               3.63m   11-10.75
     3.48 3.63 3.78                                                       
        O  XXO  XXX                                                       
 11 Anne Marie Gordon         07 Richmond, VA             3.63m   11-10.75
     3.48 3.63 3.78                                                       
       XO  XXO  XXX                                                       
 13 Erica Penk                07 Dacula, GA               3.48m   11-05.00
     3.48 3.63                                                            
        O  XXX                                                            
 13 Ashley Furlong            07 Manahawkin, NJ           3.48m   11-05.00
     3.48 3.63                                                            
        O  XXX                                                            
 13 Karley King               09 New Iberia, LA           3.48m   11-05.00
     3.48 3.63                                                            
        O    X                                                            
 13 Courtney Siebenaller      08 Toledo, OH               3.48m   11-05.00
     3.48 3.63                                                            
        O  XXX                                                            
 13 Rebecca Pilkerton         08 Ann Arbor, MI            3.48m   11-05.00
     3.48 3.63                                                            
        O  XXX                                                            
 13 Morgan Toone              09 Belton, TX               3.48m   11-05.00
     3.48 3.63                                                            
        O  XXX                                                            
 13 Allie Nicosia             08 Aiken, SC                3.48m   11-05.00
     3.48 3.63                                                            
        O  XXX                                                            
 13 Abby Shanahan             07 Caledonia, MI            3.48m   11-05.00
     3.48 3.63                                                            
        O  XXX                                                            
 22 Christy Ohmott            08 Hatboro, PA              3.48m   11-05.00
     3.48 3.63                                                            
       XO  XXX                                                            
 22 Morgan Bradford           08 Anderson, SC             3.48m   11-05.00
     3.48 3.63                                                            
       XO  XXX                                                            
 22 Jordan Daywalt            08 Statesville, NC          3.48m   11-05.00
     3.48 3.63                                                            
       XO  XXX                                                            
 22 Jennifer Holly            08 Barnegat, NJ             3.48m   11-05.00
     3.48 3.63                                                            
       XO  XXX                                                            
 26 Tory Worthen              09 Holland, PA              3.48m   11-05.00
     3.48 3.63                                                            
      XXO  XXX                                                            
 -- Victoria Toso             07 Sinking Spring, PA          NH           
     3.48                                                                 
      XXX                                                                 
 -- Alyson Daily              08 San Marcos, TX              NH           
     3.48                                                                 
      XXX                                                                 
 -- Meagan Martin             08 Lake Mary, FL               NH           
     3.48                                                                 
      XXX                                                                 
 -- Susan Echard              07 Lancaster, OH               NH           
     3.48                                                                 
      XXX                                                                 
 -- Amber Gaffey              07 Thompson, PA                NH           
     3.48                                                                 
      XXX                                                                 
 -- Bethany Dumas             08 Augusta, ME                 NH           
     3.48                                                                 
      XXX                                                                 
 -- Samantha Brady            08 Jackson, NJ                DNS           
 -- Joanna Wright             07 Winston-Salem, NC          DNS           
Flight  2                                                                 
  1 Shade Weygandt            09 Mansfield, TX            4.03m   13-02.50
     3.48 3.63 3.78 3.93 4.03 4.13                                        
        P    P    O   XO  XXO  XXX                                        
  2 Stephanie Duffy           07 Monroe, NY               3.93m   12-10.75
     3.48 3.63 3.78 3.93 4.03                                             
        O    O    O   XO  XXX                                             
  3 Rachel Laurent            08 Houma, LA                3.93m   12-10.75
     3.48 3.63 3.78 3.93 4.03                                             
        P    P   XO   XO  XXX                                             
  4 Stephanie Foreman         08 Hot Springs, AR          3.78m   12-04.75
     3.48 3.63 3.78 3.93                                                  
        O    O    O  XXX                                                  
  5 Kayla Caldwell            09 Tuscarawas, OH           3.78m   12-04.75
     3.48 3.63 3.78 3.93                                                  
        O    O   XO  XXX                                                  
  6 Abigail Schaffer          08 Easont, PA               3.78m   12-04.75
     3.48 3.63 3.78 3.93                                                  
        O    O  XXO  XXX                                                  
  7 Jessica Doyle             08 Buda, TX                 3.63m   11-10.75
     3.48 3.63 3.78                                                       
       XO   XO  XXX                                                       
  9 Mallory Lawrence          07 Russellville, AR         3.63m   11-10.75
     3.48 3.63 3.78                                                       
        O  XXO  XXX                                                       
 12 Chrissy Finkel            09 Montville, NJ            3.63m   11-10.75
     3.48 3.63 3.78                                                       
      XXO  XXO  XXX                                                       
 13 Becky Frey                07 Bethlehem, PA            3.48m   11-05.00
     3.48 3.63                                                            
        O  XXX                                                            
 -- Beki Finn                 07 Bethlehem, PA               NH           
     3.48                                                                 
      XXX                                                                 
 -- Staci Yahn                08 Mena, AR                    NH           
     3.48                                                                 
      XXX                                                                 
 -- Callie Giffin             07 Tyler, TX                  DNS           
==========================================================================
    Name                    Year School                  Finals           
==========================================================================
Finals                                                                    
  1 Shade Weygandt            09 Mansfield, TX            4.03m   13-02.50
     3.48 3.63 3.78 3.93 4.03 4.13                                        
        P    P    O   XO  XXO  XXX                                        
  2 Stephanie Duffy           07 Monroe, NY               3.93m   12-10.75
     3.48 3.63 3.78 3.93 4.03                                             
        O    O    O   XO  XXX                                             
  3 Rachel Laurent            08 Houma, LA                3.93m   12-10.75
     3.48 3.63 3.78 3.93 4.03                                             
        P    P   XO   XO  XXX                                             
  4 Stephanie Foreman         08 Hot Springs, AR          3.78m   12-04.75
     3.48 3.63 3.78 3.93                                                  
        O    O    O  XXX                                                  
  5 Kayla Caldwell            09 Tuscarawas, OH           3.78m   12-04.75
     3.48 3.63 3.78 3.93                                                  
        O    O   XO  XXX                                                  
  6 Abigail Schaffer          08 Easont, PA               3.78m   12-04.75
     3.48 3.63 3.78 3.93                                                  
        O    O  XXO  XXX                                                  
  7 Jessica Doyle             08 Buda, TX                 3.63m   11-10.75
     3.48 3.63 3.78                                                       
       XO   XO  XXX                                                       
  7 Morgann LeLeux            11 New Iberia, LA           3.63m   11-10.75
     3.48 3.63 3.78                                                       
       XO   XO  XXX                                                       
  9 Amy Morrison              07 Fenton, MI               3.63m   11-10.75
     3.48 3.63 3.78                                                       
        O  XXO  XXX                                                       
  9 Mallory Lawrence          07 Russellville, AR         3.63m   11-10.75
     3.48 3.63 3.78                                                       
        O  XXO  XXX                                                       
 11 Anne Marie Gordon         07 Richmond, VA             3.63m   11-10.75
     3.48 3.63 3.78                                                       
       XO  XXO  XXX                                                       
 12 Chrissy Finkel            09 Montville, NJ            3.63m   11-10.75
     3.48 3.63 3.78                                                       
      XXO  XXO  XXX                                                       
 13 Abby Shanahan             07 Caledonia, MI            3.48m   11-05.00
     3.48 3.63                                                            
        O  XXX                                                            
 13 Ashley Furlong            07 Manahawkin, NJ           3.48m   11-05.00
     3.48 3.63                                                            
        O  XXX                                                            
 13 Allie Nicosia             08 Aiken, SC                3.48m   11-05.00
     3.48 3.63                                                            
        O  XXX                                                            
 13 Becky Frey                07 Bethlehem, PA            3.48m   11-05.00
     3.48 3.63                                                            
        O  XXX                                                            
 13 Karley King               09 New Iberia, LA           3.48m   11-05.00
     3.48 3.63                                                            
        O    X                                                            
 13 Rebecca Pilkerton         08 Ann Arbor, MI            3.48m   11-05.00
     3.48 3.63                                                            
        O  XXX                                                            
 13 Courtney Siebenaller      08 Toledo, OH               3.48m   11-05.00
     3.48 3.63                                                            
        O  XXX                                                            
 13 Morgan Toone              09 Belton, TX               3.48m   11-05.00
     3.48 3.63                                                            
        O  XXX                                                            
 13 Erica Penk                07 Dacula, GA               3.48m   11-05.00
     3.48 3.63                                                            
        O  XXX                                                            
 22 Jennifer Holly            08 Barnegat, NJ             3.48m   11-05.00
     3.48 3.63                                                            
       XO  XXX                                                            
 22 Jordan Daywalt            08 Statesville, NC          3.48m   11-05.00
     3.48 3.63                                                            
       XO  XXX                                                            
 22 Christy Ohmott            08 Hatboro, PA              3.48m   11-05.00
     3.48 3.63                                                            
       XO  XXX                                                            
 22 Morgan Bradford           08 Anderson, SC             3.48m   11-05.00
     3.48 3.63                                                            
       XO  XXX                                                            
 26 Tory Worthen              09 Holland, PA              3.48m   11-05.00
     3.48 3.63                                                            
      XXO  XXX                                                            
 -- Beki Finn                 07 Bethlehem, PA               NH           
     3.48                                                                 
      XXX                                                                 
 -- Meagan Martin             08 Lake Mary, FL               NH           
     3.48                                                                 
      XXX                                                                 
 -- Bethany Dumas             08 Augusta, ME                 NH           
     3.48                                                                 
      XXX                                                                 
 -- Amber Gaffey              07 Thompson, PA                NH           
     3.48                                                                 
      XXX                                                                 
 -- Victoria Toso             07 Sinking Spring, PA          NH           
     3.48                                                                 
      XXX                                                                 
 -- Alyson Daily              08 San Marcos, TX              NH           
     3.48                                                                 
      XXX                                                                 
 -- Susan Echard              07 Lancaster, OH               NH           
     3.48                                                                 
      XXX                                                                 
 -- Staci Yahn                08 Mena, AR                    NH           
     3.48                                                                 
      XXX                                                                 
 -- Joanna Wright             07 Winston-Salem, NC          DNS           
 -- Samantha Brady            08 Jackson, NJ                DNS           
 -- Callie Giffin             07 Tyler, TX                  DNS  
NON home page