Results - VIDEO of both races



Team Texas Boys 40.99

Therrell Girls GA 46.25


Brittany Long streaks across the finish line for Therrell


photo by John Dye

Results
Girls
Boys Summary by Pete Cava

Finals:
Excellent stickwork propelled Team Texas to victory in 40.99. The Texans were ahead at the first, second and third exchanges. Four teams were dead-even at the last handoff, but Cahokia (IL) managed to shade East St. Louis (IL) and South Shore (Brooklyn, NY).
Clyde Lee ran the anchor leg for the victors, who posted a time of 40.99. Lee also ran the fourth leg for Team Texas's triumphant 4x200 relay squad Friday. "We came in with ultimate confidence," Lee said. "We didn't come here to have a letdown. We knew we were running pretty good coming in, but if we didn't showcase it this weekend, hoe we felt fifn't matter."
Cahokia's time was 41.42 to 41.52 for East St. Louis and 41.56 for South Shore.
While Friday's cool weather in Greensboro turned warmer Saturday, it wasn't warm enough for the Texas team of Isaiah Sweeney, Cleon Davis, Robert Simmons and Lee. "We don't see this weather as hot," said Lee. "I'm cold. It's great to run in cool weather like this. When I got the stick, I just wanted to pull away."

Heats:
Winners and next four fastest advance to Saturday's final.
1st heat: For teams made it through in the initial heat, lead by Team Texas with a time of 41.46. Also advancing were McKay High School (Salem, OR) in 41.51, Knightdale (NC) High School () in 41.97 and Western Branch High School (Chesapeake, VA) in 42.20.
Ryan Bailey, who was second in the 100m earlier Friday, anchored the McKay squad.
2nd heat: Cahokia (Ill.), the 2006 runnerup in this event, with Clyde Young running third, won in 41.17. Clyde Young, the third man on the Cahokia quartet, qualified for Sunday's 110m hurdles final earlier in the day.
3rd heat: South Shore High School (Brooklyn, NY) won in 41.01, with East St. Louis (Ill.) High School second in 41.54. Artavius Kizer, one of the finalists in Saturday's 110H final, ran the third leg for the East St. Louis crew.
4th heat: DeMatha Catholic (Hyattsville, MD) advanced, winning in 42.01.


 C.F.P.I. Timing & Data 
        Nike Outdoor Nationals - 6/14/2007 to 6/16/2007        
                 Results at www.cfpitiming.com                 
         North Carolina A+T University, Greensboro, NC         
 
Event 23  Boys 4x100 Meters Relay
===============================================================
    National: $ 39.76  5/16/1998   O.D. Wyatt, Fort Worth, TX  
        Meet: # 39.80  6/20/1998   O.D. Wyatt, Fort Worth, TX  
    School                                               Finals
===============================================================
Finals                                                         
  1 Team Texas  'A'                                       40.99
  2 Cahokia HS  'A'                                       41.42
  3 East St. Louis HS  'A'                                41.52
  4 South Shore HS  'A'                                   41.56
  5 McKay HS  'A'                                         41.71
  6 DeMatha Catholic  'A'                                 41.72
  7 Knightdale HS  'A'                                    41.99
  8 Bethel  'A'                                           42.26
 C.F.P.I. Timing & Data 
             Nike Outdoor Nationals - 6/14/2007 to 6/16/2007              
              North Carolina A+T University, Greensboro, NC               
 
Event 23  Boys 4x100 Meters Relay
================================================================          
    National: $ 39.76  5/16/1998   O.D. Wyatt, Fort Worth, TX             
        Meet: # 39.80  6/20/1998   O.D. Wyatt, Fort Worth, TX             
    School                                              Prelims           
================================================================          
Heat  1                                                                   
  1 Team Texas  'A'                                       41.46Q          
     1) Robert Simmons 08               2) Cleon Davis 08                 
     3) Clyde Lee 08                    4) Isaiah Sweeney 08              
  2 McKay HS  'A'                                         41.51q          
     1) Reese Smith 07                  2) Tony Gonzalez 09               
     3) DeEric Crockett 09              4) Ryan Bailey 07                 
  3 Knightdale HS  'A'                                    41.97q          
     1) Ronnie Ash 07                   2) Robert Horton 08               
     3) Christopher Herring 08          4) Derrick Gulley 07              
  4 Grady Tech  'A'                                       43.15           
     1) Chloe Blackett 07               2) Jeremy Rosado 08               
     3) Andre Wilkinson 07              4) Kester Lewis 07                
  5 Naugatuck HS  'A'                                     43.67           
     1) Andrew Corridore 07             2) Mike Figueroa 07               
     3) Judson Brown 07                 4) Andrew Harriott 07             
 -- Western Branch HS  'A'                                   DQ           
     1) Khyem Long 09                   2) Laquan Brody 07                
     3) Malcolm White 09                4) Brandon Carr 07                
 -- Edison Tech HS  'A'                                      DQ           
     1) Brandon Giles 07                2) Earnest Waters 08              
     3) Shamar Johnson 08               4) Erick Bermudez 07              
Heat  2                                                                   
  1 Cahokia HS  'A'                                       41.17Q          
     1) Jerdo Williams 07               2) Clyde Young 07                 
     3) Earnest Winters 08              4) Exzaybion Jackson 08           
  2 Bethel  'A'                                           42.45q          
     1) Sherrard Marrow 08              2) Ja-Vell Bullard 08             
     3) Austin Cuffee 09                4) Earl House 09                  
  3 Bloomfield HS  'A'                                    42.85           
     1) Dwayne Stewart 07               2) Maurice Calenda 07             
     3) Marcus Cooper 08                4) Marcus Campbell 07             
  4 Burlington Twp Elite  'A'                             43.13           
     1) Kashif Moore 07                 2) Aaron Hall 07                  
     3) Calif Crawford 07               4) Thurman Johnson 08             
  5 Midwood HS  'A'                                       43.14           
     1) Donald Williams 10              2) Ramone Griffith 08             
     3) Trevarno Dwyer 08               4) Blake Prince 07                
  6 Manchester Hs-Va  'A'                                 43.37           
     1) Antonio Miller 08               2) Reggie Hill 07                 
     3) Ronald Booker 07                4) Evan Brooks 07                 
 -- Ben Davis HS  'A'                                       DNS           
     1) CJ Stewart 07                   2) Matt Terrell 07                
     3) Rapheal Williams 07             4) Lavarus Williams 08            
Heat  3                                                                   
  1 South Shore HS  'A'                                   41.01Q          
     1) Kemar Clarke 07                 2) Anthony Kearse 09              
     3) Rodney Campbell 07              4) Sean Troop 07                  
  2 East St. Louis HS  'A'                                41.54q          
     1) Tommie Liddle 07                2) Artavius Kizer 07              
     3) Tommie Hopkins 10               4) Greg Edwards 09                
  3 Teaneck HS  'A'                                       42.49           
     1) James Williams 07               2) David Butler 08                
     3) Damien Miles 08                 4) Rashad White 08                
  4 Hope HS  'A'                                          42.71           
     1) Tamba Benjamin 08               2) Kevin Morgan 07                
     3) Revelino DaVeiga 07             4) Donnell Freeman 07             
  5 Dorman HS  'A'                                        42.72           
     1) Marcus Rowland 08               2) Ashlin Butler 09               
     3) Christopher Graham 08           4) Christian Graham 08            
  6 Enfield HS  'A'                                       43.22           
     1) Craig Degler 07                 2) Walter Moon 09                 
     3) Jaime Smith 08                  4) Alexander Anderson 07          
 -- Cedar Cliff  'A'                                        DNF           
     1) Nickolas Macri 07               2) Dimitri Theofanis 08           
     3) Joshua Enders 07                4) Varron Butts 07                
Heat  4                                                                   
  1 DeMatha Catholic  'A'                                 42.01Q          
     1) Kendall Sutton 07               2) Michael Cooper Jr. 07          
     3) Sean Suber 07                   4) Mac Reed 08                    
  2 Warriors TC  'A'                                      42.47           
     1) Hanif Kendric 07                2) Sean Schnarr 08                
     3) Justin Battle 08                4) Brian Thompson 08              
  3 Kings Fork HS  'A'                                    42.55           
     1) Ramone Worthington 07           2) James Alexander 07             
     3) Mike Mason 09                   4) Keith Ricks 08                 
  4 Sheepshead Bay HS  'A'                                42.81           
     1) Brandon Gerard 07               2) Ayo Isijola 09                 
     3) Donneal Vincent 07              4) Darryl Bradshaw 09             
 -- IC Norcom HS  'A'                                       DNF           
     1) Antonio Norvell 07              2) Anthony Hines 07               
     3) Brian Wallace 07                4) Isiah Gyasi 07                 
 -- Canarsie HS  'A'                                         DQ           
     1) Mark Richards 07                2) Fredens Villiere 07            
     3) Rawl Carew 08                   4) Jamor Hercules 07              
 -- Northwestern Hs-Fl  'A'                                 DNS           
     1) Malcolm Anderson 07             2) Devin Hill 07                  
===================================================================       
    School                                              Prelims  H#       
===================================================================       
Preliminaries                                                             
  1 South Shore HS  'A'                                   41.01Q  3       
     1) Kemar Clarke 07                 2) Anthony Kearse 09              
     3) Rodney Campbell 07              4) Sean Troop 07                  
  2 Cahokia HS  'A'                                       41.17Q  2       
     1) Jerdo Williams 07               2) Clyde Young 07                 
     3) Earnest Winters 08              4) Exzaybion Jackson 08           
  3 Team Texas  'A'                                       41.46Q  1       
     1) Robert Simmons 08               2) Cleon Davis 08                 
     3) Clyde Lee 08                    4) Isaiah Sweeney 08              
  4 DeMatha Catholic  'A'                                 42.01Q  4       
     1) Kendall Sutton 07               2) Michael Cooper Jr. 07          
     3) Sean Suber 07                   4) Mac Reed 08                    
  5 McKay HS  'A'                                         41.51q  1       
     1) Reese Smith 07                  2) Tony Gonzalez 09               
     3) DeEric Crockett 09              4) Ryan Bailey 07                 
  6 East St. Louis HS  'A'                                41.54q  3       
     1) Tommie Liddle 07                2) Artavius Kizer 07              
     3) Tommie Hopkins 10               4) Greg Edwards 09                
  7 Knightdale HS  'A'                                    41.97q  1       
     1) Ronnie Ash 07                   2) Robert Horton 08               
     3) Christopher Herring 08          4) Derrick Gulley 07              
  8 Bethel  'A'                                           42.45q  2       
     1) Sherrard Marrow 08              2) Ja-Vell Bullard 08             
     3) Austin Cuffee 09                4) Earl House 09                  
  9 Warriors TC  'A'                                      42.47   4       
     1) Hanif Kendric 07                2) Sean Schnarr 08                
     3) Justin Battle 08                4) Brian Thompson 08              
 10 Teaneck HS  'A'                                       42.49   3       
     1) James Williams 07               2) David Butler 08                
     3) Damien Miles 08                 4) Rashad White 08                
 11 Kings Fork HS  'A'                                    42.55   4       
     1) Ramone Worthington 07           2) James Alexander 07             
     3) Mike Mason 09                   4) Keith Ricks 08                 
 12 Hope HS  'A'                                          42.71   3       
     1) Tamba Benjamin 08               2) Kevin Morgan 07                
     3) Revelino DaVeiga 07             4) Donnell Freeman 07             
 13 Dorman HS  'A'                                        42.72   3       
     1) Marcus Rowland 08               2) Ashlin Butler 09               
     3) Christopher Graham 08           4) Christian Graham 08            
 14 Sheepshead Bay HS  'A'                                42.81   4       
     1) Brandon Gerard 07               2) Ayo Isijola 09                 
     3) Donneal Vincent 07              4) Darryl Bradshaw 09             
 15 Bloomfield HS  'A'                                    42.85   2       
     1) Dwayne Stewart 07               2) Maurice Calenda 07             
     3) Marcus Cooper 08                4) Marcus Campbell 07             
 16 Burlington Twp Elite  'A'                             43.13   2       
     1) Kashif Moore 07                 2) Aaron Hall 07                  
     3) Calif Crawford 07               4) Thurman Johnson 08             
 17 Midwood HS  'A'                                       43.14   2       
     1) Donald Williams 10              2) Ramone Griffith 08             
     3) Trevarno Dwyer 08               4) Blake Prince 07                
 18 Grady Tech  'A'                                       43.15   1 OOZ   
     1) Chloe Blackett 07               2) Jeremy Rosado 08               
     3) Andre Wilkinson 07              4) Kester Lewis 07                
 19 Enfield HS  'A'                                       43.22   3       
     1) Craig Degler 07                 2) Walter Moon 09                 
     3) Jaime Smith 08                  4) Alexander Anderson 07          
 20 Manchester Hs-Va  'A'                                 43.37   2       
     1) Antonio Miller 08               2) Reggie Hill 07                 
     3) Ronald Booker 07                4) Evan Brooks 07                 
 21 Naugatuck HS  'A'                                     43.67   1       
     1) Andrew Corridore 07             2) Mike Figueroa 07               
     3) Judson Brown 07                 4) Andrew Harriott 07             
 -- IC Norcom HS  'A'                                       DNF   4       
     1) Antonio Norvell 07              2) Anthony Hines 07               
     3) Brian Wallace 07                4) Isiah Gyasi 07                 
 -- Cedar Cliff  'A'                                        DNF   3       
     1) Nickolas Macri 07               2) Dimitri Theofanis 08           
     3) Joshua Enders 07                4) Varron Butts 07                
 -- Western Branch HS  'A'                                   DQ   1 OOZ x2
     1) Khyem Long 09                   2) Laquan Brody 07                
     3) Malcolm White 09                4) Brandon Carr 07                
 -- Canarsie HS  'A'                                         DQ   4 OOZ x1
     1) Mark Richards 07                2) Fredens Villiere 07            
     3) Rawl Carew 08                   4) Jamor Hercules 07              
 -- Edison Tech HS  'A'                                      DQ   1       
     1) Brandon Giles 07                2) Earnest Waters 08              
     3) Shamar Johnson 08               4) Erick Bermudez 07              
 -- Ben Davis HS  'A'                                       DNS   2       
     1) CJ Stewart 07                   2) Matt Terrell 07                
     3) Rapheal Williams 07             4) Lavarus Williams 08            
 -- Northwestern Hs-Fl  'A'                                 DNS   4       
     1) Malcolm Anderson 07             2) Devin Hill 07                  

Girls Summary by Elliott Denman

Finals:
From out of lane five, from out of a tight pack on the final exchange, from a race that seemed any of four teams' chance to win it all, came Brittany Long.
Striding out majestically down the closing straight, she turned contenders into pretenders and anchored her Therrell High School team of Atlanta to a 46.25 triumph, ninth fastest in NON history.
"We felt like we won the 4x200 yesterday, but there were some problems with the times," said Long. " We came out today determined to show everyone we're the best. When the third leg brought me the baton I knew we were going to win. She gave the baton with us leading, there was nothing to do after that but bring it home.
"The difference today is that we came out serious. We like to kid and have fun, but today all jokes were aside. It's game time."
As the red-clad Long was raising her right arm – and the baton – aloft in victory, the others were sorting out the other places.
Florida's Oak Ridge took the silvers (46.51) over 2006 winner Harding of Charlotte (46.67), Northwestern of Miami (46.71) and Ohio's Collinwood (47.28.)

Prelims:
The trio of teams in the 46s - Northwestern of Miami (46.43), Therrell of Atlanta (46.56) and Harding of North Carolina (46.62) - figure to run a barn-burner
in the Saturday final,
But don't overlook Oak Ridge of Florida (47.00) or Withrow of Cincinnati (47.09), either.
Completing the eight-team final will be Uniondale of Long Island (47.39), Medgar Evers of Brooklyn (47.52) and Collinwood of Cleveland (47.57.)

Near the finish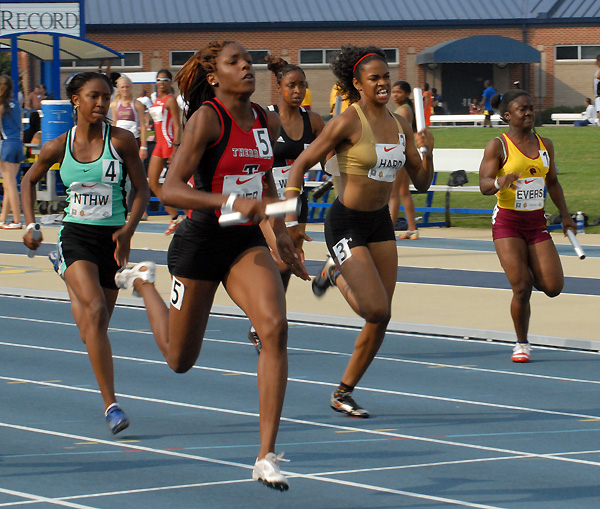 Miami Northwestern led in this handoff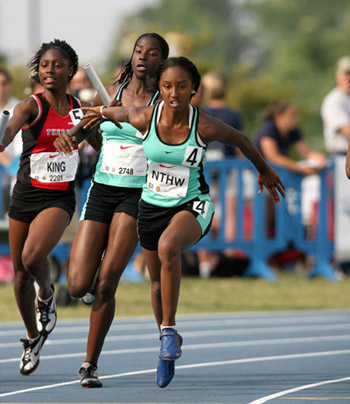 C.F.P.I. Timing & Data 
        Nike Outdoor Nationals - 6/14/2007 to 6/16/2007        
                 Results at www.cfpitiming.com                 
         North Carolina A+T University, Greensboro, NC         
 
Event 24  Girls 4x100 Meters Relay
===============================================================
    National: $ 44.50  4/23/2004   Poly, Long Beach, CA        
        Meet: # 45.63  6/19/2004   Skyline, Dallas, TX         
    School                                               Finals
===============================================================
Finals                                                         
  1 Therrell HS  'A'                                      46.25
  2 Oak Ridge HS  'A'                                     46.51
  3 Harding HS  'A'                                       46.67
  4 Northwestern Hs-Fl  'A'                               46.71
  5 Collinwood  'A'                                       47.28
  6 Medgar Evers HS  'A'                                  47.29
  7 Withrow HS  'A'                                       47.30
  8 Uniondale  'A'                                        47.55

C.F.P.I. Timing & Data 
              Nike Outdoor Nationals - 6/14/2007 to 6/16/2007              
               North Carolina A+T University, Greensboro, NC               
 
Event 24  Girls 4x100 Meters Relay
================================================================           
    National: $ 44.50  4/23/2004   Poly, Long Beach, CA                    
        Meet: # 45.63  6/19/2004   Skyline, Dallas, TX                     
    School                                              Prelims            
================================================================           
Heat  1                                                                    
  1 Withrow HS  'A'                                       47.09Q           
     1) Genesis Calhoun 10              2) Brittany Smith 09               
     3) Porscha Johnson 07              4) Jade Clingman 09                
  2 Spartanburg HS  'A'                                   47.66            
     1) Arnetra Frazier 09              2) Tysha Smith 08                  
     3) Jasmine Grayson 07              4) Patria Norman 08                
  3 Horace Mann Lions Club  'A'                           48.45            
     1) Renee McDougall 08              2) Jackie McDougall 09             
     3) Annie Lynch 10                  4) Laura Halis 10                  
  4 Andover Warriors  'A'                                 48.74            
     1) Bizzy Detoria 08                2) Melissa Knapp 09                
     3) Vanessa Singleton 10            4) Chritinia Muccio 08             
  5 Rockville HS  'A'                                     48.91            
     1) Sarah Hill 09                   2) Chelsea Jubrey 08               
     3) Azia Barber 08                  4) Ayeisha Preister 10             
  6 Lenape TC  'A'                                        49.41            
     1) Imani Ferguson 09               2) Dana Cataldo 08                 
     3) Makela Richardson 07            4) Kahmil Johnson 08               
  7 Spirit of Pre TC  'A'                                 49.79            
     1) Mary Rzepka 07                  2) Rachel Nyberg 10                
     3) Kim Miller-Tolbert 07           4) Corrie Castro 09                
  8 Kellenberg Memorial HS  'A'                           49.97            
     1) Ashley Cuvilly 07               2) Ritchlyn Mohammed 07            
     3) Kristin Wenthen 08              4) Meghan Wendelken 08             
Heat  2                                                                    
  1 Harding HS  'A'                                       46.62Q           
     1) Ranae Nelson 08                 2) Ashley Bethune 08               
     3) Nyosha Bryant 09                4) Felicia Paulding 07             
  2 Uniondale  'A'                                        47.39q           
     1) Ashley Hendricks 08             2) Ashlea McLaughlin 07            
     3) Heidi Paul 07                   4) Raven Peoples 08                
  3 Riverwood HS  'A'                                     48.54            
     1) Dminia Stokes 08                2) Yazmin Hicks 07                 
     3) Victoria Jackson 07             4) India Tate 07                   
  4 Boys and Girls HS  'A'                                49.10            
     1) Kerri Thompson 10               2) Nadonnia Rodriques 08           
     3) Deandra Nelson 08               4) Meagan Gillespie 08             
  5 La Salle Academy-RI  'A'                              49.95            
     1) Lily Kessinger 08               2) Lauren Cardarelli 08            
     3) Alyssa Limperis 08              4) Emily Barrett 09                
  6 Phoenix TC  'A'                                       50.07            
     1) Courtney Kedra 10               2) Becca Heaverly 09               
     3) Lauren Terpstappen 10           4) Kimberli Grasty 08              
  7 Canarsie HS  'A'                                      50.44            
     1) Melissa Caddle 10               2) Samantha Bell 08                
     3) Magan Edwards 08                4) Suzan Spence 07                 
Heat  3                                                                    
  1 Therrell HS  'A'                                      46.56Q           
     1) Deanna Lee 08                   2) Brittany Long 08                
     3) Santeria Moses 08               4) Makiya Cargill 09               
  2 Maryland Jaguars  'A'                                 48.16            
     1) Lorraine Graham 10              2) Imani Colbert 08                
     3) Sherreka Jackson 09             4) Corryn Hurrington 10            
  3 Summit Hs-Or  'A'                                     48.38            
     1) Rachelle Wilson 08              2) Kourtney Parks 07               
     3) Marissa Berg 08                 4) Kellie Schueler 10              
  4 Beacon Nu Sigma  'A'                                  49.93            
     1) Brooke White 07                 2) Shakira Garner 08               
     3) Brianna Cropps-Hawkins 07       4) Jasmine Russ 07                 
  5 Otm  Mustang-MD  'A'                                  50.27            
     1) Priscilla Ward 07               2) Amanda Gibson 08                
     3) Cherish Carswell 07             4) Cynthia Hinton 07               
 -- Millbrook Hs-Nc  'A'                                    DNF            
     1) Jessica Jones 07                2) Madison Tessener 08             
     3) Courtney Johnson 07             4) Tiffanie Downing 09             
 -- Track Knoxville  'A'                                    DNF            
     1) Jeronda Womack 10               2) Kiara Thompson 07               
     3) Tiara Garret 08                 4) Aurielle Sherrod 10             
Heat  4                                                                    
  1 Northwestern Hs-Fl  'A'                               46.43Q           
     1) Lizzie Harris 07                2) Brianna Rollins 09              
     3) Brittany McCord 09              4) Miceala Wimberly 07             
  2 Medgar Evers HS  'A'                                  47.52q           
     1) Deiddra Rogers 07               2) Imonee Bowers 10                
     3) Analisa Austin 07               4) Jewel Moore 08                  
  3 Swift Track and Field  'A'                            47.89            
     1) Ashley Ajayi 09                 2) Candace Bond 09                 
     3) Adenike Pedro 10                4) Dionna Hayes 09                 
  4 EE Smith Hs-Girls  'A'                                48.21            
     1) Taneisha Glover 07              2) Crystal Dukes 07                
     3) Jasmine Coleman 08              4) India Gonzalez 07               
  5 Wild Wolves TC  'A'                                   49.10            
     1) Jaylin Gethers 08               2) Kelly Yarn 08                   
     3) Brittany Richmond 07            4) Jermia Dix 08                   
  6 Parkland HS  'A'                                      50.49            
     1) Jessica Morgan 10               2) Christine Council 09            
     3) Chelsie Carlton 10              4) Tiandra Briggs 10               
 -- Dudley HS  'A'                                           DQ            
     1) Amber Miller 09                 2) Jessica Farr 09                 
     3) Deanna Eley 08                  4) Traci Copening 09               
Heat  5                                                                    
  1 Oak Ridge HS  'A'                                     47.00Q           
     1) Denae Fluellen 10               2) Amber Outing 10                 
     3) Victoria Watson 09              4) Anjoure Teele 08                
  2 Western Branch HS  'A'                                47.99            
     1) Amber Mitchell 09               2) Ashleigh Newman 08              
     3) Brittney Smalls 07              4) Danika Key 07                   
  3 Mount Vernon Hs-Ny-Girls  'A'                         49.67            
     1) Shamika Mindingall 10           2) Katya Marin 07                  
     3) Breanda Crump 09                4) Sasha-Gay Richards 08           
  4 Teaneck HS  'A'                                       50.28            
     1) Aderonke Bakare 09              2) Nefertiti Harris 07             
     3) Anise Johnson 07                4) Janay Mitchell 09               
  4 Montclair HS  'A'                                     50.28            
     1) Shantal Athill 09               2) Jasmine McCullough 08           
     3) Keisha Demonick 08              4) Caroline Thigpen 07             
  6 Spartanburg HS  'B'                                   51.71            
     1) Kourtni Peake 08                2) Cashyna Middleton 10            
     3) Keegan Woodson 10               4) Sierra Simmons 09               
 -- Acorn Tc/Berkeley Hs-Ca  'A'                             DQ            
     1) Erin Johnson                    2) Whitney McGee                   
     3) Michelle Miller                 4) Sheilicia Runnels               
Heat  6                                                                    
  1 Collinwood  'A'                                       47.57Q           
     1) Shannon Willis 09               2) Erin Busbee 10                  
     3) Laurin Slayton 07               4) Christy Horn 07                 
  2 Hempstead  'A'                                        48.72            
     1) Rene Cousins 07                 2) Julia Smith 07                  
     3) Maxine Moodie 07                4) Latonya Estrin 08               
  3 Woodrow Wilson-NJ  'A'                                48.74            
     1) Alexis Williams 10              2) Ashley Thompson 07              
     3) Samantha Sharper 08             4) Famatta Lewis 09                
  4 Mundys Mill HS  'A'                                   48.88            
     1) Breanna Hubbard 09              2) Kala Brooks 09                  
     3) Sarah Omotayo 08                4) Iesha Nichols 10                
  5 Hope HS  'A'                                          50.22            
     1) Laurenmaria Smith 07            2) Jasmine Marrow 09               
     3) Kelsey Freeman 08               4) Jasmine Adams 10                
  6 Harvard-Westlake  'A'                                 50.54            
     1) Cara Bickers 07                 2) Caroline Hartig 10              
     3) Laura Meadors 08                4) Nicole Sands 09                 
  7 Tewksbury  'A'                                        50.79            
     1) Nikki Cunha 08                  2) Ashley Smith 08                 
     3) Kristina Zontini 08             4) Laurie Irvine 07                
===================================================================        
    School                                              Prelims  H#        
===================================================================        
Preliminaries                                                              
  1 Northwestern Hs-Fl  'A'                               46.43Q  4        
     1) Lizzie Harris 07                2) Brianna Rollins 09              
     3) Brittany McCord 09              4) Miceala Wimberly 07             
  2 Therrell HS  'A'                                      46.56Q  3        
     1) Deanna Lee 08                   2) Brittany Long 08                
     3) Santeria Moses 08               4) Makiya Cargill 09               
  3 Harding HS  'A'                                       46.62Q  2        
     1) Ranae Nelson 08                 2) Ashley Bethune 08               
     3) Nyosha Bryant 09                4) Felicia Paulding 07             
  4 Oak Ridge HS  'A'                                     47.00Q  5        
     1) Denae Fluellen 10               2) Amber Outing 10                 
     3) Victoria Watson 09              4) Anjoure Teele 08                
  5 Withrow HS  'A'                                       47.09Q  1        
     1) Genesis Calhoun 10              2) Brittany Smith 09               
     3) Porscha Johnson 07              4) Jade Clingman 09                
  6 Collinwood  'A'                                       47.57Q  6        
     1) Shannon Willis 09               2) Erin Busbee 10                  
     3) Laurin Slayton 07               4) Christy Horn 07                 
  7 Uniondale  'A'                                        47.39q  2        
     1) Ashley Hendricks 08             2) Ashlea McLaughlin 07            
     3) Heidi Paul 07                   4) Raven Peoples 08                
  8 Medgar Evers HS  'A'                                  47.52q  4        
     1) Deiddra Rogers 07               2) Imonee Bowers 10                
     3) Analisa Austin 07               4) Jewel Moore 08                  
  9 Spartanburg HS  'A'                                   47.66   1        
     1) Arnetra Frazier 09              2) Tysha Smith 08                  
     3) Jasmine Grayson 07              4) Patria Norman 08                
 10 Swift Track and Field  'A'                            47.89   4        
     1) Ashley Ajayi 09                 2) Candace Bond 09                 
     3) Adenike Pedro 10                4) Dionna Hayes 09                 
 11 Western Branch HS  'A'                                47.99   5        
     1) Amber Mitchell 09               2) Ashleigh Newman 08              
     3) Brittney Smalls 07              4) Danika Key 07                   
 12 Maryland Jaguars  'A'                                 48.16   3        
     1) Lorraine Graham 10              2) Imani Colbert 08                
     3) Sherreka Jackson 09             4) Corryn Hurrington 10            
 13 EE Smith Hs-Girls  'A'                                48.21   4        
     1) Taneisha Glover 07              2) Crystal Dukes 07                
     3) Jasmine Coleman 08              4) India Gonzalez 07               
 14 Summit Hs-Or  'A'                                     48.38   3        
     1) Rachelle Wilson 08              2) Kourtney Parks 07               
     3) Marissa Berg 08                 4) Kellie Schueler 10              
 15 Horace Mann Lions Club  'A'                           48.45   1        
     1) Renee McDougall 08              2) Jackie McDougall 09             
     3) Annie Lynch 10                  4) Laura Halis 10                  
 16 Riverwood HS  'A'                                     48.54   2        
     1) Dminia Stokes 08                2) Yazmin Hicks 07                 
     3) Victoria Jackson 07             4) India Tate 07                   
 17 Hempstead  'A'                                        48.72   6        
     1) Rene Cousins 07                 2) Julia Smith 07                  
     3) Maxine Moodie 07                4) Latonya Estrin 08               
 18 Andover Warriors  'A'                                 48.74   1        
     1) Bizzy Detoria 08                2) Melissa Knapp 09                
     3) Vanessa Singleton 10            4) Chritinia Muccio 08             
 18 Woodrow Wilson-NJ  'A'                                48.74   6        
     1) Alexis Williams 10              2) Ashley Thompson 07              
     3) Samantha Sharper 08             4) Famatta Lewis 09                
 20 Mundys Mill HS  'A'                                   48.88   6        
     1) Breanna Hubbard 09              2) Kala Brooks 09                  
     3) Sarah Omotayo 08                4) Iesha Nichols 10                
 21 Rockville HS  'A'                                     48.91   1        
     1) Sarah Hill 09                   2) Chelsea Jubrey 08               
     3) Azia Barber 08                  4) Ayeisha Preister 10             
 22 Boys and Girls HS  'A'                                49.10   2        
     1) Kerri Thompson 10               2) Nadonnia Rodriques 08           
     3) Deandra Nelson 08               4) Meagan Gillespie 08             
 22 Wild Wolves TC  'A'                                   49.10   4        
     1) Jaylin Gethers 08               2) Kelly Yarn 08                   
     3) Brittany Richmond 07            4) Jermia Dix 08                   
 24 Lenape TC  'A'                                        49.41   1        
     1) Imani Ferguson 09               2) Dana Cataldo 08                 
     3) Makela Richardson 07            4) Kahmil Johnson 08               
 25 Mount Vernon Hs-Ny-Girls  'A'                         49.67   5        
     1) Shamika Mindingall 10           2) Katya Marin 07                  
     3) Breanda Crump 09                4) Sasha-Gay Richards 08           
 26 Spirit of Pre TC  'A'                                 49.79   1        
     1) Mary Rzepka 07                  2) Rachel Nyberg 10                
     3) Kim Miller-Tolbert 07           4) Corrie Castro 09                
 27 Beacon Nu Sigma  'A'                                  49.93   3        
     1) Brooke White 07                 2) Shakira Garner 08               
     3) Brianna Cropps-Hawkins 07       4) Jasmine Russ 07                 
 28 La Salle Academy-RI  'A'                              49.95   2        
     1) Lily Kessinger 08               2) Lauren Cardarelli 08            
     3) Alyssa Limperis 08              4) Emily Barrett 09                
 29 Kellenberg Memorial HS  'A'                           49.97   1        
     1) Ashley Cuvilly 07               2) Ritchlyn Mohammed 07            
     3) Kristin Wenthen 08              4) Meghan Wendelken 08             
 30 Phoenix TC  'A'                                       50.07   2        
     1) Courtney Kedra 10               2) Becca Heaverly 09               
     3) Lauren Terpstappen 10           4) Kimberli Grasty 08              
 31 Hope HS  'A'                                          50.22   6        
     1) Laurenmaria Smith 07            2) Jasmine Marrow 09               
     3) Kelsey Freeman 08               4) Jasmine Adams 10                
 32 Otm  Mustang-MD  'A'                                  50.27   3        
     1) Priscilla Ward 07               2) Amanda Gibson 08                
     3) Cherish Carswell 07             4) Cynthia Hinton 07               
 33 Montclair HS  'A'                                     50.28   5        
     1) Shantal Athill 09               2) Jasmine McCullough 08           
     3) Keisha Demonick 08              4) Caroline Thigpen 07             
 33 Teaneck HS  'A'                                       50.28   5        
     1) Aderonke Bakare 09              2) Nefertiti Harris 07             
     3) Anise Johnson 07                4) Janay Mitchell 09               
 35 Canarsie HS  'A'                                      50.44   2        
     1) Melissa Caddle 10               2) Samantha Bell 08                
     3) Magan Edwards 08                4) Suzan Spence 07                 
 36 Parkland HS  'A'                                      50.49   4        
     1) Jessica Morgan 10               2) Christine Council 09            
     3) Chelsie Carlton 10              4) Tiandra Briggs 10               
 37 Harvard-Westlake  'A'                                 50.54   6        
     1) Cara Bickers 07                 2) Caroline Hartig 10              
     3) Laura Meadors 08                4) Nicole Sands 09                 
 38 Tewksbury  'A'                                        50.79   6        
     1) Nikki Cunha 08                  2) Ashley Smith 08                 
     3) Kristina Zontini 08             4) Laurie Irvine 07                
 39 Spartanburg HS  'B'                                   51.71   5        
     1) Kourtni Peake 08                2) Cashyna Middleton 10            
     3) Keegan Woodson 10               4) Sierra Simmons 09               
 -- Track Knoxville  'A'                                    DNF   3        
     1) Jeronda Womack 10               2) Kiara Thompson 07               
     3) Tiara Garret 08                 4) Aurielle Sherrod 10             
 -- Millbrook Hs-Nc  'A'                                    DNF   3        
     1) Jessica Jones 07                2) Madison Tessener 08             
     3) Courtney Johnson 07             4) Tiffanie Downing 09             
 -- Acorn Tc/Berkeley Hs-Ca  'A'                             DQ   5 OOZ  x3
     1) Erin Johnson                    2) Whitney McGee                   
     3) Michelle Miller                 4) Sheilicia Runnels               
 -- Dudley HS  'A'                                           DQ   4 OOZ  x1
     1) Amber Miller 09                 2) Jessica Farr 09                 
     3) Deanna Eley 08                  4) Traci Copening 09               

NON home page