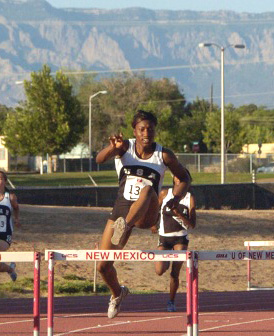 Shalina Clarke and Bianca Knight star, but no showdown


by Steve Underwood


If there was any regret from this year's Great Southwest Classic in Albuquerque, it's that somehow, some way, they couldn't figure out a way for Shalina Clarke and Bianca Knight to race each other. This isn't a criticism of anyone, just some indulgent whimsy. Yes, their talents and specialties are different, but not so much so that the mind isn't compelled to try and imagine the possibilities. In any case, these queens of the oval gave the crowd probably their biggest thrills of the weekend.

Yet, amazingly, despite the way each dominated their events, each girl likely left the ABQ with a bittersweet taste in her mouth. Clarke won three times, including a US#2 40.40 in the 300 hurdles, but by hitting the 9th hurdle hard and stumbling slightly, the Evanston IL sr probably missed a fantastic chance at Lashinda Demus's US record 39.98.

Meanwhile, Knight headed up each of the Elite sprint event fields and was shooting for that atmospheric 11.1 territory in the 100. After managing "just" 11.28, despite the aide of a 3.5 wind, she was pretty glum. But she bounced back for a truly dominating US#1 legal 23.14 in the 200, against a stunning field, to give her the sweep.

left, with Sandia Mountains in background, Shalina Clarke wins 300m hurdles in 40.40, US#5 all time.