It's like a 3-Ringed Circus


1. national publicity, 2. local enthusiasm, and 3. state championships





by Adam Kedge



11/7/07 - Welcome. It is my pleasure to give some insight on a group of kids known as the Red Army but are officially the Chargers of Albuquerque Academy. 10 to 12 years ago we were just little old Albuquerque Academy, a cross country team no different than any other team around. Back in the mid-90's we were simply trying to make a name for ourselves in the sparsely populated state of New Mexico. More often than not we were taking it on the chin and going home with our tails between our legs. Since then we've gone from flying under the radar screen to a national powerhouse. We've won 8 of the last 9 New Mexico 4A state titles and have attended two of the first three NTN's placing in the top 10 both years.

Currently the Chargers sit atop of Marc Bloom's Super-25 national rankings for the first time in our school history. It all sounds so perfect at the top. I've been used to being the underdog telling my kids we have something to prove. I was not ready for all of this #1 stuff. Besides, I'm nowhere near convinced that we are the best team around.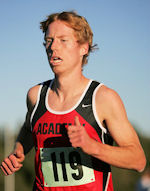 What I am convinced of is that we may have the best frontrunner in the country. Our #1 runner Benjamin Johnson (BenJo) is the top returnee from the Foot Locker national meet last December. He was 6th last year right behind 5 graduating seniors. Ben, at right, is an amazing kid with a level head on his shoulders, a young man that selflessly places his team first.

Over the next couple of weeks I've agreed to write a few articles that will chart our training, progress, adventures and hopes for both a state title and a potential national appearance at Portland Meadows. I will also highlight a lot of BenJo's progress as a top quality All-American runner and his quest for supremacy at Balboa Park.

To date 2007 has been one of those special "seasons to remember". The Red Army has won some big meets and faced top quality nationally ranked teams in over half the meets we've attended. Not only has the varsity team posted an outstanding season, the junior varsity and c-team went undefeated. Between the two squads we posted 5 or 6 perfect scores. The strength of our JV has given me the opportunity to run 12 different kids on the varsity. Even today, we have 9 candidates for our 7 varsity spots at this week's state championships. Our pecking order seems to be set for this weekend, but with the great dilemma of having 9 varsity caliber kids all on one team, I have to make sure that each is given their fair shot at making our post season roster.



Ringmaster's head is spinning



I often take Sunday morning runs to clear my head and this past Sunday, despite a restless night thinking about the upcoming state meet, the run was much needed. Cross country has been ratcheting up over recent weeks. Right now it is like a three ringed circus around here. As coach I feel like I am the ringmaster of the whole thing, and my head is spinning.

In ring #1 we have the national scene. It seems like not a day goes by and ring #1 has some new freakish attraction. One day I find out that York's 5 x 1 mile workout is posted on flocast.com. Watching the clip it seems like every one of a countless number of kids can run 5 x 1 mile in under 5:00 flat with minimal rest. Then the next day I hear that Neuqua Valley has 120 boys on their team. Only a day or two will pass, then posted on-line is Danbury's :09 second pack time with 5 guys in the top 9 of a big sectional meet. On the internet all of these feats and all of these teams seem so much larger than life, so super human. I had to look up a picture of the Danbury kids just to confirm that they are not machines or that they don't look like Captain America. The team picture I find makes them out to be normal looking kids, normal looking fast kids that is. At least they look human in their picture. Its one feat after another, one day its German Fernandez winning some huge sectional race in California after stopping to tie his shoe, the next its word of the Woodland's 20+ kids that run under 10-flat in a 2-mile time trial. I can no longer decipher between fact and urban legend.



NTN made cross country a monster sport



Nationally cross country is no longer a minor sport. Credit John Dye of www.dyestat.com, Marc Bloom of The Harrier, and Josh Rowe and John Truax of Nike and founders of NTN for making high school cross country into a monster. That monster of a sport feels like it is living under my bed right now. I can't sleep because it may come out and attack me and I surely don't want to look to see what is really there.

I often wonder if we even belong on the national scene. If it wasn't for our two appearances at NTN in the past 3 years and the performances we had at Portland Meadows, I'd likely just fold up camp and call it a season after this week. But history shows we do belong, and my tracking of our local results shows we are as good as we've ever been.



Local support is crucial



In ring #2 of the 3 ringed circus is a great group of supporters we have in our parents and the local media. Our parents sure are caring and will eagerly do anything I ask of them. As you read this one of them is cooking up a lasagna or fixing up little goodie bags for the boys. I spend much of my time at meets talking with the parents and letting my two top notch assistants do the coaching. Coaching is more than just X's and O's. I'm lucky to have two great assistants.

I've got parents talking about reservations to Phoenix, reservations to Portland, hotels, splitting rental cars, it goes on and on, needless to say it makes me kind of nervous. They often preface it with, "Coach I know we are not qualified to NTN yet, BUT WE ARE #1 in the country so I like to get started on…." A few of them feel my stress over the dilemma of being prepared logistically while still not jumping the gun and thinking too far ahead. That group is now working behind the scenes to make sure that the support group can be mobilized in a moment's notice. If we are lucky enough to make Portland Meadows they will be out in full force, matching t-shirts and all.



Wife wants rain boots - it doesn't rain in Albuquerque, but it rains in Portland



I try and keep my distance but the NTN fever sneaks up on me nearly everywhere. This past Sunday morning when I was sitting at the breakfast table reading the newspaper with my wife, she asked me if she should go out and buy some "rain boots". It doesn't rain in Albuquerque. It may rain in Portland, but it doesn't rain in Albuquerque.

The local media is also part of the circus show. They seem to be in competition on who can run the better story on my team right now. So far the year has included two local TV spots and a few nice newspaper articles, one an extensive 4 page wrap-around section. There has been plenty of national exposure too. The Harrier started out the season with the BenJo edition, then there are weekly updates on dyestat.com and other high school running sites. A few weeks back I was even honored by Dyestat.com and Eastbay as National Coach of the Week. Who would have thought that a bunch of skinny, handsome kids would become such media darlings?



State championships are the center ring



In ring #3, center ring is the upcoming state championships. This is the ring where I double as the lion tamer, and my boys are the growling beasts. Logic has it if we truly are a national power from a state that has less than 3 million people in it, our state meet should be a cake-walk. Think again.

We're in a division and state with another national caliber team, the Los Alamos Hilltoppers. The Toppers are our friendly rivals and a heck of a team that always gives us fits late in the year. They are currently ranked #8 in the United States and are fresh off of what I'd call a "super-perfect" score. Not only did they go 1 – 5 in their state qualifying round of districts, but their #6 and #7 finished 6th and 7th in the meet. We've got our hands full this weekend.

Keeping my Chargers from getting distracted by the bearded woman or the two headed man in ring one is where I've been spending my recent efforts. Making sure that their eyes are on the prize of a state title instead of the trapeze act of NTN hopes in ring #2 really is not as big of a chore for me as one would think. We have an agreement that we don't talk about NTN and take a week long sabbatical from the internet on the week of state. The agreement is more of a demand from me to, "stay away from dyestat and focus on state this week!" Fellas, none of you should be reading this right now – I'm watching you.

Next week I'll let you know how it all turns out plus hit upon training plans for the week of NTN Regionals and with a little luck the two weeks beyond that. But, we're not talking about that this week. Focus, one goal, one race, November 10th, STATE.