Boys - steveu picks top 3 in each event - Terry Prentice CA (LJ and pentathlon) and Axel Mostrag VA (800 and mile)
are favored in two events, although Mostrag will have to favor the 800 or the mile as the finals are just over an hour apart. Top events are 60H, with the top 7 in the country challenging the national record; 800 meters, an "epic showdown"; and 400 meters, with four of the five who have broken 48 seconds this year.
Meet records could come in 800m, 60H, 4x200, 4x800, SMR and PV.
by Stephen (steveu) Underwood
DyeStat news editor

Hurdlers + Half Milers = Highlights of NIN - steveu's overall preview of NIN

60 Dash
The Top Seeds: Justin Murdock 08 MD, Jeremy Rankin 09 CO, Shane Crawford 07 IN, Rynell Parson 09 TX, Harry Adams 08 FL, Devon Smith 09 MD
The Buzz: The boys 55 and 60 have been exciting this winter because of the infusion of surprising young talent into the event. Parson hammered at the US soph record for several weeks, tying it, only to see Rankin top it at altitude (US#1 6.67). Crawford and Murdock (US#1 6.21 55) have kind of been breakout performers this winter, too. Arguably 5 of the top 7 combined US performers in the 55/60 are here.
The Breakdown: These top seeds are from dramatically different parts of the country and haven't even come close to racing each other this year, creating a big "unknown" element to the event. Also, all of the finalists from 06 have graduated. Parson has raced the biggest variety of prep competition in the South, but that's about it. The San Antonio soph has also already run a blazing outdoor time (given as "9.99" … albeit wind-aided and hand-timed). Adams is kind of the "X" factor, having not run indoors, but ran US#2 10.33 outdoors last year.
The Record Threat: The Casey Combest US and meet record of 6.57 will probably be safe, but these guys aren't too far off. Of course, the soph record (6.67) could be broken again, or the junior class record (also 6.67).
The Medalists: 1. Parson, 2. Murdock, 3. Crawford
200 Dash
The Top Seeds: Brandon Bing 07 PA, Harry Adams 08 FL, Nevin Gutierrez 07 CA, Sean Holston 07 VA, Juan Steward 08 PA, Shane Wells 07 MI
The Buzz: Not as big a buzz as the other sprints, with much of the sub-22 talent either in New York (Ryan Bailey, Trenton Guy, Terrell Wilks) or running other events here (Parson, Chris Ward). The big questions here involve how Adams and Gutierrez will do in rare indoor showings.
The Breakdown: Not really a clear favorite. Bing closed the season with a bang at his state meet, but pulled up just before the line at Easterns with leg pain; he is reportedly ready to go. Also, watch for Sean Holston VA, who is #2 all-time at 300 and #7 at 500, but hasn't raced a serious 200 this year. There is a finalist returning in Anthony Chesson VA.
The Record Threat: Xavier Carter's USR of 20.69 and the meet record of 21.22 by J-Mee Samuels are probably pretty safe.
The Medalists: 1. Holston, 2. Bing, 3. Adams
400 Dash
The Top Seeds: Nevin Gutierrez 07 CA, Chris Ward 07 FL, LaMarr Davis 07 NC, Sean Holston 07 VA, Corryl Boyd 07 MD, Kendall Gregory 08 OH
The Buzz: Serious buzz here with 4 of the nation's 5 sub-48 guys for this season on the line here, plus California's talented Nevin Gutierrez (46.79 outdoors in 06). This field is much stronger than last year here. The other sub-48 man is Chris Bilbrew AL, who is so good for the 4 events he's doing here (800, 4x8, 4x4, SMR) that he can pass up an event where he's run 47.68. Gulp!
The Breakdown: Ward (US#1 47.42 Arkansas) and Davis (US#2 47.57 Simplot), have the biggest wins, with the only major meeting of contenders being Ward's beating Davis and others at Arkansas. Holston should be on a mission after a disappointing state meet. Gregory has probably raced the distance most steadily this winter (including relays), while the others have often been racing other distances.
The Record Threat: Elzie Coleman's USR 45.92 should be very safe. Ward has run faster this year (47.42) than Kelly Willie's meet record 47.49, but it was on Arkansas' banked marvel. Gregory will similarly find Bryant McComb's junior mark of 47.37 a tough challenge.
The Medalists: 1. Ward, 2. Holston, 3. Gregory
800 Run
The Top Seeds: Chris Bilbrew 07 AL, Cory Primm 07 CA, Axel Mostrag 07 VA, Jared Hall 08 OH, Joseph Franklin 08 FL, Elliot Rhodes 08 PA
The Buzz: HUGE. This should be an epic showdown. Bilbrew (US#1 1:51.08) has been clear about his intentions to get the national record all year. Primm (US#2 1:51.89) and Mostrag (US#1 2:26.11 1k) are fantastic talents whose potential hasn't yet been tapped. It would have been awesome to also have Washington studs Nectaly Barbosa (NSIC) and Isak Bergman (no meet), but you can't have everything.
The Breakdown: Expect Bilbrew to go out hard, though his best chance will be if he waits until at least 200 to really go full out. Mostrag (2006 runner-up), on the other hand, never hammers it early and waits for the strong finish.
Both Bilbrew (sprint medley, 4x400, 4x800) and Mostrag (mile, DMR) are listed for other races, so what they choose there and how fatigued they are will be key factors. Each will be running the day before in a relay. The 4x4/4x8 will be after the 800 for Bilbrew on Sunday, though, meaning whether Mostrag tries to run the mile first Sunday will be the key.
By the way, it's hardly just those big three in the field. Franklin ran 1:50.92 outdoors last year as a soph and was 2nd at NON. Ferris and Hall are very talented, too, and Rhodes was 5th here last year.
The Record Threat: Last year, Karjuan Williams beat Marc Sylvester's meet record, but being under the weather only put it down to 1:52.56. That should get buried. The coveted 1:50.55 from Michael Granville, however badly Bilbrew wants it, is going to be very tough to get on a flat 200 track.
The Medalists: 1. Mostrag, 2. Bilbrew, 3. Primm (Franklin 3rd if Mostrag only runs mile)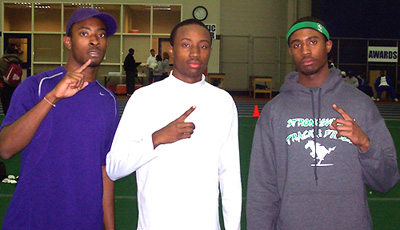 Leading entries in 400 and 800 -- Chris Ward FL, Chris Bilbrew AL and Kendall Gregory OH

Mile run
The Top Seeds: Ben Hubers 07 GA, Sintayehu Taye 08 MA, Samuel Borchers 07 OH, Axel Mostrag 07 VA, Ryan McDermott 07 NY, Adam Vess 07 CT
The Buzz: There's always excitement for the mile, but this isn't a truly banner year or a banner field. Some of the fastest guys are either done with indoor/already running outdoors (Duncan Phillips TX US#2 4:09.20), running the deuce here (Matt Centrowitz US#1 4:08.55, Craig Forys), running the 800 at NSIC (Nectaly Barbosa), or will miss because of injury (Michael Cybulski). While Sam Borchers and Ben Hubers are two of the biggest talents from last year outdoors, neither has proven themselves yet in 2007 – so there will be a certain fascination with them and Taye.
The Breakdown: In two indoor races, Borchers has run just 4:26 (though unpushed). Can he be at least in 4:15 shape for this? Hubers was 3rd at NON last spring in 4:09.76, but this is his 2007 debut. Taye was 6th in the Boston mile (4th in fast heat here last year; 6th overall), but some of his other races have been less than stellar. It should be a kicker's race, so don't look for a blazing time. If Mostrag runs here, a slow pace should benefit him, or maybe someone like Ryan McDermott.
The Record Threat: Alan Webb (3:59.86 USR/4:07.87 meet record) will definitely not have to worry about losing any of his marks.
The Medalists: 1. Mostrag, 2. Hubers, 3. Taye (Borchers 3rd if Mostrag only runs 800)
2-Mile
The Top Seeds: Jason Weller 07 PA, Matt Centrowitz 07 MD, Craig Forys 07 NJ, Luke Puskedra 08 UT, Peter Dorrell 08 VA, Ryan McDermott 07 NY.
The Buzz: Most of the best available distance runners have made this their race of choice. Any race with Craig Forys (US#1 9:03.58 3200) has buzz, and there's plenty of excitement around Matt Centrowitz these days. The latter, the 06 Penn Relays 3k champ, has been super at both the mile (2nd Boston 4:10.85, 4:08.55 solo last week) and 1000 (stunning 2nd at NB Collegiate) and hasn't even shown what he can do at a longer race yet in 07. It's a little similar to last year's winner, Michael Coe.
Weller is "only" the Millrose Mile champ and when he lost at that distance in the PA State meet, he came back that day and hit a US#1 8:26.81 3k. 'Nuff said. For a dark horse, there's Utah standout Luke Puskedra, who ran a fast 1600 (4:13.62) in the altitude of Simplot.
The Breakdown: There are several other guys after the big 3 with at least 9:10-13 talent in the race, but if the race goes out at 9-flat pace, they will all have a hard time hanging on. 2006 runner-up Forys is still the fastest miler in the field and generally acknowledged as the best kicker. But Centro (Penn) and Weller (Millrose) can obviously kick, too. Still, those two don't want to give Forys that chance. On the other hand, Forys excels at the mid-race break. He could end it early by doing that, conceivably.
As far as those to watch if one of the top dogs drops off, along with Puskedra there's Ohio Foot Locker finalist Emil Heineking (9:09.13 3200 last week), super sophs Doug Smith (NJ, 9:08.01 3200) and Graham Bazell (MD, 9:13.65 3200), standout juniors Pete Dorrell (VA, 9:10.76 3200) and Brandon Jarrett (NJ, 9:14.64 2M), and others.
The Record Threat: Gerry Lindgren's HSR 8:40.0 and Webb's meet mark of 8:45.19 should be quite safe.
The Medalists: 1. Centrowitz, 2. Forys, 3. Weller
60 Hurdles
The Top Seeds: Johnny Dutch 07 NC, Josh Hembrough 07 MI, Shane Wells 07 MI, Terry Prentice 07 CA, Oscar Spurlock 07 TX, Wayne Davis II 09 NC.
The Buzz: If your awareness of the magnitude of this event has been dulled a bit since the January fireworks, then it's time to perk back up. This event – oh my! – is going to rock the house. Dutch "only" set the 55H HSR earlier this season with a 7.07 and Hembrough has "only" smashed both 42" hurdle marks. This showdown is a long time coming. But the field is deep, too, with arguably the country's top 7 hurdlers here.
The Breakdown: Dutch "should" be the favorite, though he was also considered the man to beat last year and was 3rd. Hembrough was 4th (though .17 behind Dutch), but has obviously closed the gap. Besides his 42" records, he is US#1 7.80 at the HS 60H and his fellow Michigan friend and rival Wells, who has battled him close all year, is US#2 7.82. Dutch nipped Prentice at Simplot, and Prentice edged Spurlock at Arkansas, but neither has hit 7.80. Note North Carolina's strong presence, with 4 of the top 10 seeds, including super soph Wayne Davis II.
The Record Threat: The HSR of 7.62 is shared by Deworski Odom, Terrance Trammell, and Rickey Harris (meet record also). Dutch beat Odom's 55H mark, but this is a tough record. Someone needs to break the 3-way tie, though, and fans would love to see it here.
The Medalists: 1. Hembrough, 2. Dutch, 2. Prentice
4X200 Relay
The Top Seeds: Camden HS NJ, "Waldorf" (Westlake HS) MD, Trenton Central HS NJ, James Logan HS CA, Cleveland Heights HS OH, St. Benedict's Prep HS NJ.
The Buzz: Buzz is not usually high for a flat 200 track 4x200, unless there's a really special team out there. It is a very close and competitive field, though, with 5 seeds in the 1:29s and 10 more in the 1:30s.
The Breakdown: Camden NJ, though, is the only one in the 1:28s, with its US#1 1:28.48 from the Hispanic Games 2 months ago. No one's been able to top it. Westlake is the best on a flat 200 track this season (1:29.47), while Cleveland Heights has the best oversized mark (1:29.69) – so you've got 3 No. 1s, here. James Logan CA was the Simplot champ with another 1:29 at altitude.
The Record Threat: The 3-year old meet record of 1:28.90 by Cleveland Glenville could go, though just one team broke 1:30 last year. The USR of 1:26.09 by Long Beach Poly will stay.
The Medalists: 1. Westlake, 2. Camden, 3. Cleveland Heights
4x400 Relay
The Top Seeds: Newburgh (HS) Elite TC NY, Cleveland Heights OH HS, Camden HS NJ, Bethel HS VA, Deep Creek HS VA, Willingboro HS NJ
The Buzz: Similar to the 4x200, not a big buzz, but a deep, solid field of 3:20-type (flat track) teams and many of the leading squads.
The Breakdown: Newburgh NY has been at the top much of the year, with its Simplot winner of 3:19.97 the US leader at the time, as was their NB Collegiate win. They were topped by another heat winner at Eastern States for the national lead. Camden has the best flat track time of the year, going way back to early January at 3:22.3. Again, Cleveland Heights has just broken onto the list (3:20.49 oversized).
The Record Threat: 3:20 is tough to beat here, as no one did it last year. Camden's meet record is a tough 3:17.26 from six years ago. John Muir's HSR of 3:13.34 is in another stratosphere.
The Medalists: 1. Newburgh, 2. Camden, 3. Cleveland Heights
4x800 Relay
The Top Seeds: Smiths Station HS AL, Blazin Raiders (Eleanor Roosevelt HS) MD, Chaminade HS NY, Pleasantville HS NJ, Kellenberg Memorial HS NY, Chester Valley TC (Great Valley HS) PA.
The Buzz: There may not be a truly great team this year, but there's still some good buzz on this one. Smiths Station, with stud anchor Bilbrew, and Blazin Raiders are the only sub-7:50s of the season. The rest of the top teams could push 7:50, though.
The Breakdown: The advantage of having an anchor like Bilbrew might be negated by the fact that the 4x800 will be his 3rd race of the weekend. The other strongest teams may be fresher. But Smiths Station can keep the title in Bama (Mountain Brook won it last year). Pleasantville NJ may be the freshest of them all.
The Record Threat: West Springfield VA's MR of 7:50.25 should seriously be pressed, but the USR of 7:42.22 (Synosset NY) is probably safe.
The Medalists: 1. Smiths Station, 2. Pleasantville, 3. Blazin Raiders.
4x1 Mile Relay
The Top Seeds: Kellenberg Memorial HS NY, Stark Street AC (Central Catholic HS) OR, Xavier HS CT, Cavaliers TC (Archbishop Spalding HS) MD, Chaminade HS NY, Brentsville District HS VA
The Buzz: The event had some hype last year as a Fayetteville-Manlius – Saratoga showdown was forecast. Toga scratched, but F-M ran a fine, solo, meet record 17:33.28. This year, it's back to a more non-descript event, at least in terms of so-called star power. A slew of teams are seeded under 18 minutes, but as was seen in most past years, it's not an easy time to hit.
The Breakdown: Whichever team can keep most of its legs in the 4:20s has the best chance. Third-seeded Xavier CT, if it can keep close for 3 legs, will have 4:17 runner Adam Vess on the anchor. Chaminade is not running Ryan McDermott in this race.
The Record Threat: The national record (17:25.98 by Shen NY) and meet record should easily survive this year.
The Medalists: 1. Xavier, 2. Stark Street, 3. Kellenberg
Sprint Medley
The Top Seeds: Smiths Station HS AL, Track Eastern Carolina (New Bern HS) NC, Cleveland Heights HS OH, Blazin Raiders (Eleanor Roosevelt) MD, Pleasantville HS NJ, Newburgh Elite (Newburgh HS) NY
The Buzz: Sometimes a great national championship field will start shaping up very early in the season, as was the case with the boys pole vault last year. Other times, it comes together very late and very suddenly, as in this year's boys sprint medley. Between the NSSF's effort and ability to recognize potential great squads and the schools committing the athletes to this event, suddenly this is a MONSTER field. It will also be on Day 1 when the athletes are fresh. Top seed Smiths Station has a solid crew built around a great anchor (Chris Bilbrew), while the others are a little more balanced, with still very good anchors in the 800.
The Breakdown: If Bilbrew can get the baton at or near the lead, it's all over. But watch out for New Bern. Even with Karjuan Williams graduated, they still return some of their squad that just missed the meet record last year and ran 3:22.47 #2 all-time last spring. Cleveland Heights (Jared Hall) and Pleasantville (Alan Laws) both have very good anchors and top notch sprinters.
The Record Threat: The meet record is 3:29.46 by Vineland NJ from 2003. To try a little math here, if you could get 50-23-23-1:53, you'd have … 3:29. Several teams have that potential. The national record of John Muir (3:24.69 in 1997) … now you're talking 49-22.5-22.5-1:50 … a very tall order.
The Medalists: 1. Smiths Station, 2. Pleasantville, 3. New Bern
Distance Medley Relay
The Top Seeds: Fork Union M.A. VA, West Springfield HS VA, Warrior TC (Henderson HS) PA, Chaminade HS NY, Flagler TC (Flagler- Palm Coast HS) FL, Chardon HS OH
The Buzz: Virginia fans should be very pumped up about this showdown between the top two seeds, which haven't done the event this year, but have legitimate creds. Most of the teams in the 10:20 range this year that lead the lists aren't here, but those who are have just as good a shot at a national leader.
The Breakdown: If 2006 runner-up Fork Union has Axel Mostrag close, everyone else can forget it, with his closing abilities. But Mike Spooner (West Springfield), Emil Heineking (Chardon), and Ryan McDermott (Chaminade) are all 4:15-20 types as well. Can anyone give their anchor a big lead?
The Record Threat: As solid as these teams are, the records in this event are very good. The Delray Beach Atlantic team from 01 here had the Jefferson brothers in their 10:03.70 effort, while the USR 9:59.94 by Gloucester in 2000 was simply a mind-bending effort.
The Medalists: 1. Fork Union, 2. Chaminade, 3. West Springfield
4x55 Shuttle Hurdle Relay
The Top Seeds: Hillsborough HS NJ, Archbishop Molloy HS NY, Wayne HS OH, Willingboro HS NJ, Trenton Central HS NJ, Fordham Prep HS NY
The Buzz: Buzz is hard to come by for shuttle hurdle relays. As usual, however, most of the best crews are here. US leader Archbishop Molloy has two of the best three times of the year in winning NB Collegiate and getting edged by South Shore (at NSIC) at Stanner. Top-seeded Hillsborough won in NJ.
The Breakdown: But the team to watch is probably Wayne, the Ohio school that swept through NIN, Arcadia, and NON last year, and graduated just one of their performers. They don't have a mark yet this year, but that didn't stop them last year. In fact, they are 2-time defending champs.
The Record Threat: Westside of Anderson SC has the MR, a 29.45 that might be reachable. The national mark of 29 flat by Metuchen NJ has stood since 1972.
The Medalists: 1. Wayne, 2. Archbishop Malloy, 3. Trenton Central
High Jump
The Top Seeds: Erik Kynard 09 OH, Devon Bond 07 NJ, James Pittenger 07 PA, Jordan McPherson 07 OH, Kurt Poehlman 07 MI, Nicholas Wilson 07 NY.
The Buzz: Last year was an off year for this event – a winning jump of less than 6-9 after 7-2 and 7-5 the previous 2 years. 2007 could mark a return of the 7-footers as two have achieved that mark in this field, plus another at 6-10.
The Breakdown: Kynard (US#1 7-0) is an amazing soph who could be someone to threaten Scott Sllers record down the road. Bond is a veteran who's been a bit stuck at (US#1) 7-0 and knocking at the door of 7-1 for a long time. Go with the motivated veteran in a big meet like this.
The Record Threat: Sellers 7-5.25 meet record/national record from 2004 will live another year.
The Medalists: 1. Bond, 2. Kynard, 3. Pittenger
Pole Vault
The Top Seeds: Casey Roche 07 CA, Maston Wallace 07 TX, Spencer McCorkel 07 AR, Hunter Hall 07 IN, Joseph Farley 07 TX, Shea Kearney 07 AZ
The Buzz: Last year's buzz, with all the tough senior 17-footers making headlines all winter, was the best of the meet. This year isn't the same, but there's still three 17-footers and still a chance of a record.
The Breakdown: Wallace has been the man this winter, winning the big meet in Reno, then hitting 17-03.75 three weeks later. Roche achieved his 17-05 top seed last summer at USATF JOs and has not competed in any big meets yet this year. McCorkel has won big titles before, but also struggled at times in those meets. Hall is close to the form that got him 4th in 16-08 last year and has been consistent recently.
The Record Threat: Indeed, Wallace and Roche, at least, have a shot at that 21-year-old USR of 17-06.50 by Pat Manson – and an even better shot of making Scott Roth's meet record 17-04.25 from last year a short-lived one.
The Medalists: 1. Wallace, 2. Hall, 3 (tie) Roche and McCorkel.
Long Jump
The Top Seeds: Terry Prentice 07 CA, Edward Turner 07 TX, Brendan Ames 07 WY, Rashad Cannon 07 VA, Phillip Bush 07 NC, Taylor Hobson 07 CA.
The Buzz: Some of the best indoor performers are either not competing this weekend (US#1-2 Clyde Young and Jeff Henderson) or in New York (Ramon Crockett, Zedric Thomas), but NIN scored a coup by landing Texan Ed Turner, who is last year's top returnee on the outdoor combined legal/windy list at 24-10.50w. That will create a great matchup with 2006 runner-up Terry Prentice, who has big victories at Simplot (24-3) and Arkansas.
The Breakdown: Turner's legal outdoor best is 23-10 from last year and has reportedly matched Prentice's mark outdoors this year already. The rest of the field includes mid-high 23-footers who could battle for 3rd, or a top-two spot if one of the others should falter. Ames has been putting up big marks in Wyoming and surrounding states all winter and Cannon appears to be peaking after last week's win at VA state.
The Record Threat: Dion Bentley's long-standing 26-06.50 is way out of reach for another year, but the 2005 meet record of 24-07.75 by Dennis Boone could be in danger.
The Medalists: 1. Prentice, 2. Turner, 3. Ames
Triple Jump
The Top Seeds: Devon Bond 07 NJ, Semaj Spencer 07 PA, Chrys Jones 07 KY, Antonio Miller 08 VA, Christian Green 07 CA, Austin Davis 07 CA
The Buzz: Bond is probably best known for his high-jumping, but he is top-notch in the triple jump, too. He is US#3 at 48-08.75 after sitting on top much of the season. US#1 Zedric Thomas is at NSIC.
The Breakdown: As the other mid- or high-48 performer in the field, PA standout Semaj Spencer stands the best chance of topping Bonds. One of these two would have to falter seriously to allow anyone in the gold/silver hunt.
The Record Threat: Both the US (52-07.50 by Keith Holley) and meet (50-10 byu Allen Simms) records appear unreachable this year.
The Medalists: 1. Bond, 2. Spencer, 3. Miller
Shot Put
The Top Seeds: Jimmie Pacifico 07 OH, Benjamin Stephen 07 IN, Colin Boevers 07 UT, Weston Banks 07 PA, Frede Spellman 08 VA, Wayne Crawford 07 PA.
The Buzz: The buzz is solid for a field that sports nine 60-footers and a talented trio at the top. Pacifico (65-05.50) and Boevers (64-01) have traded the US lead back and forth much of the winter, while Stephen was one of the best outdoors last year, taking NON (65-00).
The Breakdown: The question is whether the better putter is going to be 2006 runner-up Pacifico or Boevers, who have both been busy all winter, or Stephen, who has not, but has that NON title under his belt. If any of them slips, then the door could be open to one of the three PA putters who has topped 60 this year.
The Record Threat: Jesse Stuart's 71-11 has lasted since 1970 and will do so another year. Jonathan Reeves' meet record of 66-11.25 is out there, but not impossible if someone has a great day.
The Medalists: 1. Pacifico, 2. Boevers, 3. Stephen
Weight Throw
The Top Seeds: Trevor Kraychir 07 CA, Craig Pearce 07 RI, Ryan Loughney 07 NY, Patrick Simpson 07 RI, Vincent Torissi 08 NY, Raul Gonzalez III 07 CA
The Buzz: The meet didn't get megastar Walter Henning or super junior Wesley Wright, but should still have a good, competitive battle at a high level with 70-footers Kraychir, Pearce, and Loughney.
The Breakdown: Kraychir has the big meet experience of getting 3rd here last year, while Pearce was 6th. Loughney, on the other hand, has had to battle Henning almost every time out. His last outing, at Eastern States, was not a strong one.
The Record Threat: Henning's meet and national records will hold … well, not the latter if he has a good meet in New York.
The Medalists: 1. Kraychir, 2. Pearce, 3. Loughney
Pentathlon
The Top Seeds: (list has both pentathlon and decathlon marks).
The Buzz: A first effort by talented jumper/hurdler Jordan McPherson OH, who has starred on the winning Wayne shuttle hurdle teams, has generated some interest.
The Breakdown: The favorite, however, should be Terry Prentice CA, another great jumper hurdler who was 2nd here last year. But Ben Davies TN scored 6914 on the jr. deca list last year, while Michael Ayers II is a 6885 performer from the HS list.
The Record Threat: Donovan Kilmartin's 4303 USR is way out there, but David Klech's 3980 winner from last year is approachable.
The Medalists: 1. Prentice, 2. Davies, 3. Ayers
1 Mile Race Walk
The Top Seeds: Ricardo D Vergara 08 TX, Roberto D Vergara 08 TX, Chris Roschinsky OH, Trevor Barron 10 PA, Matthew Forgues 10 ME, Brian Andrew Adams 10 SC.
The Buzz: The Vergara twins are two of the better walkers to come down the pipe in recent years. They went 1-2 last year, walking 6:49s, and have improved big-time, as evidenced by their 6:29-30 performances at Millrose. They are within shouting distance of the 6:11.00 US record by Paul Tavares, especially just being juniors.
The Breakdown: The twins should go 1-2, in whatever order works best that day, but Chris Roschinsky, a 6:40 walker, could challenge them with a breakthrough.
The Record Threat: Along with the USR, the 6:17.96 meet record by Zach Pollinger is not far off.
The Medalists: 1. Ri. Vergara, 2. Ro. Vergara, 3. Roschinsky
5000 Run
The Top Seeds: (list has both 5000 and 3200/2M marks)
The Buzz: As they did last spring at NON, the NSSF is introducing the 5000 meters indoors here as a long-distance option. Last year, they attracted a good field of runners for the outdoor race, most of whom weren't quite at the level to compete at in the seeded 2M race (with a few exceptions). That is mostly the case here. It also has to compete indoors with the long-established 5000 race in New York, which has attracted some top talent this year.
The Breakdown: Adam Lenz CO, who scored high at Great American and Manhattan last fall, should be a favorite here. Thomas Porter and Jason Witt, two young standouts who should battle for VA supremacy next fall, are also here, as is AL state harrier champ Bill Matthews. Also keep an eye on Andy Wacker NC and Luke Grau OH.
The Record Threat: The winner will establish the new meet record. Brad Hudson's 23-year-old 14:29.8 will not be challenged.
The Medalists: 1. Lenz, 2. Witt, 3. Porter