Sprint Medley Relay





Nike Indoor Nationals





March 10-11, 2007 PG Sportsplex, Landover MD



DyeStat on-site coverage



Results - Boys Story by Pete Cava, Girls Story by Elliott Denman - photos by John Dye

Track Eastern Carolina boys 3:28.39
Easton PA girls 3:56.46
| | |
| --- | --- |
| Track Eastern Carolina, running without the graduated Karjuan Williams, is still on top. | Easton spotted Blazin' Raiders (Eleanor Roosevelt MD) a big lead, but anchor Chanelle Price took over and won going away. |
| | |
The defending champion Blazin' Raiders of Eleanor
Roosevelt High School of Greenbelt, Md. (just eight miles away from the Prince
George's County Sports and Learning Complex) had no chance once the remarkable
Chanelle Price got the stick for the Easton, Pa. Track Club.
Giving chase to the Raiders' Tasha Stanley on the anchor 800, Price took
it out in 56.9, a time that would have been good enough to qualify for the
individual 400 final.
And Price hardly relented once she took the lead after that first lap,
going on to a 2:05.3 split that carried Easton to a brilliant meet-record victory
in 3:56.46.
Easton not only erased but crushed the prior meet standard of 3:59.62 set
by California's Woodrow Wilson High of Long Beach in 2002.
With her 2:14 anchor, Stanley had the consolation of bringing the Raiders
home in 4:01.70, fifth best time in NIN history.
Third-place James Logan High made the charts, too, with its 4:02.37, sixth
swiftest-ever NIN clocking.
The top five placings went to the five seeds in the sixth section, with
first-heat winner Deep Run best of the rest at 4:11.91.
Blazin' Raiders (Eleanor Roosevelt MD)

had things all their way in the first three legs.

When

800-meter champion Chanelle Price

took the baton on anchor, it was all over. The Easton PA star went through 400 meters of the 800-meter anchor leg in 56 seconds, which would have been good enough to qualify for the open 400 meter final, and still brought it home in a 2:05 anchor split.

1600 meter sprint medley relay (200-200-400-800): Track Eastern Carolina (New Bern, N.C.) came in as the defending champ, but with a vastly different cast. "We came in with two sophomores, a freshman and a senior," said Anthony Hendrix. "This is the first time we've run this race since last year. I didn't think we could do it, but I had to get that bad thought out of my head. I just had to bring it home."
And Hendrix did just that. He ran the final leg for Track Eastern Carolina, which finished first in a meet-record time of 3:28.39. It was very close between the Carolina squad and Cleveland Heights, Ohio, which settled for second in 3:29.76. It was neck-and-neck between the two teams at the final exchange, with the Ohio squad slightly ahead.
Track Eastern Carolina's first two legs consisted of senior Kevin Hardesty and freshman Miles Sparks and Anthony and Andrew Hendrix, sophomores and twin brothers, ran the last two legs.
Third place went to the Blazin' Raiders (Eleanor Roosevelt High School of nearby Greenbelt, Md.) in 3:30.80.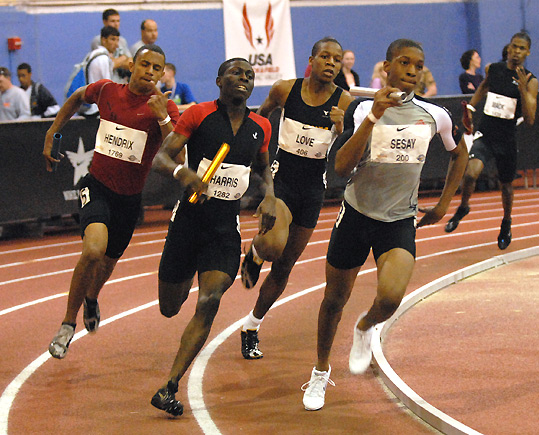 It was a four-team battle. From left, Track Eastern Carolina, Newburgh NY, Cleveland Heights OH, and Blazin' Raiders (Eleanor Roosevelt MD).
Boys
Event 25  Boys 1600 Sprint Medley
===================================================================
    National: N 3:24.69  3/8/1997    John Muir, Pasadena, CA                   
        Meet: M 3:29.46  3/15/2003   Vineland, Vineland, NJ                    
    School                                               Finals  H#
===================================================================
  1 Track Eastern Carolina                              3:28.39M  5 
     1) Hardesty, Kelvin 07             2) Greene, Fuquan 10              
     3) Hendrix, Andrew 09              4) Hendrix, Anthony 09            
  2 Cleveland Heights HS                                3:29.76   5 
     1) Love, Matthew 07                2) Royal, Jerome 07               
     3) Adams, Iasiah 08                4) Hall, Jared 08                 
  3 Blazin Raiders                                      3:30.80   5 
     1) Smith, Devon 09                 2) Murphy, Brandon 07             
     3) Browne, Adrian 07               4) Thibou, Kelli 07               
  4 Newburgh Elite TC                                   3:34.05   5 
     1) Boone, Akinto 08                2) Harris, Ben 07                 
     3) Cooper, Ervin 08                4) Ramano, Daniel 08              
  5 Flagler TC                                          3:35.28   3 
     1) Grier, Alex 07                  2) Cooper, Jarius 07              
     3) Lockhart, Charles 09            4) Morales, Anthony 07            
  6 Pleasantville TC                                    3:35.63   5 
     1) Laws jr., Alan 07               2) Mack, Duke 07                  
     3) Shannon, Lindsey 07             4) Davis, Kenny 08                
  7 Manchester                                          3:36.54   4 
     1) Chesson, Anthony 07             2) Hill, Reggie 07                
     3) Duty, Andrew 07                 4) Booker, Ronald 07              
  8 Blacksburg HS                                       3:36.71   4 
     1) Cooke, John 07                  2) Dorrell, Peter 08              
     3) Carr, Will 07                   4) Hencke, Brian 09               
  9 Fantastic Four                                      3:37.65   3 
     1) Franklin, Jerod 07              2) Defreitas, Vibert 08           
     3) Waller, Travis 08               4) Fenwick, Keenen 07             
 10 Red Gremlin AC                                      3:37.85   4 
     1) Moffitt, Kyle 07                2) Marsan, Nathan 07              
     3) Reilly, John 07                 4) O'Connor, Kyle 07              
 11 Fork Union M.A.                                     3:38.52   4 
     1) Dodson, Neal 07                 2) Palmer, Stephen 07             
     3) Pride, Chris 08                 4) Reichlen, Jamie 07             
 12 Mighty Mustangs                                     3:38.79   3 
     1) Smiles, Dahmar 08               2) Omotosho, Olao 07              
     3) Jackson, Marquis 07             4) Day, Josh 09                   
 13 Bristol Central HS                                  3:38.94   1 
     1) Greer, Matt 07                  2) Robbins, Brian 07              
     3) Janczyk, Chris 07               4) Pecevich, Mitchell 07          
 14 Vineland HS                                         3:40.52   2 
     1) Chaniz-Rico, Yadid 07           2) Goldsborough, Devon 07         
     3) Lecator, Jarell 08              4) Rosado, Steven 07              
 15 St. John the Baptist Hs-Boys                        3:43.10   2 
     1) Rachiele, Jake 09               2) Joseph, Garth 07               
     3) Jenkins, Torshiro 07            4) Ferguson, Steve 07             
 16 Dracut                                              3:43.77   4 
     1) O'Donnell, Curtis 07            2) Huntress, Joseph 07            
     3) Paquette, Mark 07               4) Roark, Daniel 08               
 17 Otm Mustang                                         3:44.11   3 
     1) Cole, Ridwon 07                 2) Sy, Moussa 08                  
     3) Ward, Joe 07                    4) Gatling, Chris 07              
 18 Norristown Area TC                                  3:44.28   1 
     1) Dunn, Oscar 08                  2) Sadeghipour, Kevin 08          
     3) Hadrick, EJ 08                  4) Selby, Pete 07                 
 19 Springbrook TC                                      3:44.62   3 
     1) Sawadogo, Jordan 07             2) Kronemer, Sharif 08            
     3) Boodie, Zach 08                 4) Raymond, Yvon 07               
 20 Parkland HS                                         3:45.36   2 
     1) Elliott, Jarrell 08             2) Lindsay, Charles 07            
     3) Manley, Jontae 10               4) Vannoy, D'Ray 08               
 21 Christ the King Reg HS                              3:46.15   1 
     1) Williams, Kenneth 07            2) Arnett, Cazal 07               
     3) Phillips, Edward 07             4) Baptiste, Tad 07               
 22 Penfield HS                                         3:48.87   2 
     1) Vermilion, Paul 07              2) Stachecki, Tyler 08            
     3) Swenson, Aaron 08               4) Ford, Tyler 07                 
 23 Northwest TC                                        3:50.00   4 
     1) Henderson, Brandon 07           2) Shaw, Mike 07                  
     3) Henry, William 10               4) Nickson, Chad 09               
 24 Bishop McNamara TC                                  3:51.44   2 
     1) Nelson, Christopher 07          2) Carmichael, Darrian 09         
     3) Ransome, David 07               4) Thornton, Johnathan 07         
 25 Owasso HS                                           3:51.82   3 
     1) Wilson, Matthew 09              2) Hunnihake, Craig 07            
     3) Durrant, Darrien 07             4) Mikell, Erickson 07            
 26 Edison Tech-NY                                      3:55.69   1 
     1) Abron, Kyle 07                  2) Bermudez, Erick 07             
     3) Giles, Brandon 07               4) Waters, Earnest 08             
 27 Mantua Elite TC                                     4:03.23   2 
     1) Baretto, Jose 09                2) Fitzgerald, Lamont 08          
     3) Charles, Johnathan 07           4) Butts, Ashton 08               
 28 Chichester TC                                       4:03.47   1 
     1) Ferrara, Michael 07             2) Colson, Jurea 08               
     3) Wittenberg, Michael 09          4) Emmel, Jason 09    
Event 26  Girls 1600 Sprint Medley
===================================================================
    National: N 3:53.17  3/9/2001    Wilson, Long Beach, CA                    
        Meet: M 3:59.62  3/9/2002    Wilson, Long Beach, CA                    
    School                                               Finals  H#
===================================================================
  1 Easton TC                                           3:56.46M  6 
     1) Dubin-Rhodin, Abbgail 07        2) Simpson, Tenesia 08            
     3) Dorsey, Jessica 08              4) Price, Chanelle 08             
  2 Blazin Raiders                                      4:01.70   6 
     1) Stephens, Tashima 07            2) Anyanwu, Doris 09              
     3) Stanley, Tasha 08               4) McCammon, Jenea 09             
  3 James Logan                                         4:02.37   6 
     1) Humphrey, Victoria 07           2) Hardy, Jami 08                 
     3) Stewart, Thandi 10              4) Harrison, Jackie 07            
  4 Ajs Elite TC                                        4:05.94   6 
     1) Miller, Quanisha 08             2) Johnson, Rayianna 10           
     3) Robinson, Michelle 08           4) Chambers, Shaniel 08           
  5 Lenape HS                                           4:10.51   6 
     1) Johnson, Miya 08                2) Cataldo, Dana 08               
     3) Johnson, Kahmil 08              4) Walsh, Linsdsey 08             
  6 Deep Run                                            4:11.91   1 
     1) Orr, Ashley 08                  2) Hassell, Joanna 08             
     3) Fuson, Katie 08                 4) Lareau, Courtlin 07            
  7 Unat-MD-Clinton                                     4:14.44   5 
     1) Martinez, Kianna 10             2) King, Desere 11                
     3) Miller, Ciara 10                4) Deal, Shanel 11                
  8 Bishop McNamara TC                                  4:15.66   4 
     1) Butler, Taylor 10               2) Blake, Lindsey 08              
     3) Mason, Monica 09                4) Davis, Chanae 10               
  9 Ann Arbor Youth TC                                  4:16.21   4 
     1) Marable, Rajae 07               2) Madison, Paige 08              
     3) Kiara, Moore 07                 4) Elizaveta, Boudreau 10         
 10 The Potomac School                                  4:17.25   6 
     1) Adelberg, Samantha 07           2) Heintz, Natalie 08             
     3) Brandt, Trish 10                4) Cook, Catherine 07             
 11 Blazin Raiders  'B'                                 4:18.67   2 
     1) Hickson, Christian 09           2) Montgomery, Jacia 07           
     3) View, Brittany 08               4) Rowe, Zawadi 08                
 12 St Peter's Girl's HS                                4:19.19   4 
     1) Dozier-Lewis, Nandi 07          2) Giles, Brittany 09             
     3) Stepney, Corrine 07             4) Edwards, Sherise 08            
 13 Marlboro HS                                         4:19.85   3 
     1) Karlovich, Jackie 07            2) Pietrosh, Brittany 09          
     3) Unachukwu, Adaobi 09            4) Cellini, Emily 08              
 14 Maryland Jaguars                                    4:20.88   4 
     1) Smith, Denise 07                2) Canty, Waquesha 07             
     3) Ogunmokun, Brittany 08          4) Jackson, Sherreka 09           
 15 New Rochelle Tc-Girls                               4:22.97   3 
     1) Bien-Aime, Mislie 08            2) Mott, Elizabeth 08             
     3) Ewell, Karisha 07               4) Cowart, Assata 07              
 16 Rancocas Valley TC                                  4:23.10   4 
     1) Sledge-Maith, Janaia 09         2) Blount, Asiah 09               
     3) McCord, Marcia 07               4) Hawkey, Allison 07             
 17 Irish Road TC                                       4:23.44   5 
     1) Winters, Whitney 08             2) Fabere, Meagan 07              
     3) Moles, Emily 07                 4) O'Neil, Kacie 10               
 18 Wayne HS                                            4:24.43   5 
     1) Dallas, Jasmine 07              2) Pope, Jasmine 07               
     3) Griffin, Olyvia 09              4) Avery, Janelle 08              
 19 Notre Dame Academy                                  4:25.61   5 
     1) Timmons, Joanna 08              2) Callahan, Ellen 09             
     3) McManus, Elizabeth 08           4) Battaglia, Janey 08            
 20 Cherokee TC                                         4:26.28   5 
     1) Clyde, Kelly 07                 2) Lowinger, Jess 09              
     3) Sierra, Linda 08                4) Lowe, Caitlin 08               
 21 Dunbar HS                                           4:27.28   1 
     1) Brown, DeAnna 08                2) Koonces, Paris 07              
     3) Leigh, Samantha 07              4) Scott, Paris 09                
 22 South Lakes                                         4:30.16   5 
     1) Coleman, Nadiaye 08             2) Coho, Lauren 07                
     3) Drici, Leila 07                 4) Williams, Kaitlyn 07           
 23 Seneca TC                                           4:30.23   1 
     1) Brown, Michelle 10              2) Moody, Kayla 09                
     3) Evison, Katie 07                4) Brown, Keri 07                 
 24 West Springfield HS                                 4:30.57   4 
     1) Clayton, Amalya 09              2) Luzzi, Alesha 07               
     3) Wenz, Kim 08                    4) Hokenson, Marie 07             
 25 Cave Spring HS                                      4:31.20   3 
     1) Swaffar, Caitlan 09             2) Ndem, Edy 10                   
     3) Zillioux, Jackie 07             4) Tyler, Tatum 09                
 26 Mantua Elite TC                                     4:32.35   3 
     1) Nielson, Christina 07           2) Booth, Randi 10                
     3) Hightower, Dashona 07           4) Cain, June 07                  
 27 Penfield HS                                         4:32.43   2 
     1) Greenlee, Sara 08               2) Woodarek, Marla 07             
     3) Howe, Samantha 08               4) Gregor, Laura 08               
 28 Z-Hummingbird TC                                    4:35.80   2 
     1) McLean, Ashley 07               2) Wright, Dominique 07           
     3) Miller, Michelle 07             4) Thomas, Janeal 10              
 29 Manchester                                          4:39.02   1 
     1) Delphin, Kacen 08               2) Hite, Alaina 07                
     3) Nunn, Nikki 10                  4) Salmons, Katie 09              
 30 Otm Mustang                                         4:41.10   3 
     1) Gibson, Amanda 08               2) Fletcher, Kalifa 09            
     3) Johnson, Zenobia 07             4) Olusoga, Joyce 09              
 31 Manayunk RC                                         4:51.78   3 
     1) Mcmullin, Erin 09               2) Fritz, Kristen 10              
     3) Linneman, Briana 07             4) Joniec, Kelsey 10