70th Eastern States Championships





Tuesday, February 27, 2007 The New Balance Track and Field Center at The Armory -- New York, New York



Coverage by SteveU and The Track Junkie


---
The Main Events
In Hyped Hammer, Girls DMR, Boys 2M, stars show a hint of what they can ultimately do
By Steve Underwood

The biggest stars and the most hyped events lived up to their billing – mostly – in Tuesday night's Eastern States meet at the New York Armory. And "mostly" is the key word here, since the three biggest events and standouts weren't completely thrilled with how things turned out, even with their nation-leading victories. This was true of Walter Henning in the hammer and shot, Steve Murdock in the deuce, and the girls of Southern Regional NJ in the DMR. But the promise of bigger achievements on a new day certainly holds.

Below that gaudy surface, though, there were more real gems that did surpass expectations. Like how about those Pleasantville NJ 4x400 boys winning the whole deal with a US#1 3:18.90 out of the second section? Or what about the big breakthroughs by Stephanie McIntyre and Gabriela Baiter in the triple jump, where they moved to #2 and #3 in the nation? They were thrilled, as was Lindsay Rowe as she chomped a heavy .10 from her US#2 55H time, and likewise the girls of Pope John XXIII in NJ as they sizzled a US#2 4x800. There was Jersey pride, in fact, for both Pope John and McIntyre as they pummeled state records.

And there was also redemption, like when Jason Apwah made up for Sunday's slow seeded section 800 NJ MOC win/loss with a blazer here … and as DeAnne Hahn topped rival Taryn O'Conner in the shot put. Then there was revelation, too, like the emergence of Terrell Wilks as a national sprint star in his 55/200 double.

What a meet!

Henning: The best even when he's not at his best

The biggest explosion of the night came early, as St. Anthony's NY sr Walter Henning stepped into the throws cage at The Armory, a facility that has practically been remade to him, a home for an elite weight thrower if ever there was one.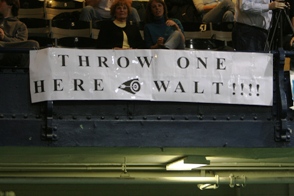 The intensity was there for the technical wiz right from the start and the first whirl brought a huge roar from the crowd as it was measured at 86-03.75, a mark that pipped his USR from earlier this season by 1.75". Fans were not only dazzled by the record, but the prospect of more fireworks in the final five throws. Henning wanted it, too, but while a great series ensued (two 83-footers, two 82-footers, and a foul), there was nothing else close to 86 feet.

"I feel like I was really relaxed on the first one," he said, "but then I got kind of tired before the end of the series. … I was consistent, but not far enough." Thinking about it a bit more, he added, "Maybe I was a little too pumped up at first."

A few things worked against Walter on this night, as well. He eventually confessed to having cut his right foot roughhousing with a friend's little brother recently, and throwing with stitches in his foot. He added that there were a few other things that were "out of his control" that had him "not in the best shape."

Gesturing toward the area beneath the banked part of the track near the throwing cage, he then said he was going to take a bit of a nap before the shot put. "That event really gives me a chance to compete," he said.

But that the night had its elements of struggle for Henning was more evident in the latter event, where he was able to hit just 59-00. That was more than three feet off his best, and almost a foot behind winner Scotch Plains-Fanwood NJ jr Mike Alleman, who was coming off a NJ MOC win and rose to the occasion Tuesday with a PR 59-11.50.

Girls DMR: Tasting the potential

It was a US leader. It seemed a super indication of what soph Jillian Smith can do. It was another come-from-way-behind anchor from sr Danielle Tauro.

But appearances can be deceiving. Given all that, the Southern Regional NJ DMR performance wasn't quite at the level it might have been. Still the performance said as much about their current limitations as well as their future promise. And behind the winning 11:49.62, there were efforts by Colts Neck and Warwick Valley that were pretty impressive in their own right.

It started in terrific fashion, with the Smith and talented Warwick Valley fr Lillian Greibesland battling to the finish, each being credited with dazzling 3:32 1200 legs. Both are the stuff that national records are made of and – after laps of 72 and 75 – they each finished it in astonishing fashion, both closing in 65. Wow!

Three legs later, it was thrilling to see Tauro come from 12 seconds behind for the win. To the uninitiated, it might have seemed like last year's Nike Indoor meet all over again, but the bigger story is that the top three teams can all run faster.

During the middle two legs, Warwick built a huge lead with jr Claire Pettit (57.1) and sr Kristen Peluso (2:17.4) following Greibesland with fine runs. Suddenly, with 4:57 miler Tori Pennings taking the baton with the clock showing 6:46, it was apparent that Warwick could not only force Tauro to run an indoor PR for the victory, but possibly run as fast as 11:43 (#3 all-time) and take down their own formidable school record (11:45.97 from last year).

Meanwhile, Southern had gotten 59.3 400 and 2:27 800 legs from sisters Jessica (soph) and Kate Bergin (sr), giving Tauro the stick at the 6:58 mark. Three more teams lurked 4 to 6 seconds back, including Colts Neck.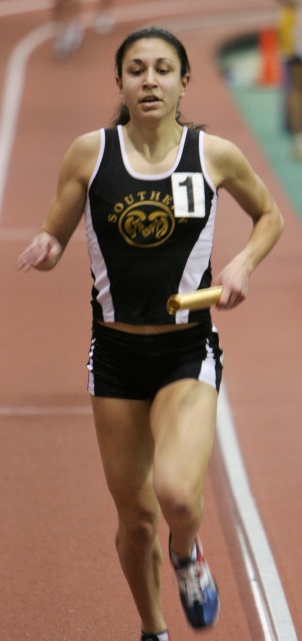 Another come from behind win for Danielle Tauro and Southern Regional. Photo by The Track Junkie.
The final leg was kind of strange. Both Tauro and Pennings went out hard – too hard – in 66 and 70. But then Tauro appeared to shut down, causing onlookers to wonder if it was that hamstring that had caused her to bypass the NJ Group meet, or if the deficit was perceived to be so great that it was judged not to be worth it. After laps of 32 and 34, she ran 38, 40 and 40.

But Pennings was really struggling ahead of her, going 39, 40, and 42. It was an uncharacteristic race for both runners. Tauro, though, was able to rally and started closing the gap – and it was just in time, as Higginson was powerfully bringing Colts Neck back into the race. Tauro passed Pennings on the next-to-last lap and closed in 36-33 – 69. On the last lap, Higginson moved into 2nd and finished off her team's US#2 11:56.24. Three days after her US-leading 10:26.53 3200, Higginson had PR'd for 1600 with 4:52.2. Warwick held on to third in 11:59.86.

Amazing – Southern Regional coach Brian Zatorski got a US#1 despite what he said were "flat" races from his first and third runners, and clearly an atypically roller-coaster run from Tauro (4:51), who hadn't run hard since her injury. He said Smith wasn't well-rested and really let the tempo lag in the middle two laps, though Greibesland's surge woke her up.

"I honestly think she can run 3:28 when she's fresh and ready to go," he said. "Jessica ran about what we expected, but Kate ran kind of flat. She's not ready for 2:20 yet, but I think she can run 2:22-23.

"Danielle went too quick for the first 400," he added, "then I think she a little tired and played it cautious, but she still thought she could catch her. Then she got a jolt of energy when she saw Pennings was coming back to her."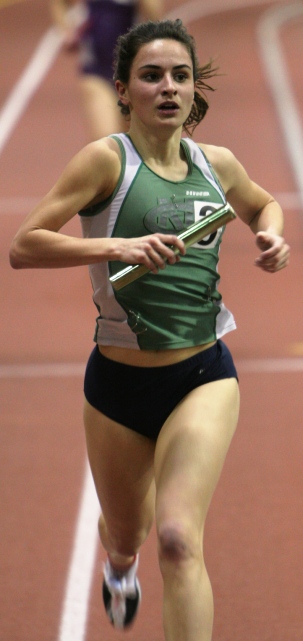 Ashley Higginson finishes off her PR leg on the Colts Neck DMR. Photo by The Track Junkie.
Even if one projects somewhat conservative numbers of 3:30-:59-2:23-4:45 for the foursome, the result would be 11:37. It's clear why track pundits feel this squad might be able take down the national record (11:35.43), either at NIN or outdoors (11:33.42) at Penn Relays, where Zatorski and his girls really plan to throw down the gauntlet.

Meanwhile, Warwick Valley coach Rich Furst said he was impressed (but not completely surprised) at his talented freshman's performance in the 1200, seemed at least satisfied with his middle two runners, and said that there was nothing physically wrong with Pennings, who was about 16 seconds off her PR. But he had an idea why she didn't have a great race. He felt the announcers focused so much on the rally of Tauro and Southern Regional, and to some extent the other teams – but not Warwick – and Pennings became "overwhelmed."

Coach Furst also credited Pennings with helping Greibesland to become a better runner. "Tori has really pulled her along."

The third story in the race was Colts Neck, which used Ashley Higginson's studly 4:52.2 anchor leg, a PR, to finish in a US#2 11:56.24, a school record for the team. Colts Neck had started with legs of 3:44.5 from Allie Flott, 61.9 from Kathryn Herrick, and 2:17.5 from Meryl Wimberley. They were running without soph distance star Bri Jackucewicz, who was taking a mild injury break.

Colts Neck seemed hopelessly out of it with a leg to go, but Higginson put in a tremendous effort. Still, head coach Jim Schlentz felt Ashley can come down further. "She said she felt really good toward the end, and I told her she relaxed a little too much in the middle.'" The overall effort, though, netted the distance powerhouse a school record.

Boys 2M: A great duel, but Murdock wanted more

Like Henning and the Southern Regional DMR performances, there was a lot to like about Steve Murdock's US#1 9:07.85 2-mile. First was, naturally, that it was a national leader (though Craig Forys' 9:03.58 3200 converts out faster). It was also a PR for Murdock. Best of all, the notoriously fast starter not only held off repeated challenges from Andrew Hanko's own 9:09.80 PR run, but he ACTUALLY RAN A NEGATIVE SPLIT (Yes, if you're a Murdock follower, you know this is freakin huge).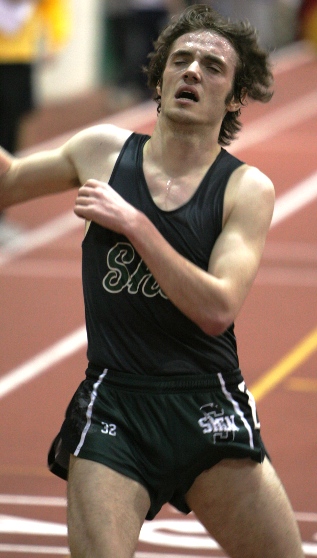 Steve Murdock shows the pain at the end of the deuce. Photo by The Track Junkie
Yet it was not – and Murdock was the first to say so – a vintage Doc run. His previous PR, as he scornfully admitted, was way back from his soph year. This is making up for lost time. Then there was the pace. He had that smart conservative start, running the first two laps in 2:19 behind Hanko.
Then when he went 67 for the next two laps (total 3:26), it appeared a steady surge to a 9-flat type run was in the cards – which is what Murdock wanted. But the fact that he slowed down after that showed he was not completely right.

"I wanted to go under 9:00 really bad," he said. "I thought the race would be earlier. I started warming up at 6:50 p.m. and the race wasn't until 8:40 p.m. Before the race, my legs didn't feel good and my head was out of it."

Meanwhile, Hanko was running his own race, holding back early because he thought Murdock would hammer it, then laying off when Murdock surged. THEN, Hanko made his move when he had planned to, using the 9th and 10th laps to close rapidly on Murdock as the crowd suddenly realized this was going to be a heck of a race after all.

Yet … yet … Hanko can hammer a hard pace, but accelerating and kicking are not his strengths. And Murdock has that incredible hold-'em-off grit. So Hanko tried 3-4 times to pass, but the Doc held him off every time. Even though Murdock is usually spent from his hard starts, he can always muster a decent kick. He had enough to hold off Hanko and, lo and behold, wind up splitting 4:35-4:32.

"He made a lot of good moves," said Hanko afterwards, considering all of Murdock's countersurges. "I've been trying to work on the strength in my calves. I tried to go with him and get up on my toes.

While Hanko didn't expect to lead early, it was part of the plan to let Murdock go if he ran hard in the first mile. "We figured he would go out a little faster. I was going to run my pace, then pick it up."

"It took a lot from me to hold him off," Murdock admitted, then, as Hanko walked by, invited him to warm down with him. Distance rivals often have that mutual respect.