2007 Foot Locker Nationals


December 8, 2007 Balboa Park, San Diego CA




Despite defeat, former champs appreciate results



Beyond the tape at Foot Locker Finals girls race: Stories of Kathy Kroeger, Jordan Hasay, and many others

by SteveU



Ashley Brasovan was crowned the 29th Foot Locker National Champion, but there were all sorts of ways to measure success at San Diego this weekend



For the uninitiated scribe, it may seem like there's little to focus on in a cross-country race other than the individual winner and the winning team – and at the Foot Locker Finals, you don't even have the latter.

But if you dig a little deeper, you'll find 80 competitors and 80 stories worth telling. Every one of these kids is a champion somewhere – otherwise, they wouldn't be here. Some of them are dead-focused on winning, just like they always are, but others are dazzled to varying degrees by their fellow runners – some with a healthy awe and some who are overwhelmed, at least the first time. There are varying goals – top 5, top 10, top 15 (All-American), top 20. No one really wants to finish in the second half of the field, but the realists know that if they're not razor sharp, a lot of folks can get past them in a hurry.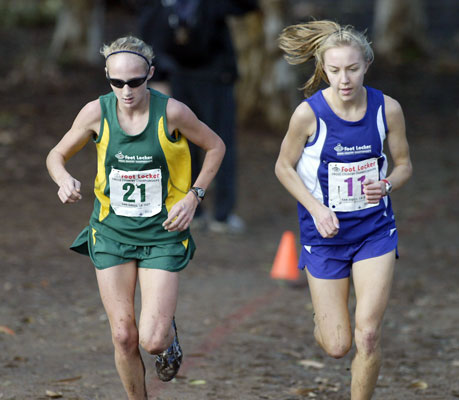 Kroeger and Spence. Photo by John Nepolitan


In any case, the girls race – especially with all the returnees – was full of stories that went well beyond the winner's. Here's a few of them:




Not the winner, but a new, improved Kathy Kroeger



A year ago, as a sophomore, Franklin (Independence HS) TN star Kathy Kroeger wowed everyone here with the way she ripped away from the field and crossed the line seven seconds ahead of Aurora Scott. Already by nature a timid person in such scenarios, she was so overwhelmed and filled with emotion by the win that it was hard to get any comments out of her. Watching her afterward, you noticed that Kroeger certainly looked like she might be on the edge of the profile of a healthy distance runner's physique, but it's usually not wise for observers to make assumptions about a runner's health unless intimately familiar with their situation.

Well, those in her inner circle determined that her weight wasn't up to a healthy level, and after a visit to the doctor in the weeks that followed, she was "ordered" to put on some pounds before competing again. The story of Kroeger's absence last winter and spring from the track scene, and subsequent comeback this fall, has been well documented. While it was clear from her performances that she wasn't quite back at her 2006 level, her victory in the Foot Locker South race indicated that she was still close enough to at least be a contender to defend her title.

Friday, it appeared that Kroeger was limping at times during the course walk and run-through and that she was in some pain, stopping and trying to stretch and work it out. But Saturday she looked okay and she ran a smart, competitive race. She didn't try to go with Hasay early and she didn't try and go with Brasovan when she made her move. But she did measure her effort throughout and was there to pass Hasay when she was dropped by the eventual winner.

So eight seconds after Brasovan broke the tape, there was the now-healthier-looking Kroeger, crossing the line second in 17:28, actually a second faster than last year. And when talking with her moments later, it was clear that she had not only grown in stature, but is well on her way to being a confident, well-spoken young adult. She didn't defend her title, but what transpired may have been more gratifying than any victory could have been.

"I'm really pleased," she said of her race. "I feel blessed to be back here. Jordan took it out really fast and I just tried to stay 3rd, 4th or 5th. In the second half of the race, I just tried to give it all I had.

"Sometimes I wasn't sure if I could do it, but it was my New Year's resolution to make it back here. I'm very thankful for my coaches and parents helping me to do this."

Regarding her legs, she added, "They were sore. I didn't feel perfect out there, but I tried to feed off the energy around me. I tried to relax and ignore the pain. I ran the best I could."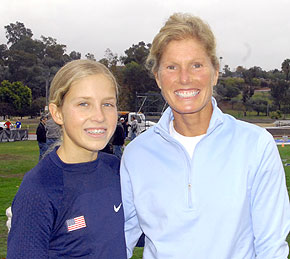 Jordan and her mom. Photo by Donna Dye





No regrets for Jordan



2005 Foot Locker National Champ and 3-time West Region champ Jordan Hasay didn't really mean to run the first half mile in 2:31, but she also wasn't going to let the race be anything but fast. And it didn't feel fast enough for her in the first 400, so she was off, trying to deep-six an incredible field. She got 10 seconds on them and held it for awhile, but they just wouldn't go away.

There was both intent ("I wanted to take it out if the race was slow") and impulse ("It just kind of happened") in the way the Mission Prep junior took off in the first mile. "I don't have any regrets," she added, "but I learned I can't lead in a race for two miles when there are great girls like this here. If I'd stayed in the pack, I probably would have done better. It was about the same pace as I ran here my freshman year, but I wasn't leading the whole way that year."

Hasay still seemed pleased overall with her season, a season in which she set PRs on almost every course she raced. "I feel like I've gotten to a new level with training and racing."

One forgets when watching Jordan over hill and dale that her real passion is around the oval. "I'm really looking forward to track," she said with a smile. There's still a chance she will run the USATF Junior XC Trials, but it's more likely that she will shoot for a 5k on the track early, compete in her traditional season, and also go for the USA World Junior Team.

As for goals? "I definitely want to get under 10:00 (for the 2-mile)," she said (another big smile). For the mile … we'll see how it goes."

While the result wasn't a victory, and there was a little impulsiveness in the hard pace, it's still a "better" Jordan than the 2005 or 2006 edition. She's better mentally ("I wasn't that nervous this year. I felt more confident.") and a better leader, who got compliments from her West teammates on that attribute. "For me, Marie (Lawrence) was a great leader," Jordan said. "Now Kauren and I are the ones with experience."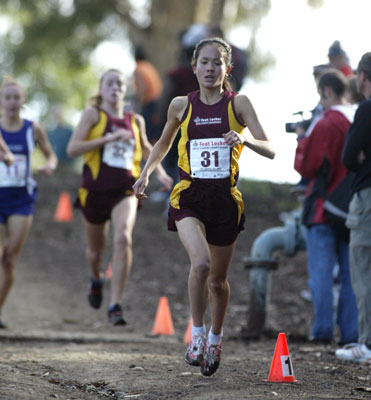 Claire Durkin ... photo by John Nepolitan


Different styles



There were few bigger contrasts before the race than the pre-race "workout" preferences displayed by co-favorites Jordan Hasay and Claire Durkin. Reports from the course walk-through were that Jordan and Coach Armando Siqueiros were serenely strolling the layout and discussing race strategy and whatever else came to mind.

Meanwhile, Midwest Region champ Claire Durkin appeared to be trying to blaze a pre-meet trail on the course. Observers said she ripped through at least three 1.5 mile loops, then blasted some striders.

Saturday, she was always in the pack chasing Jordan, but never really went after her. Of course, it wasn't like at Kenosha, where the first mile went in 5:45 and Durkin blew the field away off of that. Here, Jordan had already close to redlining and the field had to hustle to hang on. Durkin finished solidly in her first national race – 5th in 17:44 – but one can't help but wonder if she left something out there on Friday. Was it nerves or is that what she always does?

"That's what I normally do," the Worthington Kilbourne senior said. "I'm a pretty high mileage person."

As had been reported after Foot Locker Midwest, Durkin's goals were pretty modest for a regional champ. "I wanted to stay with the lead pack and I think I did that pretty well. I just wanted to do my best. A lot of the other girls have a lot more experience at national meets than I do."




PA girls are the best trio



There were 10 states that had at least three athletes in either the boys or girls race, or each of them. Pennsylvania was of the two (along with California) that had at least three athletes in each gender, and no trio finished better than PA's standouts on the girls side: Neely Spence, Carly Seymour, and Kacey Gibson finished 4th, 9th and 12th. Spence and Seymour were 8th and 9th last year and both came in looking to improve. Seymour had wowed the nation with an Eastern States win in October and then a record run at PA state, but Spence waited until the next two weeks to really show her form, taking Foot Locker NE while Seymour faded at the end to fourth.


Carly Seymour and Kacey Gibson. Photos Vic Sailer

Meanwhile, Gibson had been 20th and 12th at Foot Locker NE as a soph and junior, so qualifying finally as a senior was extra sweet.

Spence put herself in a position to contend for the win, always up with the chase pack. She didn't quite have it in her to go with Brasovan, or outkick Hasay (whose mile PR is more than 10 seconds up on Spence's), but she continued her record of consistency and reliability, as well as the steady improvement she's fostered her entire career.

"It was the hardest race I ever ran," said the homeschooled Shippensburg senior. "It was really a great way to end my career. It's kind of sad, but also exciting to move on to something different."

"My goal was to finish in the top five, or at least do better than last year. I ran about 30 seconds faster (actually 38), and the course was in worse shape, so it's nice to see that improvement."

For those who are new to the sport or who haven't followed Spence's career, she is the daughter of Steve Spence, who was 3rd in the 1991 IAAF World Championship marathon and a 1992 Olympian. He had a stretch of a few years where he authored a string of outstanding road performances from 15K to the marathon that gave him a rep as perhaps America's best and toughest long-distance runner.

Seymour finished in the same spot as last year, but 25 seconds faster. "It really started out pretty fast for me … but I wanted to come in here, have a good time, and run a better time than last year. I was happy with it."

Said Gibson: "I'm really happy. I wanted to get top 20, and hopefully All-American. I tried to stay with Carly." She added that both Neely and Carly were great teammates to be here with. "They were great. They answered a lot of questions for me."




Emily Lipari is everywhere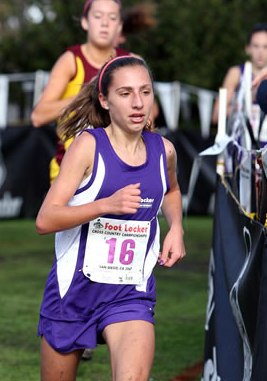 Emily Lipari - Photo by Vic Sailer


No one was a bigger surprise in the top 10 than Roslyn NY soph Emily Lipari, whose back story makes her finish extra stunning. Right after Foot Locker Northeast, Lipari, who is a Premiere Level soccer player, had a big soccer tournament on her schedule – in North Carolina. The family drove 14 hours each way from Long Island for her to compete there. A few days later, it was time for … indoor track??? Yes, not too many Foot Locker Finalists in training have to hit the indoor track circuit in late November and early December, but Lipari's conference has a rule where athletes have to compete in a certain number meets to qualify, which meant she had to run some of the earliest meets in the Rosalyn HS schedule.

The following Wednesday, the day before she left for San Diego, she had to compete again. To try and keep things, um, light, Lipari's coach had her run 55s and 300s.

Surely, this crazy schedule would slow down the diminutive soph, right? Wrong. Lipari ran a smart, controlled tempo, eschewing her front-running inclinations, and worked her way up to sixth at the finish. It had to be one of the most remarkable stories of the 40 girls who were in San Diego.

When asked about the sequence of events, Emily wore the look of someone slightly embarrassed to know that others were aware of her unusual athletic odyssey, but who was also matter-of-fact about defending it. Far from seeming like a naïve youngster who doesn't know what she's doing, she seems more like a savvy kid who's tougher and wiser than her years would indicate. Someone who has discovered she can do more than the average person. Like what's the big deal?

"She's been used to this for awhile," said her mom, Terry. "I think it makes her tough."

"Oh, tell me about it!" said her father, Joe. "I drove her across the country." But as to the question of scaling things down, he added, "It's up to her. I think if she only did running, she'd get sick of it."

The way Emily tore up New York this fall, it shouldn't be a surprise she could make the top ten. But she is a newcomer to this elite level and since she was 6th at FL NE, such huge things weren't expected.

"I'm so excited," she said. "I was just hoping I could make the top 15." Did she hold a little back at Van Cortlandt, and maybe really let it all out today? "Yeah, I think I pushed harder here."

One longtime track official from New York, who has followed Lipari and was well aware of what she had done leading up to the meet, threw up his hands and shook his head in disbelief and said, "I may just have to throw everything I know about coaching out the window."




Tarver and Scott join the four-timers club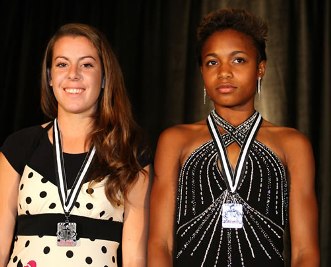 Kauren Tarver and Aurora Scott. Photo by Vic Sailer


Speaking of the consistency, how about Aurora Scott and Kauren Tarver? They became the 18th and 19th to make it to The Finals four times. Between them, they had seven top ten finishes.

Scott's highlight was her runner-up race last year, which came after she had smashed the course record in the Foot Locker South meet at McAlpine. Aurora has had her ups and downs in training and racing since then, almost disappearing between the Nike Indoor meet and this season. It doesn't help that she doesn't have the opportunities to race either high school or college competition from being homeschooled and affiliated with an institution that isn't part of Virginia's athletic association. The NCAA has changed its rules, as well, which has kept her out of that level of competition.

It was clear, watching her run, that she wasn't up to the level of last year, but it was also clear how hard she was fighting to hang in there in the top 10. Aurora stated at Foot Locker South that her primary goal was to make the World Junior XC team this winter. Perhaps she'll come on in that race like Jordan Hasay did last winter in victory.

Ever since Tarver made the Finals as a freshman, she's had a pattern of a relatively non-descript track season and a modest start to XC. But by the CIF state cross meet, she's right there battling for the win, then has come out the West team, then impressed with a top-10 finish. While she has finished from 5th to 7th to 10th, she still always seems to outrun expectations.

It's not that Kauren hasn't had other highlights. Her 1600 PR is 4:48 and maybe her most outstanding run of them all was when she made the 2006 World Junior team with Nicole Blood and Marie Lawrence and traveled to the IAAF meet in Japan.

Kauren seemed satisfied with her 10th Saturday. "It went out too fast the first mile for me," she said. "But I stuck with the pack and stayed close."

And it's at least partly by design that her seasons have had modest beginnings. "I know I'm kind of a slow starter," she said. "Part of that is that I don't really have too much competition at the beginning of the season … and I'm always focused on doing better at the end of the season."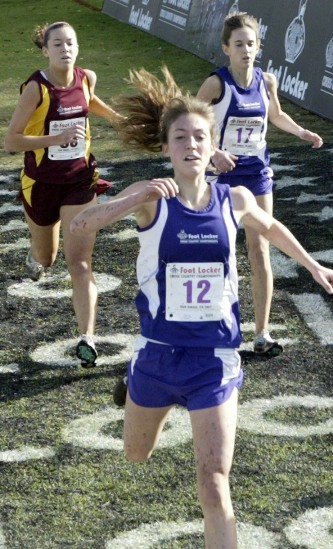 Emily Jones 11th just ahead of Gibson and Infeld.


Making progress …



Just outside of the top 10 was Emily Jones, the Harvard MA junior who was 25th last year. She reached an outstanding peak with her runner-up race behind Spence at FL Northeast, then had a very solid 11th Saturday. "I was feeling really good going into the race," she said. "The training has gone well. I was really shooting for the top 15. Everyone has a realistic goal … but I was kind of hoping I could get in the top 10, too."

The intensity of the early pace had Jones straining and fatigued, trying to hang on to the chase pack that included Brasovan, Kroeger, etc., but she gritted it out, only grudgingly giving up a few places at the end. She credited her coach, Henry Phelen, for her improvement this year. "He's really good at helping you improve steadily and consistently. He doesn't push you too hard as a younger runner.

"This year, I think I'm also more focused, and I eat better and sleep better than before," she added. "It really helped having been here before. Last year, it was kind of a shock; this year, I was ready for it."


Even most of those who didn't have a super race seemed to be in pretty good spirits. Kayla Hale, the Indialantic FL jr who was 19th, was hoping for 15th. But she was having fun and still enjoyed recollecting a transformational FL South race where she was 2nd and proved she could run with anyone on the country.

"It was hard," she said of the Finals. "I didn't feel great out there today. I really wanted the top 15, but I improved 25 seconds from last year and it was a great experience."

Of her FL South race, she smiled broadly and said, "That was definitely the best race I've ever had!" McAlpine may not be Ashley Brasovan's favorite place, but Kayla definitely has fond thoughts of the ol' speedway.

"At McAlpine, you definitely have to get out hard," she explained. "There's not a lot of passing room … and it was cold – for us (Floridians). Once I got past the initial stretch, I settled down, and after the hill, I got in pretty good position … Then, the last time I went around the lake, I suddenly realized I really had something left.

"That race really showed me what I could do and gave me a lot of confidence … I'm really motivated now to go out this winter and train and get ready for track."


Similarly, Xavier Prep soph Jessica Tonn had a high regional finish (3rd) and wasn't able to quite muster up the same level of performance in the Finals (20th). And, like Hale, she had a good perspective on how it all …

"We got out pretty fast (5:28 for her) and I felt comfortable … but my legs were pretty tired on the second loop," she said. "But I gave it my all and I'm happy I improved (from 24th in 18:44 to 20th in 18:07)."

Jessica added that this meet is "nerve-racking," but that this year she was more mentally tough. "Last year I was a wreck, I was so nervous," she said.

Another thing she emphasized was the camaraderie between the West team members. "I think we bonded more than last year. I was really happy to get to know Jordan better."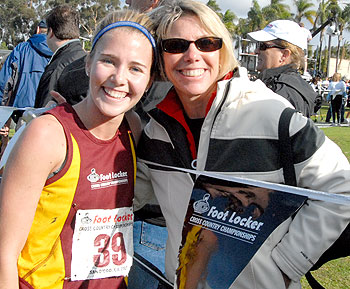 Katie Haines and her mom ... photo by Donna Dye


Truly happy to be there …



While every athlete at Foot Locker has at least some aspiration of finishing in the top 15 (All-American) or 20, the fact is that half of them will be in the bottom half. But that doesn't mean they're going to be unhappy about it. When you're like Rockford MI sr Katie Haines, who finally realized her potential with her 9th in the Midwest Region after four years of ups and downs, being in San Diego was pure ecstasy. Being one of the final two qualifiers from Kenosha, she was far, far from morose about placing 26th.

"I was 6th from the Midwest!" she said with pride. While Katie had certainly raced with the elite before at FL Midwest and the Nike track meets, having so many going so fast in the same race was eye-opening. "I was like, 'I'm 5:30 at the mile and I'm in last place!" she said with a laugh.

But she moved up all race long … which was the same thing she did in Kenosha. Indeed, her real story was what happened there in Wisconsin.

"The past couple of years, I had started out too fast and died," she recalled, "so I was going to go out controlled this year. I was only 6:00 at the mile and about 50th place. After that, I kept catching groups of people. I heard I was in 40th, then in 30th …

"Finally, at two miles I was with three girls and heard, '10th place!' and I was like, 'Sweet! I have a chance!' … I was so excited. I finally made it here my senior year!!!"


Foot Locker Finals index - Girls Championship Page