It's a day and two short nights before the nation's top harriers will again take to Morley Field at Balboa Park in San Diego for the 29th Annual Foot Locker Finals Cross-Country Championships and the 40 participants, their families and coaches have been arriving all afternoon. It's a scene that takes place here every year … except … except something is off. The sun only barely peeked through the clouds this morning and a light mist is turning into rain. The normal shirtsleeves and shorts have turned into jeans and sweaters, or full warmups for the athletes.

The race-day forecast is for rain and temps in the mid-50s. So what the heck is going on here? If it was much colder, the ice rink in back of the Hotel del Coronado would stay frozen by itself! Well, it's an unseasonable rain system coming off the Pacific that will make Saturday into something that much of the rest of the country is used to running in, but not the host state. It could make the weather a factor in a way that it has almost never been here.

That's the unexpected side story to the main storyline regarding the titanic clashes that will take place here. While the girls battle took center stage last year, and is really no less compelling this year, the showdown on the boys side is creating the most excitement here since Ritz, Webb and Hall at the beginning of the decade.

And, in addition to the simple matching of talents and the weather factor for these races, there's the added intrigue of how participating in the NTN series will affect top contenders like Chris Derrick, Colby Lowe, and Katie Flood.

Without further ado … the previews and predictions:



BOYS: The Title will come from a Super Six



The boys race is shaping up to be a battle of the "Super 6" - (l to r) Chris Derrick, Donn Cabral and Mike Fout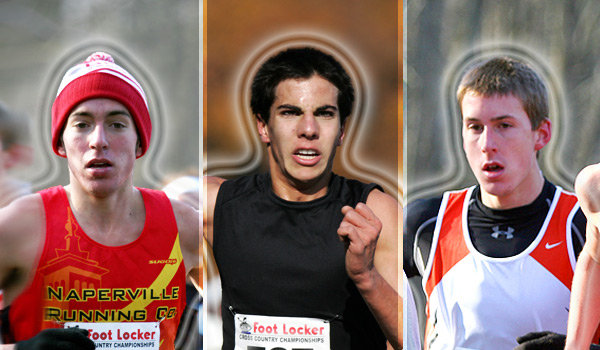 The presence of the authors of two of the most impressive boys performances of the decade – Derrick and German Fernandez – is reason enough for major anticipation. Derrick, the Neuqua Valley IL sr, rocked the prep running world Nov. 3 when he ran a 13:52 (3 miles) on the famed Detweiler course at his state meet, at least matching the 13:50 of Craig Virgin on the slightly different old layout. Three weeks later, the Riverbank CA sr Fernandez made jaws drop when the pummeled by 14 seconds the 21-year-old Woodward Park record of the venerable Marc Davis at the CIF State Meet, crashing across the line in 14:24 (5k).

But this hardly shapes up as just a two-way battle. Making almost equally strong impressions have been Judge Memorial UT sr Luke Puskedra and Glastonbury CT sr Donn Cabral. Puskedra crushed records at major races all season from Utah to Arizona to Idaho, before finally losing to Fernandez at Foot Locker West, while Cabral waited until Foot Locker Northeast before serving notice that he was in "for-the-win" shape with his meet record 15:09 at Van Cortlandt.

Then there's Southlake Carroll TX sr Colby Lowe, the top 2006 national returnee here in San Diego (Ben Johnson NM ran only NTN) who has lost only to Derrick this year, and Laporte IN sr Mike Fout, who has traded wins with Derrick (handing the NTN champ his only loss).

While fans would debate how many are truly in contention for the title, you wouldn't get too many arguments that the win will come from one of these Super Six. Let's take a closer (but quick) look at some of the key talking points for each of these main players.

Fernandez – After his 14:24, many fans were ready to hand him the crown. On the other hand, it was a draining effort, though he followed wisely with a Foot Locker West effort that didn't get really intense until the end. But of all the top guns, he's the least experienced against top competition and in cool, rainy weather.



Derrick

– For most of the season (or all of it, depending on your perspective), he's been considered the best in the country. He elected to do the NTN/Foot Locker double, following his IL State win with a record at NTN MW, a runner-up showing at FL MW where he seemed to not go all out for the win, and a tactical but fairly tough victory at NTN. No one has ever won the NTN/Foot Locker double. Can he be the first?



Cabral

– An undefeated, but fairly non-descript season for a returning finalist – until he dropped the bomb at Vanny. Not only did he smash the meet record, but came within a tick of Josh McDougal's all-time 5k best at the park. He hasn't made the headlines all year like a few of the others, but he's fresh and can accelerate off a hard pace.

The other half of Steve Underwood's "Super 6" - (l to r) German Fernandez, Luke Puskedra and Colby Lowe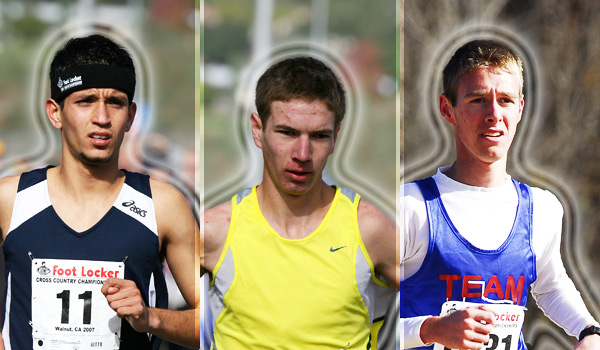 Puskedra – For the whole year, he may have the most impressive set of victories, smashing Josh Rohatinsky's UT state record, the Firman Invite record, and the standard at the Doug Conley course where NTN SW was held, to name a few. Fernandez ran away from him in the final 600 last weekend, but he didn't attempt to fight him – yet some observers said he was pushing hard to stay with Fernandez earlier. Does cool Luke have one more hand to play? At least one of the sport's top observers thinks so.




Lowe

– The only one of the group who's a 3-time Finalist, but not as heralded because of the lack of competition (outside of teammate CJ Brown) he's faced all year. But Colby IS a 8:59/4:09 man and gave Derrick a good battle before falling by just three seconds last weekend. He was also pretty impressive at FL South. On the downside, no one else has raced as hard for as many consecutive weeks.



Fout

– Maybe Derrick wasn't going all out in Kenosha, but give Fout some credit. 14:54 is still a great time on that course in less-than-ideal weather. He also ran very well at Midwest MOC the week before, a 14:59 course record. Also in his favor is the fact that he is fresh and has the 2nd best 2-mile in the field. Fout FTW again?

So … with the weather an added factor, how will it all play out?

Lowe, Puskedra, and Fernandez are all fast starters; the other three not so much so. Cabral and Derrick have both shown the ability to make hard mid-race moves. None of the six has shown superior speed from the mile on down, in terms of track PRs.

Neither Lowe and Puskedra can risk too much with a fast start; they won't be around at the end if they overdo it. Fernandez will probably be able to hang on longer and it would not surprise to see him start to create a gap after the mile. If Cabral can hang, he may try and counter in mid-race. Derrick and Fout are more likely to hang off of others' pace until the 2-mile, or later.

The biggest questions are these: Will Fernandez handle the cool weather well enough to render the strategies of others irrelevant? Will Derrick and Lowe have enough left to hang? If the answer to both of these is no, will Puskedra's tempo, a mid-race move by Cabral, or a late-race move by Fout be the one that wins?

So here's my take:

1. Donn Cabral CT
2. German Fernandez CA
3. Chris Derrick IL
4. Mike Fout IN
5. Luke Puskedra UT
6. Colby Lowe TX
7. Kevin Williams CO
8. Maverick Darling MI
9. Ryan Hill NC
10. Brandon Jarrett NJ
11. Jason Witt VA
12. Brian Leung NJ
13. Kevin Havel IL
14. Mark Dennin PA
15. CJ Brown TX
16. Miles Unterreiner WA
17. Vince McNally PA
18. Rob Finnerty MN
19. Stephen Clark UT
20. Brett Walters CA




GIRLS: Regional Winners are the Fab Four (but after that ... hoo boy)



Last year at this time, or actually by Friday afternoon, there were storms brewing here in San Diego, but they had nothing to do with the weather like we have this year. There was a titanic throwdown in the making with some tough talk by Aurora Scott fanning the already hot flames of competition that were present with her and Kathy Kroeger, Jordan Hasay, Marie Lawrence, Emily Sisson, Kaitie Vanatta and others.

This year, the boys race is the topic of the most heated debate, while the complexion of the girls race has changed. Most of the key players are back from that top group, but (for dramatically different reasons) neither defending champ Kroeger, Scott, or Sisson is as fit or generating as much buzz.

Hasay, however, has shown form most of the fall superior to what she had as a freshman here. Last year, with her focus split between the Finals and the Junior Trials later in the winter, her confidence was down and she was broken late in the race by Kroeger and Scott, and eventually took 10th. But with a great track season last spring, especially at the end, and just about a perfect fall, there's lots of reasons to think the Mission Prep CA jr can join Melody Fairchild, Erin Sullivan, and Erin Keogh as a 2-time winner here.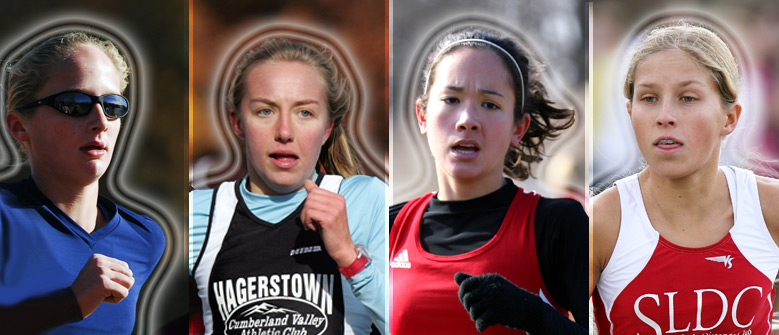 Four girls look to be at the top of the field: (l to r) defending champ Kathy Kroeger, Neely Spence, Claire Durkin and '05 champ Jordan Hasay

Her greatest challenge will not come from last year's top returnees, but in the form of a Worthington Kilbourne OH senior who quietly compiled a strong season in her home state, then rocked everybody's world in Kenosha. There have been few mid-race moves in prep distance running history like that 5:12 second mile Claire Durkin threw down on the Parkside course, putting more than 25 seconds between her and the rest of the field. Her finishing 17:01 broke a Fairchild record and … what else needs to be said? It seems that in one race she joined the legends of the sport, but everything she did all season built up to that – you just didn't notice if you were outside of Ohio.

Still, though she lost last year, this is Jordan Hasay's house and she's got the experience at this level, plus the type of speed at the end that wins titles. For Durkin to do here what she did in Wisconsin will be tougher, mentally and physically. But if she goes for it and can pull it off … hoo boy.

Experience and common sense dictate the next two spots. It's probably not often that regional champs take the first four spots, but it's hard to go wrong with Neely Spence and Kathy Kroeger. No one has topped the consistency the Northeast champ from Shippensburg PA has shown the last two years. She just doesn't have a bad race when it counts. She may not quite have the wheels of the other two, but is not going to underachieve here.

Kroeger's well-documented comeback from what can be described as a medical leave last spring has been steady. The defending champ is still not where she was last year, but is still fast and running smart.

Now. Now … comes … the … hard … part. Did you know that 16 of the top 25 finishers from last year's girls race have returned here (compared to 3 of the top 24 on the boys side)? When you add in runners like Durkin, Ashley Brasovan, Katie Flood, Laurynne Chetelat, Mary Kate Champagne, Stephanie Morgan, etc., etc., etc., one thing becomes very clear.

There's too many girls and not enough places.

You try and ask the questions. Who underachieved or just ran to qualify at their regional and can do much better here? Who ran over their head at region and will be unable to maintain? Who looks like they're past their peak? Who is about to hit the crest of a wave? Who is simply not going to finish as high as last year, even though they're running well? Who is going to make last year's finish a distant memory with a great race Saturday?

(There's going to be some that I'm way off on, and there's going to be some outraged athletes, coaches and parents. Just remember, they're ONLY predictions, and nothing personal. If you pick your top 20 and it's better than mine, good for you.)

Emilie Amaro FL, Laurynne Chetelat CA, Emily Jones MA, Emily Infeld OH, and Kauren Tarver CA all looked as good or better at regionals than they've looked all year. All but Chetelat were here last year. The guess here is they're all ready for the top 10.

Aurora Scott and Emily Sisson were in the top four last year. They don't look ready for that now.

Ashley Brasovan FL, Carly Seymour PA, Katie Flood IA, Nadya and Nastia Bishton AZ, and Cory McGee MS all have all run exceptional at times this year, with the first three of that group looking like top five or better finishers in October or early November. None looked like top-five types in their regionals. But were some just running to qualify or had an ailment? This year, more than ever perhaps, if you're a little off, someone's going to take your place.

Kayla Hale FL, Jessica Tonn AZ, and Brittany Koziara FL all ran great at regionals. The onus is on them to prove it again here.

There are 40 girls here and most of them think they can be in the top 15 or 20; no one's goal is to finish in the bottom 10 or 15. They're all great; that's why they're here.

1. Jordan Hasay CA
2. Claire Durkin OH
3. Neely Spence PA
4. Kathy Kroeger TN
5. Emilie Amaro FL
6. Laurynne Chetelat CA
7. Emily Jones MA
8. Aurora Scott VA
9. Emily Infeld OH
10. Kauren Tarver CA
11. Ashley Brasovan FL
12. Carly Seymour PA
13. Katie Flood IA
14. Kayla Hale FL
15. Emily Sisson NE
16. Stephanie Morgan OH
17. Nadya Bishton AZ
18. Mary Kate Champagne NY
19. Jessica Tonn AZ
20. Cory McGee MS