2007 Foot Locker Nationals


December 8, 2007 Balboa Park, San Diego CA


Results | Flash Video |
Rich Gonzalez's lead story - Fout's 'perfect focus' overcomes all
Race Sequence Photo Album - by John Nepolitan and John Dye
Post-race video interview with Mike Fout - "I was patient."
Finish Photo Album - all 40 runners (left)






Boys - Mike Fout 14:50 leads Midwest boys to easy win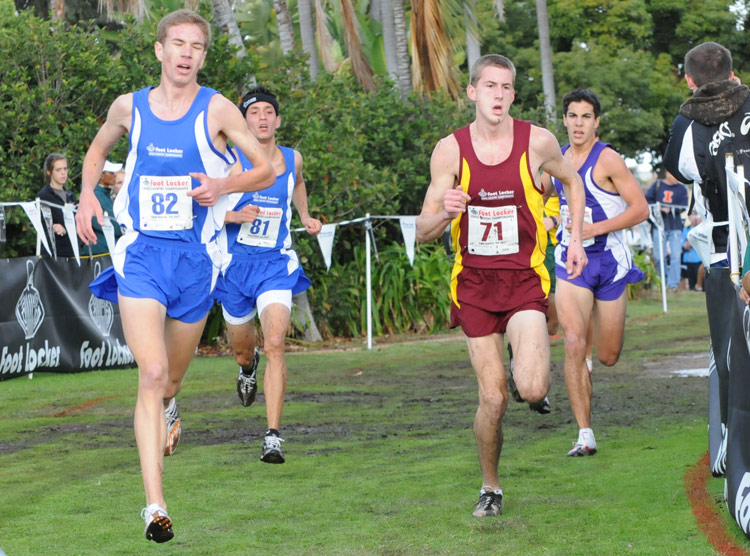 After several lead changes and a brisk early pace by Utah's Luke Puskedra (82, above), Indiana senior Mike Fout (71) seized the race in the final mile for a 14:50 win. Chris Derrick IL 14:57 charged up from way back to grab second, duplicating the 1-2 finish of the Midwest regional

- Photo by John Dye



Fout's 'perfect focus' overcomes all



by Rich Gonzalez, DyeStatCal.com

German Fernandez wanted sunshine, better footing, and a slightly slower opening mile pace.

Luke Puskedra wanted a slightly eased tempo after a swift mid-race surge.

Donn Cabral wanted a chance to re-run those first two miles.

All Michael Fout wanted was the national title.

Sometimes having the perfect focus against a mega-tough field makes all the difference in the world.

While the competition battled to overcome the elements, the pace, and the mistakes, Mike Fout was busy chasing his dream - and ran it down to perfection.

Fout moved into the lead in the closing mile and withstood a late charge from fellow Midwesterner Christopher Derrick to win the 29th Annual Foot Locker National Championships under mild sunshine and along an uncharacteristically sloppy layout.

Fout, the Midwest Region champion but not a title threat in the minds of many, blazed to victory in 14 minutes, 50 seconds to record the fastest time since Chris Solinsky's dominant 14:41 scorcher in 2002.

Derrick, fresh off a late-surge individual and team win at the Nike Team Nationals last weekend, rallied for second in 14:57. Fernandez, the two-legged wonder from California, overcame a temporary late-race fade to salvage third in 15:09.

Fout passed early- and mid-race leader Puskedra just beyond the two-mile mark after the leaders stormed across in 9:28. The senior from LaPorte (Ind.) began gapping Puskedra and the others approaching the final uphill, overcame a challenge from Texas' Colby Lowe, then had just enough to keep Derrick at bay.

"Right from the gun" said Fout, when asked when during he first sensed victory was possible. "No matter what was happening during the race, I always felt I could win. In the last 100 meters I just wanted to drive (for the finish).

"I didn't want it to come down to someone right next me and beat me. That would really be devastating. Just drive, drive, drive. And I had the crowd with me so that really helped."

Derrick, who pulled off the greatest championship double in the new NTN/Foot Locker era (won NTN, 2nd at Foot Locker), was pleased with his showing.

"It's always tough to go out with a field like that," said the senior from Neuqua Valley HS. "I wanted to go out conservative. When you go out hard, it's hard to move that last mile. I didn't think I was making much of a surge, but people were coming back to me."

Fernandez, who according to roommate Andrew Judd was taking cold medication throughout the weekend, slipped to as far back as sixth early in the final mile before one final surge. He also reportedly fell at the start of the race, working his way from the very back of the pack at the start.

"(Falling apart) is not me, I was going to get top three," said Fernandez. "I learned a lot today. I needed something like this."

Lowe, earning his second All-American showing in as many years, placed fourth in 15:12.

"I had seven big races in seven weeks…. I was really happy with how I did," said Lowe. "I also learned that I have pretty good strength now and not just speed. I'm pretty excited about that."

Puskedra said his race began to unravel late in the second mile when others made their move and he responded with a surge of his own, acting a bit out of reaction.

"All in all, I really ran my race though and that's what I needed to do," said Puskedra.

With the 1-2 finish from Fout and Derrick, the Midwest won the boys team competition with 29 points, well ahead of the runner-up Northeast Region's 59.

Results
Scoring Teams and Points:

1. Midwest 29 (1  2  7  9  10  18  21)
2. Northeast 59 (6  8  13  15  17  25  26)
3. West 62 (3  5  12  20  22  24  27)
4. South 64 (4  11  14  16  19  23  28)


1  Michael Fout (12)             Midwest   LaPorte H.S.                      LaPorte                IN 14:50
2  Christopher Derrick (12)      Midwest   Neuqua Valley H.S.                Naperville             IL 14:57
3  German Fernandez (12)         West      Riverbank H.S.                    Riverbank              CA 15:09
4  Colby Lowe (12)               South     Carroll Senior H.S.               Southlake              TX 15:12
5  Luke Puskedra (12)            West      Judge Memorial H.S.               Ogden                  UT 15:15
6  Brandon Jarrett (12)          Northeast St. Benedict's Prep               Hillsborough           NJ 15:16
7  Kevin Havel (12)              Midwest   John Hersey H.S.                  Arlington Heights      IL 15:18
8  Donn Cabral (12)              Northeast Glastonbury H.S.                  Glastonbury            CT 15:19
9  Rob Finnerty (12)             Midwest   Burnsville H.S.                   Burnsville             MN 15:21
10 Maverick Darling (12)         Midwest   Ovid-Elsie H.S.                   Ovid                   MI 15:23
11 Ryan Hill (12)                South     Hickory H.S.                      Hickory                NC 15:32
12 Stephen Clark (12)            West      Skyline H.S.                      Salt Lake City         UT 15:34
13 Mark Dennin (12)              Northeast Boyertown H.S.                    Gilbertsville          PA 15:36
14 Patrick Campbell (12)         South     Mooresville H.S.                  Mooresville            NC 15:38
15 Brian Leung (12)              Northeast West Windsor-South Plainsboro H.S.West Windsor           NJ 15:41
16 Jason Witt (12)               South     Midlothian H.S.                   Midlothian             VA 15:43
17 Pat Dupont (12)               Northeast Fairport H.S.                     Fairport               NY 15:43
18 Bobby Nicolls (11)            Midwest   Regis Jesuit H.S.                 Parker                 CO 15:44
19 Rory Tunningley (12)          South     Lockhart H.S.                     Lockhart               TX 15:45
20 Riley Sullivan (12)           West      Trabuco Hills H.S.                Rancho Santa Margarita CA 15:46
21 Evan Appel (11)               Midwest   Dakota Ridge H.S.                 Littleton              CO 15:48
22 Joseph Manilafasha (11)       Midwest   Denver North H.S.                 Denver                 CO 15:49
23 Jim Walmsley (12)             West      Horizon H.S.                      Scottsdale             AZ 15:50
24 CJ Brown (11)                 South     Carroll Senior H.S.               Southlake              TX 15:51
25 James Attarian (12)           West      Dublin H.S.                       Dublin                 CA 15:51
26 Kevin Williams (12)           Midwest   Develyn H.S.                      Lakewood               CO 15:52
27 Vince McNally (12)            Northeast Conestoga Valley Senior High      Brownstown             PA 15:53
28 Zach Rivers (12)              Northeast Victor Senior H.S.                Victor                 NY 15:55
29 Brett Walters (12)            West      Sultana H.S.                      Victorville            CA 15:58
30 Francisco (Tito) Medrano (12) Midwest   Jefferson H.S.                    Lafayette              IN 15:59
31 Chris Aldrich (12)            Northeast Henderson H.S.                    West Chestor           PA 16:02
32 Miles Unterreiner (12)        West      Gig Harbor H.S.                   Gig Harbor             WA 16:03
33 Griff Graves (12)             South     Abingdon H.S.                     Abingdon               VA 16:05
34 Luke Lovelace (12)            South     Chapin H.S.                       Chapin                 SC 16:07
35 Andrew Judd (12)              Northeast Conard H.S.                       West Hartford          CT 16:09
36 Jonathan Lafler (12)          West      Tahoma Senior H.S.                Maple Valley           WA 16:09
37 Chris Schwartz (11)           West      Foothill H.S.                     Bakersfield            CA 16:15
38 Andrew Brodeur (12)           Northeast Brick Memorial H.S.               Brick                  NJ 16:17
39 Michael Hammond (12)          South     Midlothian H.S.                   Midlothian             VA 16:20
40 Thomas Porter (11)            South     Mountain View H.S.                Fredericksburg         VA 16:22


Foot Locker Finals index