Speck's Blog





World Youth Championship Omissions





Week of April 9th-15th, 2007



By Doug Speck, DyeStatCal Co-Editor



How Can We Send Our Best Team To Ostrava?



Every two years there is an "under-18" World Youth Championships held in our sport, and with it a chance for the better American "youngsters" to whet their international whistle against the world's best at that level! The 2007 version will be held in Ostrava, Czech Republic in July. The past World Champ affairs (held every two years since 1999) have been absolute cookers with a number of US stars from the competitions developing into the best our nation has to offer at the Junior and Senior level.

With our sport trying to keep its head above water against the onslaught of other activities which seems to peel off much of our top talent during their early athletic careers, we have noticed the participation at this World Championship level at this young age is a real force in dedicating young athletes to our sport of Track and Field. We certainly hope that there would be a determined effort to have the top ranked athletes of this age involved with these championships.

During the spring there are always some impressive young talents who emerge, with 2007 no different, with some great running, jumping, and throwing already. With this a World Youth Championship year, we kind of do our homework and see who is eligible age-wise for the title meet (Internationally they go by year-of-birth on things, with those who can go to the 2007 Youth Meet needing to be born in 1990-1991 or 1992).

Those born anytime in 1989 or earlier are not eligible, as they would turn 18 during the year 2007, thus disqualifying them from an "under 18" World Championship affair. It is different than our typical "grade" system for participation in some meets, but works for the world.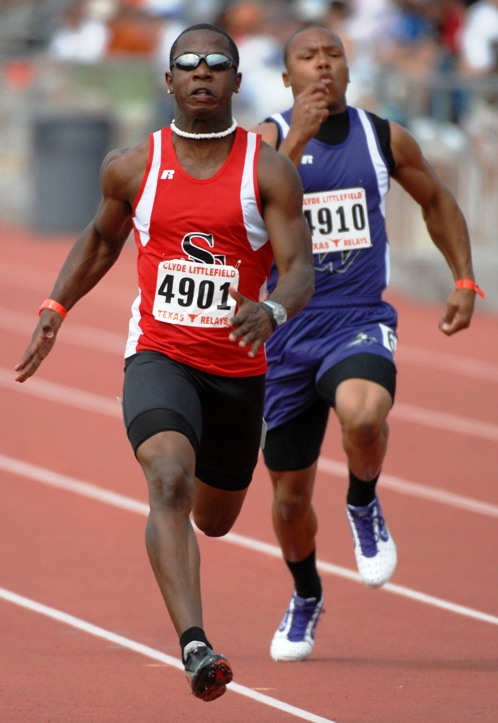 San Antonio (Stevens HS) TX soph Rynell Parson wins his heat of the Texas Relays. Photo/Kirby Lee


A couple of real rockets this winter and spring, who have quickly come into their own as among the best in the entire world at their age, we sure would hope would be considered for the US team. But because of idiosyncrasies in the selection process, they will not be selected for the team under any circumstances. Interesting in that you may be the best in the world for your age, eligible in every way for the meet, but because you did not attend a USATF JO level national championship competition in 2006, you cannot be on the national team for 2007.

With folks developing at a supersonic rate at the pre-18 age level, it would seem possible for someone who is not on the horizon of excellence the previous year could be a very competitive at the World Youth Meet. Yet they may never have a chance to get there because of something that happened because they even were probably aware of the World level competition. Interesting.

Soph Rynell Parson (Stevens HS, San Antonio, Texas) is the leading US prep over 100 meters this spring at 10.32 auto-timed, a mark that would have led the world at the Youth (under 18) level last year. Parson had a super ninth grade year in 2006, with bests of 10.43 and 21.05 in the sprints, wind legal. He is the fastest eligible returnee in the world at those distances for this year's World Youth Championships, so his quality and performances are no mystery. Herein lies the difficulty: Last summer Parson attended the AAU Junior Olympics, where he recorded his best times. With USATF in control of the selection process for the World Youth team, it very clearly states on the USATF web site that one has to attend one of their USATF National Championships the year before the World Youth Meet to be considered for the team. One must compete in either the 2006 USATF National Junior Championships, the 2006 USATF Youth Nationals, or 2006 USATF Junior Olympics to be considered for the 2007 Youth squad, or it appears no matter who you are you will not be considered.

There is no qualifying meet for the 2007 World Youth Championships, with a committee judging the fitness of a select group from their 2006 and 2007 results, providing they attended those required 2006 USATF events. We realize that with athletes of this age, having a June National Qualifying Meet to make the team, and possibly as early as a mid-July "around the world" trip to the World Youth competition, is a lot in a very tight time span. But there sure should be consideration of the quality of athletes who are left out under the current system.

We are not speaking for anyone here, and have no idea why Parson's San Antonio Blazer Track Club went to the AAU JO's instead of the USATF variety, or even if Rynell is interested in the World Youth Championships. But he sure can run! With World Youth eligibile Jamaicans Dexter Lee 10.34 and Ramone McKenzie 20.58 already this spring in the sprints we sure need our best there, with at this point in the season Parson rating some pretty serious consideration.

Vashti Thomas (Mt. Pleasant, San Jose, California) is in the same boat on the Girls' side, with a nice 13.46 100 Meter Hurdles already this spring. She fought a spirited battle with National Indoor Hurdles record holder Jackie Coward (Tennessee, who is not eligible age-wise for the Youth Championships) in early April's Arcadia Invitational. Vashti was a fine 14.24 hurdler last spring, is also a fine horizontal jumper, and is one of those improving at a very quick rate during her teen years. She ended her season in June last year, so she didn't compete in JO or National Junior competition, but has come on like gangbusters in 2007. Her 13.46 leads the World at the Youth (under 18) level in 2007. We are still trying to make a connection between what happened to her in 2006 and her ability to win a Medal at the World Youth Meet this summer. Shermaine Williams of Jamaica has run 13.51 this year outdoors, with Cuba's Belkis Milanes 13.63 through mid-April.

We could probably go on with a fair number of these situations, where seeming medal-competitive athletes are not even rating any consideration for our team. It turns out the No. 2 male 100m sprinter on the clock this spring, who is eligible age-wise for the youth meet, Jeffrey Demps (South Lake, Groveland, Florida) at 10.40 (10.32w), was another AAU JO competitor last summer – so scratch him also.

It is probably too late to do anything this year. The US will send a great team of male sprinters and female hurdlers to the World Youth Meet in the Czech Republic. It would just seem that all the best folks should be in the consideration mix.

There are some possible solutions that could be implemented if the current system is to be continued after 2007. Parson did run 10.48 at the early April Texas Relays in 2006. Is there any mechanism to actively seek out the top eligible athletes and explain the rather restrictive rules regarding possible World Youth Championship team participation at this Youth Level? If not, there should be consideration in setting something up to inform folks about what needs to be done if you wish to make the team.

I would think a wind legal 10.48 frosh male sprinter such as Parson in early April of 2006 (his frosh grade was listed on the 2006 Texas Relay results on the University site) would rate some interest concerning the 2007 World Youth affair. Parson and his San Antonio Blazers TC during the summer may have great allegiance to the AAU JO system over the years, with that AAU group seeming to have greatly improved the quality of their Junior Olympics competitions over the last few seasons. It is just an interesting choice to require athletes to take part in USATF National level meets in one year to potentially qualify for a USA National squad for the next year.

The World Youth Meet is certainly a summer training obligation for those involved, but to eliminate those who went another route for their previous year's summer action, or may have had personal financial concerns that may have precluded their participation, or a variety of other reasons that eliminated their USATF JO National action the previous summer, seems a bit shortsighted. If you were hurt the summer of 2006 and spent that time healing injuries should that eliminate you from a meet that takes place the summer of 2007? All attempts should be made to have our top eligible athletes at the World Youth Meet, which under the current system does not seem the case.


DyeStat Clerk of the Course