Speck's Blog





Boys National Scene - McKay, Puskedra, Relays, and Bad Weather





Week of April 9th-15th, 2007



By Doug Speck, DyeStatCal Co-Editor




RELAYS, RELAYS, RELAYS—



As we head into mid-April, it is kind of fitting that a favorite portion of our sport for myself will come to the fore, as top groups with the baton from around the nation gather for the annual Penn Relays carnival and lead to the relay portion of the Nike Outdoor Nationals in June. The relay races at these two affairs truly give the "team" feel to competition in our sport that typically is lost with the individual championship event,s featuring one or two at most from a team against the best from other schools.

The "team" aspect that is so appealing to all sports has the late April Penn Relays, and its baton events for a number of decades, a highlight of the spring season. If one has ever had the chance to travel to and observe this meet, they absolutely have to before their track and field viewing days are over. One sees wave after wave of races during the weekend that build up and lead to hot finals contests, with the Jamaican-Mainland finals rivalries showing that there is a "team" side to our sport that can rival that of any other sport around.

The Relay portion of the mid-June Nike Outdoor Nationals (NON) has grown to a monster, with the National All-Time record lists in the baton events dominated by results from this affair. Each year anticipation builds as good groups from around the nation appear on paper, and may not even be able to, because of yearly scheduling, to work in a solid effort locally with what appears to be a great baton squad. This past weekend we see where Smiths Station, Alabama had three male 800 runners go between 1:55 and 1:57 in the open event, who could go along with 1:51 team star Chris Bilbrew to make a dangerous 4x800 group (as they did indoors). On the other coast, a couple of weekends back in California at the Arcadia Invite, La Sierra of Riverside cranked a fine 7:44.90 clocking.

This is but one of a huge number of hoped-for match-ups of squads of quality from around the nation that have one rubbing one's hands together in anticipation at the match-ups possible come June at the NON, with that a portion of that affair to not be ignored in consideration of viewing possibilities! Just last week we had an e-mail from a coach of a team indicating that their National Record-possible group was having a hard time scheduling the event locally, but that "one may have to wait for the NON affair." We will see many of those fine squads in June at the NON, with always record or super all-time efforts taking place!




MATCH-UP OF THE WEEK



Super 400 at the McEachern Invitational in Georgia, with Antonio McKay Jr of St. Pius X of Atlanta, a huge improver this spring, meeting up with the home track favorite, William Wynne. McKay continues to power it down this spring, racing a super 46.28, the number two clocking in the nation behind Bryshon Nellum of Long Beach Poly's 46.02 Arcadia (Ca) win. Wynne was close behind at 46.72, the #3 run in the US among preps outdoors in 2007! Time flies when one makes the name connection and we realize we watched Antonio's father race to Olympic Gold as a member of the US 1984 Olympic team in the Los Angeles Coliseum in what does not seem like more than 20 years ago!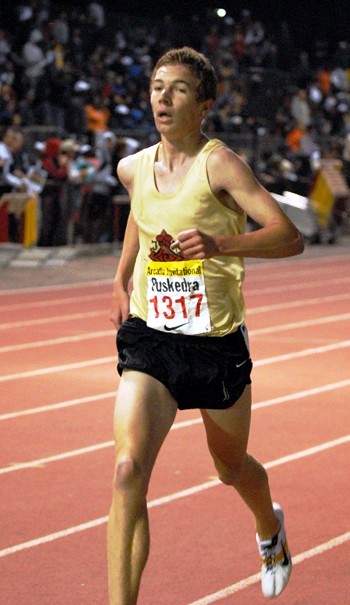 Arcadia 2-mile winner Luke Puskedra of Utah. Photo John Dye


NEWCOMER OF THE YEAR



A steady distance star has emerged as the male "Newcomer of the Year" so far in our eyes, as the head of the prep 3200/Two Mile list so far this spring is steady Luke Puskedra of Judge Memorial of Salt Lake City, Utah. During an impressive 9:00.51 Arcadia full Two Mile win a few weeks back, he showed special tenacity against a great national level field. Emerging this winter with a surprising solo 4:13.62 1600 at the Simplot Indoor Games, Luke was third at the Nike Indoor Nationals at 9:07.52 in March, being run down near the end by Craig Forys (NJ) and Matt Centrowitz (MD).

After the top Arcadia group rolled through the mile at 4:28, Luke jumped out in front and hammered 67 and 68 second lap clockings to press ahead when the going became tough on laps 5-6 and 7. It was obvious in this big contest he wished no one close to him near the end, and was able to come home an impressive improver and winner in what is the nation's top long distance clocking for the spring in a race that had seven finish that contest at Arcadia under 9:09! Remember the name, as Luke has a very economical and methodical style that is going to lend itself well to distances longer than 3200/Two Mile after high school. He seems to have that inner sense of pacing and mental toughness that reminds me of another fairly recent Utah Prep Star and Arcadia winner, Josh Rohatinsky (Provo). A check of this past Fall's NCAA Cross Country Championships shows his success at the next level – he was the individual winner for BYU by nearly eight seconds!




EMOTIONAL FOLKS OF THE YEAR!!



You need to be around when Wes Wright (Villa Rica, Georgia) and Joe Canavan (Palm Desert, California) throw the Shot Put. Two of the nation's best bring a special fervor to the round ball event! Wright, a tremendous all-around thrower, with 63-04.75 (Shot) and Hammer bests of 216-06 (12#), 195-02 (6kg jr wt), and 186-03 (16#) marks from 2006, absolutely rages through his event area, with one fairly expecting his implements to bear teeth marks by the end of the day! Whew, talk about immeasurable blood pressure when the focused Georgian is in the ring area, we look for a truly special individual effort one of these times when he brings all that emotion together!

Californian Canavan stopped the huge crowd at the Simplot Indoor Games in February in their tracks with his huge roar and reaction when he threw a lifetime best 62-05 to win the Shot there. Then he capped a fine Arcadia Invitational Shot competition two weeks back that had six athletes over 60 feet with a "final of the day" toss where he let it all hang out at 66-00. Again, a follow-up roar and reaction that gained the attention of a fair number of the 8000 fans that were in the house in attendance that evening. Just walking around, these guys seem like the nicest people in the world, but get them near the ring and it, rightfully so, is all business in a very, very serious way!




CANDIDATES FOR MALE HIGH SCHOOL ATHLETE OF THE YEAR



Who looks good very early as we move into the outdoor season as the favorite for "Athlete of the Year" on the Prep Male Track & Field scene?

WALTER HENNING (St. Anthony's, South Huntington, NY) took this Track & Field News honor last year, with a Prep All-Time Best with the International "junior" weight Hammer along the way. He was also the Dyestat MVP for the year. Henning was 8th in the World Junior Championships last summer in an event very strong at that level, and will return as the favorite to repeat for this honor. Walter is just nine inches away from the National Record with the prep implement of 253-03 by Jacob Freeman (RI) from 1999 with a 252-06 best from last year. His best so far this spring is 248-00 (season opener).

JOHNNY DUTCH (Clayton, NC) has had a mild start to his outdoor season, but had a good indoor campaign. His breaking of Deworski Odom's National Indoor 55m Hurdle Record at 7.07 is quite significant, with Odom a 10.26 100m dasher and obviously super hurdler from the mid-90s. If Johnny really gets untracked outdoors, he could challenge the all-time prep best of 13.30 for the 110 Meter Highs.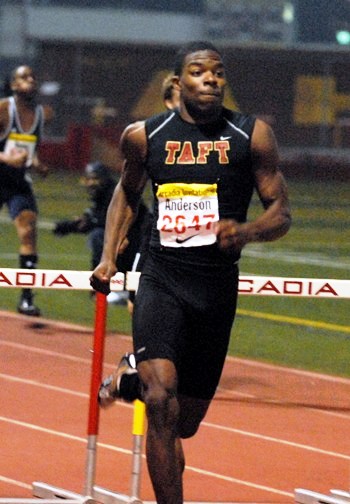 Jeshua Anderson winning the 300H at Arcadia. Photo John Dye


JESHUA ANDERSON (Taft, Woodland Hills, California) - Super long hurdler, Jeshua already took the Arcadia 300 Meter Intermediates at a blazing 35.75, making him the #9 US Prep in history. The uncannily powerful 13-strider is the closest thing this writer has ever seen to former So Cal prep Kevin Young, the eventual 46.78 World Record Holder in the 400H. With some warm California afternoons and evenings ahead, Anderson could pop something quicker down the road this season! He is a Washington State-bound footballer and will hopefully take in the June Championship meets at his level in track.

SPENCER MCCORKEL (Bryant, Arkansas) or MASTON WALLACE (Clear Brook, Friendswood, Texas) - This Vaulting duo could end the season at a very impressive level, with Wallace the Nike Indoor Champ at a lofty 17-05, making him prep history's #3 All-Time Indoor performer, and McCorkel moving into the top ten all-time outdoors already with a 17-07 clearance!

JIMMY PACIFICO (Butler, Vandalia, Ohio) - Has already moved into the top 15 all-time outdoors in the Shot Put with a 69-08.5, with the Ohio spring hardly hospitable so far outdoors. He was 65-05 indoors while dominating nationally all the way through a Nike Indoor National Championship, and has some big goals outdoors.

BRYSHON NELLUM (Poly, Long Beach, California) - It could be one of a bevy of fine flyers from across the nation who end up as the nation's best in 2007, but we kind of like the pedigree of long dasher Nellum from the Poly powerhouse. He is the nation's quickest back over 200 meters (20.94) and 400 meters (46.20), and powered into the 2007 spring at Arcadia by anchoring a National Record Setting 800 medley team (1:28.43) with a solo 45.6 one lap carry, then coming back the next day for a solo 46.02 – probably one of prep history's quickest early April clockings. A member of the US Gold Medal winning 4x400 relay at the World Junior Champs in Beijing last summer, Nellum will run as fast as it takes against High School or Junior Age competition!

ANY OTHER VOLUNTEERS - A talented middle distance group is there, with sub-1:50 stars CORY PRIMM (Westlake, Westlake Village, California) and NECTALY BARBOSA (Prosser, Washington) capable of quicker, and 7-03 indoor High Jumper RANDAL CARTER (Papillion La-Vista, Nebraska) moving among the top eight all-time under cover with that end of season undercover jump!

The fun of Teen-Age Track and Field is the sudden end-of-year improvement of someone. With the June and Summer Championship series giving us a chance to watch the top athletes compete against each other, it would not surprise us a bit if someone outside of the above group moved up through the competitive and all-time mark ranks to claim the honor! It is this possibility that keeps us tuned in at this level.



ATHLETES OF THE WEEK

(if we were given the choice)

SPRINTS - Antonio McKay (Pius X, Atlanta, Ga) took the big 400 meter showdown chronicled above in the McEachern Relays in Georgia at 46.28.

DISTANCES - Nectaly Barbosa (Prosser, Washington) had the super 4:08.86 1600 meter and 1:52.22 800 double at last weekend's Pasco Invitational in the Northwest. Abdi Hasson (Nathan Hale, Wash) ran Barbosa down in the second 800 meter event at 1:51.90 as that state bursts with middle distance talent this spring!

JUMPS - Maston Wallace (Clear Brook, Friendswood, Texas), as the Lone Star state starts its march through the qualification process to the mid-May State affair, highlighted the District action with a 17-01 Pole Vault clearance.

THROWS - Jimmie Pacifico (Vandalia, Butler, Ohio) - Pacifico opened up outdoors with a 69-08.5 Shot Put to move into the top fifteen all-time among preps and looks to some better weather over the next couple of months to stretch it further outdoors!!

Special note of: (Youngster of the Week) Conor McCullough (Chaminade, Canoga Park, California) as the soph rolls along in Walter Henning's wake, this past weekend setting a National Soph Class Record of 231-09 in the Hammer Throw. He helps make the depth of this not often held event at the prep level the equal of any on the meet program this spring!




SO THE WEATHER IS NOT SO GOOD



Goodness, from the weather reports it looks like the spring seasons in some areas has been nearly no outdoor season at all!! For some of us from la-la land, where the most moisture over a couple month period is an occasional need to turn on the windshield wipers to clear the dew in the morning, you are probably saying, "Yeah, how's he going to put a positive spin on the weather stuff this go-round?"

When you have to pay a serious price for something it is more meaningful. A number of eventually great athletes in track and field have come from areas where weather and other conditions are a consistent, constant challenge. A big investment requires real commitment.

I really enjoy the mid-June Nike Outdoor National Championships and the later in summer Junior Olympic season, which for some across the country is the first weather time period of the year to really consistently get out and train hard daily. There are always a ton of great surprises from around the nation when folks show up for the NON (Nike Outdoor Nationals), and the qualification through association and regional JO Meets on the way to the National JO level affairs always has some special stars emerge with great performances. For many athletes who continue on into College who are not able to go the NON or JO route, it is sometimes the superior training situation (Indoors, etc.) at that next level that is the first time they can successfully continue their training at a high quality year-round, with some special results.

I cannot tell you how many athletes I have seen from good weather areas wilt at the collegiate challenges presented by falling to a position of less than number one in their event area or squad, "less than perfect" conditions weather or otherwise, or a series of malaises, from shin splints to a "personality conflict" with the coach. Many an Olympic level talent has fallen by the wayside for the smallest of reasons while going through a prep career in a near-perfect weather climate, with just about every weekend during the spring and early summer nearly perfect.

I have heard from friends in other areas of the nation who say, "the entire season was a 'wash-out,'" with only one good weekend out of twelve. I will never forget a young lady from Alaska who was at the Foot Locker Nationals some years ago who explained, "It is good to have a coach in the car along to jump into when you see bears on your runs." Or, "We do a lot of drive out and run back workouts, as 50 mile per hour winds are pretty tough to run into."

I remember asking Nik Arrhenius of Utah, when he set the still-standing National Prep Discus Record of 234-03 at our High School in early April, what his training conditions were like leading up to the meet in his Rocky Mountain area. His reply: "A lot of sweeping the snow out of the ring." He used to come down and absolutely nail that competition each year during his prep career despite the fact I do not know how he could have had a decent day to throw in at home by that time of year.

Athletes who hang with it under such conditions will be in it for the long haul and very possibly be able to pass by those with glossy resumes from some postcard scenery situation, with a hang-nail often a career ending situation for those who started and developed under kind of spoiled conditions


DyeStat Clerk of the Course