Speck's Blog





The National Girls HS Track Scene





Week of April 8-15, 2007



By Doug Speck, DyeStatCal Co-Editor



GET OUT AND SEE THE WORLD

-
Sure do hope that any program with an underclass athlete of any quality looks globally as far as that potential star's development. To branch out from the "local comfort zone," as early as possible during the quality development of an athlete's career, we think is as important a step as can be taken with someone who shows special potential or results. It takes some real planning, with fund-raising, sanctions, board permission, the "rest of the team's" regular schedule, etc., etc. -- all areas of planning that cannot be done over-night.

There are a number of meets around the country who welcome the participation of those who are willing to travel across state or multi-state lines, with this past weekend's Florida Relays, Mobile Challenge of Champions, Texas Relays, and California's Arcadia Invitational some that come to mind a ways into the outdoor season for some who have athletes from a broad geographic range taking part in the action on the track and in the field. All were covered by DyeStat.com, with a sense gained of the competition, style of meet run (heats, qualifying, etc. etc.), and general philosophy behind the activity able to be understood from afar.

The local divisional pecking order is nice, but real national class development does usually not happen if one's goals are to rule a small area or one division in a multi-division state championship format. Heck, the results of the first such travel may not even be what was hoped for in the competitive department, but true champions probably learn more from results that are not as hoped for as those where the victory is a breeze. Anyone with a semblance of any competitive juices left at the end of the regular high school season, with a top underclass athlete, who does not attempt to travel to one of the geographic area competitions -- such as the Golden South, Great Southwest, or the National Level meets with standards, like the Golden West, Nike Outdoor Nationals, or National Junior Championships, which can lead to a position on a US National Junior team -- is making a mistake in the long-term development of their star.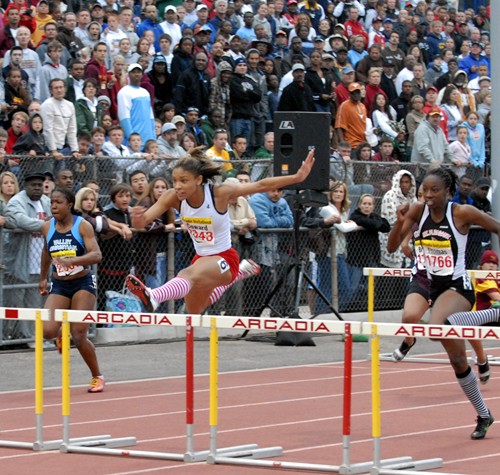 Jackie Coward (center) over Vashti Thomas (right) in the Arcadia 100H. Photo/John Dye




I have been, along the way, Athletic Director at a large urban high school that has had athletic teams ranked as high as #1 in the nation in one sport along the way, with a large number of successful stars in a number of sports. The unquestioned commitment, effort, travel, and level of competition sought out in high school age sports like soccer and basketball was an eye-opener for me, with the practice and competitive schedules for those at the elite national level at an amazingly sophisticated level. Those people were all over the place during different periods of the year, with competition against the best taking their "game" to the next level. We owe Track & Field athletes the same.

Some involved may say, "We do not want to push anyone too hard. We are only patiently getting an athlete ready for the next level where they will be developed." As Jim Ryun used to say to those who commented on his running so fast so young, "You never know when you might get hit by a truck!"




RECORD TIME!!!


Which records will be falling this spring and summer on the Girls' side in prep track and field? First of all we need to talk a tad about the difference in National High School Records. There are the "Federation" Records, which are those set in High School only meets, with all schools a part of their state federated bodies, usually those duals all the way up through Invitational and State Meet competitions through the May/June period of the year. The Prep All-Time Bests, historically gathered by the staff at Track and Field News, includes the best times ever run by someone of high school age (through the end of summer after their senior year), and can include meets that are against College and Olympic level athletes, or in summer competition, such as Junior Nationals or Junior Olympics. These are gatherings the state or national HS federated bodies have no control over; thus these are not "federated" records, but "prep all-time bests." You can imagine that the all-time bests will be a tad better probably, as the potential to compete up through the Olympic Games gives athletes a chance to face better competition, an thus put up better performances.

A couple come to mind from the area where I live. The Prep Female Mile all-time standard, 4:35.24 by Polly Plumer (University, Irvine) from 1982, and the prep Boys Two Mile standard all-time best of 8:36.3 by Jeff Nelson (Burbank) from 1979, were both set in the popular "Pepsi Invitational" meets at UCLA during mid-May while the high-schoolers were at peak form. They faced Olympic-level fields who helped push them far beyond what the then-current prep groups were able to do.

Anyway, which records will fall at each level this spring/summer outdoors, with the possibilities placed in order of them likely to happen . Our guesstimates------

At the Federated level:

1) 1600 - Well, it fell already, with Jordan Hasay (Mission Prep, San Luis Obispo, Calif) racing 4:39.13 already this spring to down the 4:39.4 by Larua Matson (Bloomfield Hills Andover, MI) from way back in 1985. Alex Kosinski (Oak Ridge, El Dorado Hills) and Danielle Tauro (Southern Regional, Manahawkin, NJ) are a couple who come to mind who could in a prep-only federated "in-season" contest take down the record further, if Hasay does not nail it down more in the future this season. A "best-case scenario" could have Hasay, Kosinski, and 2006 California State 1600m champ Christine Babcock (Woodbridge, Irvine) (4:41.29) meeting in the California State Finals on June 2nd, with the contest unfortunately preceded by heats one day earlier that may hold the time down just a tad. Hasay opted for the 3200 only in that meet last year.

2) Pole Vault - with Tori Anthony (Castilleja, Palo Alto) already a prep all-time best indoors in Open competition at the University of Washington of 14-02.5 this winter, a foregone conclusion is her ability to take the 13-09 prep federated standard of 13-09 by Mary Saxer (Lancaster, NY) from 2005. Tori went 13-07 last weekend at the Arcadia Invitational in California, and attempted a National Prep All-Time Outdoor best of 14-01 in that competition, barely missing. 13-09 vaulter Katie Veith (Homestead, Ft. Wayne, IN), and 13-06 indoor vaulter Shade Weygandt (Mansfield, Tx), along with Louisiana's Rachel Laurent (Vanderbilt Catholic, Houma, LA), look ready to challenge the federated record also in a prep competition!

3) 100 Meter Hurdles - The 13.20 mark set by Nichole Denby (Riverside North, CA), who we believe has her first name spelled incorrectly in the National Federation Rule book at Nicole (anyway), was set in 2000. Interestingly, Denby was the co-indoor National All-Time record holder in the 60 Meter Hurdles at 8.33 until a young lady started in on that standard this winter. Before West Knoxville, Tennessee junior Jacquelyn Coward was done this winter she had taken that 60 Meter barrier standard down to an amazing 8.17, a huge chunk off a short sprint/hurdle standard! Obviously Coward, who was 13.59 (13.27w) last year outdoors would seem to show the ability to better the 13.20 in a prep only contest, with the Tennessee star passing one seasonal best with a win over 13.46 early season performer Vashti Thomas (Mt. Pleasant, San Jose, CA), racing 13.60 over Vashti's 13.68 at the Arcadia (Calif) Invitational. Keep tuned in here on the amazing Coward hurdling machine, who gained more respect at the 300m barrier distance at Arcadia, blazing 41.66 clocking.

4) 800 Meters - Man, Chanelle Price (Easton, PA) is powerful! Indoors, the Keystone state star raced 2:04.96, inside prep history's all-time top 20 "undercover." The Outdoor prep standard is 2:04.5, set by Joetta Clark (Columbia, Maplewood, NJ) from 1980. While we are not sure that there is anyone who can run close to the Easton flash outdoors during the regular prep season, she has shown the ability to run very fast by herself. Those who witnessed her performances this past winter season left with their jaws hanging at the speed/power quotient of the great eleventh grader. She will have the 2008 season outdoors to tackle that 2:04.5 if she does not secure that standard this spring!!

5) Triple Jump - A 44-02.25 by Ychlindra Spears (Luling, TX) from 2001 remains the prep Federated standard, with Ke'Nyia Richardson (Holy Names, Oakland, CA) bounding 44-06.75 indoors this winter to take down the prep "under-cover" All-Time best of 43-11.5 from way back in 1991 by Juliana Yendork (Walnut, CA). That effort is obviously farther than the outdoor federated standard, with Richardson indicating the 44-06.75 was not a "perfect" jump. Ke'Nyia opened up at 43-01.5 at Arcadia a week ago, with a 43-03.25 outdoor personal best from 2006. That Record should go down soon!!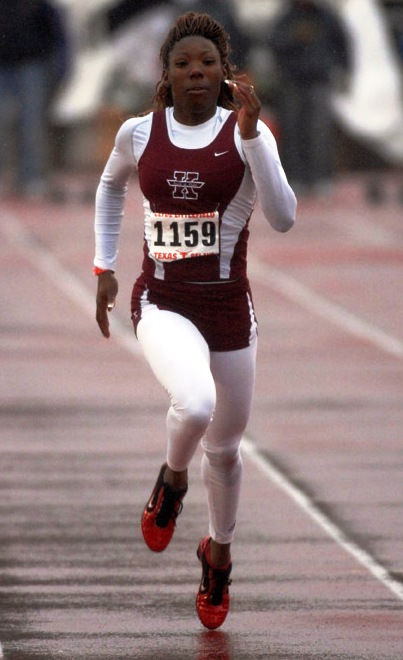 Tiffany Townsend wins the Texas Relays 100 in the rain. Photo/Kirby Lee


5) 4x800 - The prep Federation record is 8:58.43 by Upper Dublin, Fort Washington, Pennsylvania from way back in 1982, with a couple of teams coming close even this past weekend. Roosevelt (Greenbelt, Md) ran a 9:01.17 early this winter indoor season, and Carmel (NY) a 8:59.85 in winning the National Scholastic Indoor affair in March. Could all fall at the Penn Relays here!

6) 300 Meter Hurdles - Kind of a wild stab here, with Ebony Collins (Locke, Los Angeles, CA) a school switch this winter, with the #2 prep ever at 40.10 behind Lashinda Demus (Wilson, Long Beach, CA), at her old school with the 39.98 Federated standard. Ebony raced a number of efforts over the last two years, a narrow final flight or two "good-step" run away from the standard, with eligibility issues so far this 2007 spring keeping her off the racing course. Hopefully that will be straightened out soon, with Coach Chewaukii Knighten at Locke one of US Prep history's fine long sprinter/hurdler combination while a student herself at Locke, prior to a fine career at UCLA.

We will cover the potential National All-Time Bests in a future blog.



SPEEDY SOUTH!!!


With Californian Jeneba Tarmoh (Mt. Pleasant, San Jose) held back a bit with a lower back issue into the outdoor campaign, and Michigan's Shayla Mahan (Mumford, Detroit) limited by state rules in travel during the regular season, it looks like a "Southern thing" in the Speed Department at the short end this Spring!

Here are some of the Rockets so far this year:

Florida 3A dynamo, 11.30 outdoors already, Shataya Hendricks (St. Thomas Aquinas, Ft. Lauderdale)
Kya Brookins (Seneca, SC), who suffered a serious arm injury during the "run-out" in making the Senior Indoor Nationals in Boston (she may be lost the outdoor season)
Victoria Jordan (Dunbar, Ft. Worth) Nike Indoor Nationals 60m & 200m Champ
Bianca Knight (Ridgeland, MS), with a National Indoor 200m record of 22.97 this winter
Tiffany Townsend (Killeen, Tx), National Scholastic Indoor 60 and 200m champ, and 11.26w this spring
Gabby Mayo (Southeast, Raleigh, NC), last year's Track & Field News Prep Female Athlete of the Year

It's a stunning group that returns from the Southern US. Obvious early spring weather situations affect the northern portion of the nation, but the previously named crew (and others) could make it a Southern dominated 100 and 200 situation come end of season championship and best marks list time! Ashton Purvis (St. Elizabeth, Oakland, CA) shocked indoors with a 23.55 National Frosh 200m all-time best, and has shown progress outdoors, and will attempt to break up the mix!! It was a shame when weather blew out day 2 at Texas, with Townsend (11.26w in heats) and Bianca Knight (11.36 wind legal in qualifying) missing out on a classic 100m final last week!!




CLASSIC CONTEST OF THE LAST WEEK


Vashti Thomas (Mt. Pleasant, San Jose, CA) impressed during the late indoor season, with a runner-up finish at the National Scholastic Indoor event at the 60M distance, then blazed a 13.46 outdoors in California a couple of weekends back. Jacquelyn Coward (West Knoxville, TN) set a National Prep All-Time standard of 8.17 indoors at the 60M barrier distance (old prep all-time best 8.33 prior to this season!). Coward was 13.59 and 13.27w in 2006, with a second in last year's Arcadia Invitational. The duo would meet April 7th, with the contest a great one recorded by Marc Davis in the DyeStat.com "video vault," (check it out!). Coward moved strongly in the middle, with the Tennessee star moving up to the winner's awards this time at Arcadia, 13.60-13.68 over Thomas, with both under the 13.71 Meet Record!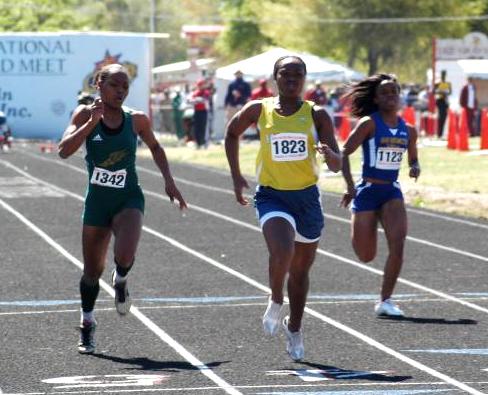 Shataya Hendricks (#1823, center) wins the Bob Hayes 100 in 11.30. Photo by Jason Byrne, fl.milesplit.com


TEAM OF THE WEEK


Roosevelt of Greenbelt, Maryland was in California at the Arcadia Invitational, with a stunning series of relay races. They started with a 9:04.98 4x800, and ended with a 3:40.48 4x400 win, providing a variety of highlight performances during the two days of the California contest. They added an 11:43.59 Distance Medley and 1:38.57 4x200 winner during a weekend that required a fair-size wheelbarrow to cart away the Medals earned by the team from the competition!!



NEWCOMER OF THE WEEK


Jacque Taylor (Casa Grande, Petaluma, CA), a fine frosh distance runner, has been as successful as National Champion at the Junior Olympic level in the distance events (Cross Country/Track and Field), with a great "coming-out" at the National Level on the prep Track scene at Arcadia. Taylor warmed up during the afternoon open session with a fine 5:00.35 1600m winner, then came back against Jordan Hasay and the rest of the nation's best in the evening Invitational Two Mile, where she impressed further with a 10:39.63 seventh place effort, the nation's top frosh time this spring. The girl obviously likes to run, with some good chances to mix it up and drop those times during the rest of a Golden State distance campaign filled with good competition and a ton of good athletes!!



ATHLETES OF THE WEEK (IN DIFFERENT AREAS IF WE HAD TO MAKE CHOICES)



Sprints/Hurdles
JACQUELYN COWARD (WEST, KNOXVILLE, TN) - Fine eleventh grade hurdler rolled into the outdoor season, taking the Arcadia 100 Meter Hurdle showdown that included a half dozen with sub 14 second clockings, at 13.60 over upstart Vashti Thomas (Mt. Pleasant, San Jose), then came back to impress further with a nice 41.66 300 Meter Hurdles triumph!! Both were Nation-Leading Outdoor Efforts!!

Distances
JORDAN HASAY (MISSION COLLEGE PREP, SAN LUIS OBISPO, CA) - Super soph was a 10:07.65 for Two Miles and 10:04.27 (timed 3200 along the way) at the Arcadia Meet in California, with the blond tassled youngster from the Golden State's Central Coast amazing the sell-out crowd once again (she was 10:07.56 for her 2006 best 3200 at Arcadia in setting National Frosh and Age-14 records) in the greater Los Angeles area! With a sub-5:00 first mile during the event, Hasay shows the ability to race better than she could last year under a variety of circumstances, with a trio of sub-10:05 3200 clockings already this spring (including a "mixed-sex," males/females together time trial of 10:02.9 for 3200m).

Jumps
KE'NYIA RICHARDSON (HOLY NAMES, OAKLAND, CA) - Fine 43-01.5 Triple Jump to start the outdoor action at the Arcadia Meet in California, prefacing what should be a great outdoor campaign to keep an eye on!! Again she set a National All-Time Prep Indoor best of 44-06.75 this winter to take the 43-11.5 Juliana Yendork (Walnut, CA) US All-Time standard from 1991. Brittany Daniels (Merrill West, Tracy, CA) 44-11 National All-Time Prep best, with Ychilindra Spears (Luling, Tx) the Federated Prep Standard of 44-02.25 from 2001 (you did not read close up above if you have to ask what the difference is between those two standard areas).

Throws
KAMOREAN HAYES (HARDING, CHARLOTTE, NC) - Fine efforts at the Texas Relays of 48-01.75 to win the Shot Put, and 151-09 to take the Discus there. Hayes, a 52-02 and 158-02 thrower from 2006, sits #10 on the All-Time Prep lists for the Shot, and hopes to march up that listing during the rest of the spring and summer!!




DON'T WORRY ABOUT THE LISTS SO MUCH


Those from colder weather areas around the nation (what winter you say!!! - geez I can't believe snowed out pro baseball in Cleveland in April, etc.!!!). Do not become too concerned when you see all those names from warm-weather places to this period of the year dominating the Outdoor National Listings this spring. California may be turning on some faucets in the future and have no water come out, it has been so dry in most areas out there in 2007, with Florida, seemingly having enough decent weekends to put up some good efforts, and Texas a shame this past weekend, but seemingly some decent weather this year outdoors as that state makes its sudden turn to post-area meets in the next week or two heading to State in mid-May!