2006 Foot Locker National Finals - Girls
Dec. 9, 2006 Balboa Park, San Diego
Results - steveu's predictions - live blog -
Video - complete race and interviews
Reversal of Fortune: This time it's Kroeger
The 2006 Foot Locker Champion didn't come from the most goal-driven athletes, but a humble sophomore from Franklin TN who reversed her result from the historic FL South race.
By Steve Underwood

SAN DIEGO -- Just past two miles (11:36) of the Foot Locker National Championships girls race, the "final" lead pack had formed with superstars Aurora Scott VA, Kathy Kroeger TN, Emily Sisson NE, Jordan Hasay CA, and Kaitie Vanatta CO. Marie Lawrence NV was still in contact. The dream battle that had been anticipated had come to fruition and the buzz in the crowd watching was at an absolute peak.

Everything – the prerace talk of a best-ever girls field, the boldly declared plans of victory by Scott, Hasay's burning desire to repeat, Lawrence's hopes of coming out on top after three runner-ups – had come to this. But maybe the race doesn't always go to the person who wants to win the worst.

The pack only ran together a few hundred meters. Then Kroeger and Scott began to surge away from the field in a joint move that appeared premeditated but, of course, was not. It quickly appeared obvious that one of the two was going to win, but who was it going to be? Most insiders waited for the next surge to come from Scott, who had pulled away at Foot Locker South.

But no. Just before Upas Hill (the last big hill, along Upas Drive), Kroeger turned it up again. She took a slight lead going into the hill, then increased her margin up, and then down it's length. Scott, who had been planning a move after the hill, let her go, thinking she could pull back in. She could not.

Kroeger ran several seconds ahead. Scott, realizing she'd let her go to far, desperately tried to kick the last 400 meters. The Franklin TN soph (Independence HS) is not a super kicker, but her foe was not fast enough to make up that kind of margin. Adrenaline pumping through her veins and wearing the look of someone running for her life – stunned and a little bit scared – Kroeger flew through the final few hundred meters and into victory's grasp.

And when crossed the line, the new champion was so stunned she actually asked someone if she had won – even though there was clearly no one ahead of her. "I was so shocked," she said later. "I had no idea I could do that. It hadn't hit me yet."

It would hit her soon enough. She finished in 17:29, not one of the faster times in meet history, but a nice result after a curiously slow two miles. Scott came across in 17:36. The stunner on the other end of the spectrum came almost 30 seconds later, when a drained Hasay crossed in 10th (18:14). In the middle, Lawrence came through, having ended her bid in 5th (18:02). Around them were a variety of stories, filling out the top ten.

Midwest region 1-2 finishers Emily Sisson NE (17:56) and Kaitie Vanatta CO (17:57) followed 20 seconds after Scott, for a very solid 3rd and 4th. Filling in from 6th to 9th were amazing Alex Gits MN (18:10), fast-finishing Kauren Tarver CA (18:11), and NE 1-2 from Pennsylvania of Neely Spence and Carly Seymour (each 18:13).

Scott and Hasay had serious intentions in wanting to win. Maybe they had the wrong approach. Scott's strategy, focused on what she could do out of her training, maybe didn't have enough flexibility to reacting to the opposition. Hasay, maybe overwhelmed by the atypical level of competition that had surrounded her bid to repeat, had nerved herself up into near sleepless nights.

But Kroeger? Well, she felt some nerves, too, but it wasn't quite the same thing. "I was 16th last year and I just wanted to improve my place and time. I didn't put a lot of pressure on myself. I just wanted to be All-American, the top 15."

At the end of her interview there at Morley Field, it didn't appear like basking in the glow of victory had really been her goal so much as just finishing out well with something she could feel good about and moving on to the real prize, that Saturday afternoon ice cream sundae all of the competitors are promised. Ah, such sweet relief.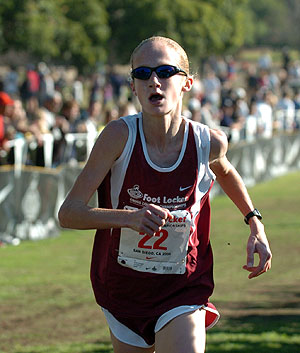 Above; Kathy Kroeger wins girls footlocker nationals ~ photo by John Dye

Left: Kathy Kroeger leads Aurora Scott the second time up the hill ~ photo by John Nepolitan
Unusual Beginnings

The hot final mile and the amazing way the end unfolded was preceded by an unexpectedly slow start, caused perhaps by the cautiousness of some of the key players, and – according to some – a lead vehicle that didn't get out quite far enough at times. "It was really annoying with the dust," said Mel later. "It was bad with all the dust in our faces. I wish we had more room."

Lawrence had plotted out a fast first mile and last mile, and she did get right up there. So did Sisson, who had been such a tiger from the get-go at Kenosha. But the fast first mile just wasn't happening. Impatient Maple City MI (Glen Lake HS) sr Marissa Treece – a legend in her home state for this – surged to the front to try and get things moving. "But it was only 2:50!!!" she moaned later. Actually it was 2:46 for the half-mile, but her point was correct. They were slogging out there.

Sisson and Hannah Davidson NY moved up behind Treece, while Vanatta and Cory McGee MS appeared near the front. There were three Midwesterners in the top six. The mile passed in 5:30.

Lawrence wound up moving to the front again, leading a thick pack up and down the first run up the major hill. None of the contenders were going anywhere. Kroeger was moving up and appeared among the leaders for the first time, as did Scott and Jordan. The competition was shaping up, but many of the favorites were not feeling the rhythm. "I think (the first mile) was slower than last year," said Jordan. "It felt really slow."

It would get slower before it would get faster. The leaders would jostle and jockey for position, with hopefuls like McGee still up there. The second mile had to go in 6:06 – 6:06! – before anything really started happening. "I was shooting for 16:39," Scott would say later. Not with that kind of a split.

Finally, of course, the last mile happened, with a good bit more drama and some pretty decent speed. A 5:53 for the last 1.1+ is pretty good, even with a slow start. Hasay was about 6:00 for that stretch last year, but she was about 11:05 at the deuce in that race.


Reactions to the Drama

At two miles, Kroeger felt great, and that – plus some nervous energy – was why she was able to go. "The slow pace really surprised me," she said. "I expected people to surge out of the lead pack more in the first two miles. When we got into that pack (after 2 miles), I had a lot left and felt comfortable.

"I was expecting someone to pass me, but no one did," she said. "Just after three miles I turned around and saw I had a good lead."

"We really didn't use a lot of strategy," said Kathy's coach at Independence, Kristen Reames. "By making it here, she met her goal and we wanted to have fun.

"She's the most humble person," the coach continued. "Every race, no matter what the competition, she's nervous like she was for this meet. I would coach 100 Kathys if I could."

Aurora Scott definitely had a strategy, but it didn't work out. "I know I could've actually gotten first," the homeschooled jr from Chesapeake VA said. "I mean, I know Kathy's a great runner, I won't put that past her. But I know I lost with that strategy just now because I came in with way too much energy left. It was too slow.

"(After the mile) I thought maybe I'll sit back and wait til the second lap," she continued. "(On the hill) it wasn't that she gapped me so much, but that I said, 'I'm not going to attack it with her, but I'm going to sit back, because the end (the finish) is really going to make it – because I know a lot of people if they can kick they can get in really good at the end. So I was thinking of saving energy, but I saved a little too much."

Still, Scott has improved every year – she was 26th and 9th the first two times – and looks like a good bet to join the four-timers club. But she'll have to wait another year for another chance at victory.

There were levels of disappointment and regret among the other principles as well. I felt really good for the first part of the race and then I just died," said Jordan Hasay, the Mission Prep CA soph who was hoping to break the recent string of champions who couldn't repeat. "I was really tired ... Definitely I was feeling it in the last mile. I wanted to finish, but I was so tired.

"I haven't been racing as much and it made it tough," she continued. "This year, a really great group of girls were entered and they stayed with me. I was real nervous coming in as the favorite."

Pre-race jitters are something Jordan had been gradually overcoming. But she had never faced this type of scenario in cross-country before and the angst returned. "I had three hours of sleep last night ... and four hours the night before. I just couldn't sleep. It was nerves.

"By the time I got to the hill, I knew I just wouldn't be able to make it," she continued. "Hopefully I can still be ready for February (and USA Juniors)."

And there was Mel, humble and grateful and never getting too down, but a little melancholy at that outcome. "I knew going into it that it was going to be real tough and the South was really good. If I ran bad, I ran bad... If I ran good, then I ran good. There's nothing else I could do about it but go out there and run my best.

"I wanted to do a hard first mile, then a steady second mile, then a hard third mile," she added. ... but it went out really slow at the start. Well, not slow, but it wasn't difficult … The hills are always tough, but it was just a hard race overall. I couldn't draw a specific point where the race got away from me.

"I wanted to get second or better. That was the big goal. But my overall goal was to be Top 5."


Lessons Learned

Rarely in a championship girls race have the goals been so bold – and those with the boldest goals fell short. One hopes a certain level of perspective can be achieved and the former champ showed that it was. "I learned how to lose in cross-country," said Jordan with a rueful laugh. They tried to do what I did last year and it worked."

Little did Hasay know that she had gone from being a champion to being a role model for a champion. But it was true. At the post-race banquet, Kathy Kroeger suddenly discovered, with some clear mortification, that she was expected to address the audience. "The champions would like to say a few words," was the line.

Kathy clearly wanted to do no such thing, but she composed herself admirably. Of course, she thanked her family and coach, but then … none other than Jordan. "She's been my inspiration all year," she said. "She showed me it doesn't matter how big or how old you are."

The audience laughed and Jordan gave what surely was her biggest smile in a few days. Isn't inspiring a champion even greater than being a champion? Maybe. And if the pattern holds true (Kathy will hope it doesn't), there will be a newly inspired champion next year. Remember that lead group of titans at 2-miles? They're all coming back, as 8 of the top 10 are. What a sport girls prep cross-country is, what a sport indeed, and how easily fortunes can be reversed when so many champions come together.
(more from the top ten coming, as well as profiles later this week)

by TinaJ
Gooood Morning! Pre=race introductions are going on here in sunny San Diego!
AJ Acosta made an appearance this am, along with Evan Jager. Acosta said he's just happy to be here, enjoying the atmosphere
And, it's time to line up the girls!
Emily Sisson has the early lead! And John Dye runs by with the spectators!
Rita Jorgensen, Lawrence, and SIsson at 2.5 minutes in
2:46 at the 800 - add Saylor to the top four
Treece, Lawrence, Sisson, and saylor coming up on a big hill at the mile
Treece, Sisson have a small gap on the rest of the field
McGee moves up into third! - Treece, Sisson, McGee at 5.5 minutes - Davidson, Lawrence, Vanatta
5:30 at the mile
Lawrence in the lead! Moving up Hasay, then McGee at 6:30
Getting ready to go up the hill! Lawrence first, coming down the hill Lawrence, SIsson
Lawrence, Sisson, Vanatta in third, Kroeger in fourth! Right behind Hasay is Scott!
Sisson, Vanatta, Kroeger, Hassay, Lawrence, Scott 1.5 miles!!
Ten minutes in, Lawrence is starting to fall back, a pack of five emerging
Coming up on the two miles mark, looks like the same five;
11:36 all together, literally shoulder-shoulder, Kroeger and Scott taking over the lead, starting to push
Kroeger, Scott, Hasasy
Scott, Kroger, Hasay twenty meters back, then Vanatta, Sisson, rounding out top ten is Lawwrence, Seymour, Bastert, and Spence
Just at the bottom of the hill, 14:25, Kroeger pushes into the lead... doesn't look like a sr. in the pack...
Top of the hill, Kathy Kroeger makes a move! Ahead by 20 meters! 15:00 inEveryone else is too far back, just Kroeger and Scott starting down the hill!
Kroeger is the finisher! 150 meters to go she leads about 17:28 unoffical ! Vanatta Sisson, third and fourth,
SO looks like (unofficially) we've got Kroeger, Scott in 17:36, Sisson, Vanatta, Lawrence, Tarver, and Hasay in seventh...


Results

results from footlockercc.com
| | | | | | | | | |
| --- | --- | --- | --- | --- | --- | --- | --- | --- |
| Place | Time | Bib # | Name | Grade | Region | School | City | State |
| 1 | 17:29 | 22 | Kathy Kroeger | 10 | South | Independence HS | Franklin | TN |
| 2 | 17:36 | 21 | Aurora Scott | 11 | South | Home | Chesapeake | VA |
| 3 | 17:56 | 31 | Emily Sisson | 9 | Midwest | Omaha Morian HS | Omaha | NE |
| 4 | 17:57 | 32 | Katie Vanatta | 10 | Midwest | Ralston Valley HS | Arvada | CO |
| 5 | 18:02 | 42 | Marie Lawrence | 12 | West | Reno HS | Reno | NV |
| 6 | 18:10 | 34 | Alex Gits | 12 | Midwest | Edina HS | Edina | MN |
| 7 | 18:11 | 48 | Kauren Tarver | 11 | West | Serrano HS | Wrightwood | CA |
| 8 | 18:13 | 11 | Neely Spence | 11 | Northeast | Home | Shippensburg | PA |
| 9 | 18:13 | 13 | Carly Seymour | 11 | Northeast | Central Cambria HS | Edensburg | PA |
| 10 | 18:14 | 41 | Jordan Hasay | 10 | West | Mission College Prep | Arroyo Grande | CA |
| 11 | 18:16 | 37 | Katelyn Bastert | 12 | Midwest | Carthage HS | Carthage | IL |
| 12 | 18:26 | 38 | Betsy Bies | 12 | Midwest | Yankton HS | Yankton | SD |
| 13 | 18:26 | 23 | Emilie Amaro | 11 | South | Cypress Bay HS | Cooper City | FL |
| 14 | 18:31 | 24 | Jillian Rosen | 12 | South | Richardson HS | Dallas | TX |
| 15 | 18:33 | 25 | Cory McGee | 9 | South | Pass Christian HS | Pass Christian | MS |
| 16 | 18:34 | 44 | Nadya Bishton | 11 | West | Mountain Ridge HS | Glendale | AZ |
| 17 | 18:34 | 40 | Alex Banfich | 11 | Midwest | Culver Academies | Plymouth | IN |
| 18 | 18:37 | 15 | Alison Smith | 12 | Northeast | Atholton HS | Colombia | MD |
| 19 | 18:38 | 16 | Shelby Greany | 10 | Northeast | Suffern HS | Suffern | NY |
| 20 | 18:39 | 33 | Emily Infield | 11 | Midwqest | Beaumont HS | University Heights | OH |
| 21 | 18:39 | 26 | Kayla Hale | 10 | South | Holy Trinity Episcopal Academy | Indialantic | FL |
| 22 | 18:40 | 14 | Ashley Higginson | 12 | Northeast | Colts Neck HS | Marlboro | NJ |
| 23 | 18:42 | 36 | Allison Eckert | 12 | Midwest | Roosevelt HS | Sioux Fall | SD |
| 24 | 18:44 | 43 | Jessica Tonn | 9 | West | Xavier College Prep | Scottsdale | AZ |
| 25 | 18:46 | 19 | Emily Jones | 10 | Northeast | Bromfield HS | Harvard | MA |
| 26 | 18:48 | 30 | Kinsey Farren | 12 | South | Bishop Lynch HS | Dallas | TX |
| 27 | 18:49 | 45 | Lauren Saylor | 12 | West | Buchanon HS | Clovis | CA |
| 28 | 18:52 | 39 | Marissa Treece | 12 | Midwest | Glenlake HS | Maple City | MI |
| 29 | 18:55 | 17 | Elisabeth Deir | 12 | Northeast | Honeoye Falls-Lima HS | Lima | NY |
| 30 | 18:56 | 27 | Samantha Means | 12 | South | McKinney North HS | McKinney | TX |
| 31 | 19:02 | 20 | Caroline Schultz | 12 | Northeast | Hilton HS | Hilton | NY |
| 32 | 19:08 | 18 | Allison Sawyer | 12 | Northeast | Hilton | Hilton | NY |
| 33 | 19:11 | 12 | Hannah Davidson | 11 | Northeast | Saratoga Springs HS | Saratoga Springs | NY |
| 34 | 19:13 | 46 | Elizabeth Coe | 11 | West | Fountain Valley HS | Fountain Valley | CA |
| 35 | 19:14 | 35 | Kristen McGlynn | 12 | Midwest | Home | Bailey | CO |
| 36 | 19:16 | 47 | Alexandra Kosinski | 12 | West | Oak Ridge HS | El Dorado Hills | CA |
| 37 | 19:33 | 49 | Sarah Cummings | 12 | West | Corona Del Mar HS | Newport Coast | CA |
| 38 | 19:39 | 28 | Rita Jorgensen | 12 | South | White Station HS | Memphis | TN |
| 39 | 20:00 | 50 | Shelby Buckley | 11 | West | Corona Del Mar HS | Newport Coast | CA |
| 40 | 20:25 | 29 | Virginia Hine | 11 | South | White Station HS | Memphis | TN |