2006 Foot Locker Nationals - Boys
Dec. 9, 2006 Balboa Park, San Diego
Results - steveu's predictions - live blog - Race Sequence Photo Album - the story in 53 photos by John Dye and John Nepolitan
Video - complete race and interviews
Chad Hall is popular winner in thrilling finish

Big Bear CA sr Chad Hall won a furious seesaw struggle over the last mile. Early in the third mile, Hall pulled out from a 7-runner lead pack. Steve Murdock NY gave chase as they gapped the rest. From the second time up The Hill the finish, the two traded surges and sometimes were side by side. Turning for the finish with 150 meters to go, Hall got the lead for good. Murdock slipped to third behind a fast finishing Craig Forys. It was a slow tactical race with Hall finishing in 15:20, Forys 15:24 and Murdock 15:25.
SAN DIEGO – Had all runners matched their previous best efforts, Californian Chad Hall figured to hold the advantage.

Instead, nothing went to plan for Hall and most pre-race contenders – the early pace was too conservative, the splits were too slow, the field was too congested. Yet Hall awoke from the lull to unleash a mid-race burst that helped him regain the winning edge at the 28th annual Foot Locker Cross-Country Championships.

Left: Hall leads Murdock, Mead on the second incline ~ photo by John Nepolitan -
Right: Hall wins ~ photo by John Dye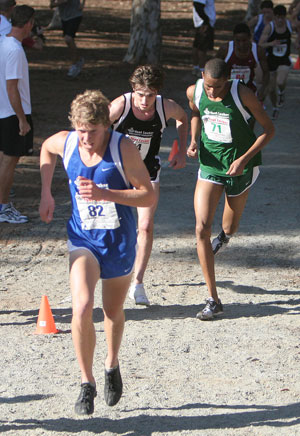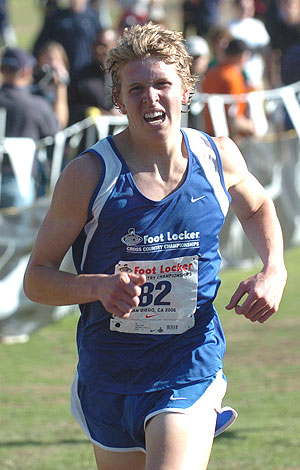 In then answering New Yorker Steve Murdock's persistent late-race challenges, Hall fashioned a decisive kick for which there was no reply as the blonde-haired Big Bear High senior churned to the individual title at the on a sun-splashed Saturday morning at Balboa Park.

Hall was among a 21-runner lead swarm that blanketed the relatively flat opening mile in 4:45, saw the group dilute to a pack of seven after the first series of climbs to reach the two-mile in 9:52, then prevailed in a see-saw battle over Murdock and a late-charging Craig Forys to win the 5,000-meter challenge in 15 minutes, 20 seconds.

Forys, the Northeast Region champion two weeks prior, wheeled past five rivals over the last 700 meters to claim second in 15:24. Murdock, capping a sensational seven-week string of championship-level races, collapsed across the line to earn third in 15:25.

Hall changed the dynamics of the race as the field snaked around the perimeter of the swimming pool area, inserting an aggressive rush approaching the two-mile mark that dropped any foes caught in moments of indecision. Hall gapped by the chase pack by 15-20 yards, setting into motion a series of countermeasures that drew others outside their comfort zone.

While most expected frontrunners wished for a fast first mile, it failed to materialize and several admitted later that the middle-mile surge caught them napping.

As it turned out, Hall – younger brother to former NCAA champion Ryan Hall of Stanford – ran tactically effective to earn the title in third-slowest winning time among the 19 Foot Lockers held here and 128th- fastest time overall in the Foot Locker races in San Diego.

"I was hoping for a quick start, but no one wanted to go and I didn't want to be the one to make the move," reflected New York's Tommy Gruenewald, who set the Manhattan Invitational meet record while riding an aggressive early pace along Van Cortlandt Park in mid-October. "In hindsight, not making my move while worrying about making a mistake cost me."

"It was probably an advantage for me that it went out slow," said Hall, who torched the flat Woodbridge Invitational three-mile layout in 14 minutes flat early this year to signal his precocious fitness levels. "I probably would have felt terrible if it had gone out fast."

Murdock made a bold move just beyond two miles to briefly snag the lead from Hall, with Minnesota's Hassan Mead (fourth in 15:28) covering the move as well.

"That was my plan," said Mead. "But I kind of know the other guys were planning the same thing. It was a matter of how I was pacing myself."

Reaching the top of big hill on the second loop was the peak of Mead's showing as he caught Hall and Murdock at the crest, but could do no more as they pulled away from him on the downhill. To add insult to injury, Mead also had to withstand the hurricane force of Forys in the last 400.

"Right then it was anyone's race," said Mead. "But I wasn't feeling too good. They used each other to push it while I was still struggling. My legs weren't moving well."

Murdock then seized the lead, but was undoubtedly approaching the red one while Hall was catching his own wind.
"At that point, (Murdock) was pushing it and was hurting more than I was," said Hall. "I was just trying to hold on. I knew if I could, I'd be in great position to win."

Hall, a proficient downhill runner, closed down the gap along the descent of Upas Hill inside the final half mile, then drew even with Murdock at the final turn leading into the humpback finishing straight. From there, Hall (who owns an 8:58.42 PR for 3200m) stretched his legs to pull away from Murdock for the win.

Forys, who owns a sub-4:10 converted 1600m time on the track, shifted into a "long kick" from 700 meters out, where he was seventh at the time. Whether on the Upas descent, along the hook turn heading across the road, or the final turn heading for home, Forys was picking off adversaries one by one.

"He's amazing," said Mead of Forys' late charge. "He had a monster kick. He just blew past me."

"He said he knew he could have finished seventh, but he wanted to pick it up and give it everything he had in his last race," said Forys' coach at Colts Neck HS, Jim Schlentz. "If he (tried to go with Hall at two miles), he would have been done. The last downhill got him going again."

New Mexico's Matt Tebo, who was edged out for fourth by Mead, sought to better his chances via a stronger start than he gained during last weekend's win at the West Regional, where he was just inside the top 40 after the opening 100 meters.

"I ended up leading but I don't think it really made that much difference," retorted Tebo, who recently committed to attend Colorado. "I wanted to take it out a little quicker at the start, but I wasn't planning on leading. I wanted to sit back and hang on the pace as much as I could, until two or two-and-a-half miles, then start my kick.

"But Chad Hall was the one who ended up making the move. I was feeling okay leading up to the two-mile mark, but then I think I relaxed a little too much."

Tebo admitted to having frustrations creep into his mind as he began losing contact with the leaders heading toward the final hill.

"After that, I started to get mentally down and talking myself out of it. It started getting ugly," he said. "The last half-mile I got a little adrenaline. I knew it was the end of my cross-country career as a high-schooler."

New Mexico's Ben Johnson was among the nation's late bloomers in 2006, with the Albuquerque Academy junior emerging as the top non-senior at nationals. Johnson, an 11th grader who qualified here via his second-place overall finish at last weekend's Nike Team Nationals race, placed 6th in 15:31.

"NTN gave me a lot of confidence that I could run with the best guys in the country," Johnson said. "I had to convince myself I could run with these guys. Before, it was like 'wow, I'm running in the nationals!"

Senior Michael Cybulski, the California state Division I champion and a Foot Locker qualifier via the NTN meet, pulled off a very surprising seventh-place finish (15:31) despite a hard effort in the mud-caked Portland Meadows layout seven days earlier. To boot, the Royal HS standout had caught the stomach flu at the start of this week and lost six pounds in preceding days.

"I made sure I felt ready anyway, so there are no excuses," said the UCLA-bound Cybulski. "I was happy with my finish."

Hall's individual win combined with strong efforts from Tebo, Johnson and Cybulski sparked the West Region's team triumph as the crew snared 4 of the top 7 places and scored 32 points to defeat the Northeast Region, which tallied 41. The South had its lead trio of runners place 9th, 10th and 11th and defeated the Midwest for third place, 73-89.
by TinaJ
Boys introductions ten minutes before the start...
And the cannon.... is... FIRED! Murdock has the early lead!
Tebo, Murdock, Hubers in front - Greunewald moves up with Tebo at the 2:00
Coming up on the half mile, 2:20, Hall, Tebo, Greuenewald together, Hubers, Murdock, Forys with them
Cybulski heading the chase group coming up on four minutes, Tebo still leading
Medina joining the top three - Hall, Tebo, Medina at 4:00
Hall, Tebo, CYbulski at the mile
4:45 at the mile about, climbed the first hill as one big pack...downhill holding top three pattern, 6:00
And Forys makes a big move on the downhill!
Halfway it's Hubers, Hall, Forys, Murdock, Tebo, and Mead joins the group... about 7:00 a pack of ten
Coming up on 2 miles, about 9:52, still a pack of ten - Hall and Murdock leading
at 10:28 Hall surges, followed by Murdock, Tebo, Cybulski, Hubers, Mead, Forys, and Centrowitz
at 11:30 Hall lengthens the gap between Murdock and Mecheso
at the hill, second time around, it's Hall, Murdock, Mead, 4th and 5th unknown, then Tebo and Cybulski in 6th and 7th!
Then it's Murdock taking the lead, Hall right behind, and Hassan Mead behind the two could come through with a kick, still 200 meters to go!
It's neck and neck, Murdock and Hall around the corner.... and it looks Hall might make it happen...
It's Hall for the win, and Forys comes in from somewhere, Murdock drops to third and fourth/fifth are tebo and

results from footlockercc.com
| | | | | | | | | |
| --- | --- | --- | --- | --- | --- | --- | --- | --- |
| Place | Time | Bib# | Name | Grade | Region | School | City | State |
| 1 | 15:20 | 82 | Chad Hall | 12 | West | Big Bear HS | Big Bear Lake | CA |
| 2 | 15:24 | 51 | Craig Forys | 12 | Northeast | Colts Neck HS | Howell | NJ |
| 3 | 15:25 | 54 | Steve Murdock | 12 | Northeast | Shenendehowa H.S. | Clifton Park | NY |
| 4 | 15:28 | 71 | Hassan Mead | 12 | Midwest | Minneapolis South H.S. | Minneapolis | MN |
| 5 | 15:28 | 81 | Matt Tebo | 12 | West | Eldorado H.S. | Albuquerque | NM |
| 6 | 15:31 | 89 | Benjamin Johnson | 11 | West | Academy H.S. | Albuquerque | NM |
| 7 | 15:31 | 90 | Michael Cybulski | 12 | West | Royal H.S. | Simi Valley | CA |
| 8 | 15:34 | 55 | Matthew Centrowitz | 12 | Northeast | Broadneck H.S. | Arnold | MD |
| 9 | 15:34 | 64 | Girma Mecheso | 11 | South | Berkmar H.S. | Lawrenceville | GA |
| 10 | 15:35 | 67 | Colby Lowe | 11 | South | Southlake Carroll H.S. | Southlake | TX |
| 11 | 15:36 | 62 | Ben Hubers | 12 | South | McEachern H.S. | Marietta | GA |
| 12 | 15:36 | 58 | Brandon Jarrett | 11 | Northeast | St. Benedict's Prep. | Hillsborough | NJ |
| 13 | 15:44 | 85 | Russell Farnsworth | 12 | West | Highland H.S. | Pocatello | ID |
| 14 | 15:45 | 83 | Jake Riley | 12 | West | Sehome H.S. | Bellingham | WA |
| 15 | 15:46 | 86 | Maxwell O'Donoghue-McDonald | 12 | West | Seattle Preparatory School | Seattle | WA |
| 16 | 15:50 | 52 | Sintayehu Taye | 11 | Northeast | Cushing Academy | Portland | ME |
| 17 | 15:52 | 60 | Ryan Collins | 12 | Northeast | Mansfield H.S. | Mansfield | MA |
| 18 | 15:52 | 78 | Richard Medina | 12 | Midwest | Grand Junction H.S. | Grand Junction | CO |
| 19 | 15:55 | 84 | Mikel Thomas | 12 | West | Clovis H.S. | Clovis | CA |
| 20 | 15:56 | 53 | Tommy Gruenewald | 12 | Northeast | Fayetteville-Manlius H.S. | Manlius | NY |
| 21 | 15:57 | 56 | Donn Cabral | 11 | Northeast | Glastonbury H.S. | Glastonbury | CT |
| 22 | 16:02 | 88 | Jared Ward | 12 | West | Davis H.S. | Kaysville | UT |
| 23 | 16:03 | 65 | Michael Spooner | 12 | South | West Springfield HS | Springfield | VA |
| 24 | 16:06 | 80 | Dan Chenoweth | 12 | Midwest | Geneseo H.S. | Geneseo | IL |
| 25 | 16:07 | 76 | Joseph Manilafasha | 10 | Midwest | Denver North H.S. | Denver | CO |
| 26 | 16:08 | 61 | Ryan Hill | 11 | South | Hickory H.S. | Hickory | NC |
| 27 | 16:09 | 72 | Anguel Tolev | 12 | Midwest | Thornton H.S. | Northglenn | CO |
| 28 | 16:11 | 63 | Griffith Graves | 11 | South | Abingdon H.S. | Abingdon | VA |
| 29 | 16:12 | 75 | Evan Appel | 10 | Midwest | Dakota Ridge H.S. | Littleton | CO |
| 30 | 16:18 | 66 | Duncan Phillips | 12 | South | A&M Consolidated | College Station | TX |
| 31 | 16:19 | 70 | Thomas Porter | 10 | South | Mountain View H.S. | Fredericksburg | VA |
| 32 | 16:21 | 79 | De'Sean Turner | 12 | Midwest | Warren Central H.S. | Indianapolis | IN |
| 33 | 16:22 | 73 | Elliott Heath | 12 | Midwest | Winona Senior H.S. | Winona | MN |
| 34 | 16:25 | 87 | Kent Morikawa | 12 | West | Torrance H.S. | Torrance | CA |
| 35 | 16:25 | 57 | Brian Rhodes-Devey | 12 | Northeast | Guilderland H.S. | Slingerlands | NY |
| 36 | 16:27 | 69 | Luke Lovelace | 11 | South | Chapin H.S. | Chapin | SC |
| 37 | 16:29 | 68 | Michael Anderson | 12 | South | P.K. Yonge D.R.S. | Williston | FL |
| 38 | 16:33 | 77 | Robert Moldovan | 12 | Midwest | Northrop H.S. | Fort Wayne | IN |
| 39 | 17:33 | 59 | Paul Springer | 12 | Northeast | Unionville H.S. | Kennett Square | PA |
| 40 | 17:48 | 74 | Emil Heineking | 12 | Midwest | Chardon H.S. | Chardon | OH |