henry phelan | lincoln-sudbury ma




By SteveU, DyeStat Senior Editor



Making a transition from one outstanding program to another without missing a beat is a rare feat. It takes not only an outstanding coach, but one who is able to sense what the new program and team needs and is receptive to, then go with the flow – whether or not that is at odds with preconceived notions of what he is getting into or what coaching ideas have worked in the past. Second-year Lincoln-Sudbury girls XC and track mentor Henry Phelan has been able to do just that.

At Bromfield MA, Phelan built a great D2 program in Massachusetts over nine years. Not only did he have an outstanding team there, which won 10 state titles in MA, but he coached two of the nation's very best in Ari Lambie and Emily Jones. When he took the L-S position in fall of 2008, it was a team that had made NXN Finals the previous fall and finished 8th (under Coach Tarello). With fierce competition throughout the year from nearby rival Newton South, L-S was 2nd at state, 1st at NXN NE, then 12th in Portland. This fall, they have led the NXN Northeast rankings and seem poised for yet another trip West.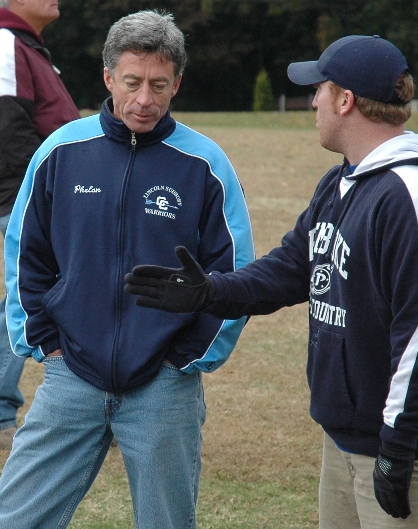 Phelan himself was an outstanding distance runner at Keene State, then a highly competitive road racer in New England and nationally. He learned plenty of lessons along the way that have contributed to a tempered, but dedicated approach that has worked well for a decade. Going into the heart of the season, Coach Phelan took a few minutes to talk with DyeStat senior editor SteveU.

1) It's kind of amazing to me the way someone can come into a program that had reached such a high level and was at a peak, and be able to maintain and possibly improve on it while hardly missing a step these past few seasons. New coaches more often come into situations where things have been on the downswing in a program. What were both the biggest positives and the biggest challenges you found entering the situation you did?

The transition at L-S was much easier than I expected. I was fortunate to come into a program where the team had been successful for two years and they wanted to stay that way. I had also come from a program where we had been successful, and I didn't want to take a step back either, so we were on the same page as far as expectations.

The captains of the team my first season were really instrumental in making it a seamless transition. They were very committed to the program, but open to my style of coaching. We were able to communicate well and work together, and they did a great job leading the team and making it comfortable for all of us. As a coach, I am there to help them achieve their goals and make it a positive experience for them – really I am working for them. I don't try to make them feel like they are running for me and that they have to achieve anything for me; it is for them. So, there was no pressure put on the team to be my team.

2) Can you talk about what inspired you to seek and take this position in the first place? You came from another school – Bromfield – where you had coached two national stars and had a fine smaller school program. I imagine there were both plenty of reasons to stay, but also plenty of reasons to consider an outstanding larger school program like Lincoln-Sudbury. Can you give us the breakdown of how the decision and transition unfolded for you? How hard was it to leave Bromfield while Emily still had a year to go?

Leaving Bromfield was tough, not just because of Emily Jones, but because of her and all the other girls who I had coached for up to five years (they start running with the team in 7th grade). You want to see them through the program, but at some point you have to move on. We had accomplished a lot during my nine years there – made the national rankings in XC, won Nike Indoor 4 x 8 once, third in the 4 x 1 mile during the last season in '08, 10 state championships and 6 state runner-ups. And there were the individual accomplishments along with that. Looking back, it was a lot.

Still, there were limits to what you could do at a small school with graduating classes at around 100 each year (boys and girls combined). When I heard the L-S job was open, I had to call. As a resident of Sudbury, it would give me the opportunity to make more of my son and stepson's athletic and school events. The chance to coach at a bigger school with more resources, better facilities and a bigger talent pool was appealing. It was also a chance to grow professionally. You get pretty set in a routine, especially when it's going well, so breaking out of that has helped me evaluate my coaching and make some changes – which I'm still working on.

3) While you had a strong team at Bromfield, you were frequently – when Ari and Emily were on the team, at least – balancing coaching one of the country's top runners with a team that mostly was at a different level. With L-S, you obviously have had some outstanding talent, but a team that was much closer, 1-7. What kind of adjustments, if any, have you made with your training philosophies, or the way you structure practices, build training plans, etc.?

Coaching athletes like Ari and Emily was great, but they were going to be above the level of the team no matter where they were. So, no matter where you coach, you have to deal with kids of all ability levels; they were just in a smaller group. At L-S there is more talent at every level; the top group is no longer made up of one, it is actually a group. That is beneficial to the group and to the team. The L-S girls really work well together in workouts; they help each other and offer encouragement to each other.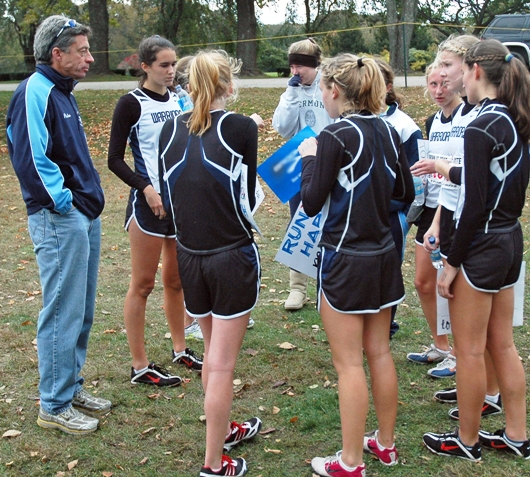 The basic training philosophies haven't had to change; I still pull kids out of workouts or cut them short when they need it, and let them progress at a reasonable rate. I am still learning how these girls respond to the training and the other stresses in their lives, and I try to keep it under control on my end.

4) From what I've read of your background, your personal history with the sport – and other sports – is interesting. You first got into running to get in shape for hockey. Then much later in life, when injuries slowed your running somewhat, you took up the duathlon and, obviously it seems, found ways to continue to stay fit, compete and adapt. How has all of this contributed to your coaching philosophy? Have you found you've been able be better prepared to prescribe various kind of cross-training to injured athletes and so forth?

My background helps keep things in perspective. When I was running a lot, and running well towards the end of college and right after I finished collegiate running, I was too insecure to rest or to skip a workout. I realized later on that it is OK to rest and take a day off, that once you have a base you have a base, it doesn't just disappear overnight. I incorporate easy days into the schedule often, along with one day off each week. We also do some drills to help with injury prevention. If someone needs to cross-train, I know that it will maintain fitness and I don't stress about it. I do try to keep the training at a moderate level and consistent to avoid injury, so the need for cross training is minimal.

5) I want to go back to your experiences coaching Ari and Emily. Two amazing, but rather different – I suspect – athletes. Tell us what epitomized those two outstanding runners and how they were alike, and different. What did you learn as a coach when you were working with Ari? What did you find the same and/or different about coaching Emily?

I was very fortunate to have been able to coach two athletes like Ari and Emily. The first season I coached at Bromfield, Ari was playing soccer. At the end of the XC season, a mother of another girl on the team said, Wait till you see Ari run this winter, she is really good. I had no idea who this Ari was and I just laughed, thinking she had no idea what she was talking about. Boy, was I surprised! After her first race of that first indoor season, I told her it was time to give up soccer and that she could be one of the best ever. She didn't quit soccer until her junior year, but it all worked out.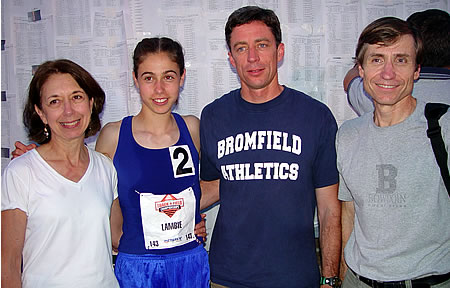 Ari (at right, with Coach Phelan and her family, by Donna Dye) was pretty intense; I think she intimidated a lot of the guys at Bromfield. She was very strong, confident and very focused. She had just a great sense of pace and was able to find the red line and stay on it … really special. She also had great range; she could have been state champ from 400m to 5k XC.

Emily was similar to Ari when it came to the focus: she got into a race or a workout and was on a mission. Nothing was going to stop her. She was a little different as far as her range, being more of a distance runner – 1-mile, 2-mile, XC – although as she got stronger, her 800 times were coming down. Like Ari, Emily was able to go to the edge, and stay there, and she always had a strong finish. She was as tough as they come. They both were so impressive and left their mark at every meet they ran in. They were pretty similar – never really satisfied and always wanting to achieve at the highest level. Most of all, they appreciated what they were able to do and they shared it with their teammates and competitors.

6) Now back to the present, let's look at this year's team compared to last fall's. You obviously lost a few fine student-athletes to graduation, but have seen others mature and evolve. Can you talk some about how all of that has unfolded? What are some things you've discovered as a 2nd-year coach at L-S that are helping things move along?

Yes, we did graduate some quality athletes and people. It's hard to replace athletes like that and even harder to replace people like that. But we don't have any choice; each year brings something new. Our top runner (Andrea Keklak) has had to take over leading the workouts and she has done well with that. It is good for her to learn the pacing and how to push the pace, instead of just sitting back letting someone else do it. She has definitely matured as a runner and as a person, though she's still on the young side for a junior (just turned 16 in Oct.).

Another key to this season has been how well our two returning seniors from last year's top 7 are running; they came in with positive attitudes and want to continue the success. Our 2nd runner (Corey Stock) was a national champion XC skier as a frosh and she is so solid and strong. She gives Andrea someone to work together with in practice and provide us with a strong 1-2 punch. We added another talented freshman, who has moved up to our #4 recently, and is really starting to put it together at the right time. Then we have a trio of sophomores working for the 6th and 7th spots on the team. They work together to make each other better and provide some much needed depth.

As a coach, I've learned to be more patient, let the training come to them, and not push it. They also put enough pressure on themselves, so I try to keep it more relaxed and support them, and keep them laughing with my corny sense of humor.

7) Looking at your training philosophy, is there a system or coach that inspired some of the principles and what are some hallmark or measuring-stick workouts of your training program?

I guess I based a lot of my own training on Lydiard-type stuff when I was running myself, and started to learn some of what Bill Squires was doing back with the old GBTC guys and started to incorporate some of that. I have also read the Jack Daniels books and made adjustments with what I learned. Basically, I am more of an aerobic development and strength type of coach. These types of training have the most long-term benefits, in my opinion, and are the least stressful to young athletes. There is no one workout that makes a runner successful, but a long process of development and progression.

I still have my athletes take one day off per week, because high school-aged kids are still developing physically and need recovery time in order for the training to have its desired effect and for the body to continue to grow. I also incorporate easy days into the schedule – at least two days per week to allow for recovery and regeneration from the stress of training – and these are easy. I don't stress or use much anaerobic work, except for a few weeks in the spring, as I feel it is too risky and doesn't lead much to long term development. I feel healthy runners will perform better than injured runners, so I try to keep them healthy and progressing as much as possible.

8) Finally, there are few better local, national-class rivalries in distance running – both cross-country and track – than the one between your girls and Steve McChesney's at Newton South. What is your take on the rivalry, the relationships both with you and Coach Steve and the kids from both schools, and what it's like to have this kind of a challenge – racing them in XC, track relays and otherwise – so many times during the school year!

The rivalry with Newton South is new to me. My teams at Bromfield raced Newton South for nine years before I got to L-S, so I got to know Steven on a friendly basis during that time. I respected his coaching ability and how he treats his kids and admired that. Now we are in more of a rivalry, but that hasn't changed the level of respect I have for Steven or his teams.

I think that because our teams see that we are friends, yet still competitive, that they have taken that same approach. The competition between the two teams brings out the best in each of them. The times they run in dual meets are pretty impressive, but when it's done they are friends. There is mutual respect and they get together every so often in the summer. They even had a sleepover last summer and, recently, the two teams purchased sweatshirts that say L-S, NS Distance on them. That being said, Steven and I exchanged schedules over the summer so that we wouldn't be at the same invites all the time this fall.

First and second photos courtesy of John Keklak; third photo of Ari Lambie and family, plus Coach Phelan, from 2003 NON by Donna Dye.