darrell anderson + dave zittleman | bismarck nd
By Dave Devine, DyeStat Senior Editor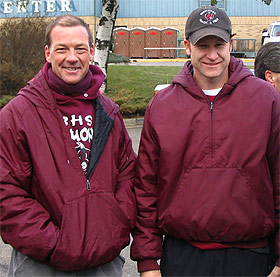 At a recent practice for the US#32/NW#3 Bismarck ND boys team, "It is 32 degrees and sleeting," according to co-head coach Dave Zittleman, "but the boys had their best interval session of the year and I never heard one complaint about the weather. It probably felt a lot better than the conditions this past Saturday at the Conference meet, where it was 28 degrees with 22-28 mph winds. That was cold!" The Bismarck Demons won that conference meet with 24 points, taking the title for the fifth straight year, which is exactly the sort of success this powerhouse program has been enjoying as of late. Led by individual talent and NXN 3rd-placer Joash Osoro in 2008, the Demons were runner-ups (by 3 points) at the NXN Heartland Regional and then placed 14th at Portland Meadows in the National Finals.

Even with the departure of stellar 1-2 combo Osoro and Devin Huizenga (now running at the University of Portland and Wake Forest, respectively), the Bismarck boys are as deep as ever and angling for another run at a berth to the NXN Finals. The regionally-ranked Bismarck girls, mentored by head coach Scott Reichenberger and assistant Janelle Olson, have been highly successful as well, winning the past two state championships and missing the NXN Finals last year by three points. Clearly, good things are afoot in the state capital.

Senior editor Dave Devine caught up with our Running Warehouse Coaches of the Week, Darrell Anderson and Dave Zittleman, who share head coaching responsibilities for the Bismarck boys, to find out exactly what's happening up north to bring about so much success. Coach Anderson is in his 30th of coaching cross country at Bismarck, where he's won 6 boys state titles and 4 girls titles over the years. Coach Zittleman is an activites director and physical education teacher at Bismarck High, and is in his 7th year as co-head coach of the Bismarck boys.

1) Congratulations on what looks to be another great year for the Bismarck Demons. You've had a remarkable string of success, especially in the last five years or so. Can you talk about that level of consistency, maybe how the years have built upon each other in terms of state success leading to regional success leading to national success, and what this has done in terms of motivation for your teams?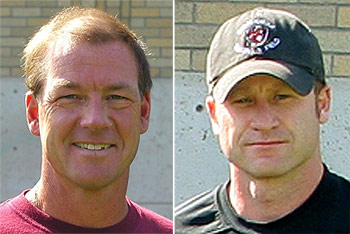 Co-Head Coaches Darrell Anderson (left) and Dave Zittleman



Coach Anderson - It's been a great run these last five years and I think most of it has to do with Coach Zittleman's adjustments since 2003, when he joined the program. He recognized immediately that we needed to increase our base level of fitness and secondly, really turn up the enthusiasm to get kids out. We've had great tradition at Bismarck High but rarely competed out of state. Our biggest home meet was in late September, but when schools started going elsewhere, we decided to do the same and compete in Minneapolis or Rapid City, and it's really added exposure to the program. Kids see the success some of our teams have had, and have incentives to make their own history, so it has become a big deal at Bismarck High and I think it's helped bring respectability to our state as well.

Coach Zittleman - The 2004 team made the commitment to get BHS XC back to the top. They were the group that started to get serious about summer and winter training. They bought into the higher mileage and were able to finish second in the state meet that year. Knowing that they were so close to getting back to the top really motivated this group and this set them up for a great track season. The 2005 team went undefeated and averaged 24 points per meet. Since then we have made slight adjustments to our training and we have continued to have more success. (Winning the past four state titles in North Dakota.) Each year we get a little deeper than the previous year. The 2009 team is the deepest team that we have had. At this year's pre-state meet we had 9 boys finish in the top 20 and 10 of the top 16 at our conference meet this past weekend. The team from top to bottom has improved greatly from last season, and two freshmen have been racing in our top five for most of the season.

We have expanded our schedule and have participated in the Griak Invitational, NXN and Footlocker. All have been great motivational tools for our kids. We have had great battles with Wayzata over the past three seasons and our kids really appreciate their team. Wayzata is a classy program and has been a great opponent for the Demons!

We do however stress one thing; this is a business trip and not a vacation, so bring your briefcase!

2) What are some of the basic coaching tenets underlying your work with the young men at Bismarck High? Are there specific hallmarks of the Bismarck training approach that you've developed over the years, in terms of volume, key workouts, competition and things like rest and recovery?


Coach Zittleman - We average 60-80 miles per week with our top 15. We do double 3-4 days per week throughout the season. I believe good training is predictable and somewhat boring. I don't believe in the term "Peaking" at all. The term I like is rested or sharp! We want to see gradual improvement and adjustment to the training as the season goes along. Our volume gradually moves up throughout the season, with no huge jumps in volume or intensity. We do only one workout per week when we have a race on the weekend, and this is usually on Tuesdays. Every athlete is different in abilities and needs, so I write an individual plan for each athlete every week.

Key workouts/philosophy

1. Long run – Once a week, up to 16 miles
2. Cruise intervals x 6-10, 800m-1000m-1600m-2000m with short rest interval (45 second to a minute)
3. 350's x 16-20 with 35-45 seconds running recovery at race pace moving towards faster than race pace. We add in faster hammers later in the season (3-4 of them mixed in the workout)
4. Tempo runs – 16-25 min or 2.5 to 5 miles. The athletes work on increasing pace and moving down towards race pace.
5. 1000's – Done at race pace with equal or less recovery(mid to late season) 4-6 repetitions
6. Morning runs – 20-30 minutes easy (2-3 times per week), along with one morning pool running session the day after the workout.

In cross country and track & field, athletes reward themselves by applying their training into a great race!

3) How did you first get into the field of coaching? Was there a specific influence, or mentor who suggested you consider getting involved at this level? As each year passes, do you find the rewarding aspects of it changing? Are there, for instance, things about coaching which you appreciate now that you might not have appreciated when you first started?

Coach Anderson - I was a distance runner myself, but never had intentions of coaching. I was a non-teacher, but in 1980, two years out of college, I was asked to fill in for the coach who resigned a week before practice started. Jack Lynch and Bruce Whiting were my high school coaches. We won five of six possible State championships in cross and track, so they knew how to win, motivate and train. I followed Whiting to North Dakota State and met several guys that really understood the fundamentals of training. That has always been the mainstay. There have also been several highly successful coaches over the years from this state that have had it together. I appreciate most, the willingness of kids wanting to work and the reward they achieve from it.

Coach Zittleman - I always knew that I wanted to be a coach! I had great high school track and cross country coaches. Leon House, John Kihne and Gary Olmsted were great influences on me when I was an athlete. I actually wanted to be a college coach, and did that for 11 years, four as a head coach at Minot State University and seven years as an assistant at the University of Mary, under a great mentor in Mike Thorson. I worked with some great athletes and the experience was priceless.

This is my 7th year of coaching cross country and will be my 9th year in track & field at Bismarck High School and I truly appreciate the opportunities I have had working with Darrell and Scott Reichenberger (girls XC coach/distance coach for boys track) and the other great assistant coaches in our programs. We have passionate assistant coaches that have helped kids achieve some great things.

The most rewarding part of coaching is watching the below-average athlete improve to the next level. Talented kids are going to get better and have success, but below-average talented kids don't always get the glory. We want each athlete to be a contributor and feel like they are a part of something great.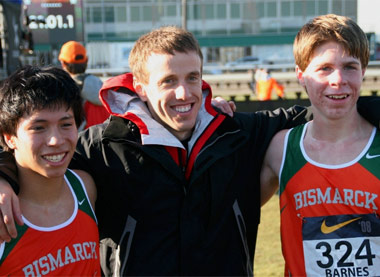 4) Last year's team had the opportunity to travel to Nike Cross Nationals and place 14th in that highly elite field. How many members of that team returned for you this year, and what do you think they brought back from the experience in Portland which has carried over to this season? What did you learn as coaches about taking a team to that sort of national championship caliber event, and has it caused you to change or modify anything this fall as a result?

Coach Anderson - Only three returned off the 2008 Nike Team - Christian Brownotter, Brandon Barnes (both right, with Alan Webb) and Josh Hintz. I think they now understand how special the opportunity of getting there really is. Well, it's obviously not just another meet but you still have to run the type of race you've trained for. Our weather in November will dictate changes more than anything.

"It's important to not be intimidated, kids need to know they belong and can compete against anyone regardless of where you're from." - Darrell Anderson

Coach Zittleman - The experience was phenomenal for the team. Nike does a great job hosting a national caliber event and our athletes gained valuable experience from the meet. Fifteen minutes after the race last year, Christian Brownotter told the team that he was going to go back to Bismarck and inspire other young athletes to be committed to get back to Portland. Christian and the others seniors have done a great job motivating and leading their teammates on a mission to get back.

"Kids trying to qualify for nationals are not average or normal kids and they don't do what normal kids do on a regular basis. You must sacrifice, and I mean sacrifice big time!" - Coach Dave Zittleman

5) One of the stars of that NXN team is a guy who really landed on the national map during cross country, and is already having an impact as a true freshman in college-- Joash Osoro. Can you talk about how you balance the needs of an athlete like Joash, who might be among the top handful of kids in the country, with the wider needs of your squad? How do you simultaneously work with the star and the athlete who might be more of a mid-pack kid, and bring both along to their respective goals?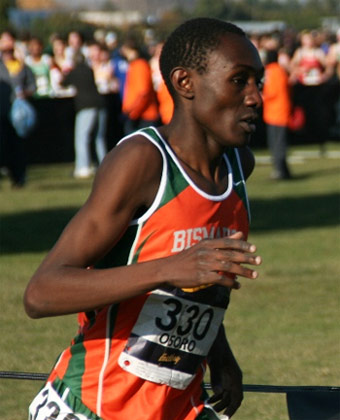 Coach Zittleman - Joash (left) didn't even start running till the spring of his freshman year. He is just a "pup" in terms of experience. His mileage steadily went up over the years and he topped out in the 80's his senior year. We probably could have had him do more, but our focus was on maintaining a progression with him.

Other than doing more mileage than the others, Joash was just like the other guys on the team. He had a great training partner in Devin Huizenga, who finished 28th last year at the NXN. Their volume and intensity was greater than the rest of the team, but they always met with the team and were the leaders. Many days they would be finishing the workout and the rest of the boys would be right there cheering them on! The younger kids were inspired by Joash and Devin and still follow their careers as they move to the next level.

6) Are there specific challenges to coaching distance runners in North Dakota which you've developed solutions to work around? Things like weather, geographic distance, opportunities to race other high-level competition, that sort of thing? Do you ever find yourself looking at some of these schools on the East Coast which can drive an hour and half in any direction and race five other regionally-ranked teams, and thinking, "Man, that would be nice...."?

Coach Anderson - The weather has always been something that we've all grown up with. Simply put, it is what it is and we deal with it. We've seen it all here, extreme heat to bitter cold, but you make the adjustments and run through it. Our Athletic Director, Jim Haussler, has given us tremendous support in allowing us to travel, sometimes five or six hours away, for competitions, but again it's something we're used to doing.

Coach Zittleman - I have always coached in North Dakota and have grown accustomed to the weather and how to deal with it. We have good training weather in the summer and fall, but let me tell you what, the winters are brutal. That is why some of our track times are not as competitive as they could be. Take North Dakota kids and put them in the California weather, and you would be surprised at what they could achieve!

I was really impressed with our kids last winter. We had near record snowfall and they hardly ever missed a day outside or on the treadmills. They were committed and they are reaping the benefits now.

7) If you were approached by a young person who wanted to get involved in coaching high school runners, what advice would you give them?

Coach Anderson - If you're not willing to commit to them as much as you expect them to commit to the program, then you best keep walking because you're not about running!

Coach Zittleman - I have had several coaches' talk to me about coaching distance runners. I tell them to talk to as many coaches as you can and read up on the training philosophies of Vigil, Daniels and Lananna. Teach kids to work hard and to take pride in their work!

I also tell them that if you want to be successful it has to be a lifestyle and not a paycheck!

Other ideas

1. Train all year! That doesn't mean that they don't get time off after cross country and track! (about 2 weeks each)
2. Develop the aerobic system. – Junk Miles
3. Allow athletes' bodies to adapt before adjusting pace
4. Set up a summer running program
5. Set up a winter running program
6. Have them do body circuit work
7. Have them do core work
8. Have them ice
9. Use the Stick for massage and rope stretch
10. Write workouts for the athlete, not the team
11. Give them the workouts in advance (weekly)
12. Keep track of workouts and compare from year to year
13. Keep records
14. Develop a website
15. Video them running and have them watch it
16. Take pictures and post them (a single picture is worth a million words)
17. TAKE THEM TO A BIG MEET!
18. Give them running-related handouts to read
19. Have them keep a log
20. Tell them – "If you run lots of miles I guarantee you will get better, much better"
21. Pool workouts for recovery - not as a workout
22. If an athlete wants to do more – let them!
23. Teach them to race in packs! The peloton always wins!
24. Bring back alumni to train with you from time to time!
25. Bring them reading material on nutrition!
26. Have them dress like a runner, not a skateboarder!
27. Talk to as many athletes as you can every day!
28. Never tell them that the athletic trainer is at the school!
29. Don't be afraid to adjust workouts
30. Make them aware of the tradition in your program
31. Get the parents involved
32. Have the athlete do extended warm-up and cool down on workout days
33. Always reward yourself with a long cool down after a meet

.

All photos by the Bismarck coaching staff from Bismarck Demons XC site