PIX


DONNA ON THE SIDE

Donna Dye captures all the sideline scenes.



JD ACTION ALBUMS


Boys - Girls



Tatnall DE girls repeat,
Brookwood GA boys win

Boys

-

SE#1 US#7 Brookwood GA boys win over SE#3 Miami Columbus FL 109-143. Miami Columbus boys win 2nd qualifier. Colin Mearns VA takes individual title

Girls

-

SE#3 Tatnall DE girls 74 win fourth straight trip to Portland over SE#4 as up and down year ends on up note. SE#4 Blacksburg VA 83 followed a 1-2 finish by the Stevens twins to its first NXN final.
.




| | | | |
| --- | --- | --- | --- |
| Colin Mearns | Brookwood boys | Haley Pierce, Tatnall | Stevens twins |
| photos by John Dye | | | |
NXN Finals Qualifiers

- 1st and 2nd place teams are automatic qualifiers; 3rd and 4th place teams


are eligible for selection as a national at-large team. Individual qualifiers are the top 5 not on a qualifying team.

Bold faced individuals and teams qualify for national finals.


Boys Teams


1. Brookwood GA (Snellville) 109
2. Miami Columbus FL (Hellions) 143
3. Parkview GA (Mountain Park) 149
4. Mountain View VA 171



Girls Teams


1. Tatnall DE (Wilmington) 74
2. Blacksburg VA 83
3. Hidden Valley VA (Roanoke Titans) 107
4. Midlothian VA 116


Boys Individuals


1. Colin Mearns VA - 15:16.5
2. Tyler Anyan GA - 15:20.6
3. Andrew Palmer MD - 15:21.5
4. Brayden Burleigh VA - 15:24.0
5. Chris Colo NC - 15:29.1
6. Ryan Lee DE - 15:34.6

Girls Individuals
1. Kathleen Stevens VA - 17:14
2. Joanna Stevens VA - 17:24
3. Haley Pierce DE - 17:42
4. Kathleen Lautzenheiser VA - 17:49
5. Nicky Akande GA - 17:56
6. Laura Hoer NC - 18:00
7. Jessica Rubin MD - 18:05
8. Kaitlyn Davis VA - 18:06




Winners Table


Click on event name for details






SE Region History




Southeast Region



Year
BOYS
GIRLS
2008
19th, Jamestown VA (Williamsburg)
22nd, Broughton Raleigh (Capital Distance)

3rd, Tatnall DE (Wilmington)
9th, Collins Hill GA (Suwanee)

2007

18th, Oak Ridge TN
22nd, Jefferson VA

19th, Collins Hill GA


20th, Tatnall DE
6th, Mountain Brook AL

2006

14th, Midlothian VA
20th, Chapel Hill NC

8th, Greenbelt MD (Eleanor Roosevelt)
10th, Midlothian VA
12th, Wilmington DE (Tatnall)

2005

12th, Chapel Hill NC
17th, Louisville KY (St. Xavier)

11th, Greenbelt MD (Eleanor Roosevelt)
14th, Jacksonville FL (Episcopal)

2004

15th, Birmingham AL (Hoover)
20th, Park Pride FL (Winter Park)

19th, Alabama Runners (Scottsboro)
20th, Harford Harriers MD (Bel Air
Preview



Tatnall DE girls are shooting for their 4th straight trip to Portland. They were 3rd at nationals last year, the best showing of any Southeast team in the history of NXN.



Six of the top 7 girls teams in the Nov. 26 DyeStat regional rankings and 5 of the top 6 boys teams are entered. Brookwood GA boys at #7 have the highest US ranking in the DyeStat Elite ESPN RISE Fab 50.
Southeast ranked teams entered.

Based on the rankings, Brookwood GA boys are heavily favored and the girls race is a tossup among Chiles FL, Hidden Valley VA, Tatnall DE and Blacksburg VA.


Boys


1. Brookwood GA (Snellville). US#7
2. Mountain View VA US#33
3. Columbus Miami FL (Hellions) US#43
5. Dr. Phillips FL (Orlando)
6. Parkview GA (Mounain Park)


Girls


1. Chiles FL (Wolfpack) US#22
2. Hidden Valley VA (Roanoke Titans) US#23
3. Tatnall DE (Wilmington) US#24
4. Blacksburg VA US#25
6. Midlothian VA US#35
7. Green Hope NC (West Cary)

.






Schedule





Friday, November 27:


1:00 PM - 5:00 PM - Packet Pick-up (at WakeMed Soccer Park)
6:00 PM - 8:00 PM - Pasta Dinner ( Herbert C. Young Community Center)



Saturday, November 28


8:00 AM - Community Race
9:00 AM - Girls Open Race
9:40 AM - Boys Open Race
10:20 AM - Girls Championship Race
11:00 AM - Boys Championship Race




Course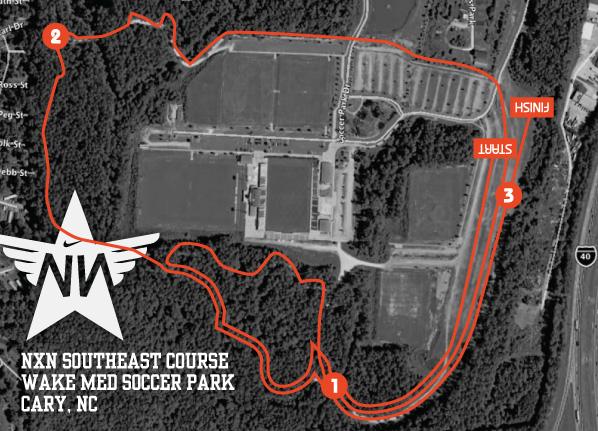 Directions





Directions to and from Hotels, Venues and RDU International Airport





From I-40 Eastbound (Chapel Hill/Durham):


Take the Cary 54 Exit (Exit 290) off of I-40. Turn right on top of the exit ramp (towards Cary). Turn left on SE Maynard Road. Take a left on Chatham Street and Wake Med Soccer Park is 1/2 mile on the right.



From I-40 Westbound (Fayetteville):


Take Exit 291, Cary Towne Boulevard. Turn right on Cary Towne Blvd, then take a right on SE Maynard Road. Turn right on E. Chatham Street and Wake Med Soccer Park will be 1/2 mile on right.

From Downtown Cary:
Head East on Chatham Street towards Raleigh. Wake Med Soccer Park will be on your right.



From Raleigh/Beltline:


From Beltline, take Western Boulevard exit and head west (toward Cary). Continue after merge with Hillsborough Street until it becomes E. Chatham Street. Wake Med Soccer Park will be on your left, 1/2 mile before Maynard Road intersection.