The annual DyeStat Elite Top 25 series (formerly Foot Locker Favorites and renamed given additional options available now) are national and regional rankings of cross-country runners based on distance-running accomplishments to date, with an emphasis on XC and 3200/2M track results, rather than a projection of how the Foot Locker Finals or NXN Finals will turn out (predictions run later in the season).





Lipari, Fluehr score big in a quiet week





Oct 23, 2009 Girls Rankings

(through Oct. 17 meets)

The Top 25

Most of the rankings stay the same, with no newcomers, but Emily Lipari NY and Kathryn Fluehr FL make big
moves with victories in Brown Invite and Florida Pre-State

Story and rankings by SteveU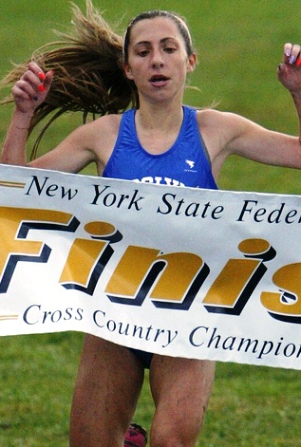 Emily Lipari, shown here last fall winning the NY Feds meet, had a big victory at Brown last weekend. File photo John Nepolitan


Like last week, not a lot happened to change the rankings. Unlike last week, it wasn't so much because there were major meets that held to the status quo, but rather that the invitational season has wound down to a precious few meets, and that top runners in other states are more often than not cruising through league, district and region meets en route to big efforts at upcoming state championships. That said, there were a few significant changes due to last weekend's action:



Lipari's mid-season statement

– Roslyn NY doesn't go to a lot of big meets, including Manhattan and other major NY and NE fixtures, but they have made a habit of heading up to the Brown Invite each year. So it was that last weekend, Roslyn's two-time Foot Locker Finalist and NY Federation champ Emily Lipari finally got to show where she was at in a major meet.

The results were impressive. Lipari scorched the 5k course for a 17:10.9, finishing 33 seconds up on MA standout Jenna Davidner and 53 up on Great American runner-up and New York rival Samantha Nadel. Nadel was reportedly with Lipari in the woods in the final mile when she went down with a turned ankle. Still, Lipari jumps into the top ten at #9 and Nadel slips to 12th. Nadel's injury was said not to be major, but she'll have to wait for another shot at dethroning New York's reigning queen.



Fluehr still flying in Florida

– Though she's unproven outside the Sunshine State's speedways and without national creds before this season, the quality of Kathryn Fluehr's performances is slowly pushing her up the national rankings. Like NC frosh Wesley Frazier earlier in the fall, she's just been too good to overlook. At last week's Little Everglades Pre-State Classic in Dade City, the Community School of Naples junoir ripped a winning 17:16.23 5k and is clearly the state's best runner. Given that her time was less than two minutes slower than the boys winning time of 15:20 by Matt Mizereck, somewhat more regionally established, it's a good sign that Fluehr could be competitive with the top 10-15 of her peers on a national basis.



Remaining the same

– The top five remains the same, with #1 Chelsey Sveinsson TX having the most significant action in racing her first 5k of the fall – a winning 17:32.7 at the Chile Pepper Festival in AR. It's rare that a Sveinsson performance fails to make one's eyes bug out, but this was one such instance. The Greenhills TX junior was 22 seconds off her winning time from last year and while conditions – muddy and 40s – were far from ideal, it should be noted that rising MO star Caleb Hoover fashioned a relatively faster 15:01. Of course, Hoover was pushed hard by TN standout Jake Rainey, while Sveinsson won by 45 seconds.

There were no additions or subtractions to the Top 25 list this week, but a few other notables both in the lead group and among honorable mention performers:

Jesuit OR sr Annamarie Maag continued tearing up the Northwest, taking the PUMA Concordia Classic for her 3rd major invite win in the last several weeks. She moves up two spots to #18.
Though the Dowling Catholic IA duo of Ashlie Decker and Katie Flood have been finishing within a tick or two of each other all year, it was Decker nipping Flood in their conference meet last week and, thus, switches up with her in the rankings.
McGill-Toolen AL frosh Carmen Carlos has continued to pile up impressive performances in her state. With Southeast XC Showdown and Jesse Owens titles already in hand, she won her county meet in Mobile in 17:48.12 (5k) last weekend. It was significant because she topped the course record set by #19 Malia Cali in winning the Mobile Challenge of Champs earlier this fall.
Osbourn Park VA's Ariel Karabinus impressively joined the ranks of sub-18 Virginia harriers with her winning 17:52.41 at the Milestat.com Invite.
Aliso Niguel CA's Danica Wyson impressed with her winning 17:07 to win the big Orange County meet in Cali, beating stars like Sierra Vega.
Mt. SAC showdown

– While the boys races at Mt. SAC have more Top 25 runners and intriguing battles, the girls highlight at the mega meet should be the clash of unbeatens #5 Jessica Tonn (Xavier Prep AZ) and #6 Molly Grabill (Rancho Bernardo CA).


Athlete

(preseason in parentheses, plus grad. year, school, state)


1. (1) Chelsey Sveinsson, 2011, Greenhill HS, TX

2. (2) Aisling Cuffe, 2011, Cornwall Central HS, NY
3. (4) Megan Goethals, 2010, Rochester HS, MI
4. (3) Sarah Andrews, 2010, The Woodlands HS, TX
5. (5) Jessica Tonn, 2010, Xavier Prep HS, AZ
6. (6) Molly Grabill, 2011, Rancho Bernardo HS, CA
7. (7) Wesley Frazier, 2013, Ravenscroft HS, NC
8. (8) Carolyn Baskir, 2010, East Chapel Hill HS, NC
9. (12) Emily Lipari, 2010, Roslyn HS, NY
10. (10) Chelsea Ley, 2010, Kingsway Regional HS, NJ
11. (16) Kathryn Fluehr, 2011, Community School of Naples HS, FL
12. (9) Samantha Nadel, 2012, North Shore HS, NY
13. (11) Kelsey Lakowske, 2011, Boulder HS, CO
14. (14) Diane Robison, 2010, Parkway Central HS, MO
15. (13) Eleanor Fulton, 2011, Highlands Ranch HS, CO
16. (17) Ashlie Decker, 2010, Dowling Catholic HS, IA
17. (15) Katie Flood, 2010, Dowling Catholic HS, IA
18. (20) Annamarie Maag, 2011, Jesuit HS, OR
19. (18) Malia Cali, 2010, St. Thomas Aquinas HS, LA
20. (19) Megan Morgan, 2010, Torrey Pines HS, CA
21. (21) Kaitlin Hanenberg, 2010, Classical Academy, CO
22. (22) Sara Kroll, 2010, Livonia Churchill, MI
23. (23) Joanna Stevens, 2010, Blacksburg HS, VA
24. (24) Kathleen Stevens, 2010, Blacksburg HS, VA
25. (25) Avery Clifton, 2010, Washburn Rural HS, KS

Honorable mention

Teeny Adams CA
Nicky Akande GA
Alaina Alvarez CA
Gaby Anzalone MI
Kaelyn Balch KS
Elise Beattie IL
Kayla Beattie IL
Allie Billmeyer CA
Liz Brandon ID
Emma Brink KY
Stephanie Bulder CA
Heidi Caldwell NH
Carmel Carlos AL
Mackenzie Carter NY
Courtney Chapman NY
Allison Clark WA
McKenna Coughlin NY Madeline Chambers OH Chloe Curtis CA
Jenna Davidner MA
Kaitlyn Davis VA
Maggie Escobar TX
Sarah Fakler AZ
Megan Ferowich TN
Erin Finn MI
Erika Fluehr FL
Amanda Fox IL
Leah Francis AK
Karis Frankian CA
Maria Frigo KY
Samantha George NC


Kinsey Gomez ID
Carly Hamilton OH
Grace Heymsfield AR
Laura Hoer NC
Keelin Hollowood NY
Ashley Isham TX
Rachel Johnson TX
Rolonda Jumbo AZ
Ariel Karabinus VA
Sydney King NY
Kim Kirby TX
Carly Kitts TX
Kathleen Lautzenheiser VA
Abbey Leonardi ME
Alex Leptich MI
Hannah Luber NY
Catrina McAlister CA
Cory McGee MS
Kaylin Mahoney CA
Mackenzie Maki KS
Molly Malone NY
Sydney Marshall GA
Bret McDaniel GA
Jenna McMiller WI
Danielle Menlove UT
Liberty Miller CA
Clara Milne NM
Baylee Mires WA
Amanda Moreland NY Michelle Moriset MI
Julie Nacouzi CA
Amy-Eloise Neale WA

Hannah Neczypor OH
Waverly Neer IN
Andrea Nelson WA
Alyssa Nielson TX
Shannon Osika MI
Megan Patrignelli NY
Molly Pezzulo NY
Haley Pierce DE
Lizzie Predmore NY
Jillian Prentice NJ
Amanda Russell TX
Sara Sargent PA
McKinzie Schulz IL
Payton Schutte OR
Molly Seidel WI
Erika Setzler AR
Emily Sisson MO
Melissa Skiba CA
Makenna Smith CA
Jacque Taylor CA
Michelle Thomas OH
Regan Tindell TX
Jordan Tomecek MI
Sierra Vega CA
Megan Venables NJ
Laura Vigilante NJ
Meredith Wagner OH
Kelly Whitley IL
Danielle Winslow NY
Danica Wyson CA
Megan Yohe MO
Top 25 Index