The annual DyeStat Elite XC Individual Top 25 series (formerly Foot Locker Favorites and renamed given additional options available now) are national and regional rankings of cross-country runners based on distance-running accomplishments to date, with an emphasis on XC and 3200/2M track results, rather than a projection of how the Foot Locker Finals or NXN Finals will turn out (predictions run later in the season).





Mt. SAC will sort out ranked Californians





Oct 23, 2009 Boys Rankings

(through Oct. 17 meets)

The Top 25

Monster meet in Cali features 8 Top 25 standouts, including all 6 ranked CA runners. Elias Gedyon will face
other ranked Golden Staters for the first time. Meanwhile, Caleb Hoover enters top 25 and Lukas is back

Story and rankings by SteveU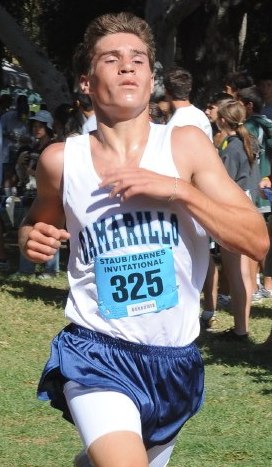 Mt. SAC contender and Woodbridge winner Heyden Wooff. File photo Leonard Coutin


If it was a quiet week in terms of rankings shuffling on the girls side, it was positively dead on the boys side. With one exception, winners of major invites did not affect the rankings. Very few runners in the Top 25 saw significant action and, in the few such cases, there was little to justify movement.

This week, however, brings us the Godzilla of invitationals:



Super showdown at Mt. SAC

– The Woodbridge, Stanford and Clovis Invites all featured outstanding showdowns between several of California's top-ranked runners – plus some out-of-staters – but none has been as big as Mt. SAC will be this weekend. All of California's six entries in the Top 25 will be on hand, along with most of the honorable mentions and other contenders. Most importantly, it will be the first time #6 Elias Gedyon, the top-ranked Golden Stater (reported as injured last week), has raced any of the others.

They won't all be in one race, of course, but the big six will be spread between Saturday morning's D1-2 Team and Individual Sweepstakes races. The Individual Sweeps will be the best, featuring Gedyon, #9 Sam Pons (Clovis champ), #13 Erik Olson (Stanford champ), #22 Matt McElroy, plus 2008 Foot Locker Finalist #18 Steve Magnuson (Ironwood Ridge AZ), and Nevada star #20 Wade Meddles (3rd at Stanford). Expected in the Team Sweeps will be #7 Heyden Wooff (Woodbridge champ), #11 Ammar Moussa (3 times major meet runner-up), plus Mountain View's Garrett Rowe, considered one of the 2-3 best entering the season but slowed by injury.

The best of last week:



The lone newcomer

– As if there weren't enough shining stars in the Class of 2011, yet another has been rising this fall in Missouri and is this week's sole addition to the top 25. On a day when US#1 Chelsey Sveinsson could navigate the Chile Pepper AR course in "just" 17:32, Caleb Hoover outdueled TN star Jake Rainey for victory in 15:01 and moved into the top 25 at #24. In mid-September, Hoover also had a dominant win in the Missouri Southern Stampede and fans in that state are eager to see if he or rising standout Maksim Korolev will emerge from the Nov. 7 state meet with the performance of the day. Hoover was 2nd as a soph in 1A last year, but has improved dramatically since. Korolev, who won Rim Rock this fall and is on the fringe of the Top 25, was 2nd behind now-graduated NXN Individual Finalist Jacob Swearingen in 3A last fall.



He's baa-ack!

– US#3 Lukas Verzbicas IL, last winter/spring's freshman track prodigy (double NIN champ, multi-class record setter, etc.), has only run two races this fall in XC – thanks to a commitment to enter the World Duathlon champs in late September. Having won there, Verzbicas returned to the overland last weekend and won his conference meet 5k in 15:17. An unremarkable time? Well, it was just 2 seconds off of Chris Derrick's CR, so the Sandburg soph is still well on the path to challenging the all-time state meet record in the weeks ahead and giving the NXN and Foot Locker titles a good chase.



Mizereck at the finish

– Perhaps the weekend's most competitive boys race was the Little Everglades Florida Pre-State, where two of last fall's three reigning state champs gathered, plus several challengers to the respective thrones in that state. Last fall, Michael Wallace, Matt Mizereck, and Brian Atkinson won the 2A, 3A, and 4A titles in succession with times that were a second faster than the previous one – and all returned this fall. Atkinson and his Melbourne team were not in Dade City, but Mizereck defeated Wallace and other challengers – including new junior star Jimmy Clark – for the victory in 15:20.


Athlete
1. (1) Joe Rosa, 2011, West Windsor-Plainsboro North HS, NJ
2. (2) Zach Wills, 2011, Mason HS, OH
3. (3) Lukas Verzbicas, 2012, Sandburg HS, IL
4. (4) Jim Rosa, 2011, West Windsor-Plainsboro North HS, NJ
5. (5) Brian Shrader, 2010, Sinagua HS, AZ
6. (6) Elias Gedyon, 2011, Loyola HS, CA
7. (7) Heyden Wooff, 2011, Camarillo HS, CA
8. (8) Connor Adams, 2010, Flower Mound HS, TX
9. (9) Samuel Pons, 2011, South Pasadena HS, CA

10. (10) Craig Lutz, 2011, Marcus HS, TX
11. (11) Ammar Moussa, 2011, Arcadia HS, CA
12. (12) Jon Vitez, 2010, Haddonfield Memorial HS, NJ
13. (13) Erik Olson, 2010, Novato HS, CA
14. (14) Shane Moskowitz, 2010, Central Kitsap HS, WA
15. (16) Futsum Zeinasellassie, 2012, North Central HS, IN
16. (15) Donovan Torres, 2011, Coronado HS, TX
17. (17) Ryan Dohner, 2010, Klein Oak, TX
18. (18) Steve Magnuson, 2010, Ironwood Ridge HS, AZ
19. (19) Parker Stinson, 2010, Cedar Park HS, TX
20. (20) Wade Meddles, 2010, Sierra Lutheran HS, NV
21. (21) Brad Miles, 2010, North Penn HS, PA
22. (22) Matt McElroy, 2010, Edison HS, CA
23. (24) Matt Mizereck, 2010, Leon HS, FL
24. (NR) Caleb Hoover, 2011, College Heights Christian HS, MO

25. (23) Cody Helbling, 2010, Lake City HS, ID
Honorable mention

Mohamed Abushouk NC
Dylan Anthony AK
Jeff Arnier TX
Michael Atchoo MI
Brian Atkinson FL
Reece Ayers PA
Luke Baker GA
Colin Barker FL
Aaron Bartnik MN
Aaron Beattie IL
Jacob Benn TX
Marco Bertolotti NY
Sam Bernitt PA
Sean Bone MI
Michael Brajdic OH
Christian Brown Otter ND
Tyler Byrne IN
Jimmy Clark FL
Nick Composto IL
Domenic D'Aquisto CA
Ben Demaree OR
Armando Del Valle FL
Alex Dier NY
Kevin Dowd VA
Hugh Dowdy CA
Ryan Eaton KY
Travis Edwards CA
Jeremy Elkaim NJ
Kirubel Erassa GA
Phil Fairleigh IL
Brendan Farrell NY
Scott Fauble CO
Dustin Fay CA
Erik Fitzpatrick ID
Brandon Freyer NY
Lukas Gemar MN


Johnny Gregorek MA
Curtis Hanle OH
Sherod Hardt AZ
Dan Harris NY
Francis Hernandez NH
Max Holman MS
Nick Hughes NY
Jake Hurysz NC
Ben Johnston WA
Omar Kaddurah MI
Reed Kamyszek MI
Brett Kelly ND
Maksim Korolev MO
Pat Lesiewicz IL
Philip MacQuitty CA
Jose Madera CA
Andrew McCullen VA
James McIllece TX
Clint McKelvey TN
Anthony Manfrin IL
James Martin IN
Mike Mazzaccaro NJ
Colin Mearns VA
Erick Montoya FL
Mitch Moriarity CA
Jose Luis Munoz AZ
Danny Nicolls CO
Drew O'Donahue-McDonald WA
Hale O'Herren IN
Billy Orman AZ
David Osborn IN
Jantzen Oshier CA
Andrew Palmer MD
Conner Peloquin WA
Vince Perozzi PA
Kyle Pittman NM

Grant Pollock VA
Jacob Rainey TN
John Raneri CT
Heath Reedy CA
Curtis Richburg NJ
Daniel Rosales CA
Pablo Rosales CA
Nick Ross RI
Garrett Rowe CA
Alex Saavedra NY
Will Sanford FL
Colin Savage NY
Walter Schafer CO
Pat Schellberg NJ
Alan Schroeder WA
Michael Scolarici IL
Jake Sienko RI
Neal Smith TX
Bryan Spreitzer NC
Jonathan Squeri NJ
Max Straneva NY
Blake Theroux VA
Adam Thorne WA
Otis Ubriaco NY
Tyler Udland NJ
Justin Vilhauer CA
Scott Vincenzi IN
Chris Walden IN
Michael Wallace FL
Aaron Watanabe NH
Lane Werley CA
Jake Wildenmann KY
Blake Williams NC
Nathan Williams CA
Mack Young WA
Pat Zacharias NM
Top 25 Index