The annual DyeStat XC Top 25 series (formerly Foot Locker Favorites and renamed given additional options available now) are national and regional rankings of cross-country runners based on distance-running accomplishments to date, with an emphasis on XC and 3200/2M track results, rather than a projection of how the Foot Locker Finals or NXN Finals will turn out (predictions run later in the season).
Trust the track: It's Verzbicas and Wills to lead the way
The Boys Preseason National Rankings
The Top 25
Disparity between top harrier returnees and top track distance runners makes for interesting rankings

Story and rankings by SteveU
In assessing the top athletes in any upcoming cross-country season, it's always a challenge as to whether to put more value in what a given athlete did the previous fall, or how they may have progressed (or regressed) in the spring track season. Who deserves the higher ranking, a national top-five returning harrier who might have only run 9:10 in the 3200, or the top-20 returning harrier who got down to 8:55? What roles might injuries, illnesses, peaks and plateaus have played in explaining disparities? Are some distance kids just significantly better on the track vs. the XC course, or vice versa? That's what makes cross-country prognosticating so much fun!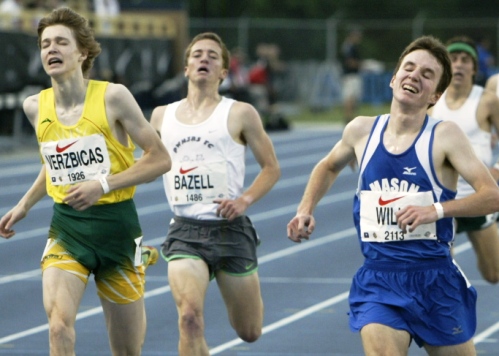 Wills topped Verzbicas in the NON 2M, but it stands to reason that the Illinois phenom might still have the edge over 5k. Photo John Nepolitan


Some years you have few examples of the above situation, but in 2009, there's definitely more. In Indiana soph Futsum Zeinasellassie (North Central HS) and Arizona senior Brian Shrader (Sinagua HS), you have the top two returnees from last fall's Foot Locker Finals (7th and 11th, respectively), neither of whom broke 9:10 for 3200 (though they both had fine spring seasons). In fact, just one of the seven returning Foot Locker finalists ran faster than 9:07 for 3200 in 2009.

The same basically holds true for the top returnee from last fall's NXN Finals – West Windsor-Plainsboro North NJ junior Joe Rosa (4th in Portland) hit 9:12.91 for the full 2M in June. Flower Mound TX junior Craig Lutz (5th at NXN) seemed headed for sub-9:00 (9:03.99 early) before injuries slowed him. New Yorkers Alex Hatz (Fayetteville-Manlius) and Max Straneva (Chenango Valley) ran 9:09 and 9:14 for 3200, though Hatz focused more on the 1600/mile, where he ran very strong times of 4:06.11 and 4:07.28.

Meanwhile, what was the story in XC for last spring's fastest 8-lappers? Illinois super frosh Lukas Verzbicas, now at Sandburg HS, was injured before he could give it a go nationally last fall, but ran a USR 14:18.42 5k indoors, won two national titles, then ran 8:53.98 2M outdoors. Zach Wills, now a Mason OH junior, beat Verzbicas for 2nd at NON with an 8:55.18, but last fall after dominating Ohio had a rough day at NXN MW and didn't make it to Portland. For Cedar Park TX senior Parker Stinson – who went from 24th at NXN Finals to 8:54.70 3200 in the spring – and others sub-9:00 performers, it was just a matter of a lot of improvement.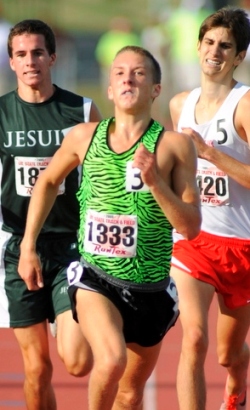 Stinson's improvement during track elevated him significantly in the top 25 rankings. Photo by Bert Richardson


So how is all that sorted out? Individually – and carefully. But with everything on the table, it seems clear that the nod for the top of the national contenders list going into this fall goes to the guys who tore it up the most on the oval this spring – Verzbicas and Wills.

Coming in to the NXN MW meet last fall in Terre Haute, Wills certainly looked like a very strong bet to make it to Portland, having rolled through Ohio unbeaten with a D1 state title. Still, he was a soph and had a rough day, finishing 8th. No one looked more forlorn leaving the Wabash Valley Family Sports Center after the awards than he. But like any good runner should, he used the results as motivation and now looks back on the meet as a positive learning experience.

"Missing out on NXN last fall was a great thing," he says now. "It got me motivated and really pushed me over the edge in terms of commitment and willingness to do what it would take to be the best I could be. The fall ending like it did motivated me to prove that I did belong in those big national meets and that I can compete with the best of the best. This track season was just amazing for me."

Indoors, Wills improved his 2M PR at the Kentucky Invite to 9:13.04, then was 11th at NIN in the deuce – another learning experience, but one where he knew he had the fitness, but made some tactical errors. He got down to 9:05.44 in his district meet, then 9:02.90 at state for 3200. At NON, he literally made all the right moves, losing only to champ Trevor Dunbar. He easily won the World Youth Trials 3k, made the World Youth Champs final, then took 9th with a PR 8:18.24 3k.

Wills and Coach Tom Rapp had made some changes, and most importantly, it was an injury-free campaign. "After NON, and my season unfolding in such a great way, it has skyrocketed my confidence," says Wills. "I have run against the world's best at my age and have experienced all different kinds of race strategies now. It's not until you get in a race with those caliber of athletes that you can truly be confident in your ability to beat the best. The World Youth Champs was a huge motivation booster."

Wills took a break after WYC and built his mileage into the 50s. The early-season schedule will not be heavy, but he and his Mason teammates are planning to compete in the Sept. 26 Culver Invite, where a likely showdown with Zeinasellassie looms. Otherwise, the chief goal is the Ohio state meet – and helping his team to the top of the podium – and then back to NXN Midwest. "On the national level this year, my number one goal is to get my team to Portland. My guys bust their butts for me all season long and don't get the respect or accolades they deserve. I want to bring all our returning seniors, and send them off with a bang, and run with the best our country has to offer with my best friends."

An attempt to double with Foot Locker, he concludes, is a decision that will have to wait.



(continued below)




Athlete




Last Year: Finals/Reg.

Returning Finals/Region


Comments



1.

Lukas Verzbicas

, 2012
Sandburg HS, IL

NXN
DNC/DNC
Foot Locker
DNC/DNC

NXN
DNC/DNC
Foot Locker
DNC/DNC
Verzbicas has declared he will compete, and while giving top ranking to a part-time harrier who has never run Foot Locker or NXN may seem crazy, his limited '09 track season gives merit to him being the one to beat. Exhibit "A": a USR 14:18.42 5k at Nike Indoor.

2.

Zach Wills

, 2011
Mason HS, OH

NXN
DNC/8th MW

NXN
DNC/3rd MW

After taking the Ohio state crown last fall as a soph, Wills was just 8th at NXN MW. But this spring, he saved his best for last, running US#3 8:55.18y for 2nd at NON, then hitting 8:18.24 in the World Youth Champs 3000m Finals.

3.

Craig Lutz

, 2011
Flower Mound HS, TX

NXN
5th/3rd S

NXN
2nd/1st S

Lutz steamrolled through the big invites in TX before Connor overtook him late-season, but was still 5th at NXN and is the #2 returnee. Ran 9:03.99 3200 to win Texas Relays, but suffered injury problems in late spring. Return to form should mean top 5 in the country.

4.

Futsum Zeinasellassie

, 2012
North Central HS, IN

Foot Locker
7th/4th MW

Foot Locker
1st/1st MW

An amazing frosh season last fall found Zeinasellassie getting 2nd in Indiana after a fall, then 4th at FL MW and 7th at FL Finals; he's the #1 FL returnee. The Eritrean's track season saw him with more modest times, with a 9:11.97 3200 PR.

5.

Parker Stinson

, 2010
Cedar Park HS, TX
NXN
24th/7th
NXN
8th/2nd
After a strong fall, where he was 7th and 24th at NXN South and NXN Finals, California transplant Stinson made huge strides in track. He won the 5A TX state 3200 in 8:54.70, then taking the USATF Jr 10k in 31:18.13 to make the Pan Am Jrs, where he was 3rd.
6.

Joe Rosa

, 2011
West Windsor-Plainsboro North HS, NJ

NXN
4th/1st NE

NXN
1st/1st NE

This Rosa ran like one of the top 2-3 in the country for much of his stunning soph year, eventually taking 2nd at NJ MOC, 1st at NXN NE and 4th at NXN Finals (top returnee). In track, though, brother Jim more often had the spotlight and he ran "only" 9:12.91 for 2M.

7.

Elias Gedyon

, 2011
Loyola HS, CA

NXN
12th/1st*CA

NXN
5th/1st*CA

With maybe the most talent and range of all of the amazing Class of 2011, Gedyon won Mt. SAC team and CIF last fall, then was 12th at NXN Finals. In the spring, he got his mile and 1600s down to 4:08.69 (1st Arcadia) and 4:07.26 (2nd CIF).

8.

Jim Rosa

, 2011
West Windsor-Plainsboro North HS, NJ

NXN
45th/11th NE

NXN
17th/6th NE

Meanwhile, this Rosa trailed his brother all fall, finishing 30 and 40 seconds behind him in last two meets. But he came on like gangbusters in the winter and spring, winning his NJ Grp and MOC 3200s in 9:02.38 and 9:03.69. He'll hope to be with Joe this fall.

9.

Brian Shrader

, 2010
Sinagua HS, AZ

Foot Locker
11th/2nd W

Foot Locker
2nd/1st W

Shrader heads up a very talented bunch from AZ this fall. He was 2nd and 11th at FL West and Finals last fall, and is the #1 and #2 returnee, respectively. In track, he stayed mostly in-state, but hit 1:52.89/4:13.01/9:10.47 triple at AZ state, and 4:12.07 1600 later.

10.

Garrett Rowe

, 2010
Mountain View HS, CA

NXN
13th/2nd*CA

NXN
6th/2nd*CA

Rowe battled Gedyon to the wire for CIF D2 title, then did the same at NXN Finals, where he was 13th to Gedyon's 12th. In track, he got his 3200 down to 8:55.71, good for 4th at CIF State. Reportedly has significantly upgraded his training for this fall.

11.

Tyler Udland

, 2010
Millburn HS, NJ

Foot Locker
34th/2nd NE

Foot Locker
7th/1st NE

Udland hopes to keep back problems at bay and return to the form that made him one of the country's best juniors last fall, as he won the NJ MOC and was 2nd at Foot Locker NE. He was just 34th at FL Finals, then hit just 9:07.29 3200 in spring (9:04.80 as soph).

12.

Shane Moskowitz

, 2010
Central Kitsap HS, WA

Foot Locker
14th/5th W

Foot Locker
3rd/2nd W

Though he didn't win his state meet, Moskowitz went on to 5th at FL West and 14th in San Diego, making him the #3 national returnee. Backed it up solid in track with 8:58.56y at NON, 8:59.53 3200 to win state and 4:11.75 1600.

13.

Heyden Wooff

, 2011
Camarillo HS, CA

Foot Locker
DNC/18th W

Foot Locker
DNC/10th W

Wooff moved near the top of last year's super duper soph class when he progressed to 9:04.72, 8:57.66, and 8:55.16 in his last 3 spring 3200s, the latter for 3rd at CIF. In XC, he had been 9th in CIF D2, and 18th (top soph) at FL West.

14.

Erik Olson

, 2010
Novato HS, CA

Foot Locker
DNC/21st W

Foot Locker
DNC/11th W

After taking 20th (overall) at CIF and 21st at FL West, Olson really started emerging in track with four sub-9 3200s, the first 3 US leaders at the time. Wound up 7th in blanket finish at CIF 3200, but then made World Youth 3k final and hit 8:18.84 for 10th.

15.

Max Straneva

, 2010
Chenango Valley HS, NY

NXN
11th/2nd NY

NXN
4th/2nd NY

A late-season push last fall netted Straneva a series of great finishes: 2nd at NY Feds, 2nd at NXN NY, and then 11th at NXN Finals. Relatively quiet in track with 3200 PR of 9:14.96 for 8th in NY State Meet, but could top NY harriers - at least until Hatz is back.

16.

Steve Magnuson

, 2010
Ironwood Ridge HS, AZ

NXN
DNC/23rd SW
Foot Locker
24th/10th W

NXN
DNC/11th SW
Foot Locker
4th/4th W

After disappointing NXN SW race, Magnuson rebounded to make FL Finals (10th FL West) and finish 24th there. 9:08.04 3200 PR came at Arcadia. Part of deep Arizona Class of 2010 that could have four or more national individual finalists.

17.

Cody Helbling

, 2010
Lake City HS, ID

NXN
DNC/5th NW
Foot Locker
25th/7th W

NXN
DNC/1st NW
Foot Locker
5th/3rd W

Helbling burst onto the national scene last fall by qualifying for both nationals (5th at NXN NW, 7th at FL West), then picking San Diego for nationals, where he finished 25th. Missed most of track season with injury, so Idaho fans looking forward to how he'll rebound.

18.

Clint McKelvey

, 2010
Maryville HS, TN

Foot Locker
29th/8th S

Foot Locker
6th/1st S

McKelvey could be the man to beat in the SE section of the country, given his top returnee status from Foot Locker South (8th last year, 29th in finals). He also had the fastest 3200 of non-seniors in those states with his 9:07.27.

19.

Ryan Dohner

, 2010
Klein Oak HS, TX

NXN
DNC/9th S

NXN
DNC/3rd S

Dohner steadily improved last fall, taking 8th in TX 5A, then 9th at NXN South. Then in track, he got down to 9:04.17 3200 by his region meet, but did not advance to state from that brutal group. Could be ready to challenge Lutz and Stinson as best in Lone Star State.

20.

Brian Atkinson

, 2010
Melbourne HS, FL

NXN
58th/1st SE

NXN
20th/1st SE

Defending NXN SE and Florida 4A champ Atkinson leads a very tight group from the Sunshine State that could return it to national prominence. In Portland, however, he strugged to 58th. In track, had 3200 best of 9:15.01 and won 4A.

21.

Wade Meddles

, 2010
Sierra Lutheran HS, NV

NXN
DNC/3rd SW
Foot Locker
DNC/11th W

NXN
DNC/1st SW
Foot Locker
DNC/5th W

Meddles made NXN Finals with his 3rd at NXN SW, but passed it up to run FL West, where he was one place out of making San Diego. He would be the top returnee at NXN SW, if he chooses that. Got his 3200 down to 9:10.68 for 3rd at Golden West.

22.

Matt McElroy

, 2010
Edison HS, CA

NXN
43rd/10th*CA

NXN
15th/3rd*CA

Another of the deep, tight CA Class of 2010 to get under 9:00 in 3200, McElroy's string of PRs in the spring got him down to 8:56.44 and 5th at CIF. Was 10th overall at CIF in XC (3rd returnee), then struggled a bit in Portland to finish 43rd.

23.

Walter Schafer

, 2010
Cherry Creek HS, CO

Foot Locker
DNC/15th MW

Foot Locker
DNC/2nd MW

Part of strong tradition at Cherry Creek, Schafer won Stanford last fall to jump on national scene. With 15th at FL MW, he'll be #2 returnee. In track, his 3200 best was 9:05.25, at Arcadia. Likely top CO harrier with departure of deep Class of 2009.

24.

Michael Atchoo

, 2010
Troy HS, MI

Foot Locker
DNC/17th MW

Foot Locker
DNC/3rd MW

After 17th at FL MW, Atchoo went on progress with outstanding indoor and outdoor track seasons, taking 2nd at NSIC mile and 5th at NON mile. Ran 4:07.71 1600 at Michigan D1 state meet; he'll be #3 returnee nationally next spring. Consensus #1 harrier in Michigan.

Special Mention


Alex Hatz

, 2010
Fayetteville-Manlius HS, NY

NXN
6th/1st NY

NXN
3rd/1st NY

With his top six performance at NXN Finals last fall and 4:06.11 1600/4:07.28 mile (2nd NON) track PRs, Hatz would be an easy top-ten choice here. With his August kidney surgery, he will start season on sidelines and hope to return for second half.

* - California did not have NXN regional; national participants were chosen after state meet



Honorable Mention:

Reece Ayers PA, Colin Barker FL, Aaron Beattie IL, Sean Bone MI, Christian Brown Otter ND, Nick Composto IL, Armando Del Valle FL, Alex Dier NY, Ryan Eaton KY, Jeremy Elkaim NJ, Kirubel Erassa GA, Phil Fairleigh IL, Brendan Farrell NY, Erik Fitzpatrick ID, Dave Forward NJ, Brandon Freyer NY, Lukas Gemar MN, Sherod Hardt AZ, Dan Harris NY, Francis Hernandez NH, Ben Johnston WA, Will Kellar PA, Brett Kelly ND, Anthony Kostelac VA, Philip MacQuitty CA, James McIllece TX, James Martin IN, Mike Mazzaccaro NJ, Colin Mearns VA, Brad Miles PA, Matt Mizereck FL, Erick Montoya FL, Mitch Moriarity CA, Ammar Moussa CA, Jose Luis Munoz AZ, Danny Nicolls CO, Drew O'Donahue-McDonald WA, Andrew Palmer MD, Conner Peloquin WA, Drew Perilli NY, Vince Perozzi PA, Kyle Pittman NM, Sam Pons CA, Jacob Rainey TN, John Raneri CT, Heath Reedy CA, Daniel Rosales CA, Nick Ross RI, Alex Saavedra NY, Will Sanford FL, Neal Smith TX, Adam Thorne WA, Donovan Torres TX, Otis Ubriaco NY, Justin Vilhauer CA, Michael Wallace FL, Aaron Watanabe NH, Nathan Williams NV, Mack Young WA, Pat Zacharias NM


(continued from above chart)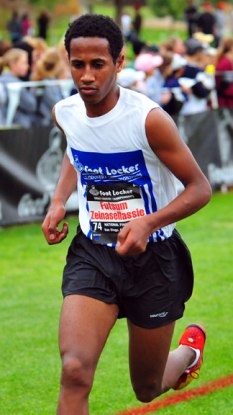 Zeinasellassie's stunning frosh XC campaign was followed by a track season that saw him further down the national list in the 3200. Whether he's more of a natural harrier and will again be dominant will be played out during the season. Photo John Dye


Meanwhile, Verzbicas has been clear from late spring that both NXN and Foot Locker were in his future – it was how much he would compete in XC the rest of the fall that was to be determined. As of late August, it looked like the answer to that question was "plenty."

Verzbicas burst onto the Illinois scene last fall, dominating early-season races as a Lincoln-Way freshman. He had been a strong youth track runner, but nothing like this. But the season came to an end due to injury before he could face many of the state's (or nation's) top runners. As is now well-known, Verzbicas first love is the triathlon, but he made plans for a pair of indoor meets, the first coming in – of all places – Fayetteville, Arkansas. He stunned with freshman USRs of 8:29.16 3k and 4:15.43 mile and a national phenom was born. At NIN in Boston, he seemed to sprint around the track in smashing the USR in the 5000 – not just a freshman mark this time – with a 14:18.42, the won the 2M two days later.

But then the country's prep distance fans had to wait until June before he was on the oval again. He set another freshman mark with a big 8:53.98 2M win at the Midwest Distance Gala, but had to settle for 3rd behind Dunbar and Wills in the NON 2M. After that one, Verzbicas was despondent and disbelieving, and had a move to a new school, plus training, traveling and competitive decisions to make.

In a late August story in the Chicago Tribune, some of the decisions were said to be made. Verzbicas would not compete in a triathlon championship in Australia, as originally planned, but a duathlon championship in North Carolina on September 26. To compete in the Illinois state championship series, there would have to be approval from the IHSA, to run in XC while having participated in an outside championship. He and his new XC coach, Sandburg's John O'Malley, expect that approval to come soon. It's possible Verzbicas would compete in some in-season meets and, with the approval, for the state title.

"I have worked out all the problems and I will be running for Sandburg," he said in the story.

Those who watched Verzbicas in his few harrier efforts the previous fall have no doubt he can be as successful over hill and dale as he was on the track.

But if he and Wills are 1-2 in the country, where do the rest fall? There's still the question of separating those who shone brightest in different seasons – even in a single family, the questions come forth. What do you figure for the aforementioned Joe Rosa and his twin brother, Jim? Joe tore it up all last fall as a super soph, taking 2nd in the NJ MOC, winning NXN NE, then taking 4th at NXN Finals. Jim ran well, but always behind his brother. In track, however, Jim caught and surpassed Joe, going on to take the NJ MOC 3200 in 9:02.38, while Joe's best deuce was 9:12.91y. Jim had also generally been faster in track when they were sophs. Is it a pattern, or will they finally come together this fall and run together for state and national titles?

Other storylines to watch for national boys:

Young stars maturing

– Last year, both XC and track, was an incredible year for freshman and sophomore distance runners. The freshman class was led by Verzbicas and Zeinasellassie, while the soph stars included Wills, Lutz, the Rosas, Gedyon, and additional Californians like Heyden Wooff, Sam Pons, Justin Vilhauer, and Ammar Moussa. Seven of the top eight in the preseason rankings are non-seniors – though after that, the seniors dominate with 16 of the next 17 spots. It will be interesting to see if these eight non-seniors in the top 25 can keep coming on, producing perhaps one of the greatest classes of prep distance runners ever in 2010-11, or whether there will be a plateau.

NXN migration

– Seven of the top 10 ranked boys, and 15 out of 25, ran NXN last year – with Verzbicas also looking like a likely participant. The Nike meet has clearly been successful in starting to attract some individual male stars, as well as the top runners on competitive national teams, to its meet. On the girls side, seven of the top eight ran Foot Locker last year, but through the top 25, it's about 50-50. There was a strong pull for the top girls to go to San Diego last year with Jordan Hasay, Ashley Brasovan and Kathy Kroeger – all previous champs – all declaring their intention to compete there early. This year, Chelsey Sveinsson and Megan Goethals have already said they're shooting for Foot Locker, but down the line there may be a few more heading to Portland.

Cali revival

– Last year was not really a banner year for California harriers on the national level. Chris Schwartz (8th) was the only Golden Stater in the top 14 at Foot Locker, while Elias Gedyon was the highest rep at NXN in 12th. That could change a lot this year if a deep group of juniors and seniors keeps improving. Five non-seniors ran 9:00 or better for 3200 last spring, led by Wooff's 8:55.16, and six more were at 9:07 or better. Look for there to be an upswing in Californians filling the top slots at both national meets this year.
Top 25 Index