18th Nike Outdoor Nationals

June 19-21, 2008 - North Carolina A&T University, Greensboro NC

Shot Put

Boys - Girls -

Brandon Pounds (IN) 68-11.25,
Becky O'Brien (ME) 52-1.75


| | |
| --- | --- |
| Brandon Pounds | Becky O'Brien |
| | |
photos by Vic Sailer



Boys
Brandon Pounds puts "the Future" on Hold
Indiana senior tops New Jersey frosh Nick Vena with his big 68-11.25 PR
by DyeStatIL editor Bob Geiger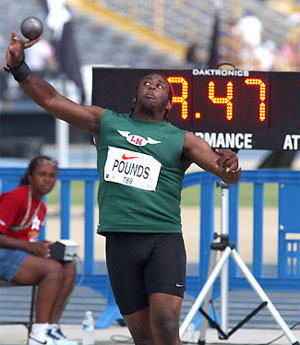 Going into Saturday's shot put competition, the talk was all about super-freshman Nicholas Vena of Whippany, New Jersey. Vena was the New Jersey State Champion, and the second-ranked thrower in the United States with his toss of 67-10.25. He is clearly the "future" of the event, and he did not disappoint.

He took his first throw out to 66-05.00 and carried it through the prelims, the top thrower heading into the finals, leading by just under two feet to Cameron Tabor of Norman, Oklahoma.

Brandon Pounds IN (left, by Vic Sailer) had other ideas. His 63-04.00 throw in the prelims had him sitting fifth going into the finals. The Indiana state and Midwest Meet of Champions titlist had winning on his mind. On his fourth throw of the competition, Pounds put the shot 68-11.25, beating his personal best of 66-04.50 by well over two feet.

Between the prelims and finals, Pounds made some minor adjustments and one big one.

"My coach told me to stand more in the middle and to come out of the back slower," Pounds said after he had secured his national title. "He also told me to show some emotion. We had worked so hard all year to get here and I knew if I did the little things, the big throw will happen."

Pounds, who passed on USATF Jr. Nationals after competing there last year, was happy to have his final high school competition at Nike Outdoor Nationals.

For Vena, the future holds many successes. The precocious freshman has plans to start getting ready for indoor season as soon as he gets home, which should be more than a little concerning for the rest of the nation's elite throwers.








by Pete Cava for NSSF



In one of the biggest upsets at the Nike Outdoor Nationals, Brandon Pounds of Lawrence North High School ambushed Nick Vena (Whippany, NJ) for the shot put title.

Vena, the talented freshman from Morristown, N.J., High School, was the No. 2 U.S. prep performer with a season best of 67-10.25, which was a new national record for a freshman. Pounds, an Indiana State recruit, came here with a best of 66-9 US#4 this season.

Pounds took over the lead from Hayden Baillio (Whitesboro, TX) in the fourth round with a heave of 68-11.25, a personal best. Vena improved to 67-2.25 on his fifth throw and Steven Saenz (Rio Grande City, TX) moved into third with a fifth-round 65-7.5.

Vena came up with another 67-2.25 on his final throw while Saenz fouled. Baillio's 65-0.75 gave him fourth place.

Pounds, winner of this year's Indiana state title, fouled on his last two attempts.

"You have to go in knowing it only takes one big throw," said the affable Hoosier. "I just couldn't get it. My first round of throws, I was really leaning. My coach had told me just to slow down a little bit and relax. I just put my emotions into it and got it."


C.F.P.I. Timing & Data - Contractor License 
             Nike Outdoor Nationals - 6/19/2008 to 6/21/2008              
              North Carolina A+T University, Greensboro, NC               
 
Event 47  Boys Shot Put
==========================================================================
 8 advance to the final                                                   
    National: $ 81-03.50  6/16/1979   Michael Carter, Jefferson, Dallas TX
        Meet: M 69-08.25  6/14/1997   Kevin DiGiorgio, Bayonne, NJ        
    Freshman: F 67-10.25  5/3/2008    Nick Vena, Morristown, PA           
   Sophomore: O 68-10.75  2000        Kevin Bookout, Stroud, OK           
      Junior: J 71-10.25  1983        Arnold Campbell, Airline,Bossier Cit
      Senior: S 81-03.50  6/16/1979   Michael Carter, Jefferson, Dallas, T
    Name                    Year School                  Finals           
==========================================================================
Finals                                                                    
  1 Pounds, Brandon           08 Indianapolis, IN        21.01m   68-11.25
      19.30m  FOUL  18.96m  21.01m  FOUL  FOUL                            
  2 Vena, Nicholas            11 Whippany, NJ            20.48m   67-02.25
      20.24m  20.04m  19.50m  19.41m  20.48m  20.48m                      
  3 Saenz, Steven                Rio Grande City, TX     20.00m   65-07.50
      18.92m  19.06m  19.58m  FOUL  20.00m  FOUL                          
  4 Baillio, Hayden           09 Whitesboro, TX          19.83m   65-00.75
      18.90m  19.19m  19.70m  19.83m  FOUL  18.10m                        
  5 Tabor, Cameron            09 Norman, OK              19.65m   64-05.75
      18.90m  18.71m  19.65m  FOUL  18.86m  FOUL                          
  6 Alleman, Mike             08 Scotch Plains, NJ       19.47m   63-10.50
      19.26m  19.24m  FOUL  18.77m  19.47m  FOUL                          
  7 Ragans, Dayshan           08 Bakersfield, CA         18.70m   61-04.25
      16.83m  18.64m  18.38m  18.70m  18.44m  FOUL                        
  8 Hiatt, Tyler              08 Noblesville, IN         18.41m   60-05.00
      17.46m  17.71m  18.41m  16.96m  17.31m  18.36m                      
  9 Wright, Wesley            08 Villa Rica, GA          18.34m   60-02.00
      18.34m  18.09m  FOUL                                                
 10 Jones, Corey              09 Boonville, MO           18.27m   59-11.25
      17.79m  18.27m  17.70m                                              
 11 Kwiatkowski, Daniel       08 Erie, PA                18.16m   59-07.00
      18.05m  18.16m  17.93m                                              
 12 Finley, Mason             09 Salida, CO              18.02m   59-01.50
      17.75m  18.02m  FOUL                                                
 13 Ebersole, Drew            08 Grafton, OH             17.94m   58-10.25
      17.36m  17.89m  17.94m                                              
 14 Evans, Andrew             09 Schoolcraft, MI         17.79m   58-04.50
      FOUL  17.79m  FOUL                                                  
 15 Smith, Ryan               08 Winder, GA              17.58m   57-08.25
      15.90m  17.58m  FOUL                                                
 16 Gross, David              08 Brockport, NY           17.39m   57-00.75
      16.77m  FOUL  17.39m                                                
 17 Deaton, Jacob             08 Mooresville, NC         16.50m   54-01.75
      15.69m  16.10m  16.50m                                              
 18 Bass, Darren              08 Lima, OH                16.45m   53-11.75
      16.45m  FOUL  FOUL                                                  
 19 Smith, Daniel             09 Saco, ME                15.87m   52-01.00
      14.89m  15.13m  15.87m                                              
 20 Filiano, Dominic          10 Lebanon, NH             15.65m   51-04.25
      15.65m  15.46m  FOUL                                                
 21 Lavong, Wesley            09 Collegeville, PA        14.89m   48-10.25
      FOUL  FOUL  14.89m                                                  
 22 Brode, Dustin             10 Canfield, OH            14.83m   48-08.00
      FOUL  14.83m  FOUL                                                  
 -- Spellman, Frede              Norfolk, MI                DNS           
 -- Linsley, Corey            09 Boardman, OH               DNS           
C.F.P.I. Timing & Data - Contractor License 
             Nike Outdoor Nationals - 6/19/2008 to 6/21/2008              
              North Carolina A+T University, Greensboro, NC               
 
Event 75  Boys Shot Put Emerging Elite
==========================================================================
    National: $ 81-03.50  6/16/1979   Michael Carter, Jefferson, Dallas, T
    Name                    Year School                  Finals           
==========================================================================
Finals                                                                    
  1 Merino, Jorge             09 Old Bridge, NJ          16.75m   54-11.50
      16.05m  16.37m  16.75m  15.87m  16.73m  16.69m                      
  2 Lyscio, Tom               08 Baxter, MN              16.59m   54-05.25
      16.15m  16.59m  16.49m  FOUL  16.59m  16.29m                        
  3 Mauldin, Thomas           08 villa rica, GA          16.47m   54-00.50
      15.40m  16.03m  16.47m  15.74m  FOUL  FOUL                          
  4 Bittle, Regis             08 Tryon, NC               16.47m   54-00.50
      16.03m  16.47m  15.72m  15.27m  15.18m  FOUL                        
  5 Mubarak, Nabil            09 Lawrenceville, GA       16.04m   52-07.50
      FOUL  15.14m  16.04m  FOUL  FOUL  16.02m                            
  6 Fraker, Davis             10 Peachtree City, GA      15.92m   52-02.75
      14.71m  15.92m  FOUL  FOUL  15.32m  FOUL                            
  7 Brewer, Kencie            08 Greensboro, NC          15.87m   52-01.00
      FOUL  15.16m  15.87m  FOUL  15.51m  15.68m                          
  8 Stuart, Patrick           09 Glasgow, KY             15.53m   50-11.50
      14.21m  15.29m  15.53m  FOUL  FOUL  FOUL                            
  9 Ferguson, Lucas           09 Mount Vernon, OH        15.41m   50-06.75
      FOUL  FOUL  15.41m                                                  
 10 Tancer, Jon               08 Montville, NJ           15.19m   49-10.00
      14.62m  15.19m  FOUL                                                
 -- Morales, Brendan          09 Westminster, MD           FOUL           
      FOUL  FOUL  FOUL                  




Girls






by Elliot Denman for NSSF



Harding of Charlotte's Kamorean Hayes had made this event her personal property, muscling her way to the gold in 2006, 2007 and 2008. All Becky O'Brien could do after placing second to Hayes in 2008 – 50-6 ¾ to 48-5 ¼ - was go back home to Cumberland, Maine and train even harder than ever before. That was the script and O'Brien followed it to perfection. All six of her throws topped the best effort of runner-up Emily Vannoy of Frederick, Md.

Gathering steam from round to round to round, O'Brien finally bombed one out to 52-1 ¾ in the sixth and final round. It was the second best ever in NON annals and ranked 11th all-time in USA history.

"I wish I would have thrown it a little bit further, but there were a few things that went wrong on my last throw," said O'Brien. "It was my PR, but I still I think I could have thrown it much better than that. I didn't quite get the height I needed on the shot, my legs didn't push as well as they could have. I've PRed the last two years here, so I was thinking why not PR three years in a row?. To win by this margin was really important to me. I didn't want to come in and win with a bad day. I wanted to win and do it impressively."

Only NON thrower ever to best the O'Brien winning mark was Red Oak, Texas's Michelle Carter, who established the meet record of 54-5 ¼ in 2003 (and still holds the National record of 54-10 ¾, also in 2003.)

Two others bested 45 feet – Lawrenceville, Ga.'s Eve Machovec, third at 45-5 ¼, and Toms River, NJ North's Maureen Laffan, fourth at 45-1 ¾.

Now, O'Brien shifts her focus to Saturday's discus throw, in which she's seeded second.

This will be a hugely hectic weekend for the O'Brien entourage. They drove the 900 miles from Maine on Thursday, and then head to Columbus, Ohio for the USA Track and Field Junior National Championships on Sunday. Sometime late Monday – surely very weary – they will arrive back home in Maine.


 C.F.P.I. Timing & Data - Contractor License 
             Nike Outdoor Nationals - 6/19/2008 to 6/21/2008              
              North Carolina A+T University, Greensboro, NC               
 
Event 48  Girls Shot Put
==========================================================================
 8 advance to the final                                                   
    National: $ 54-10.75  5/10/2003   Michelle Carter, Red Oak, TX        
        Meet: M 54-05.25  6/14/2003   Michelle Carter, Red Oak, TX        
    Freshman: F    49-04  5/30/2004   Jenny Svoboda, Howells, NE          
   Sophomore: O 52-04.50  1981        Natalie Kaaiawahia, Fullerton, CA   
      Junior: J 53-03.75  2002        Michelle Carter, Red Oak, TX        
      Senior: S 54-10.75  5/10/2003   Michelle Carter, Red Oak, TX        
    Name                    Year School                  Finals           
==========================================================================
Finals                                                                    
  1 O'Brien, Becky            08 Cumberland, ME          15.89m   52-01.75
      14.39m  15.48m  15.72m  15.34m  15.12m  15.89m                      
  2 Vannoy, Emily             09 Frederick, MD           13.92m   45-08.00
      13.87m  13.92m  12.74m  13.35m  12.71m  11.99m                      
  3 Machovec, Eve             08 Lawrenceville, GA       13.85m   45-05.25
      13.24m  13.29m  13.34m  FOUL  FOUL  13.85m                          
  4 Laffan, Maureen           08 toms river, NJ          13.76m   45-01.75
      12.11m  12.90m  13.11m  12.75m  FOUL  13.76m                        
  5 Okafor, Ifeatu            08 Houston, TX             13.71m   44-11.75
      13.30m  13.62m  13.29m  13.68m  FOUL  13.71m                        
  6 Halvorson, Aslynn         09 Charlotte, NC           13.64m   44-09.00
      12.17m  12.35m  13.64m  12.89m  13.44m  13.02m                      
  7 Flowers, Victoria         08 Providence, RI          13.43m   44-00.75
      13.01m  13.26m  12.95m  12.68m  12.71m  13.43m                      
  8 Baird, Natalie            08 Sterling, VA            13.29m   43-07.25
      FOUL  12.92m  13.29m  12.09m  12.65m  FOUL                          
  9 Gerner, Jecel             09 Markesan, WI            13.11m   43-00.25
      12.59m  12.66m  13.11m  PASS  PASS  PASS                            
 10 Freeman, Taylor           08 Coralville, IA          13.08m   42-11.00
      12.80m  12.89m  13.08m                                              
 11 Garner, Brooke            08 Rapid City, SD          13.01m   42-08.25
      12.65m  FOUL  13.01m                                                
 12 Watt, Shannon             09 Jackson, NJ             12.90m   42-04.00
      12.77m  12.90m  12.74m                                              
 13 Muzio, Anna               08 Harrisburg, PA          12.67m   41-07.00
      12.27m  11.73m  12.67m                                              
 14 Talley, Sara              09 Resaca, GA              12.66m   41-06.50
      12.09m  11.96m  12.66m                                              
 15 McCrewell, Dayna          09 Elkins Park, PA         12.42m   40-09.00
      12.11m  12.42m  12.07m                                              
 16 Rybicki, Genevieve        09 Williamstown, NJ        12.42m   40-09.00
      11.74m  11.92m  12.42m                                              
 17 Radford, Breanna          09 Alpharetta, GA          12.05m   39-06.50
      11.48m  11.35m  12.05m                                              
 18 Cummings, Katie           08 Weyers Cave, VA         11.41m   37-05.25
      10.91m  11.41m  FOUL                                                
 19 Cobb, Sydni               10 Chesapeake, VA          11.01m   36-01.50
      10.20m  11.01m  10.42m                                              
 -- Rothmiller, Shamire       08 Glassboro, NJ             FOUL           
      FOUL  FOUL  FOUL                     
C.F.P.I. Timing & Data - Contractor License 
             Nike Outdoor Nationals - 6/19/2008 to 6/21/2008              
              North Carolina A+T University, Greensboro, NC               
 
Event 76  Girls Shot Put Emerging Elite
==========================================================================
    National: $ 54-10.75  5/10/2003   Michelle Carter, Red Oak, TX        
    Name                    Year School                  Finals           
==========================================================================
Finals                                                                    
  1 Adams, Ashley             09 Rochester, PA           12.47m   40-11.00
  2 Hampton, Apresha          11 Teaneck, NJ             11.95m   39-02.50
  3 Haydel, Sydney            10 Woodland Hills, CA      11.88m   38-11.75   
  4 Scott, Daquaa             10 Staunton, VA            11.70m   38-04.75 
  5 Fisher, Symmone           08 coram, NY               11.68m   38-04.00
  6 DeGraffinreed, Hannah     08 Raleigh, NC             11.67m   38-03.50 
  7 Weaver, Juanita           09 Greenbelt, MD           11.35m   37-03.00
NON index page