18th Nike Outdoor Nationals

June 19-21, 2008 - North Carolina A&T University, Greensboro NC



Preview
Half-milers in a Hurry
Another great group of boys 800 runners brings in milers' endurance and 400 speed; US#1 Joe
Franklin tries to rebound from his Golden South mile, while Danbury's first big 4x8 could be golden
Previews by DyeStatIL Co-Editor Tony Jones
Boys NON 800m Preview



This one starts out a little personal…

A legendary coach once said directly to me: "The 800 is a bastard event. That's because it doesn't have real runners. You have quarter-milers that run it and then your milers that do it."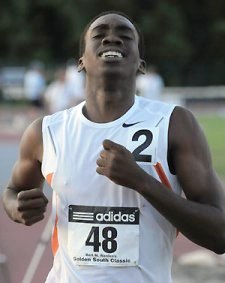 Franklin was disappointed at Golden South, but he's been money in the 800 all year. Photo John Dye


Come to think of it, I have found that statement to be true. As a former prepster, I loved running the 4x800, an event that would be a mixture of long sprinters and distance runners. It is my favorite event, as a coach, in terms of hands-on coaching. I discovered that the mix of strength, distance and speed of the "bastard" event makes it unique. The 800 also seems to be the most difficult event to predict victory, no matter how good the credentials of the favorites.



-Let's line 'em up-



The expected championship field: Joseph Franklin (Tallahassee, FL), Jason Walton (Hillsborough, NJ), Mac Fleet (San Diego, CA), Harun Abda (Fridley, MN), Mat Smoody (Palatine, IL), Tommy Brinn (Otsego, MI), William Zahorodny (Damascus, MD), Monroe Kearns (Jackson, NJ), Charles Jock (San Diego CA), Anthony Hendrix (New Bern NC).



-Storyline-



By the time 6:15 p.m. Saturday evening rolls around, Joe Franklin will know his fate, whether or not he is to be crowned Nike Outdoor National champion. Franklin is the nation's top half-miler this season, as his swift 1:48.97 attests, and will be going for the national championship sweep; he won the Nike Indoor National 800m in March. He is also undefeated in 2008, but may be seeing red from a little recent embarrassment. Two weeks ago at the Golden South Invitational, Franklin declared his intention to try and become the 5th prep ever to run under 4:00 for the mile. That attempt fell flat with a 4:15.29 … so it's back to the tried and true 800m.

As much fun as being the favorite may be, winning will not be a piece of cake down in Greensboro, NC. Despite two championship-caliber races going on this weekend (the other one is in Columbus, OH), the best of the best will line up at NON on Saturday evening. Three of the top six and four of the top eight half-milers are expected to toe the line at North Carolina A & T's Irwin Belk Stadium.

Let's try not to forget there are other characters that want a shot at glory. For starters, Mat Smoody makes his first appearance on the BIG national stage. It seems like his four-year career has very simply come to this one race. "Going into this race, I feel it's necessary to lay everything on the line," he said. "I have nothing to lose. It will be my last high school race and I'm going for it.

"I still will need to be smart about the race," he added, "like getting out hard, getting in good position by the 600m, and then putting on a great kick and hopefully winning it all. There's one goal - win it all!!" Enough said.

Tommy Brinn is another top talent runner to watch. Brinn is Michigan's D2 class state 800m champion and he will be full of confidence after last week's Midwest Distance Gala. There he authored a come-from-behind victory, over Smoody and Andrew Perkins, which at least puts him in the national spotlight picture. Brinn's speed is tremendous: 22.2 and 48.3 wheels for 200 and 400 give him a great chance for success if the pace is not fast.

Jason Walton is US #4 with a personal best of 1:50.14. He recently blitzed a solid field with that time at the NJ Meet of Champions. Don't count out Mac Fleet either. The junior is the best in California and has run under 1:50.40. Anchoring the strong field will be sophomore sensation Harum Abda. The former soccer player surprised Minnesota and the country when he placed second in the blazing AA state final. His US #7 ranking won't catch the field or the track fans off guard this time around.

Tony's Bold Predictions (top 3):

1. Joe Franklin - Just too good for the field. He will be chasing the meet record.
2. Mat Smoody - Perhaps a little home state cheering but… Smoody is at his best when trailing late in races. If he is anywhere near the lead on the homestretch watch out.
3) Tommy Brinn - If momentum is important, Brinn should be in the good shape.




Boys NON 4x800 Preview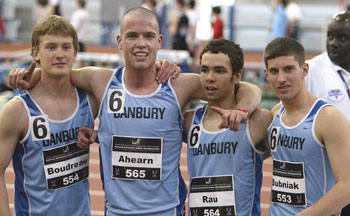 Three of Danbury's 4x800 team at NON - Boudreau, Ahearn and Bubniak - were part of this winning 4x1 Mile group from NSIC. Photo John Nepolitan


I wonder what members of the championship field feel like after hearing they are favorites by default – since US #1 and US #2 teams North Penn, PA and Cleveland Heights, OH shut down their seasons.

As it turns out, the field is led by the nation's #4 and #5 squads, but often in distance relays like this, teams can come in that haven't necessarily achieved in the event and put it all together on the right day. Danbury CT, with arguably the best collection of half-milers, has not put up a big time yet, but looks like a 7:42 team on paper. Glen Ellyn, IL (Glenbard South) won the national championship last year without even winning their state meet! You can bet some quartet will step up and be noticed. It's not certain if the 7:38 by North Penn will be touched, but a great effort will no doubt be in the works.

Let's start with the expected championship field (using high school names): Danbury, CT; Quince Orchard, MD; Detroit Mumford, MI; Central Bucks West, PA; Central Bucks South, PA; Strongsville, OH; St. Charles North, IL; New Bern, NC; Morris Hills, NJ

Led by 1:50.86 runner Parker Boudreau, Danbury appears to be the favorite. This team is no slouch. The rest of their group will include Willie Ahearn, Danny Bubniak, and Doug Ronan. Ahearn did not run the relay at NSIC, but has run 4:11 1600 and 8:57 2-mile.

US#5 Mumford (aka Motor City TC) placed second at NSIC over a then-somewhat-depleted Danbury squad. Motor City can be very good when anchor Isaiah Ward is on his game. Ward has run 1:52.18, but the smooth-striding senior, who signed with Michigan State, should shine bright if teammates get him in position. They ran 7:44.79 at state.

Gaithersburg (Quince Orchard) put it all together at their state meet and erupted with a 7:44.67. Their group includes Wayne Bartholomew, Ryan Priovolos, David Laratta and Josh Joson. They don't have one single superstar, but a tight group of evenly matched runners.

Although the sprint medley is probably their best event, New Bern, led by the Hendrix brothers, can never be counted out of a national championship race. Strongsville OH is paced by 200/400/800 standout Kendall Gregory.

When it comes to 4x8 action the state of Illinois cannot be counted out, either. The Land of Lincoln has produced several NON champions, including Elmhust York and Glenbard South in recent years. Add state champion St. Charles North to the list of possible heirs. The Saints have been a marked team all year, state-wide, but were able to pull out their first ever post-season victory [at states].

SCN, as they are sometimes called, are no strangers to NON. They placed a surprising 4th two years ago in the 4x1mile relay. A key member on that team was then-sophomore Chris DeSilva. The University of Illinois signee is the self-described team spokesman. He indicated his team badly would like to show the national track world they are for real.

Initially, DeSilva stated the team goal was to place second. But after hearing about North Penn not coming #2 switched to #1. As DeSilva put it, "There is only goal left – a national championship … we are going to go for it!"

Tony's bold picks (top 3): Danbury, St. Charles North, Motor City TC (Mumford).


NON Index Page