18th Nike Outdoor Nationals

June 19-21, 2008 - North Carolina A&T University, Greensboro NC



Mile
Boys - [Video]
Girls - [Video]



Robert Finnerty (MN) 4:05.25, Emily Infeld 4:47.43



| | |
| --- | --- |
| Rob Finnerty | Emily Infeld |
| photos by John Dye | |



Interviews






Boys






by Pete Cava for NSSF



"After four years, winning this feels really good," said Robert Finnerty when the mile was over. "After all the years of coming to this meet, it feels good to finally come out on top." Finnerty (Burnsville, MN, HS) hammered around the final turn to pass Luke Puskedra (Ogden, UT) to finish in 4:05.25 for the mile title.

The crew-cut Finnerty, eleventh in this meet a year ago, dueled the taller Puskedra through most of the race. Finnerty took the field through the first lap in 61.5, and pushed the pace harder on backstretch. Puskedra took over on the third lap, passing in 61.7. On the backstretch it was Puskedra in the lead with Finnerty right on his heels. Heading into the straightaway, Puskedra couldn't match Finnerty's surge.

The Minnesotan's time was the year's fastest prep mile. Puskedra wound up second in 4:06.50. Another Gopher State runner, Jordan Carlson (Rosemount, MN) placed third in 4:07.51.

"This is the first time I've come in here with a chance to run in the fast heat," said Finnerty. "I really came in feeling like I was one of the top guys here and that really made a difference. Last year I was just going for fast times, this year I was going for a championship."


C.F.P.I. Timing & Data - Contractor License 
        Nike Outdoor Nationals - 6/19/2008 to 6/21/2008         
         North Carolina A+T University, Greensboro, NC          
 
Event 9  Boys 1 Mile Run
================================================================
 Final for 2 sections at 6:45pm                                 
    National: $ 3:53.43  5/27/2001   Alan Webb, S Lakes, Reston,
        Meet: M 4:02.01  6/14/1997   Sharif Karie, West Springfi
    Freshman: F 4:15.07  2005        Andrew Perkins, Watertown, 
   Sophomore: O 4:06.07  6/14/2003   Jeff See, Middletown, OH   
      Junior: J 3:59.0h  1964        Jim Ryun, East, Wichita, KS
      Senior: S 3:53.43  5/27/2001   Alan Webb, South Lakes, Res
      Freshm:   4:09.69  2005        Sintayehu Taye (m), Portlan
    Name                    Year School                  Finals 
================================================================
Finals                                                          
  1 Finnerty, Robert          08 Burnsville, MN         4:05.25O
  2 Puskedra, Luke            08 Ogden, UT              4:06.60F
  3 Carlson, Jordan           08 Rosemount, MN          4:07.56F
  4 Arcos, Raul               08 Corona, CA             4:08.94F
  5 McGregor, Patrick         09 Hoover, AL             4:10.73F
  6 Johnson, Brett            09 Ocean City, NJ         4:11.22F
  7 Sheinbaum, Julian         08 Scarsdale, NY          4:11.57F
  8 Abdalla, Mohamed          08 San Jose, CA           4:12.09F
  9 Merber, Kyle              08 Dix Hills, NY          4:12.11F
 10 Unterreiner, Miles        08 Gig Harbor, WA         4:13.20F
 11 Holmes, Nick              08 Bartonville, IL        4:13.41F
 12 Miller, Joseph            08 Bowling Green, OH      4:13.76F
 13 Clark, Stephen            08 Salt Lake City, UT     4:15.33 
 14 Kareis, Greg              08 Red Lion, PA           4:16.42 
 15 Dorrell, Peter            08 Blacksburg, VA         4:16.43 
 16 Springer, Andrew          09 Westerly, RI           4:17.02 
 17 Coore, Jermaine           08 Somerset, NJ           4:17.26 
 18 Aprill, Bobby             08 Dexter, MI             4:17.58 
 19 Shields, Drew             09 Fishers, IN            4:18.08 
 20 Andrews, Bobby            09 Wading River, NY       4:18.89 
 21 Revord, Connor            09 Tampa, FL              4:21.17 
 22 White, Charles            08 Cherry Hills Villag    4:24.74 
 23 Lovelace, Luke            08 Chapin, SC             4:26.92 
 -- LoRusso, Joe              08 Vienna, VA                 DNS 
 -- Matthews, Bill            09 Birmingham, AL             DNS 
C.F.P.I. Timing & Data - Contractor License 
        Nike Outdoor Nationals - 6/19/2008 to 6/21/2008         
         North Carolina A+T University, Greensboro, NC          
 
Event 11  Boys 1 Mile Run Freshman
================================================================
    National: $ 4:15.07  2005        Andrew Perkins, Watertown, 
        Meet: M 4:24.17  6/19/2004   Brian Rhodes-Devey, Guilder
    Name                    Year School                  Finals 
================================================================
Finals                                                          
  1 Manfrin, Anthony          11 Sleepy Hollow, IL      4:23.27M
  2 Lacoste, Jeff             11 Sparta, NJ             4:29.45 
  3 Terwilliger, Jack         11 Biddeford, ME          4:29.66 
  4 Jablonski, Matt           11 Cockeysville, MD       4:29.91 
  5 Garcia, Eduardo           11 Jacksonville, FL       4:31.08 
  6 Snyder, Cody              11 Mechanicsville, VA     4:31.17 
  7 Valenski, Andrew          11 Massapequa Park, NY    4:31.86 
  8 Foy, Scott                11 Charlotte, NC          4:32.46 
  9 Nestor, Daniel            11 Madison, CT            4:34.45 
 10 Carter, George            11 Blacksburg, VA         4:35.12 
 11 Johnson, Alex             11 Maple Grove, MN        4:35.44 
 12 Sauer, Chris              11 Sparta, NJ             4:36.02 
 13 Ayers, Reece              11 Tunkhannock, PA        4:37.07 
 14 Lowry, Jace               11 Paragon, IN            4:37.52 
 15 Turissini, Greg           11 Maumee, OH             4:38.04 
 16 Williams, Blake           11 Durham, NC             4:40.70 
 17 Stanley, Scott            11 Indianapolis, IN       4:44.53 
 18 Spangler, Ryan            11 Westminster, MD        4:44.97 
 19 Roadside, Dustin          11 Egg Harbor Twp, NJ     4:45.65 
 20 Schoedler, Miles          11 Oceanview, NJ          4:47.45 
 21 McGrew, Nick              11 Martinsville, IN       4:47.90 
 22 Driggs, Jack              11 Elmhurst, IL           4:48.25 
 23 McNair, Ian               11 Sylvania, OH           4:49.27 
 24 Colburn-Hertzberg, Asher  11 Chapel Hill, NC        4:50.13 
 25 Carter, Austin            11 Goshen, KY             4:50.85 
 26 Bass, William             11 Nashville, NC          4:51.00 
 27 Keith, Stephen            11 Walkersville, MD       4:55.70 
 28 Waterman, David           11 huntingdon valley,     4:56.81 
 -- Potts, Ben                11 Haddonfield, NJ            DNS 
 -- Swain, Patrick            11 Tallahassee, FL            DNS 
 -- Mitsos, Ryan              11 Mokena, IL                 DNS 
Anthony Manfrin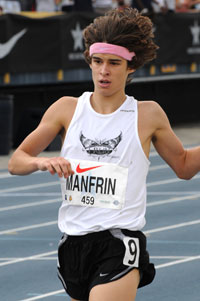 photo by John Dye
C.F.P.I. Timing & Data - Contractor License 
        Nike Outdoor Nationals - 6/19/2008 to 6/21/2008         
         North Carolina A+T University, Greensboro, NC          
 
Event 69  Boys 1 Mile Run Emerging Elite
================================================================
    National: $ 3:53.43  5/27/2001   Alan Webb, S Lakes, Reston,
        Meet: M 4:15.95  6/15/2007   Kyle Merber, HHH West, Dix 
    Name                    Year School                  Finals 
================================================================
Finals                                                          
  1 McKenzie, Jake            08 Philadelphia, PA       4:16.93 
  2 Wood, Philip              09 Yardley, PA            4:17.39 
  3 Veilleux, Ben             09 Berryville, VA         4:17.74 
  4 Fitzpatrick, Eric         10 Boise, ID              4:18.56 
  5 Moverman, Michael         09 North Easton, MA       4:18.74 
  6 Van Ackeren, Trevor       08 Bethlehem, PA          4:18.99 
  7 DeJarnette, Ben           09 Mechanicsville, VA     4:19.01 
  8 O'Loughlin, Tim           09 Westerly, RI           4:21.71 
  9 Cusack, Jason             08 Griswold, CT           4:22.48 
 10 Morhard, Rob              08 Eagleville, PA         4:22.50 
 11 King, Tyler               08 Lakeville, MN          4:24.55 
 12 Cleaver, Matt             08 Marietta, GA           4:24.79 
 13 Baker, Colin              10 Haddonfield, NJ        4:26.00 
 14 Hamm, Jordan              09 Java Center, NY        4:26.07 
 15 Wilhelmy, Zachary         08 La Crosse, WI          4:26.63 
 16 Stenger, Eddie            08 Frazee, MN             4:26.79 
 17 Svoboda, Miles            08 Marietta, GA           4:33.55 
 18 Arnold, Andrew            09 Marlton, NJ            4:34.26 
 19 Mahoney, Travis           08 Old Bridge, NJ         4:34.36 
 20 Havko, Sam                09 Fairview, PA           4:37.09 
 21 Ackerman, Bradford        08 Warwick, NY            4:40.44 
 22 Linehan, Jack             09 Crested Butte, CO      4:42.72 
 -- Andrews, Bobby            09 Wading River, NY           DNS 
 -- Ortiz, Isaac              08 merion station, PA         DNS 
 -- Lema, Nohe                09 San Jose, CA               DNS 




Girls






by Elliot Denman for NSSF



Cleveland Heights, Ohio senior Emily Infeld came in with the nation's third best 2008 mile time – the 4:43.21 she ran at the Penn Relays – and with Californian Christine Babcock (owner of a 4:35.02 best) and fellow Ohioan Stephanie Morgan (the 2007 NON champion who'd run a 4:41.22) sitting this one out, the race was all hers.

Infeld broke away from the pack and was never troubled in a 4:47.43 romp. Grenvale, NY sophomore Emily Lipari continued to sparkle and delivered a 4:50.24 for the silver medal, tracked home by High Bridge, NJ junior Melanie Thompson (4:50.68) and Lawrenceville, Ga. freshman Amanda Winslow (4:51.13.)

As dominating as she was, Infeld's 4:47.43 was the meet's slowest winning mile in over five years.

FRESHMAN MILE – Northeasterners ruled – Laurelton, Queens, NYC's Claudia Francis (5:02.79) besting Little Silver, NJ's Molly McNamara (5:06.30) and Wilmington, Delaware's Lindsey Olivere (5:08.98), with Connecticut and New York State delegates right behind the leaders.


 C.F.P.I. Timing & Data - Contractor License 
                Nike Outdoor Nationals - 6/19/2008 to 6/21/2008                 
                 North Carolina A+T University, Greensboro, NC                  
 
Event 10  Girls 1 Mile Run
================================================================                
    National: $ 4:35.24  5/16/1982   Polly Plumer, University, I                
        Meet: M 4:36.95  6/18/2005   Sarah Bowman, Fauquier,Warr                
    Freshman: F 4:42.0h  1973        Mary Decker, Portola Jr, Or                
   Sophomore: O 4:42.40  6/19/2004   Nicole Blood, Saratoga, NY                 
      Junior: J 4:39.25  6/17/2006   Danielle Tauro, Sn Ocean, N                
      Senior: S 4:35.24  5/16/1982   Polly Plummer, University,                 
    Name                    Year School                  Finals                 
================================================================                
Finals                                                                          
  1 Infeld, Emily             08 Cleveland Heights,     4:47.43                 
  2 Lipari, Emily             10 Greenvale, NY          4:50.24                 
  3 Thompson, Melanie         09 High Bridge, NJ        4:50.68                 
  4 Winslow, Amanda           11 Lawrenceville, GA      4:51.13                 
  5 Kroeger, Kathy            09 Franklin, TN           4:51.47                 
  6 Koziara, Brittany         09 Orlando, FL            4:53.73                 
  7 Champagne, Mary Kate      08 Plattsburgh, NY        4:54.59                 
  8 Tonn, Jessica             10 Paradise Valley, AZ    4:56.43                 
  9 Kasper, Kirsten           09 North Andover, MA      4:57.16                 
 10 Griffin, Georgia          08 Norwich, VT            4:57.27                 
 11 Shields, Anna             09 Harwinton, CT          4:58.38                 
 12 Hill, Jami                09 Onalaksa, WI           5:06.35                 
 13 Ahn, SueJin               08 Ward Melville-GIrls    5:08.73                 
 14 Goutos, Cassie            10 Saratoga Springs, N    5:10.59                 
C.F.P.I. Timing & Data - Contractor License 
        Nike Outdoor Nationals - 6/19/2008 to 6/21/2008         
         North Carolina A+T University, Greensboro, NC          
 
Event 12  Girls 1 Mile Run Freshman
================================================================
    National: $ 4:42.00  1973        Mary Decker, Portola JHS, O
        Meet: M 4:54.08  6/18/2005   Aurora Scott, W Branch,Ches
    Name                    Year School                  Finals 
================================================================
Finals                                                          
  1 Francis, Claudia          11 Laurelton, NY          5:02.79 
  2 McNamara, Molly           11 Little Silver, NJ      5:06.30 
  3 Olivere, Lindsey          11 Wilmington, DE         5:08.98 
  4 Crevoiserat, Lindsay      11 Glastonbury, CT        5:09.46 
  5 Pezzulo, Molly            11 Charlton, NY           5:11.29 
  6 Talt, Gina                11 Larchmont, NY          5:11.95 
  7 Winslow, Danielle         11 Queensbury, NY         5:12.24 
  8 McMahon, Hayley           11 Clinton Corners, NY    5:12.82 
  9 Kasal, Jacqueline         11 Warwick, NY            5:15.17 
 10 Neideck, Sarah            11 Rockford, MI           5:16.23 
 11 O'Donnell, Felicia        11 Franklinville, NJ      5:16.61 
 12 Rietsema, Catie           11 Rockford, MI           5:16.68 
 13 VanDeGrift, Grace         11 Valrico, FL            5:17.14 
 14 Rapp, Sarah               11 Raleigh, NC            5:19.25 
 15 Dabrowski, Pauline        11 Toms River, NJ         5:20.62 
 16 Cuffe, Aisling            11 Cornwall-on-Hudson,    5:21.74 
 17 Staver, Charlotte         11 Centreville, MD        5:22.26 
 18 Kohlbrenner, Caile        11 Sparkill, NY           5:22.36 
 19 Simoes, Ines              11 Newark, NJ             5:25.28 
 20 Bondulich, Kellyanne      11 Tappan, NY             5:25.41 
 21 Menghini, Krista          11 Fenton, MO             5:28.21 
 22 Wynn, Natalie             11 Chesapeake, VA         5:28.87 
 -- Seymour, Kendall          11 Ebensburg, PA              DNS 
 -- Conway, Megan             11 Middle Grove, NY           DNS 
 -- Schaich, Allie            11 Suwanee, GA                DNS 
 -- Kushner, Chelsea          11 Pearl River, NY            DNS 
 -- Williams, Jillian         11 New York, NY               DNS 
 -- Hibshmann, Maddie         11 Onalaska, WI               DNS 
Claudia Francis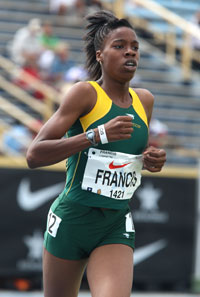 photo by Vic Sailer
 C.F.P.I. Timing & Data - Contractor License 
        Nike Outdoor Nationals - 6/19/2008 to 6/21/2008         
         North Carolina A+T University, Greensboro, NC          
 
Event 70  Girls 1 Mile Run Emerging Elite
================================================================
    National: $ 4:35.24  5/16/1982   Polly Plumer, University, I
        Meet: M 4:56.32  6/15/2007   Kathleen Mc Cafferty, Oak K
    Name                    Year School                  Finals 
================================================================
Finals                                                          
  1 Goethals, Megan           10 Rochester, MI          4:59.26 
  2 Ginez, Sophia             10 Dayton, NJ             5:01.99 
  3 Perkins, Amanda           09 Ormond Beach, FL       5:05.06 
  4 Rocco, Alyse              08 Canton, MA             5:05.54 
  5 Hirt, Molly               08 Bloomington, IN        5:06.77 
  6 Davis, Sarah              10 Jacksonville, FL       5:07.77 
  7 Dinwoodie, Michon         10 Westerly, RI           5:08.49 
  8 Holowacz, Katarina        08 Bainbridge, NY         5:11.65 
  9 Linde, Maura              11 Sykesville, MD         5:12.85 
 10 Kenny, Moira              09 Sherman, CT            5:15.54 
 11 D'Orazio, Kaitlyn         09 York, ME               5:16.16 
 12 Loretto, Krissa           09 Toms River, NJ         5:16.85 
 -- Walsh, Dana               10 New York, NY               DNS 
NON index page