18th Nike Outdoor Nationals

June 19-21, 2008 - North Carolina A&T University, Greensboro NC

All Good Things Come to an End
Eleanor Roosevelt MD coach Desmond Dunham steps down
by DyeStatIL editor Bob Geiger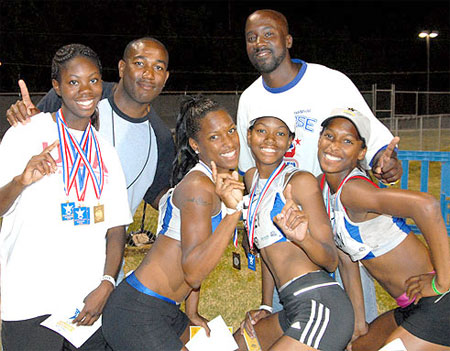 Eventually, it happens. Sometimes it happens sooner than expected, sometimes it happens against your will, and sometimes the time just comes, but it happens. It happened to Sienfeld, Carl Lewis, Mike Schmidt, and the ABA, they all ended.

For Eleanor Roosevelt High School MD Coach Desmond Dunham (back row left, in photo by Donna Dye), it was time. There were many reasons, but he announced this week that he was stepping down as Head Coach, mainly to devote more time to his family.

"My wife has gone above and beyond," Dunham related in reference to the raising of his one- and three year-old children. "There are some days, I know that when I kiss my children goodbye in the morning, I may not see them until I kiss them goodnight that evening."

Dunham will be spending next year's track season as a volunteer assistant coach at the University of Maryland. "Being a volunteer will allow me the flexibility to spend the time with my family that's needed."

Dunham currently teaches at Power Public Charter School in Washington DC, about 40 minutes away from Eleanor Roosevelt. During the past five seasons at Roosevelt, Dunham has led his teams to 12 girls' State Championships, and one boys' Outdoor State Championship in Maryland. In addition, his teams held eight Nike Indoor National titles, five Nike Outdoor National titles, three Penn Relays championships and two national records- the 4 x 800 relay with a time of 8:43.12, and the 1600 Meter Sprint Medley Relay in 3:51.90.

A Gary, Indiana native, Coach Dunham was very open about accusations of illegal recruiting by his program at Roosevelt, stating that every sport in his school has been investigated and no wrongdoing was ever found.

"This, for me, is a perfect time to grow, and to spend more time with my family. I look forward to now coaching 3 year-olds in T-Ball and Soccer."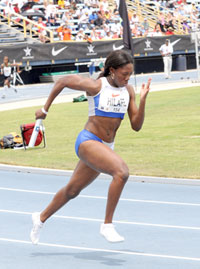 For his team, which he calls his extended family, it means a loss. "They understand, but they don't agree with the decision."

Senior Elan Hilaire (left, in photo by John Dye) is one who does. "Personally, I'm a senior, so I'm happy for him. He'll be succussful, and I think he had a good time while he was here."

Sophomore Afia Charles unselfishly relates, "I'm sad about it, but it will be good for him."

Dunham touts his ability to create a family atmosphere and develop trust and bonding as the reason he gets his athletes to go above and beyond. The track & field world has seen the results of his ability to do so, as his teams usually go above and beyond.

Said Dunham, "I know its the right decision, but I've lost sleep and still shed tears over it."

For Eleanor Roosevelt, current assistant coach Sherman Turner appears to be the early favorite to take over the helm. Both the boys and girls teams bring back a number of quality runners and won't be falling off the radar any time soon.

NON Index Page