18th Nike Outdoor Nationals

June 19-21, 2008 - North Carolina A&T University, Greensboro NC

Brandon Pounds puts "the Future" on Hold
Indiana senior tops New Jersey frosh Nick Vena with his big 68-11.25 PR
by DyeStatIL editor Bob Geiger
Photos by Vic Sailer, PhotoRun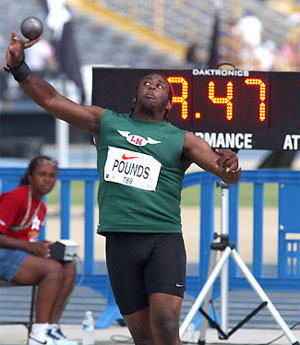 Going into Saturday's shot put competition, the talk was all about super-freshman Nicholas Vena of Whippany, New Jersey. Vena was the New Jersey State Champion, and the second-ranked thrower in the United States with his toss of 67-10.25. He is clearly the "future" of the event, and he did not disappoint.

He took his first throw out to 66-05.00 and carried it through the prelims, the top thrower heading into the finals, leading by just under two feet to Cameron Tabor of Norman, Oklahoma.

Brandon Pounds IN (left) had other ideas. His 63-04.00 throw in the prelims had him sitting fifth going into the finals. The Indiana state and Midwest Meet of Champions titlist had winning on his mind. On his fourth throw of the competition, Pounds put the shot 68-11.25, beating his personal best of 66-04.50 by well over two feet.

Between the prelims and finals, Pounds made some minor adjustments and one big one.

"My coach told me to stand more in the middle and to come out of the back slower," Pounds said after he had secured his national title. "He also told me to show some emotion. We had worked so hard all year to get here and I knew if I did the little things, the big throw will happen."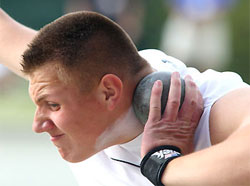 Pounds, who passed on USATF Jr. Nationals after competing there last year, was happy to have his final high school competition at Nike Outdoor Nationals.

For Vena (right), the future holds many successes. The precocious freshman has plans to start getting ready for indoor season as soon as he gets home, which should be more than a little concerning for the rest of the nation's elite throwers.

NON Index Page