18th Nike Outdoor Nationals

June 19-21, 2008 - North Carolina A&T University, Greensboro NC



5000m



Results and Recaps:

Boys - Girls - Brasovan video - Haile video - Derrick's Thursday Dispatch.


Solomon Haile 14:38.23

ties meet record




US#6 All Time, 18 seconds better than old meet record





photo by John Dye

Boys 5k record fit to be tied





Race recap by DyeStatIL editor Bob Geiger



Solomon Haile, winner of the Nike Indoor Nationals boys 5,000, once again championed the event outdoors, but did so a bit differently.

"Coach and I discussed the race [indoor] and realized that I went out way too fast and paid the price for it," recounted Haile. "This [time] I settled in early and I was better for it."

Zachary Ornelas of Cedar Park, Texas, took the early lead in the race. According to Zach, "I took it out hard because I wanted it to be an honest effort."

Honest it was, as he went out in 67 and pulled Haile through the mile at 4:38. It appeared to be a two-man race when Ben DeJarnette put in a big move to put himself in contention at the 1700 mark. It was then that Haile moved into the lead and pulled the trio through the second mile with four 71-second splits in a row, crossing the 3200 in 9:25.

The third mile was all Haile, as he pulled away on lap number 9, splitting 69 along the way. DeJarnette went the opposite way, while Ornelas tried to keep chase.

After the race, DeJarnette noted, "I wanted to wait a bit longer [regarding his move at 1700], but I fell into the trap of feeling good after the mile and went for it. I paid the price for it, the last 1200 was horrible."

Haile on the other hand ran against himself for the last 1600, running gradually faster each of his last four laps to finish in 14:38.23, tying the meet record to the hundredth.

Ornelas hung on for second with a time of 14:56.42, while Kevin McDonnell came on strong in the end to finish 3rd (15:01.01). DeJarnette faded to 11th, but the junior plans to make another attempt at it next year.
Boys Results
Licensed to C.F.P.I. Timing & Data - Contractor License   Hy-Tek's Meet Manager
                Nike Outdoor Nationals - 6/19/2008 to 6/21/2008                
                 North Carolina A+T University, Greensboro, NC                 
                                    Results                                    
 
Boys 5000 Meter Run
================================================================
    National: $ 13:37.91  7/31/2004   Galen Rupp, Cent  Cath,Portland,OR       
        Meet: M 14:38.23  6/14/2007   Adam Vess, Xavier, Middletown, CT        
    Freshman: F 15:05.60  1981        Jeff Cannada, Greenway, Phoenix, AZ      
   Sophomore: O 14:27.14  2001        Yong-Sung Leal, Arroyo, San Leandro,CA   
      Junior: J 14:11.20  1979        John Zishka, Lancaster, OH               
      Senior: S 13:37.91  7/31/2004   Galen Rupp, Cent Cath, Portland, OR      
    Name                    Year School                  Finals 
================================================================
Finals
  1 1309 Haile, Solomon       09 Silver Spring, MD     14:38.23M 
  2 1709 Ornelas, Zachary     09 Cedar Park, TX        14:56.42F 
  3 254 McDonnell, Kevin      08 Moorestown, NJ        15:01.01F 
  4 1176 Misenti, Forrest     08 Haddam, CT            15:03.88F 
  5 1332 Signoretti, Giovann  08 Smithtown, NY         15:05.22F 
  6 1565 Gilmore, Peter       08 Hanson, MA            15:07.10  
  7 982 Raduazo, Anthony      08 Bolton, MA            15:07.82  
  8 1739 Grandt, Levi         08 West Union, WV        15:11.10  
  9 635 Jackson II, Joseph    08 Hilliard, OH          15:18.97  
 10 1027 Machado, Michael     08 Salinas, CA           15:21.85  
 11 77 DeJarnette, Ben        09 Mechanicsville, VA    15:24.84  
 12 1863 Peachee, Dakota      09 Benson, NC            15:25.84  
 13 130 Venable, Bronson      08 Wyoming, RI           15:26.35  
 14 1253 Kogel, Bill          08 Sioux Falls, SD       15:30.08  
 15 1652 Flint, Matthew       08 Queensbury, NY        15:30.72  
 16 1388 Strasser, Mike       08 St. Charles, IL       15:32.22  
 17 1068 Mahoney, Travis      08 Old Bridge, NJ        15:32.37  
 18 1035 Brantley, Zack       09 Elm City, NC          15:33.09  
 19 512 Shields, Alex         09 Fishers, IN           15:33.33  
 20 127 Doyle, Brian          10 Tiverton, RI          15:33.48  
 21 1734 Hardin, Joshua       09 Sterling, VA          15:33.78  
 22 1510 Magnuson, Steve      10 Oro Valley, AZ        15:37.26  
 23 981 Hawley, Dillon        09 Nashville, NC         15:38.93  
 24 510 Allen, Cale           08 Fishers, IN           15:41.54  
 25 709 Rafailedes, David     08 Massillon, OH         15:44.71  
 26 167 Faherty, Brian        09 Greenbelt, MD         15:44.85  
 27 797 Maidens, Jakob        08 Lebanon, VA           15:45.20  
 28 1393 Powers, Kyle         08 Waterford, VT         15:51.55  
 29 435 Friedlander, Scott    08 Deerfield, IL         15:51.73  
 30 420 Russell, Kevin        09 Danbury, CT           15:57.27  
 31 1261 McGann, Bobby        09 Little Silver, NJ     16:07.22  
 32 848 McCullough, Matt      09 Havertown, PA         16:08.68  
 33 939 Healey, Kevin         08 Moorestown, NJ        16:16.97  
 34 129 Sienko, Jacob            Warwick, RI           16:17.50  
 -- 414 Bubniak, Joey         09 Danbury, CT                DNF  
 -- 85 Britton, Justin        08 Bay Shore, NY              DNF  
 -- 1919 Theroux, Blake       10 Chesapeake, VA             DNS  
 -- 1693 Wood, Philip         09 Yardley, PA                DNS  
 -- 1587 Lutzke, Matthew      08 Williamston, MI            DNS  
 -- 1426 Bosshard, Joe        08 Crested Butte, CO          DNS  
 -- 126 Hernandez, Francis    10 Windham, NH                DNS  


Brasovan barrels to #6 all-time 16:18.91 in girls 5k



Race recap by DyeStatIL editor Tony Jones



The opening of the 2008 Nike Outdoor Nationals got off and running under very pleasant conditions at Irwin Belk Track on the campus of North Carolina A &T. The sparse and hearty crowd got their money's worth with two exciting girls races.

Heat 1

Jessica Butler (Coral Springs, FL) 18:03.62 [1k-3:27, 5:36.4-1600]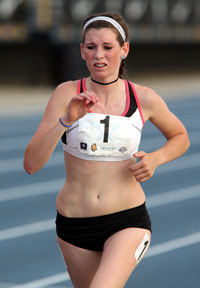 Butler won her section the hard way. She took over laps 5 through 8 but lost the lead to Erin LaFave MI. LaFave appeared to have the race wrapped up as she opened up a five second lead. But on the closing lap Butler got the courage to chase down LaFave and actually put distance on her and won going away. LaFave (right, photo by Vic Sailer) broke the world junior deaf record with her runner-up 18:09.32 and will run in the world deaf championships in Turkey later this year..

Heat 2

Ashley Brasovan (Wellington FL) 16:18.91MR/ #6 all-time [78.3, 2:34.3, 3:51.1, 5:08.9, 6:27.4, 7:46.5, 9:05.8, 10:25.0, 11:44.4, 13:04.0, 14:23.0, 15:40.8].

The second heat was a seasonal coming out party of sorts for the reigning Footlocker Cross Country champion, whose outdoor campaign was mostly low-key. Brasovan, hurt for much of the outdoor season, put a hurting on the solid field that featured Chelsea Ley (NSIC 5k champ). Brasovan totally ran away with a personal best and meet record-- just missing the junior class record owned by the legendary Erin Keough (16:14.69- herself a former FL champion).

Brasovan was briefly fronted during the first 300m of the race, but she took over the chore of leading at 400m. Brasovan bolted off in full flight just after the 1200 and it was over. After a swift 1600 and 2k there was no doubt the meet record was going to fall, but it was a question of whether the class record would go as well. Race announcer Ian Brooks pleaded with the crowd to assist Brasovan's quest. She continued her assault through a very fast 3200 (10:25). Eventual second placer Ley was a respectable but very distant (10:54). Ley ran a strong 17:12.08, but it was just Brasovan's night.

Brasovan indicated afterwards that her goal was to run even splits and not take it out too hard. She consistently clocked 78's and 79's when she got into her rhythm: "I felt pretty good… this [effort] came with lots of cross-training."

She indicated she may run the 2 mile for "fun tomorrow...it depends how I feel when I wake up."


Girls Results
Licensed to C.F.P.I. Timing & Data - Contractor License   Hy-Tek's Meet Manager
                Nike Outdoor Nationals - 6/19/2008 to 6/21/2008                
                 North Carolina A+T University, Greensboro, NC                 
                                    Results                                    
 
Girls 5000 Meter Run
================================================================
    National: $ 15:52.88  7/13/2004   Caitlin Chock, Granite Bay, CA           
        Meet: M 16:36.34  6/14/2007   Marissa Treece, Maple City MI            
    Freshman: F 16:34.7h  1979        Kim Gallagher, Three Tuns JHS,M Gl,PA    
   Sophomore: O 16:31.2h  1995        Julia Stamps, Santa Rosa, CA             
      Junior: J 16:14.69  1986        Erin Keogh, Langley, Mc Lean, VA         
      Senior: S 15:52.88  7/14/2004   Caitlin Chock, Granite Bay, CA           
    Name                    Year School                  Finals 
================================================================
Finals
  1 1529 Brasovan, Ashley     09 Wellington, FL        16:18.91O 
  2 753 Ley, Chelsea          10 Clarksboro, NJ        17:12.08  
  3 1262 Abrahamian, Tiffany  08 Rochester Hills, MI   17:20.07  
  4 1683 Ziemian, Sophia      09 Lewisburg, PA         17:34.98  
  5 1175 Smith, Kristen       09 Clarkston, MI         17:43.59  
  6 1462 Haines, Katie        08 Rockford, MI          17:46.16  
  7 405 Jenkins, Jordan       09 McSherrystown, PA     17:51.64  
  8 672 Kenny, Moira          09 Sherman, CT           17:57.61  
  9 807 Hardcastle, Kiah      09 Lewisburg, PA         18:00.10  
 10 1381 Butler, Jessica      08 Coral Springs, FL     18:03.62  
 11 1586 LaFave, Erin         08 Troy, MI              18:09.32  
 12 1213 Stephens, Heather    08 Ridgefield, CT        18:10.45  
 13 1728 Gentry, Margaret     09 nokesville, VA        18:15.76  
 14 1117 Bishop, Lauren       08 Pinehurst, NC         18:16.94  
 15 1605 Campbell, Elizabeth  08 Colonia, NJ           18:19.09  
 16 666 Spratford, Katrina    08 Califon, NJ           18:29.41  
 17 140 MacMillan, Laurel     08 Blacksburg, VA        18:29.69  
 18 668 Whitney, Colette      10 High Bridge, NJ       18:33.05  
 19 1223 Flynn, Megan         10 Robbinsville, NJ      18:36.32  
 20 1142 Heigis, Jenny        09 Sparta, NJ            18:36.47  
 21 1686 Ecker, Meghan        08 Millersville, PA      18:41.86  
 22 1620 McGlinchey, Meghan   09 West Deptford, NJ     18:52.14  
 23 655 Veit, Kristen         09 Easthampton, MA       18:54.68  
 24 843 Stolting, Jana        10 Tallahassee, FL       19:09.64  
 25 1730 Hall, Sabrina        08 Pulaski, VA           19:10.46  
 26 1135 Tocci, Andrea        09 Brooklyn, NY          20:12.42  
 -- 852 Hunt, Kelsey          09 Bedford, NH                DNS  
 -- 1722 Sullivan, Susanna    08 Falls Church, VA           DNS  

NON index page