Southwest Regional


November 22, 2008 at Tempe AZ
Colorado - Utah - New Mexico - Arizona - Nevada - Wyoming
Two teams and five individuals qualify for NXN national finals December 6, 2008 at Portland OR.



Girls Championship




Results - "One Point" story by Cheyne Heiny - John Dye's Action Album - Individual Qualifiers - Fort Collins 5

Laura Tremblay CO edges Jessica Tonn AZ by 0.03 second.
Fort Collins CO girls dominate.

Laura Tremblay, Thompson Valley Loveland CO, and Jessica Tonn, Xavier Prep Phoenix AZ, raced side by side through the homestretch and lunged at the tape together. SW#2 Fort Collins CO 61 (2-9-14-16-20) dominated team scoring to win their second straight regional title. Also qualifying were SW#1 Titans XC (Classical Academy Colorado Springs CO) 105 (3-7-13-40-42). Next were SW#3 Davis UT 146 (6-18-31-32-59), SW bubble team Eagles XC (Thompson Valley Loveland CO) 161, and SW#4 Hyrum Harriers (Mountain Crest UT) 162 (11-17-29-56-62).



Tremblay and Tonn just before the finish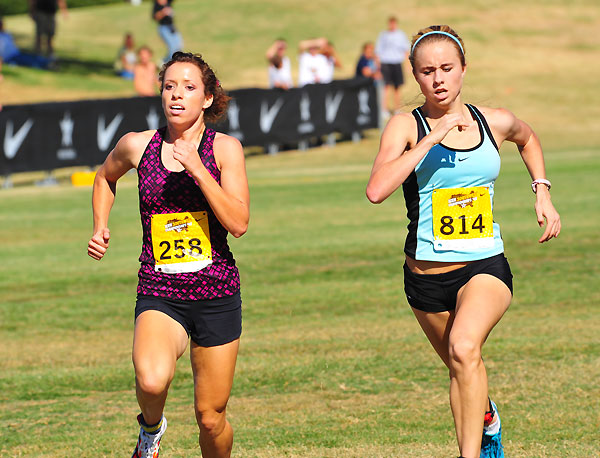 photo by John Dye



Tremblay's surge gives Thompson Valley the last at large eligible spot





by Cheyne Heiny



One point.

That was what separated Thompson Valley CO from Mountain Crest UT for fourth place, the final spot for an at-large consideration. Chalk up Laura Tremblay as the hero for the Eagles.

Tremblay and Jessica Tonn mirrored each other stride for stride for the last 100 meters. And neither girl showed any sign of giving up the individual championship. But ties don't exist in cross country, and Tremblay was able to get her ankle chip across the finish line first, three hundredths of a second ahead of Tonn.

"I stayed back quite a bit at the beginning," said Tremblay, who was outside of the top 10 after the first mile. "I kind of picked it up when I felt comfortable. Right at about 400 meters to go, I was thinking second is in reach, but (to catch Tonn) right at the final was just amazing."



Fort Collins is the toast of the Southwest



The race for the team title wasn't as close, as the defending champions, SW #2 Fort Collins, made it clear that they are the toast of the Southwest. The Lambkins all five scoring runners in the top 20, defeating SW #1 The Classical Academy by 44 points.

"We're ecstatic, they ran really well and we're really happy with the way the meet turned out," said Fort Collins coach Chris Suppes.

The Lambkins top runner, Miranda Benzel, began the Regional title defense with a 17:50 and a 3rd place performance. "It was really exciting (to win back-to-back), " said Benzel. "We really wanted to put four of us under 19 minutes, and we almost had five (under 19)."



SW#1 Classical Academy wins a ticket to Portland



The top ranked team in the Southwest, the Titans (The Classical Academy of Colorado Springs CO), was able to fight off a fierce run by Tremblay's Eagles and Davis UT for second place and an automatic bid to NXN.

"We ran solid. Our plan was to run as conservatively as you dare to run in a race like this," said Titans coach Alan Versaw. "Give Fort Collins all the credit in the world, they ran a fabulous race."

"We (know) we have a better race in us and I hope that comes out in Portland, but when you're going to (NXN), you can't feel too bad about the way things turned out, "said Versaw.



3rd place Davis UT is faster than last year



Davis, second in this race a year ago, were determined to stay a part of the NXN picture, placing four girls in the top 35 and keeping the Titans within shouting distance.

"Our girls who have been injured most of the season really stepped up today," said Davis coach Corbin Talley, "and we really feel that this is one of the tougher regions. I think we're still a top 10 team (nationally).

The Darts finished second in the Southwest Championships last year and snuck in to the top 10 with a 9th place performance at NXN. This season, Davis's average time has gotten faster.

"I'm proud of how they ran today," said Talley. "Our top girl, Candace (Eddy) has been coming back from injury and really ran a smart and strong race and just moved up consistently through the race."

Eddy, who has battled injuries throughout the season, found herself in a familiar position: back in the top pack. "I heard I was about 10-12 seconds behind last year," said Eddy, "and I think I'm in about the same shape as last year, which I'm really happy with."

At the 2-mile mark, freshman Rolonda Jumbo (677) was running alongside Jessica Tonn (814) on the lead,
with eventual winner Laura Tremblay (258) in the chase pack.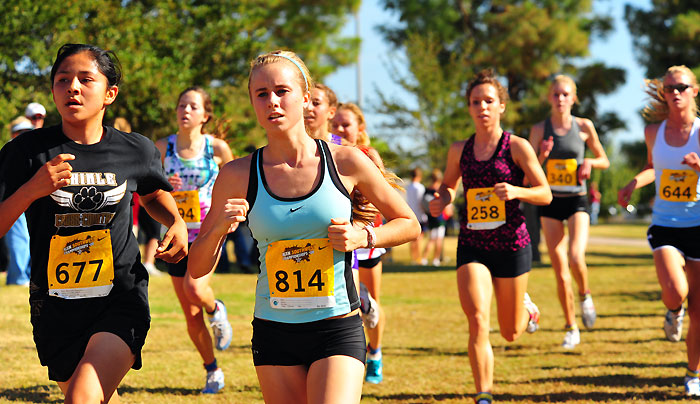 photos by John Dye
Individual qualifiers for NXN national finals




Laura Tremblay CO




Jessica Tonn AZ




Rolonda Jumbo AZ




Clara Milne NM




Eleanor Fulton CO



Fort Collins' winning 5



3rd, Miranda Benzel


11th, Rachel Vige

r


20th, Tati Ogan




24th, Kirsten Follett




30th, Marci Witczak






Results

Results by Milliseconds Computer Services

1 61 Fort Collins 1:33:00.700
Points Name Pace Time Points Name Pace Time
2 Miranda BENZEL 9 5:45.4 17:50.59 * 9 Rachel VIGER 10 5:54.5 18:19.10 *
14 Tati OGAN 9 6:03.6 18:47.10 * 16 Kirsten FOLLETT 10 6:06.7 18:56.78 *
20 Marci WITCZAK 11 6:10.0 19:07.13 * 41 Denise CHILSON 10 6:22.0 19:44.26
125 Abby MILLER 10 6:52.5 21:18.83

2 105 Titans XC 1:34:23.400
Points Name Pace Time Points Name Pace Time
3 Kaitlin HANENBURG 10 5:46.3 17:53.56 * 7 Shelby STABLEFORD 12 5:52.8 18:13.62 *
13 Emily LAVALLEY 10 6:03.5 18:46.96 * 40 Kelsey BROWN 9 6:22.0 19:44.14 *
42 Kassie MAZZOCCO 9 6:22.3 19:45.12 * 68 Elaina TURLEY 10 6:30.6 20:11.01
77 Emily HUSTED 11 6:34.3 20:22.20

3 146 Davis XC Club 1:36:10.780
Points Name Pace Time Points Name Pace Time
6 Candace EDDY 9 5:52.4 18:12.29 * 18 Meghan HEDQUIST 11 6:07.5 18:59.12 *
31 Katie SWANSON 9 6:17.1 19:29.06 * 32 Emily HANSEN 10 6:17.5 19:30.13 *
59 Jessica WILDING 10 6:27.2 20:00.18 * 74 Talya KUSSEE 9 6:32.8 20:17.70
81 Julianne WIRTHLIN 9 6:35.3 20:25.53

4 161 Eagles XC Club 1:36:21.690
Points Name Pace Time Points Name Pace Time
1 Laura TREMBLAY 9 5:42.0 17:40.20 * 25 Hannah PENSACK-RINEHART9 6:13.5 19:17.77 *
38 Brooke REGAN 9 6:20.8 19:40.55 * 46 Alicia RANDALL 11 6:23.6 19:49.17 *
51 Jessica CUNNINGHAM 9 6:25.2 19:54.00 * 52 Liz TREMBLAY 9 6:25.4 19:54.69
92 Emma HOWARD 10 6:39.9 20:39.73

5 162 The Hyrum Harriers 1:36:31.180
Points Name Pace Time Points Name Pace Time
11 Macinze OVERY 9 5:57.2 18:27.41 * 17 Laura HATCH 9 6:06.7 18:56.91 *
27 Whitney CURTIS 9 6:13.8 19:18.72 * 50 Cortney LABRUM 12 6:24.4 19:51.63 *
57 Meghan OVERY 11 6:26.0 19:56.51 * 67 Talina NELSON 9 6:30.5 20:10.70
137 Caroline JOHNSON 11 6:58.3 21:36.86

6 187 Park City XC 1:37:27.830
Points Name Pace Time Points Name Pace Time
12 Gillian GORELIK 10 6:02.9 18:44.88 * 28 Mckenzie SNYDER 12 6:13.9 19:19.08 *
29 Alison WILLIAMS 10 6:15.8 19:25.07 * 56 Alexis LEE 11 6:26.0 19:56.49 *
62 Jessie CHRISTJANS 9 6:27.8 20:02.31 * 66 Rebecca CUNNINGHAM 12 6:30.1 20:09.44
87 Whitney WARNER 11 6:37.4 20:31.89

7 229 Mtn View Bru 1:38:47.020
Points Name Pace Time Points Name Pace Time
21 Ashley ROBISON 10 6:10.4 19:08.34 * 36 Ashleigh WARNER 12 6:19.8 19:37.30 *
43 Kelsey BROWN 10 6:22.6 19:46.21 * 54 Jennica REDD 11 6:25.7 19:55.54 *
75 Andrea EYESTONE 9 6:33.4 20:19.63 * 90 Ashley HARRISON 12 6:39.6 20:38.85
133 Andrea MERRELL 10 6:55.7 21:28.67

8 239 Highlands Ranch XC 1:37:14.250
Points Name Pace Time Points Name Pace Time
5 Eleanor FULTON 11 5:48.9 18:01.45 * 8 Kristen KIENTZ 12 5:54.5 18:19.03 *
19 Mclane RITZEL 10 6:09.5 19:05.37 * 78 Biz GOODBARN 9 6:34.5 20:22.94 *
129 Emily HICKEY 11 6:54.7 21:25.46 * 156 Sheila ARYANA 11 7:11.0 22:15.97

9 244 Albuquerque Academy 1:38:01.710
Points Name Pace Time Points Name Pace Time
4 clara MILNE 11 5:48.0 17:58.91 * 30 Megan DUNLAP 9 6:16.4 19:26.82 *
33 Julie FOSTER 10 6:17.6 19:30.41 * 73 Paige THROCKMORTON 10 6:32.5 20:16.69 *
104 Meridith HARRINGTON 9 6:42.9 20:48.88 * 109 Samantha CLARK 9 6:46.1 20:59.00
113 Amanda THROCKMORTON 10 6:48.5 21:06.41

10 277 Rio Rancho XC Club 1:39:37.270
Points Name Pace Time Points Name Pace Time
24 Alana LITTLEFORD 13 6:13.2 19:16.98 * 35 Tamara LEMENTINO 11 6:18.0 19:31.86 *
61 Sara DIGIOVANNA 12 6:27.5 20:01.37 * 64 Nicolette QUESADA 9 6:29.4 20:07.09 *
93 Ellen BECENTI 9 6:40.0 20:39.97 * 101 Racquel TORRES 9 6:41.9 20:46.01
107 Jenna PADILLA 10 6:45.2 20:55.99

11 315 Alpha T-Wolves 1:40:28.070
Points Name Pace Time Points Name Pace Time
26 Suzie SORENSEN 9 6:13.8 19:18.69 * 44 Brooke HODSON 9 6:22.9 19:46.84 *
49 Lecy SKOUSEN 11 6:24.4 19:51.55 * 88 Sidney TERRY 12 6:37.8 20:33.05 *
108 Elizabeth GIBSON 11 6:45.8 20:57.94 * 131 Celeste FARLEY 10 6:55.4 21:27.66
145 Janae FULLER 10 7:02.2 21:48.69

12 321 Bear Cave RC 1:40:34.480
Points Name Pace Time Points Name Pace Time
34 Erika FIREBAUGH 10 6:17.8 19:31.03 * 55 Megan QUIMBY 9 6:25.8 19:55.97 *
58 Jordan GRACE 11 6:26.7 19:58.83 * 83 Valerie VIEIRA 11 6:36.5 20:29.15 *
91 Morgan GURNEY 10 6:39.8 20:39.50 * 105 Allie ALDERETE 12 6:43.7 20:51.37
127 Allie GRANADOS 12 6:53.5 21:21.73

13 392 Oro Valley N 1:42:00.910
Points Name Pace Time Points Name Pace Time
39 Allison CRAWFORD 10 6:21.0 19:41.02 * 63 Sarah MIVILLE 11 6:29.0 20:06.02 *
76 Katherine HOWARD 9 6:33.7 20:20.53 * 94 Lauren COOPER 11 6:40.2 20:40.75 *
120 Jill MAGNUSON 11 6:50.5 21:12.59 * 124 Samantha STRANGE 11 6:51.8 21:16.48
159 Marina CELAYA 10 7:13.0 22:22.34

14 401 Albuquerque Eagles 1:42:10.610
Points Name Pace Time Points Name Pace Time
22 Allison BEDONIE 9 6:11.7 19:12.42 * 37 Kristy HANNAH 10 6:20.5 19:39.50 *
82 Julie BRASHER 9 6:36.1 20:28.05 * 128 Camille DAVIS 10 6:53.7 21:22.41 *
132 Megan HARDY 9 6:55.6 21:28.23 * 141 Kelsey JAMES 12 7:00.6 21:43.86
146 Katilyn HICKMAN 11 7:03.4 21:52.62

15 427 Arizona Blaze 1:42:37.940
Points Name Pace Time Points Name Pace Time
53 Kailey RUMBO 10 6:25.5 19:55.14 * 65 Gloria TELLO 10 6:29.6 20:07.84 *
84 Mckenzie BRIST 11 6:36.6 20:29.48 * 99 Renee PECK 9 6:41.5 20:44.63 *
126 Shannon WALSH 9 6:53.2 21:20.85 * 164 Jordyn BENTLEY 12 7:26.4 23:03.84
168 Stephanie CROKER 12 7:44.3 23:59.34

16 433 Dakota XC Club 1:41:58.190
Points Name Pace Time Points Name Pace Time
10 Natosha ROGERS 9 5:54.8 18:20.03 * 97 Nichole CEJA 11 6:41.0 20:43.10 *
98 Ashley WAMBOLDT 12 6:41.3 20:43.90 * 110 Moira MCNEIL 10 6:46.5 21:00.25 *
118 Paige LILLO 9 6:50.0 21:10.91 * 143 Jessica TUCCERI 10 7:01.0 21:44.97

17 448 Gallup XC Club 1:43:03.170
Points Name Pace Time Points Name Pace Time
60 Jordan BROWN 9 6:27.4 20:00.95 * 86 Farrah HOOD 12 6:36.9 20:30.54 *
89 Sunni BEGAY 11 6:39.5 20:38.56 * 96 Alexandra GILLSON 10 6:40.8 20:42.53 *
117 Amberly TALAYUMPTEWA12 6:49.9 21:10.59 * 147 Cheyenne MARROWBONE12 7:04.3 21:55.22

18 453 Los Alamos XC Club 1:43:14.050
Points Name Pace Time Points Name Pace Time
47 Megan READER 11 6:24.0 19:50.27 * 80 Hannah LITTLE 9 6:35.1 20:24.81 *
95 Victoria HONNELL 11 6:40.7 20:42.18 * 112 Ariana ROWBERRY 9 6:47.9 21:04.58 *
119 Victoria TRUJILLO 11 6:50.4 21:12.21 * 151 Adrienne LARSON 9 7:05.2 21:57.98
163 Alicia HERRERA 10 7:25.0 22:59.45

19 459 Mustang Track XC 1:43:11.890
Points Name Pace Time Points Name Pace Time
71 Ryan RUSS 10 6:32.4 20:16.54 * 72 Morgan MOSBY 9 6:32.5 20:16.63 *
102 Vanessa FABRIZIO 10 6:42.7 20:48.40 * 103 Katrina ZAMUDIO 10 6:42.7 20:48.45 *
111 Payton GIFFORD 11 6:47.1 21:01.87 * 138 Bronte GIFFORD 10 6:58.4 21:37.15

20 484 Flagstaff Ki 1:43:45.600
Points Name Pace Time Points Name Pace Time
69 Chloe PHILLIPS 9 6:31.3 20:13.05 * 70 Kimmi ALLAN 11 6:31.9 20:14.84 *
106 Tereza CHYLKOVA 9 6:44.2 20:53.05 * 116 Kadra BERGMAN 11 6:49.4 21:09.21 *
123 Sarah RING 9 6:51.4 21:15.45 * 135 Ariel MIERENDORF 9 6:57.3 21:33.71
140 Taryn TREADWAY 10 7:00.3 21:43.02

21 499 Sheridan TC 1:44:33.670
Points Name Pace Time Points Name Pace Time
15 Lela CARPENTER 10 6:04.9 18:51.29 * 23 Dana MORIN 10 6:12.4 19:14.56 *
152 Audrey NEWLON 10 7:06.2 22:01.32 * 154 Erin KINSEY 11 7:10.1 22:13.22 *
155 Jessica HARRELSON 9 7:10.1 22:13.28 * 158 Stephanie BROWN 9 7:12.6 22:21.21

22 566 Orem XC 1:46:02.390
Points Name Pace Time Points Name Pace Time
45 Kendy CHRISTENSEN 9 6:23.0 19:47.34 * 79 Sarah BLACKBURN 9 6:34.5 20:22.95 *
134 Megan WEBB 9 6:56.5 21:31.18 * 148 Hillary HEAPS 9 7:04.6 21:56.14 *
160 Brittan EVANS 10 7:13.8 22:24.78 * 161 Emily CLAYTON 9 7:15.5 22:30.02
166 Heather STRATTON 11 7:36.1 23:33.91

23 576 Cheyenne Cen 1:45:55.360
Points Name Pace Time Points Name Pace Time
48 Jessica LEMASTER 10 6:24.1 19:50.68 * 115 Devon ENGLAND 11 6:49.3 21:08.70 *
121 Erica GAJDA 11 6:50.6 21:12.92 * 139 Anna YANCHECK 11 6:59.1 21:39.06 *
153 Victoria CROCKETT 12 7:07.1 22:04.00 * 157 Tyler TALIBAS 9 7:11.8 22:18.48
165 Abby PETERSON 10 7:34.2 23:28.01

24 630 Centennial H 1:46:51.420
Points Name Pace Time Points Name Pace Time
100 Brittany WILLIAMS 11 6:41.7 20:45.31 * 114 Adrielle WECHSLER 9 6:48.9 21:07.50 *
130 Ashley DAVIS 10 6:55.4 21:27.60 * 142 Savannah ANAS 12 7:00.6 21:43.94 *
144 Lindsey NEWSON 10 7:01.6 21:47.07 * 149 Hayley DAVIS 10 7:04.6 21:56.28
150 Caitlin KODWEIS 9 7:04.7 21:56.55

25 672 Pio XC Club 1:50:01.080


Points Name Pace Time Points Name Pace Time

1 258 TREMBLAY, Laura Eagles XC Club 17:40.20 0:00.00 5:42.0
2 814 TONN, Jessica Xavier TC 17:40.23 0:00.03 5:42.0
3 306 BENZEL, Miranda Fort Collins 17:50.59 0:10.39 5:45.4
4 677 JUMBO, Rolonda Una-Az-Chinl 17:50.70 0:10.50 5:45.4
5 644 HANENBURG, Kaitlin Titans XC 17:53.56 0:13.36 5:46.3
6 7 MILNE, clara Albuquerque Academy 17:58.91 0:18.71 5:48.0
7 340 FULTON, Eleanor Highlands Ranch XC 18:01.45 0:21.25 5:48.9
8 201 EDDY, Candace Davis XC Club 18:12.29 0:32.09 5:52.4
9 652 STABLEFORD, Shelby Titans XC 18:13.62 0:33.42 5:52.8
10 343 KIENTZ, Kristen Highlands Ranch XC 18:19.03 0:38.83 5:54.5
11 311 VIGER, Rachel Fort Collins 18:19.10 0:38.90 5:54.5
12 194 ROGERS, Natosha Dakota XC Club 18:20.03 0:39.83 5:54.8
13 634 OVERY, Macinze The Hyrum Harriers 18:27.41 0:47.21 5:57.2
14 329 SMALLEY, Ashlee Greeley West 18:27.53 0:47.33 5:57.3
15 702 RYDBERG, Jessica Una-Az-Pinet 18:32.78 0:52.58 5:59.0
16 547 BRISTOW, Aeoleone Rio Rico RC 18:43.98 +1:03.78 6:02.6
17 493 GORELIK, Gillian Park City XC 18:44.88 +1:04.68 6:02.9
18 754 NORSKOG, Kate Una-Nm-Santa 18:46.67 +1:06.47 6:03.4
19 646 LAVALLEY, Emily Titans XC 18:46.96 +1:06.76 6:03.5
20 310 OGAN, Tati Fort Collins 18:47.10 +1:06.90 6:03.6
21 756 CAMPOS, Jacqueline Una-Nm-Santa 18:51.22 +1:11.02 6:04.9
22 607 CARPENTER, Lela Sheridan TC 18:51.29 +1:11.09 6:04.9
23 667 KIESER, Kylee Una-Az-Casa_ 18:54.20 +1:14.00 6:05.9
24 308 FOLLETT, Kirsten Fort Collins 18:56.78 +1:16.58 6:06.7
25 630 HATCH, Laura The Hyrum Harriers 18:56.91 +1:16.71 6:06.7
26 205 HEDQUIST, Meghan Davis XC Club 18:59.12 +1:18.92 6:07.5
27 285 COLE, Taylor Feel The Heat TC 19:04.94 +1:24.74 6:09.3
28 561 PETERSON, Nicole Rock Springs 19:05.33 +1:25.13 6:09.5
29 344 RITZEL, Mclane Highlands Ranch XC 19:05.37 +1:25.17 6:09.5
30 312 WITCZAK, Marci Fort Collins 19:07.13 +1:26.93 6:10.0
31 434 ROBISON, Ashley Mtn View Bru 19:08.34 +1:28.14 6:10.4
32 11 BEDONIE, Allison Albuquerque Eagles 19:12.42 +1:32.22 6:11.7
33 610 MORIN, Dana Sheridan TC 19:14.56 +1:34.36 6:12.4
34 528 LITTLEFORD, Alana Rio Rancho XC Club 19:16.98 +1:36.78 6:13.2
35 255 PENSACK-RINEHART, Hannah Eagles XC Club 19:17.77 +1:37.57 6:13.5
36 37 SORENSEN, Suzie Alpha T-Wolves 19:18.69 +1:38.49 6:13.8
37 629 CURTIS, Whitney The Hyrum Harriers 19:18.72 +1:38.52 6:13.8
38 495 SNYDER, Mckenzie Park City XC 19:19.08 +1:38.88 6:13.9
39 497 WILLIAMS, Alison Park City XC 19:25.07 +1:44.87 6:15.8
40 838 DUNLAP, Megan Albuquerque Academy 19:26.82 +1:46.62 6:16.4
41 211 SWANSON, Katie Davis XC Club 19:29.06 +1:48.86 6:17.1
42 204 HANSEN, Emily Davis XC Club 19:30.13 +1:49.93 6:17.5
43 837 FOSTER, Julie Albuquerque Academy 19:30.41 +1:50.21 6:17.6
44 68 FIREBAUGH, Erika Bear Cave RC 19:31.03 +1:50.83 6:17.8
45 527 LEMENTINO, Tamara Rio Rancho XC Club 19:31.86 +1:51.66 6:18.0
46 697 BLACKSTAR, Latrisha Una-Az-Page- 19:32.84 +1:52.64 6:18.3
47 438 WARNER, Ashleigh Mtn View Bru 19:37.30 +1:57.10 6:19.8
48 14 HANNAH, Kristy Albuquerque Eagles 19:39.50 +1:59.30 6:20.5
49 720 MANKEL, Magda Una-Az-Tucso 19:40.34 +2:00.14 6:20.8
50 257 REGAN, Brooke Eagles XC Club 19:40.55 +2:00.35 6:20.8
51 483 CRAWFORD, Allison Oro Valley N 19:41.02 +2:00.82 6:21.0
52 643 BROWN, Kelsey Titans XC 19:44.14 +2:03.94 6:22.0
53 307 CHILSON, Denise Fort Collins 19:44.26 +2:04.06 6:22.0
54 647 MAZZOCCO, Kassie Titans XC 19:45.12 +2:04.92 6:22.3
55 427 BROWN, Kelsey Mtn View Bru 19:46.21 +2:06.01 6:22.6
56 35 HODSON, Brooke Alpha T-Wolves 19:46.84 +2:06.64 6:22.9
57 267 BIEDRON, Katie Eagles XC Club-B 19:47.25 +2:07.05 6:23.0
58 468 CHRISTENSEN, Kendy Orem XC 19:47.34 +2:07.14 6:23.0
59 256 RANDALL, Alicia Eagles XC Club 19:49.17 +2:08.97 6:23.6
60 371 READER, Megan Los Alamos XC Club 19:50.27 +2:10.07 6:24.0
61 154 LEMASTER, Jessica Cheyenne Cen 19:50.68 +2:10.48 6:24.1
62 36 SKOUSEN, Lecy Alpha T-Wolves 19:51.55 +2:11.35 6:24.4
63 632 LABRUM, Cortney The Hyrum Harriers 19:51.63 +2:11.43 6:24.4
64 710 GANJE, Danica Una-Az-Tempe-Ganje 19:53.41 +2:13.21 6:25.0
65 251 CUNNINGHAM, Jessica Eagles XC Club 19:54.00 +2:13.80 6:25.2
66 259 TREMBLAY, Liz Eagles XC Club 19:54.69 +2:14.49 6:25.4
67 49 RUMBO, Kailey Arizona Blaze 19:55.14 +2:14.94 6:25.5
68 433 REDD, Jennica Mtn View Bru 19:55.54 +2:15.34 6:25.7
69 72 QUIMBY, Megan Bear Cave RC 19:55.97 +2:15.77 6:25.8
70 494 LEE, Alexis Park City XC 19:56.49 +2:16.29 6:26.0
71 635 OVERY, Meghan The Hyrum Harriers 19:56.51 +2:16.31 6:26.0
72 69 GRACE, Jordan Bear Cave RC 19:58.83 +2:18.63 6:26.7
73 212 WILDING, Jessica Davis XC Club 20:00.18 +2:19.98 6:27.2
74 314 BROWN, Jordan Gallup XC Club 20:00.95 +2:20.75 6:27.4
75 525 DIGIOVANNA, Sara Rio Rancho XC Club 20:01.37 +2:21.17 6:27.5
76 491 CHRISTJANS, Jessie Park City XC 20:02.31 +2:22.11 6:27.8
77 486 MIVILLE, Sarah Oro Valley N 20:06.02 +2:25.82 6:29.0
78 530 QUESADA, Nicolette Rio Rancho XC Club 20:07.09 +2:26.89 6:29.4
79 50 TELLO, Gloria Arizona Blaze 20:07.84 +2:27.64 6:29.6
80 492 CUNNINGHAM, Rebecca Park City XC 20:09.44 +2:29.24 6:30.1
81 633 NELSON, Talina The Hyrum Harriers 20:10.70 +2:30.50 6:30.5
82 653 TURLEY, Elaina Titans XC 20:11.01 +2:30.81 6:30.6
83 296 PHILLIPS, Chloe Flagstaff Ki 20:13.05 +2:32.85 6:31.3
84 292 ALLAN, Kimmi Flagstaff Ki 20:14.84 +2:34.64 6:31.9
85 464 RUSS, Ryan Mustang Track XC 20:16.54 +2:36.34 6:32.4
86 463 MOSBY, Morgan Mustang Track XC 20:16.63 +2:36.43 6:32.5
87 9 THROCKMORTON, Paige Albuquerque Academy 20:16.69 +2:36.49 6:32.5
88 206 KUSSEE, Talya Davis XC Club 20:17.70 +2:37.50 6:32.8
89 428 EYESTONE, Andrea Mtn View Bru 20:19.63 +2:39.43 6:33.4
90 484 HOWARD, Katherine Oro Valley N 20:20.53 +2:40.33 6:33.7
91 645 HUSTED, Emily Titans XC 20:22.20 +2:42.00 6:34.3
92 341 GOODBARN, Biz Highlands Ranch XC 20:22.94 +2:42.74 6:34.5
93 467 BLACKBURN, Sarah Orem XC 20:22.95 +2:42.75 6:34.5
94 368 LITTLE, Hannah Los Alamos XC Club 20:24.81 +2:44.61 6:35.1
95 213 WIRTHLIN, Julianne Davis XC Club 20:25.53 +2:45.33 6:35.3
96 12 BRASHER, Julie Albuquerque Eagles 20:28.05 +2:47.85 6:36.1
97 73 VIEIRA, Valerie Bear Cave RC 20:29.15 +2:48.95 6:36.5
98 46 BRIST, Mckenzie Arizona Blaze 20:29.48 +2:49.28 6:36.6
99 519 TURCOTTE, Tessa Pio XC Club 20:30.48 +2:50.28 6:36.9
100 317 HOOD, Farrah Gallup XC Club 20:30.54 +2:50.34 6:36.9
101 496 WARNER, Whitney Park City XC 20:31.89 +2:51.69 6:37.4
102 758 CARRELL, Katie Una-Nv-Las_v 20:32.63 +2:52.43 6:37.6
103 38 TERRY, Sidney Alpha T-Wolves 20:33.05 +2:52.85 6:37.8
104 313 BEGAY, Sunni Gallup XC Club 20:38.56 +2:58.36 6:39.5
105 430 HARRISON, Ashley Mtn View Bru 20:38.85 +2:58.65 6:39.6
106 71 GURNEY, Morgan Bear Cave RC 20:39.50 +2:59.30 6:39.8
107 253 HOWARD, Emma Eagles XC Club 20:39.73 +2:59.53 6:39.9
108 523 BECENTI, Ellen Rio Rancho XC Club 20:39.97 +2:59.77 6:40.0
109 482 COOPER, Lauren Oro Valley N 20:40.75 +3:00.55 6:40.2
110 734 BEDRICK, Bronwyn Una-Nm-Albuq 20:41.42 +3:01.22 6:40.5
111 365 HONNELL, Victoria Los Alamos XC Club 20:42.18 +3:01.98 6:40.7
112 316 GILLSON, Alexandra Gallup XC Club 20:42.53 +3:02.33 6:40.8
113 191 CEJA, Nichole Dakota XC Club 20:43.10 +3:02.90 6:41.0
114 197 WAMBOLDT, Ashley Dakota XC Club 20:43.90 +3:03.70 6:41.3
115 48 PECK, Renee Arizona Blaze 20:44.63 +3:04.43 6:41.5
116 143 WILLIAMS, Brittany Centennial H 20:45.31 +3:05.11 6:41.7
117 533 TORRES, Racquel Rio Rancho XC Club 20:46.01 +3:05.81 6:41.9
118 460 FABRIZIO, Vanessa Mustang Track XC 20:48.40 +3:08.20 6:42.7
119 465 ZAMUDIO, Katrina Mustang Track XC 20:48.45 +3:08.25 6:42.7
120 840 HARRINGTON, Meridith Albuquerque Academy 20:48.88 +3:08.68 6:42.9
121 67 ALDERETE, Allie Bear Cave RC 20:51.37 +3:11.17 6:43.7
122 294 CHYLKOVA, Tereza Flagstaff Ki 20:53.05 +3:12.85 6:44.2
123 696 BAWDEN, Ann Una-Az-Mesa-Bawden 20:54.46 +3:14.26 6:44.7
124 529 PADILLA, Jenna Rio Rancho XC Club 20:55.99 +3:15.79 6:45.2
125 850 GIBSON, Elizabeth Alpha T-Wolves 20:57.94 +3:17.74 6:45.8
126 839 CLARK, Samantha Albuquerque Academy 20:59.00 +3:18.80 6:46.1
127 193 MCNEIL, Moira Dakota XC Club 21:00.25 +3:20.05 6:46.5
128 461 GIFFORD, Payton Mustang Track XC 21:01.87 +3:21.67 6:47.1
129 721 MCGRATH, Melanie Una-Az-Tucso 21:03.15 +3:22.95 6:47.5
130 372 ROWBERRY, Ariana Los Alamos XC Club 21:04.58 +3:24.38 6:47.9
131 8 THROCKMORTON, Amanda Albuquerque Academy 21:06.41 +3:26.21 6:48.5
132 142 WECHSLER, Adrielle Centennial H 21:07.50 +3:27.30 6:48.9
133 150 ENGLAND, Devon Cheyenne Cen 21:08.70 +3:28.50 6:49.3
134 293 BERGMAN, Kadra Flagstaff Ki 21:09.21 +3:29.01 6:49.4
135 319 TALAYUMPTEWA, Amberly Gallup XC Club 21:10.59 +3:30.39 6:49.9
136 192 LILLO, Paige Dakota XC Club 21:10.91 +3:30.71 6:50.0
137 373 TRUJILLO, Victoria Los Alamos XC Club 21:12.21 +3:32.01 6:50.4
138 485 MAGNUSON, Jill Oro Valley N 21:12.59 +3:32.39 6:50.5
139 152 GAJDA, Erica Cheyenne Cen 21:12.92 +3:32.72 6:50.6
140 515 DURKIN, Emma Pio XC Club 21:14.93 +3:34.73 6:51.3
141 297 RING, Sarah Flagstaff Ki 21:15.45 +3:35.25 6:51.4
142 487 STRANGE, Samantha Oro Valley N 21:16.48 +3:36.28 6:51.8
143 309 MILLER, Abby Fort Collins 21:18.83 +3:38.63 6:52.5
144 51 WALSH, Shannon Arizona Blaze 21:20.85 +3:40.65 6:53.2
145 70 GRANADOS, Allie Bear Cave RC 21:21.73 +3:41.53 6:53.5
146 13 DAVIS, Camille Albuquerque Eagles 21:22.41 +3:42.21 6:53.7
147 342 HICKEY, Emily Highlands Ranch XC 21:25.46 +3:45.26 6:54.7
148 136 DAVIS, Ashley Centennial H 21:27.60 +3:47.40 6:55.4
149 33 FARLEY, Celeste Alpha T-Wolves 21:27.66 +3:47.46 6:55.4
150 15 HARDY, Megan Albuquerque Eagles 21:28.23 +3:48.03 6:55.6
151 432 MERRELL, Andrea Mtn View Bru 21:28.67 +3:48.47 6:55.7
152 473 WEBB, Megan Orem XC 21:31.18 +3:50.98 6:56.5
153 295 MIERENDORF, Ariel Flagstaff Ki 21:33.71 +3:53.51 6:57.3
154 517 OSBORN, Caitlin Pio XC Club 21:36.75 +3:56.55 6:58.3
155 631 JOHNSON, Caroline The Hyrum Harriers 21:36.86 +3:56.66 6:58.3
156 462 GIFFORD, Bronte Mustang Track XC 21:37.15 +3:56.95 6:58.4
157 151 YANCHECK, Anna Cheyenne Cen 21:39.06 +3:58.86 6:59.1
158 298 TREADWAY, Taryn Flagstaff Ki 21:43.02 +4:02.82 7:00.3
159 17 JAMES, Kelsey Albuquerque Eagles 21:43.86 +4:03.66 7:00.6
160 134 ANAS, Savannah Centennial H 21:43.94 +4:03.74 7:00.6
161 195 TUCCERI, Jessica Dakota XC Club 21:44.97 +4:04.77 7:01.0
162 141 NEWSON, Lindsey Centennial H 21:47.07 +4:06.87 7:01.6
163 34 FULLER, Janae Alpha T-Wolves 21:48.69 +4:08.49 7:02.2
164 16 HICKMAN, Katilyn Albuquerque Eagles 21:52.62 +4:12.42 7:03.4
165 318 MARROWBONE, Cheyenne Gallup XC Club 21:55.22 +4:15.02 7:04.3
166 471 HEAPS, Hillary Orem XC 21:56.14 +4:15.94 7:04.6
167 137 DAVIS, Hayley Centennial H 21:56.28 +4:16.08 7:04.6
168 140 KODWEIS, Caitlin Centennial H 21:56.55 +4:16.35 7:04.7
169 367 LARSON, Adrienne Los Alamos XC Club 21:57.98 +4:17.78 7:05.2
170 611 NEWLON, Audrey Sheridan TC 22:01.32 +4:21.12 7:06.2
171 149 CROCKETT, Victoria Cheyenne Cen 22:04.00 +4:23.80 7:07.1
172 609 KINSEY, Erin Sheridan TC 22:13.22 +4:33.02 7:10.1
173 608 HARRELSON, Jessica Sheridan TC 22:13.28 +4:33.08 7:10.1
174 339 ARYANA, Sheila Highlands Ranch XC 22:15.97 +4:35.77 7:11.0
175 155 TALIBAS, Tyler Cheyenne Cen 22:18.48 +4:38.28 7:11.8
176 606 BROWN, Stephanie Sheridan TC 22:21.21 +4:41.01 7:12.6
177 481 CELAYA, Marina Oro Valley N 22:22.34 +4:42.14 7:13.0
178 470 EVANS, Brittan Orem XC 22:24.78 +4:44.58 7:13.8
179 469 CLAYTON, Emily Orem XC 22:30.02 +4:49.82 7:15.5
180 514 BRECK, Hannah Pio XC Club 22:51.38 +5:11.18 7:22.4
181 364 HERRERA, Alicia Los Alamos XC Club 22:59.45 +5:19.25 7:25.0
182 45 BENTLEY, Jordyn Arizona Blaze 23:03.84 +5:23.64 7:26.4
183 153 PETERSON, Abby Cheyenne Cen 23:28.01 +5:47.81 7:34.2
184 472 STRATTON, Heather Orem XC 23:33.91 +5:53.71 7:36.1
185 520 YEPA, Kaitlyn Pio XC Club 23:47.54 +6:07.34 7:40.5
186 47 CROKER, Stephanie Arizona Blaze 23:59.34 +6:19.14 7:44.3
187 338 SLOAN, Katie Highland XC Club 24:08.46 +6:28.26 7:47.2